You want to build an outdoor space that draws you outside. A spot where you linger, sunlight restoring you while you lounge in comfort.
Good news. Your dream isn't that far out of reach. You only need a few guiding principles to help shape your decisions and transform an undefined space into a lovely, living representation of your personality.
---
Where Can You Look For Outdoor Inspiration?
Look next door. Start in your neighborhood. Grab your pup, partner, or headphones and get walking. Look at spaces similar in size to your patio, balcony or backyard. What have your neighbors done that you love? Artists steal all the time, so find plants and pieces that speak to you.
Look at your vacations. Where did you feel most relaxed? Go there mentally and try to figure out how the surroundings – maybe by a pool or in nature – helped you find peace. You'll likely discover that you've been drawn to a particular color (cool colors like blue and green are often characterized as calming) more than you realized.
Look to your past. What brought you happiness when you were younger? Was it that moment of weightlessness on a swing or the smell of ripe cherry tomatoes still warm from the sun? Think back to the moments when you felt at home and jot them down.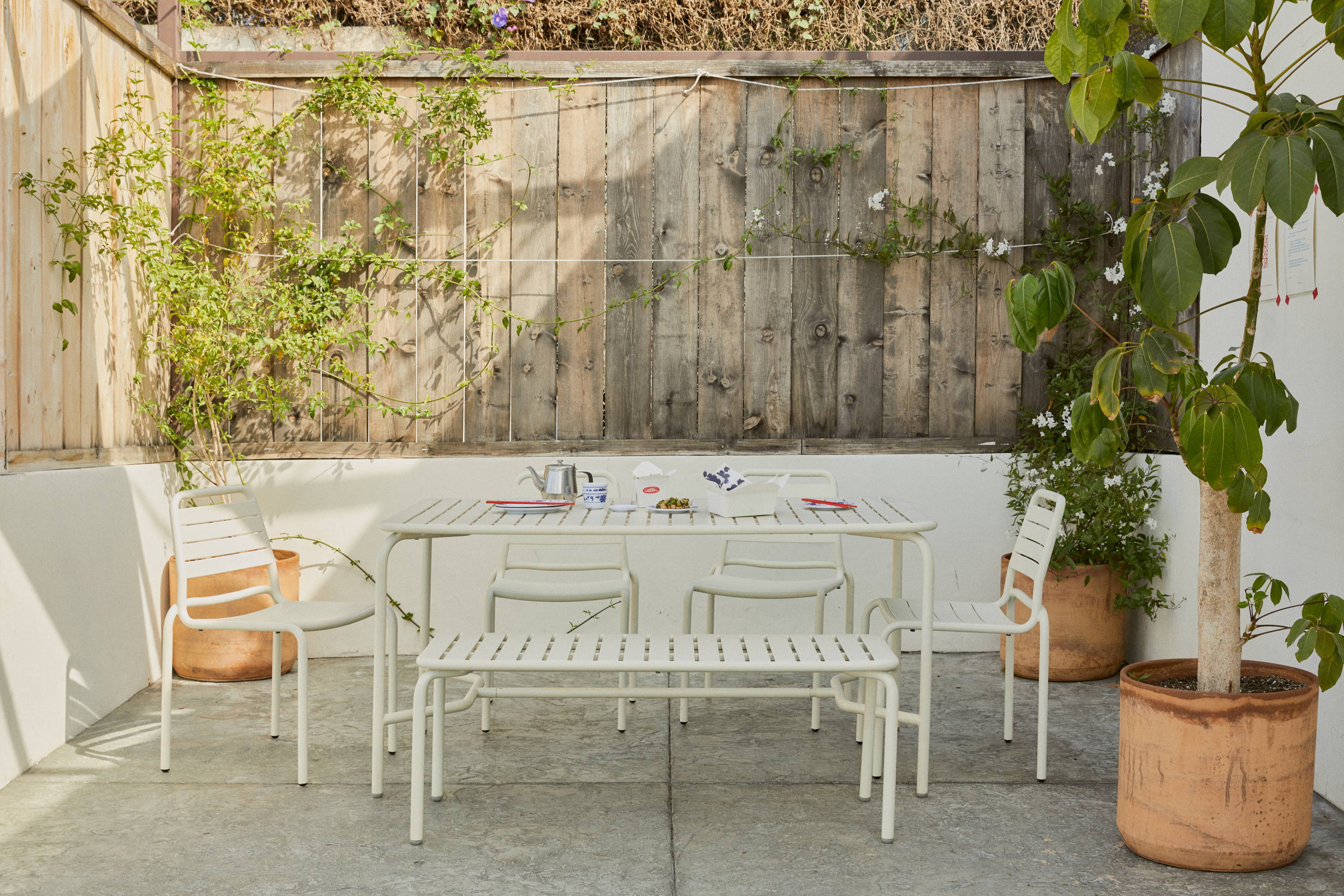 Think of Your Outdoor Space as a Room Without Walls
The easiest way to look at your outdoor project is to consider it a room without walls. Now, you can take style elements from inside your home and bring them outdoors. Even better, this lets you break down what could feel like an overwhelming number of choices into individual decisions.
Start with a focal point. Just like you might style your living room shelves, you will need a focal point to anchor your space. The right outdoor furniture is timeless, a set of pieces you rearrange and style around to adjust with the seasons.
Look down for your glow up. Outdoor rugs serve two key purposes: they create a distinct space where you can entertain and they draw in your eye. Use them as an accent color (remember the cerulean color of the ocean?) or to make a big statement if you're opting for a more neutral color scheme.
Play with the idea of walls. A trellis with climbing ivy or a vertical garden alive with herbs, gives the suggestion of a wall which makes a space feel cozier, but still lets in enough light to keep it from seeming cramped.
While a larger structure like an archway with flowering plants might work in a backyard, opt for less structure and more plants in a smaller space like a balcony. A few containers with taller plants like amaranth or bamboo will anchor corners. It's important to stay within the scale of your space.
Always hang string lights when possible. Stars make for a lovely ceiling; but the soft luster of small bulbs turn a patio at twilight into a wonderland. Look for an outlet first (if you don't have one handy, solar-powered lights are an option). Then where you'll be able to hang hooks to hold a set of string lights. After that, sketch out a design — a square for framing your patio or half moons that hang playfully from the top of your balcony — to know how many strings of lights you'll need.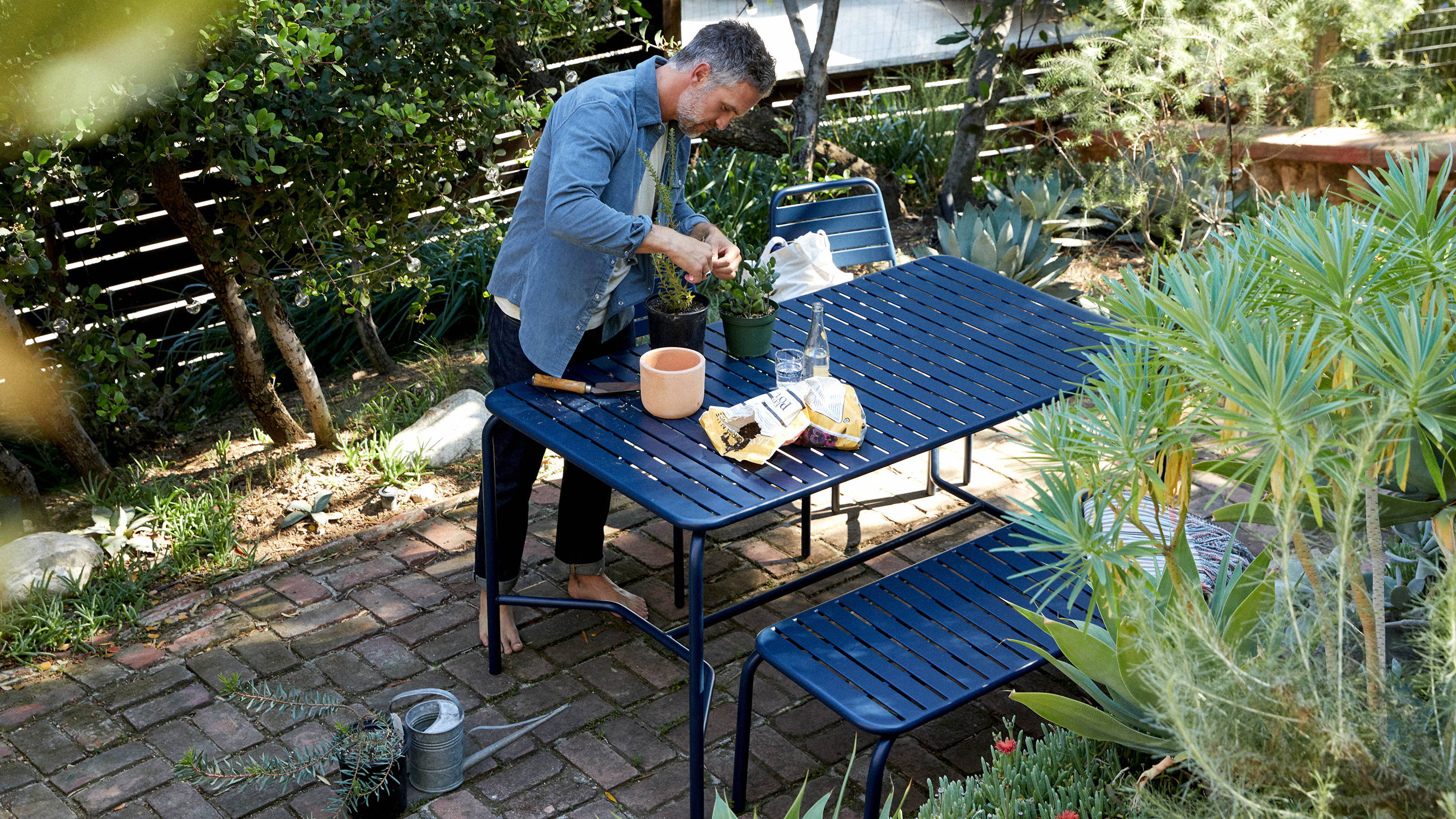 Decide What Goes In Your Outdoor Room
Now that you've "framed" out your space, add the small touches and functional pieces that make a patio your own.
Pick color accents for the vibe you want. Whether it is pillows (opt for water-resistant fabric or give a favorite pillow a few coats of a fabric water shield spray) or planters with spring flowers, a complementary or contrasting color will help subtly build out the mood you want.
Here's where you can use your neighbor's knowledge of native plants or your walkabout to see which flowers are thriving in your climate will come in handy. These small hints of color will also be the easiest to change — you can recover pillows or swap out containers with annual plants — with the seasons.
Lean in to function. If you work indoors all day and the idea of dinner outside is a respite, consider investing in an outdoor pizza oven or barbecue smoker. Both are built for making food you'll want to share. And as long as you're entertaining (might we suggest some apple cider sangria), look at picking up a bar cart or repurposing a planting bench as a drink station. It's nice to have everything on hand once you head outside.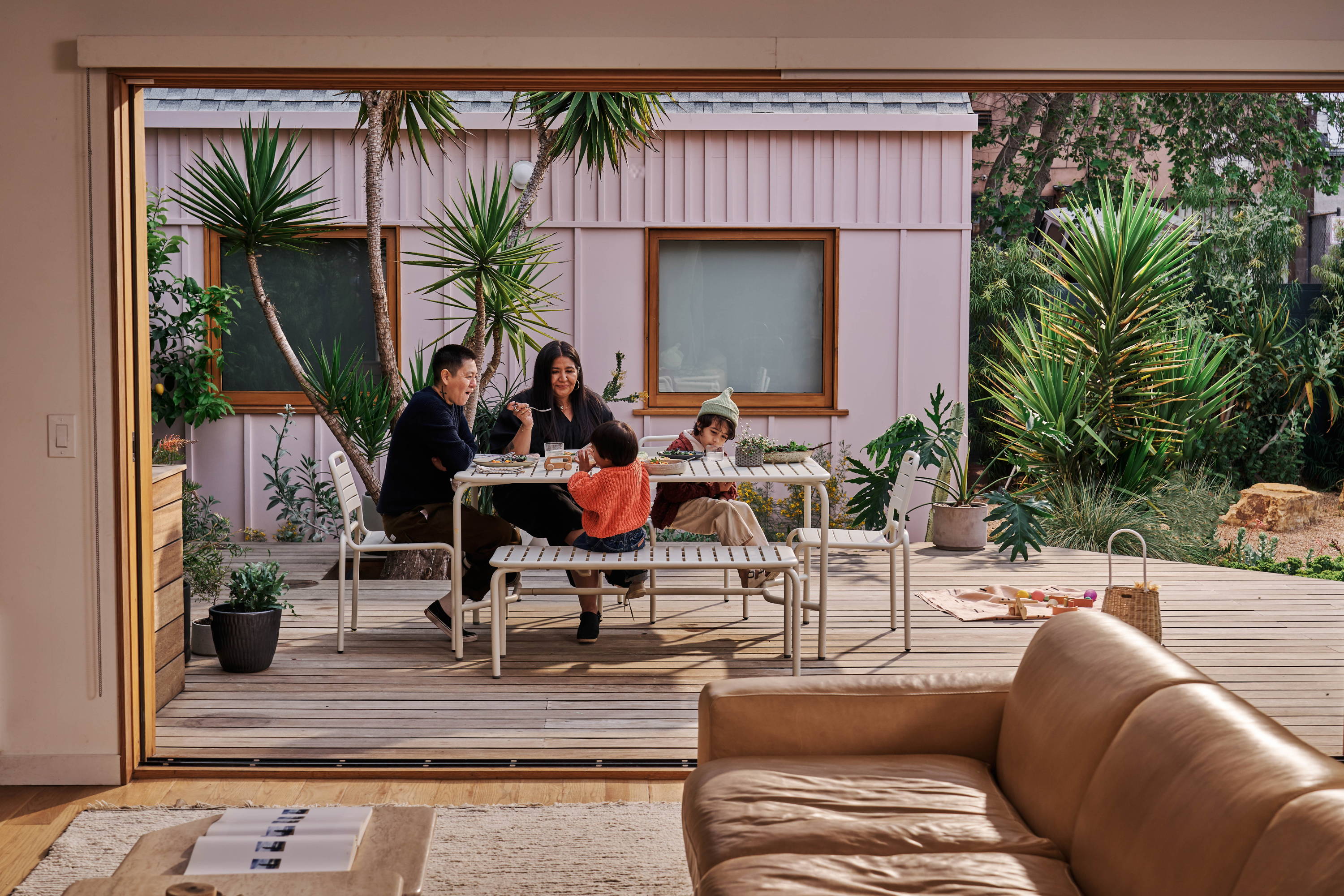 What Should You Do With Other Outdoor Spaces?
Once you've created a gathering spot, look at any adjoining additional spaces. But just like your home, don't feel like you have to transform everything at once.
Instead, sit in your new space and see where your eye goes or what you think is missing. Maybe you'd like a projector screen by the garage for movie nights? Or long naps in a hammock suspended between two trees by the back fence? This is where you layer in the things you've wanted or missed since you were a kid.
Make some lines in the grass. Love the look of lush plants or flowering trees? Abundance doesn't have to be messy. Opt for clean lines and clearly delineated spaces. A small amount of edging or stones around a garden bed is like framing a picture. It will also help create a natural path or flow through your backyard.
Create secondary seating spaces. Picture a reading nook or a set of wingback chairs in the corner. That's the spirit of what you're making here, a self-contained spot that invites you to sit down. With more room, you can opt for a fire pit and seating arranged in a circle for conversation. Chimineas (clay or metal fireplaces) with a lounge chair on either side fit beautifully in little jut outs or small patches of grass.
Your backyard, patio, or balcony are all places of possibility. Your spaces will naturally change with the seasons and where you are in your life. Enjoy that process. Take your time and make the outdoors great.
This widget makes post narrow
This will be hidden in site