Fall is apple cider season. Sweet and a little tart. New beginnings and the end of summer.
Fall is when you go apple picking, take a hayride, or maybe just sit out on your porch and think about doing those things one day. Fall is for sipping drinks in the late afternoon sun.  
Apple cider, like fall, offers possibilities. It can be crisp and brisk or bright and warm. It's the mood ring of drinks, letting you create the vibe you want. We've picked three apple cider sippers — apple cider slushies, apple cider sangria, and a mulled cider hot toddy — to set the mood.
Whether with alcohol or not, these drinks are made in batches ahead of time; you might want to host, but you don't need more stress. We've also got suggestions for the snacks to pair with each beverage - something to nibble while you linger with friends. Read on. Find your fall.
---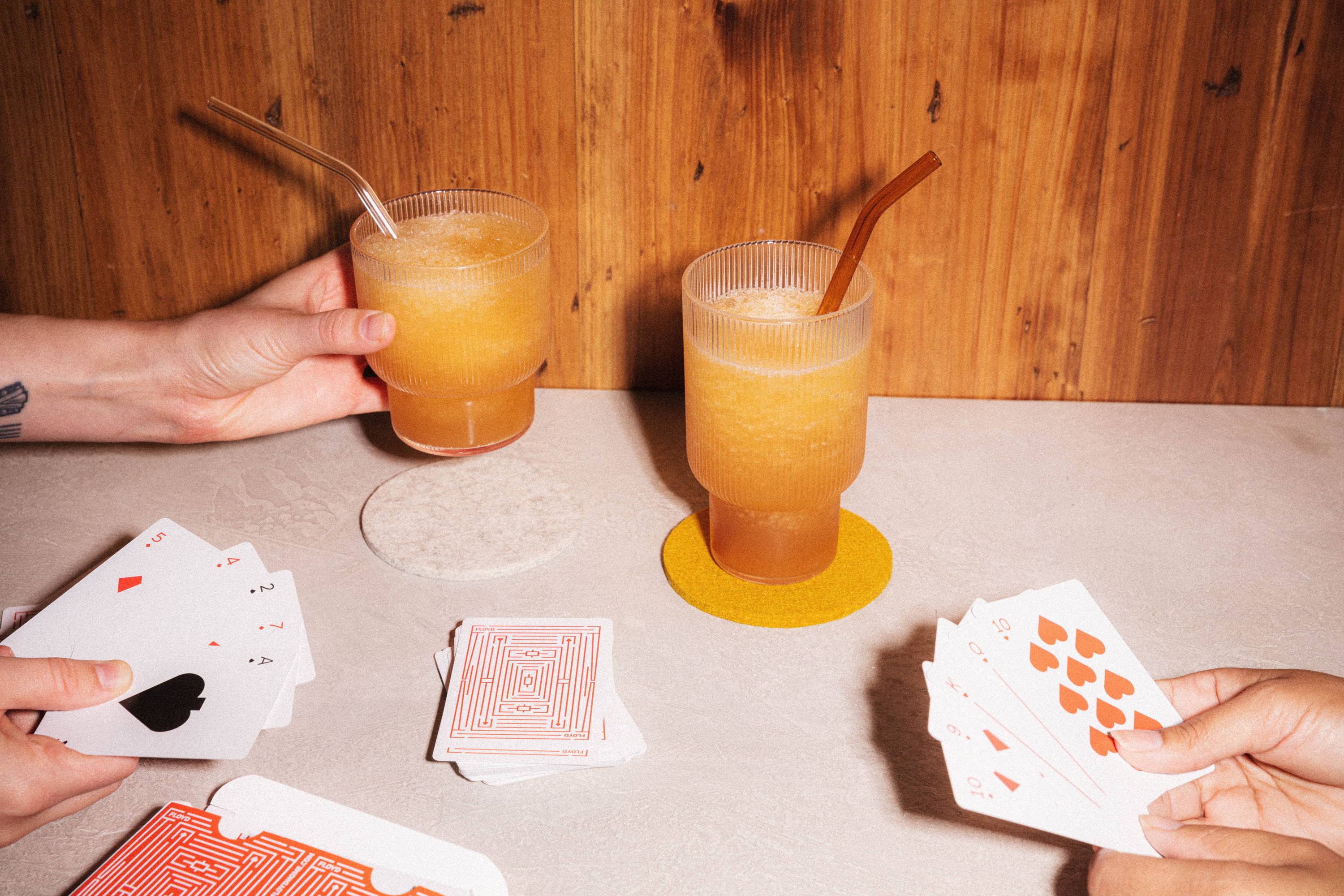 You've got two hands for a reason. Apple cider slushies & cider donuts.
If you've never had an apple cider slushie, get thee to a blender. Imagine a snow cone that's not too sweet and has this tart little pop of flavor. When the sun is shining, wrap yourself in a blanket and discover a drink that's your new fall tradition. If you can find local cider, go for it, because the full-bodied beverage will hold up better in the freezer.
How To Make Slushies (6 servings):
Juice a lemon and add it to 4 cups of cider. Stir in ½ teaspoon cinnamon, if you like. Pour that into a loaf pan and freeze it for five to six hours. Scrape it with a fork every hour to keep the mix from freezing into a giant block.
Pulse the frozen cider in a blender until you've got a drink you can sip (like a snow cone that's just started to melt).
Want a boozy slushie? Add ½ cup of bourbon and an equal amount of ginger ale or ginger beer before you blend.
Recommended Pairing: The tart slushie is great with a fall treat like apple cider donuts, cinnamon sugar donuts, or a snickerdoodle cookie. Find something dusted with cinnamon and sprinkled with sugar and you're all set.
---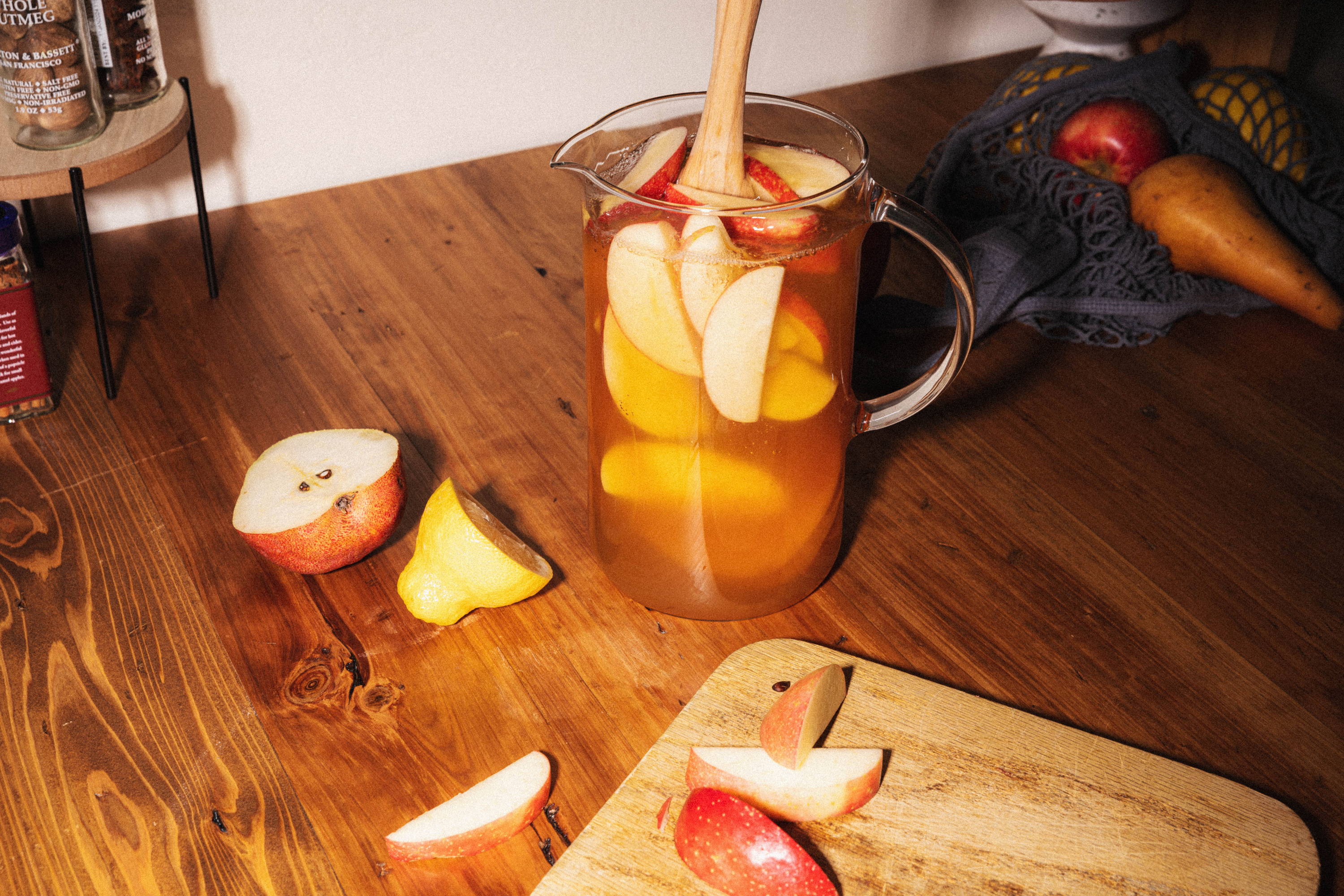 Have a lazy Sunday with apple cider sangria and a graze board.
A big pitcher turns a conversation into a gathering. A big pitcher of apple cider sangria will open your eyes to how a tart bit of apples and dry white wine (or ginger beer) are magic. A little work with lots of payoff.
How To Make Sangria (6 servings):
Chop up two apples and one pear. Squeeze half a lemon on top to keep your chopped fruit from browning. Add your fruit to a pitcher and pour in a bottle of dry white wine (pinot grigio works), two cups of apple cider, ¼ cup of apple brandy, and ¼ cup of Triple sec (thank you, Smitten Kitchen for this idea). Stir and let chill for at least 1 hour.
Set out the pitcher with a few cans of cold plain seltzer. Fill a wine glass with your sangria but leave a little room to float some seltzer on top. Then sip.
Want a non-alcoholic sangria? Make this drink glass-by-glass. Use equal parts cider and ginger beer. Add a squeeze of fresh orange juice. Stir gently. Top with a small scoop of chopped fruit.
Recommended Pairing: Load up a wooden board with meats, nuts, and all the dried fruit it can hold. Skip the olives and pickles, the brine will clash with your sangria.
---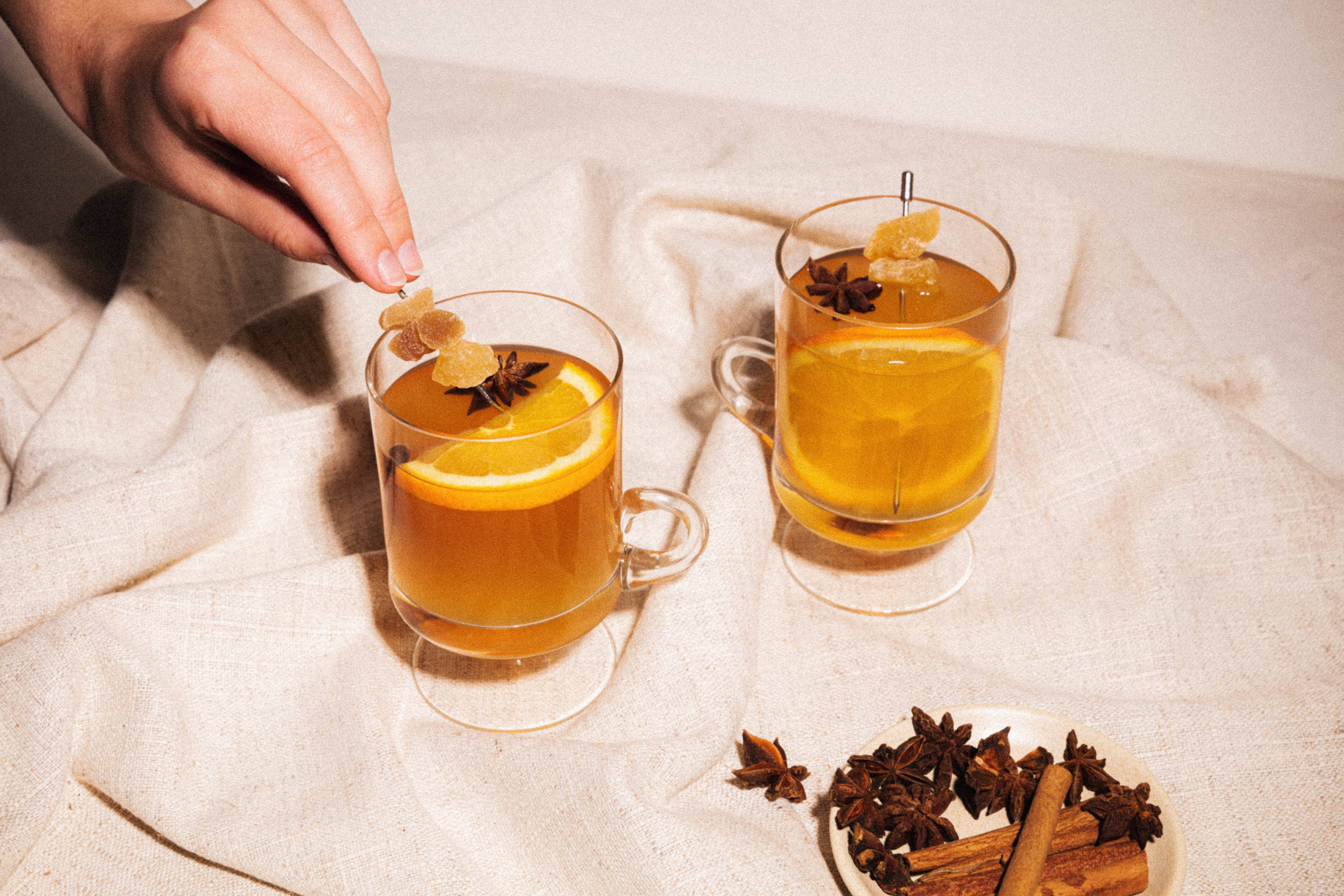 Mulled Cider Hot Toddy loves a cheese plate.
This mulled cider hot toddy will warm you up. It's the punch that should be served at holiday gatherings and Thursdays that feel hard. A little spicy, a little sweet, with a depth that makes you forget everything else for a moment.
Recommended Pairing: The rich, buttery toddy can stand up to sharp cheeses and is a beautiful compliment to soft, creamy cheeses. Grab a loaf of crusty bread or a box of rice crackers too.
Make a Mulled Cider Hot Toddy


6 servings
We prefer a cider toddy that's full of spice. If you want a simpler drink or don't have something in your pantry, stick with cinnamon and honey. Feel free to swap the juice of one lemon for the orange slices and skip the bourbon.
Ingredients:
6 cups cider
2 cinnamon sticks
2 star anise pods
2 teaspoons honey
1 orange, sliced thinly
8 pieces candied ginger (or a two-inch pieces of fresh ginger)
1 large navel orange, thinly sliced
1/2 cup bourbon (optional)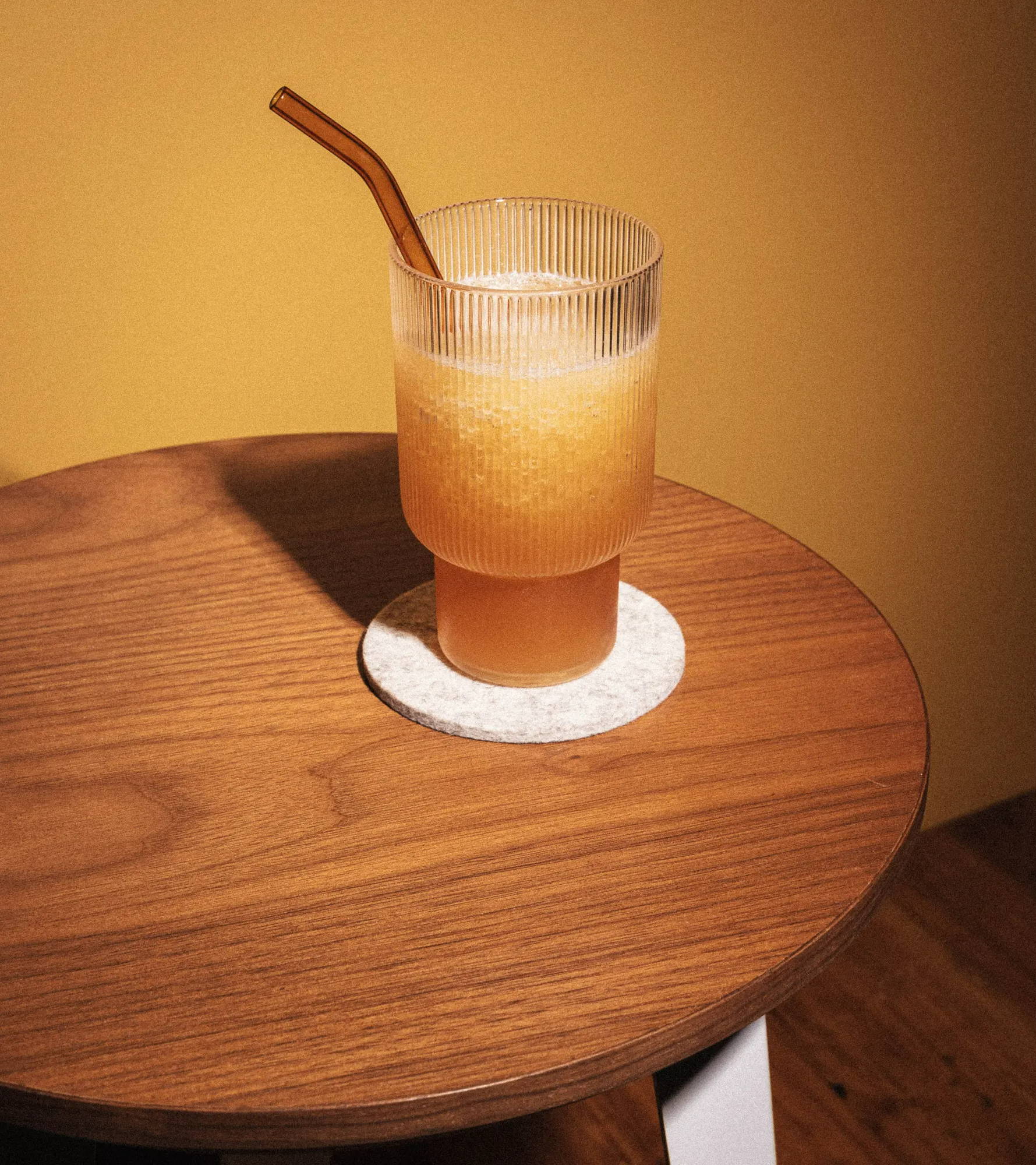 Add the cider, spices, ginger, and honey, to a slow cooker set on high. After 30 minutes, turn the heat to low. Add the bourbon and gently stir with a wooden spoon. Place the orange slices on top. Let it go for at least two hours. Grab a mug and enjoy.
Don't have a slow cooker? Bring the ingredients (hold back the bourbon and orange slices) to a boil on high heat in a large pot. As soon as your toddy is boiling, turn the heat to low. Stir in the bourbon (or don't) and add the orange slices. Wait at least an hour before serving. Ladle up some joy.
This widget makes post narrow
This will be hidden in site