Traditional wisdom suggests a warm-weather destination for winter travel. But, there's something to be said for leaning into winter and embracing a cozy getaway. But where to visit?
For anyone on the East Coast, the Catskills are an easy drive. We're partial to their trademark blend of rustic charm and stylish modern design. Here's how to take advantage of the region's off-season and plan a weekend in the country.
Stay
Choosing a home base for your weekend is the very first step. Get the real Catskills experience and stay at an eco-friendly A-Frame in the forest!
The space captures the feel of an old-school cabin with interiors worthy of a boutique hotel. A fireplace, full kitchen, and expansive outdoor space make for a cozy escape from the wilderness. Plus, it's on a private road so you'll have plenty of space to do your own thing.
Eat & Drink
Depending on your priorities, eating and drinking may be more important than lodging. Luckily, the Catskills are full of interesting spots to indulge a little bit. Try the super-authentic (and super delicious) German food at Mountain Brauhaus to warm you up after a day outside. For local cider and a rustic menu, try Westwind Orchard. In Kingston, Restaurant Kinsley, inside the Robert Mckinley-designed Hotel Kinsley, is an upscale dining experience with a seasonal, local menu. For lighter fare, Village Coffee and Goods serves breakfast & lunch, and offers a great selection of pastries and other market items.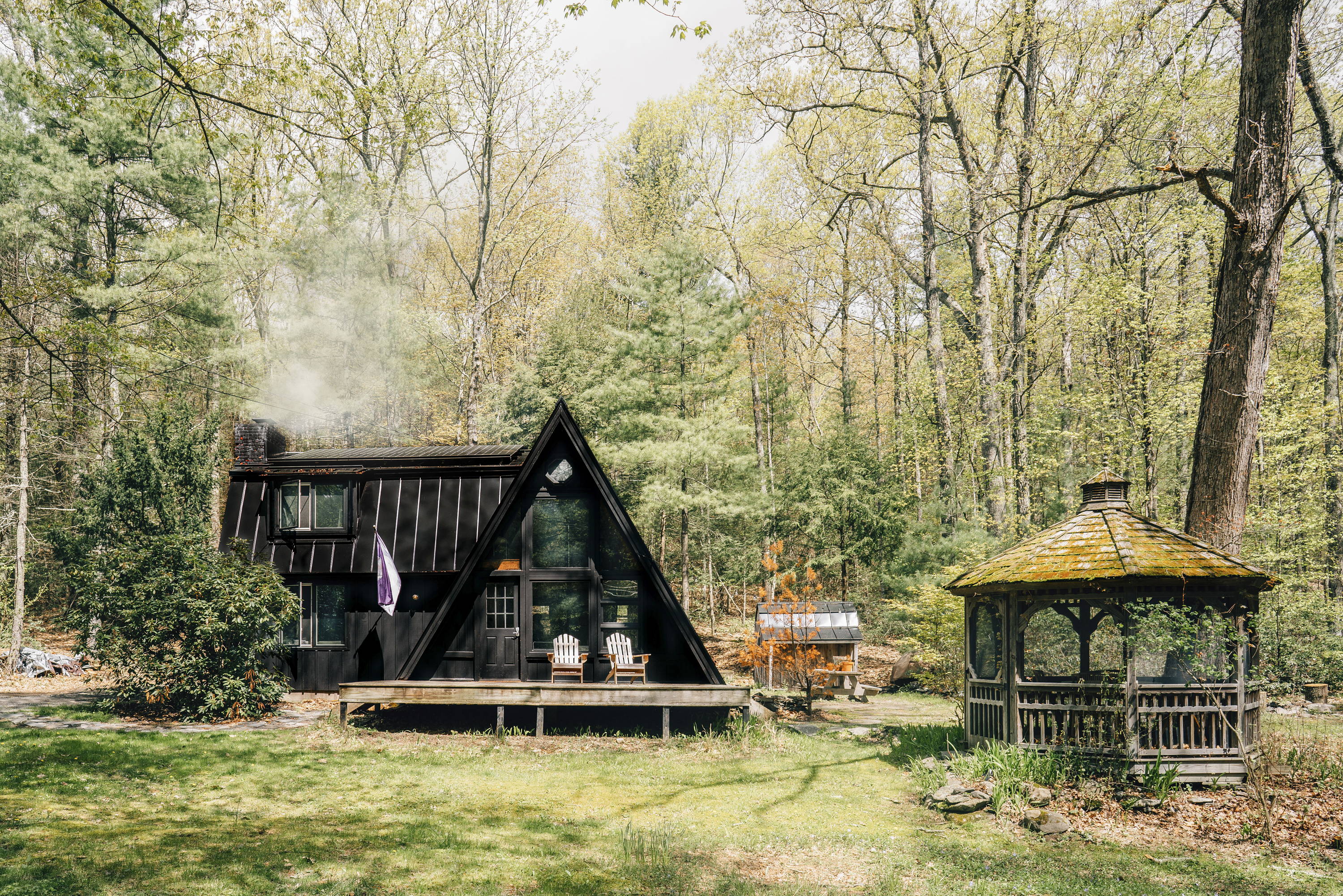 The Catskills are great for anyone with an itch for the outdoors.
Shop
Secure some weekend reading material in Hobart, a tiny town that's home to no less than five independent bookstores. At Ravenwood Farms, a restored barn houses local farm goods and design objects. Kingston is home to lots of shopping, but Clove and Creek stands out for its considered selection of home goods & gifts. For fans of weird vintage and antiques, Mystery Spot Vintage is a must-visit!
Get Outside
It isn't a weekend in the Catskills without time spent outside. Yes, even in the winter!
Take advantage of the 27,000 acre Minnewaska State Preserve for hiking and cross country skiing. Try the Ice Caves trail, which includes the eponymous ice cave and a waterfall in its loop. Hunter Mountain is an easy drive and a fun destination for those who prefer to ski downhill. The Ashokan Reservoir also has great trails and paths, and plenty of scenic views to round out your outdoor adventures.
This widget makes post narrow
This will be hidden in site