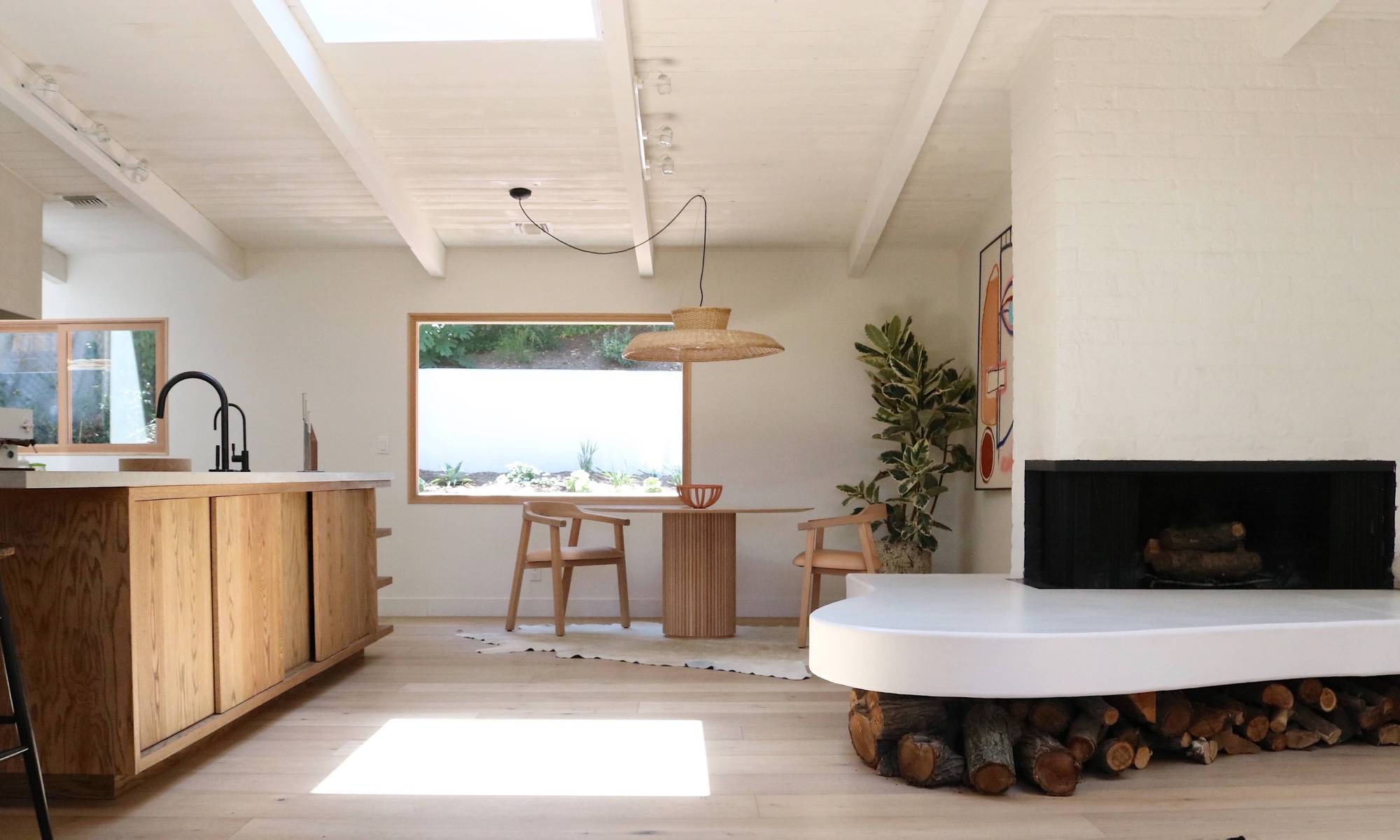 Amber Lestrange's Laurel Canyon Retreat

A renovation project became a minimal, warm family home.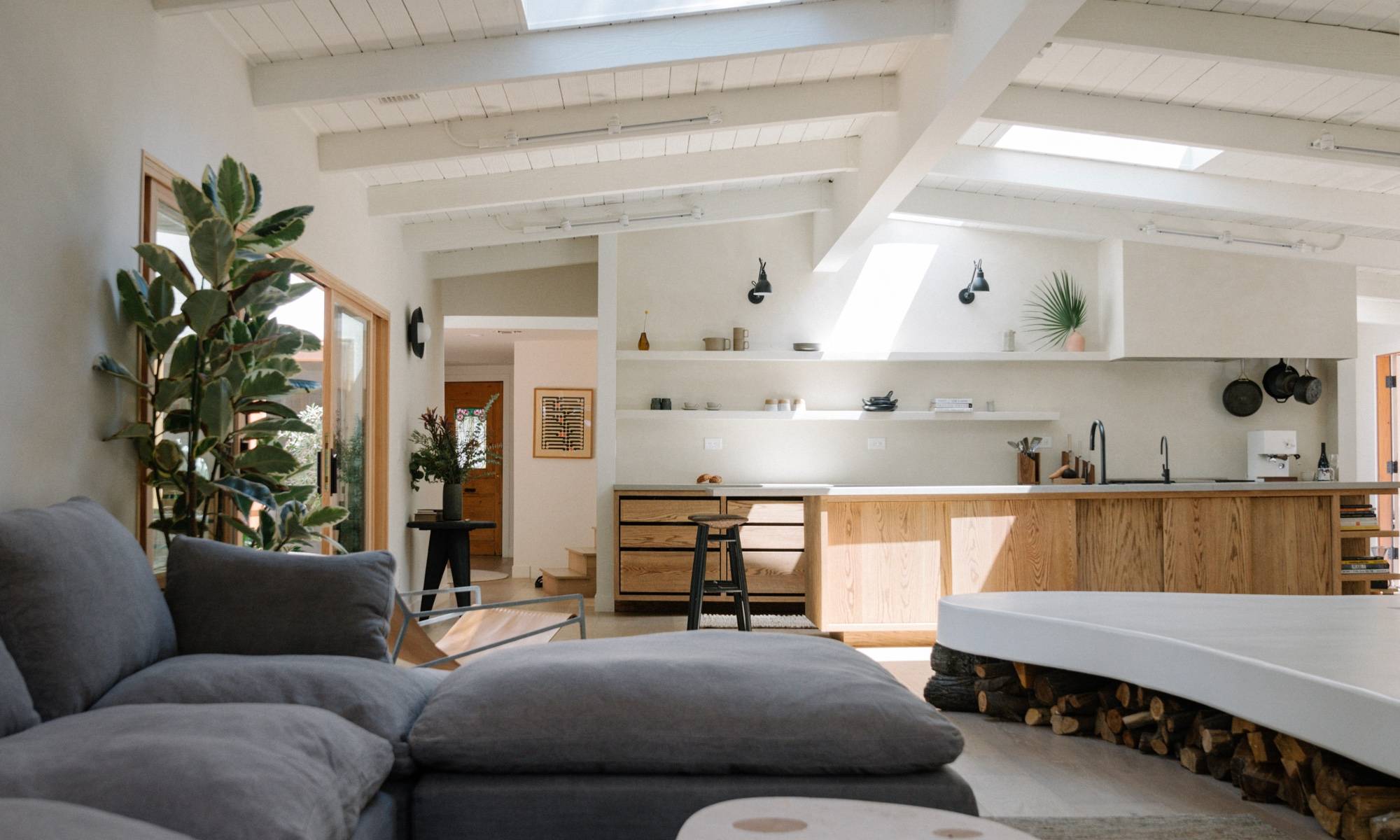 ---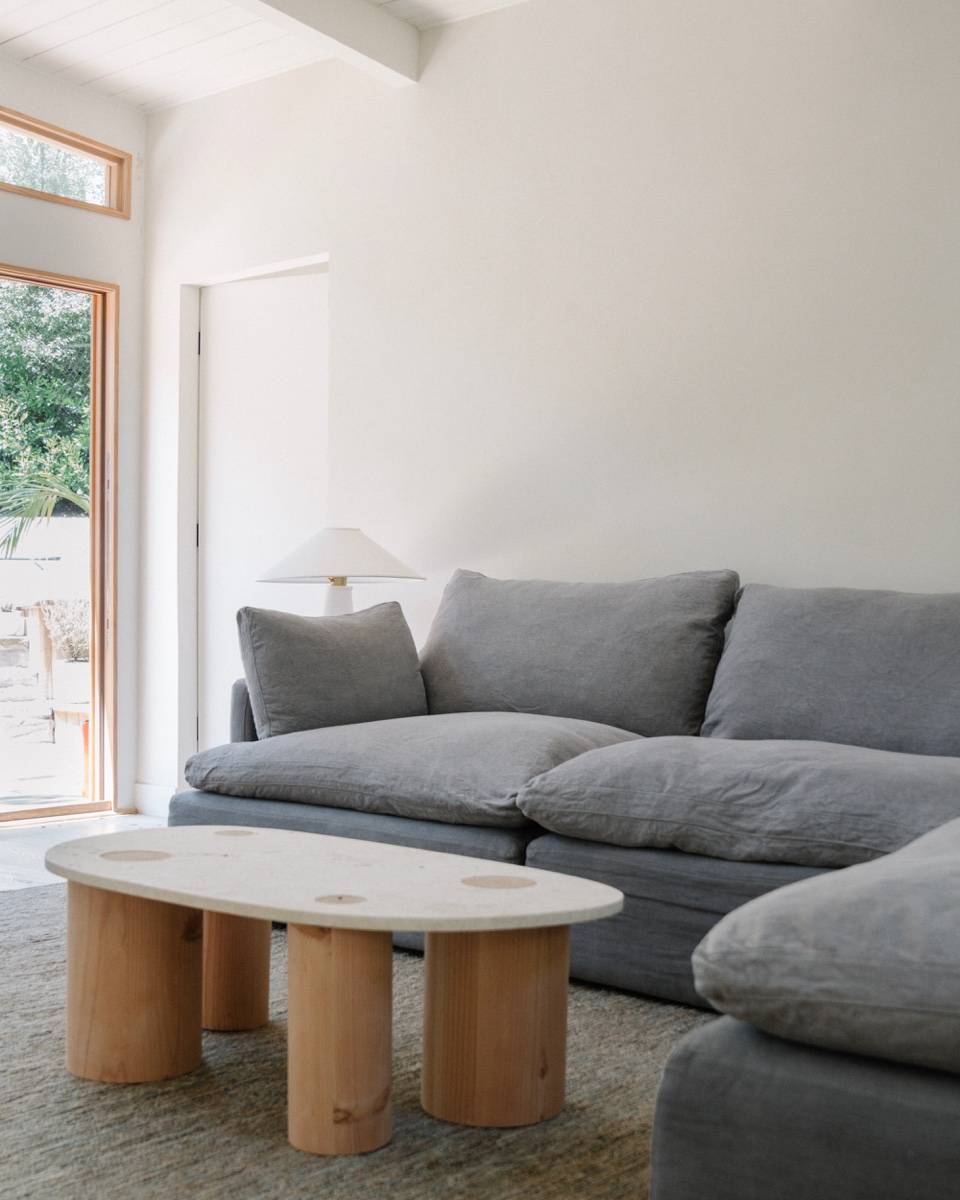 ---
---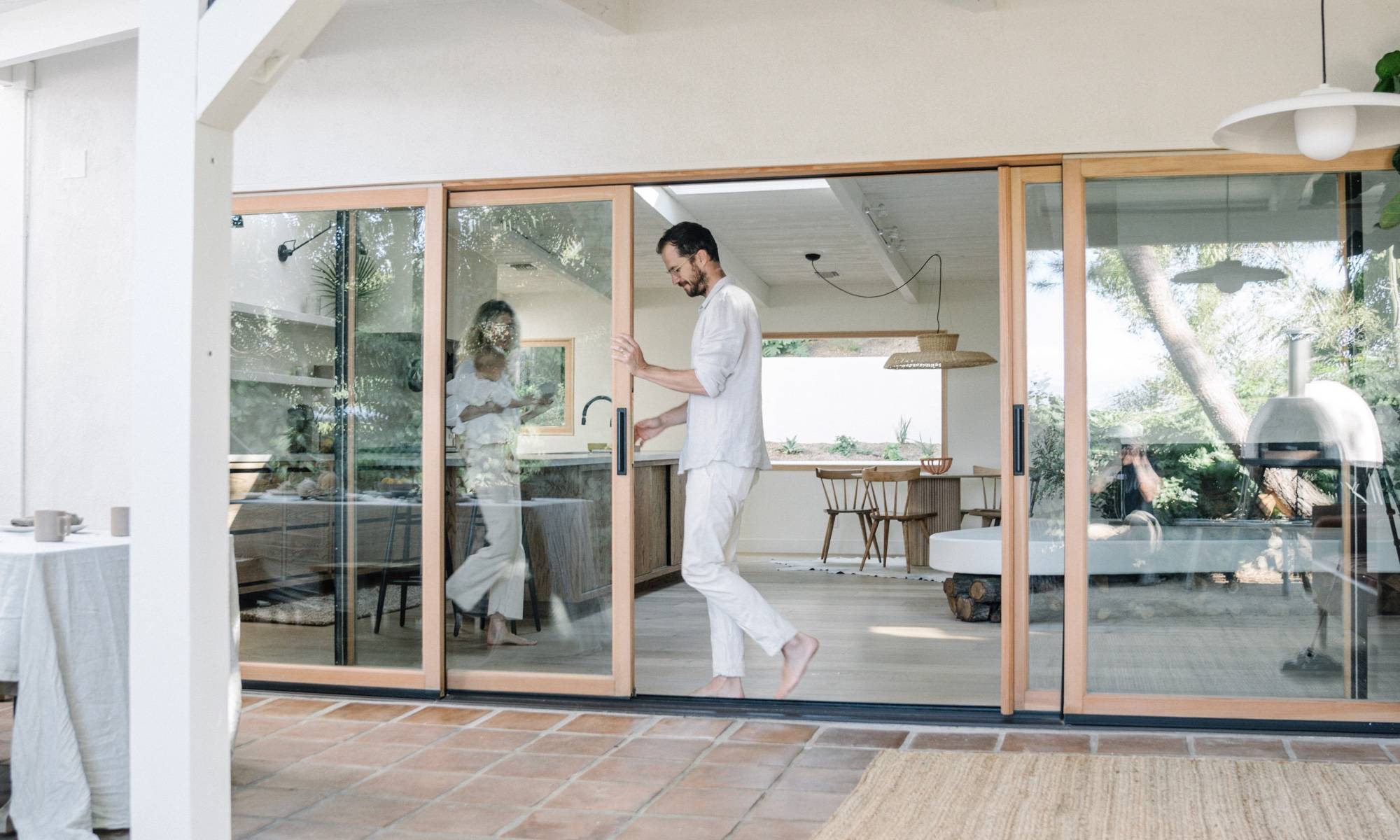 ---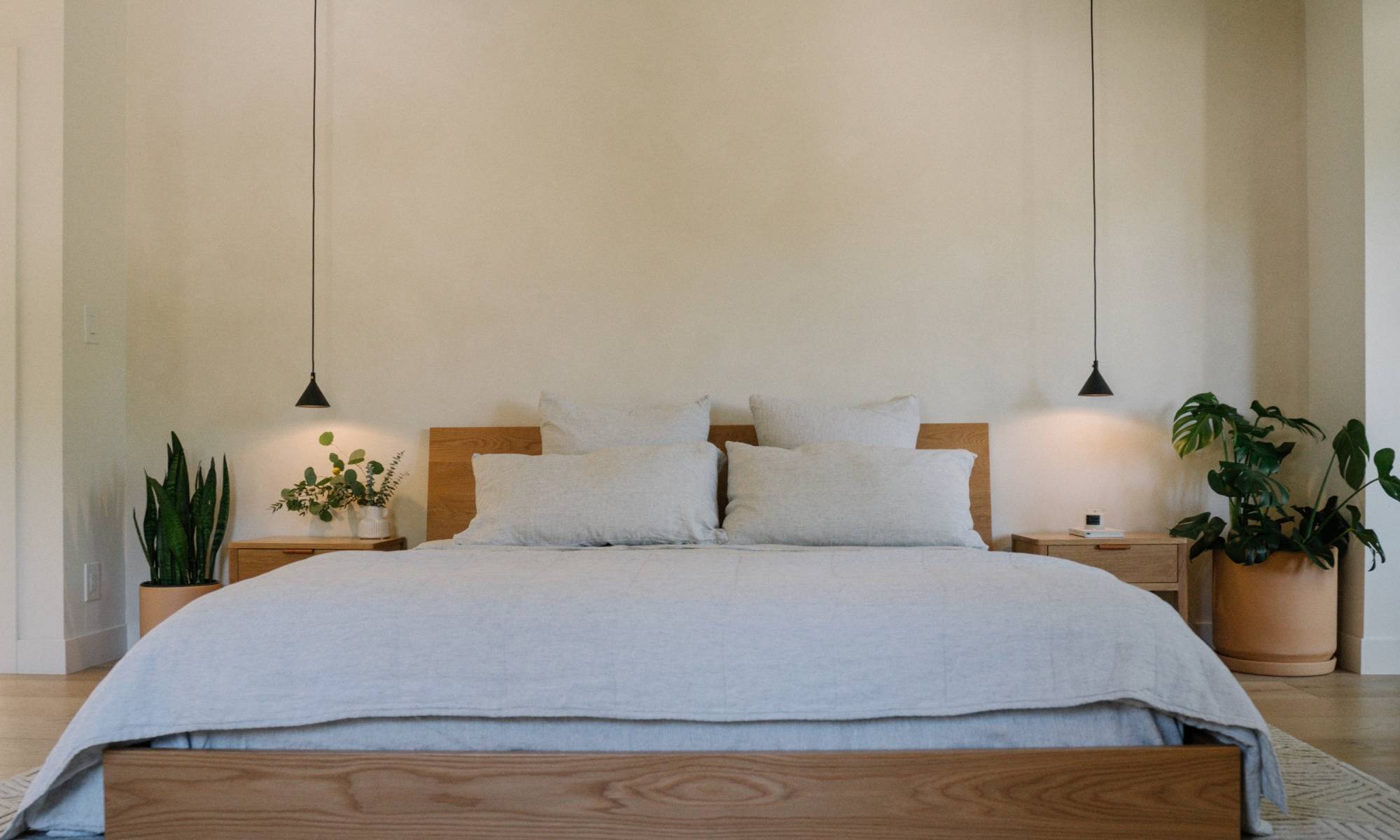 ---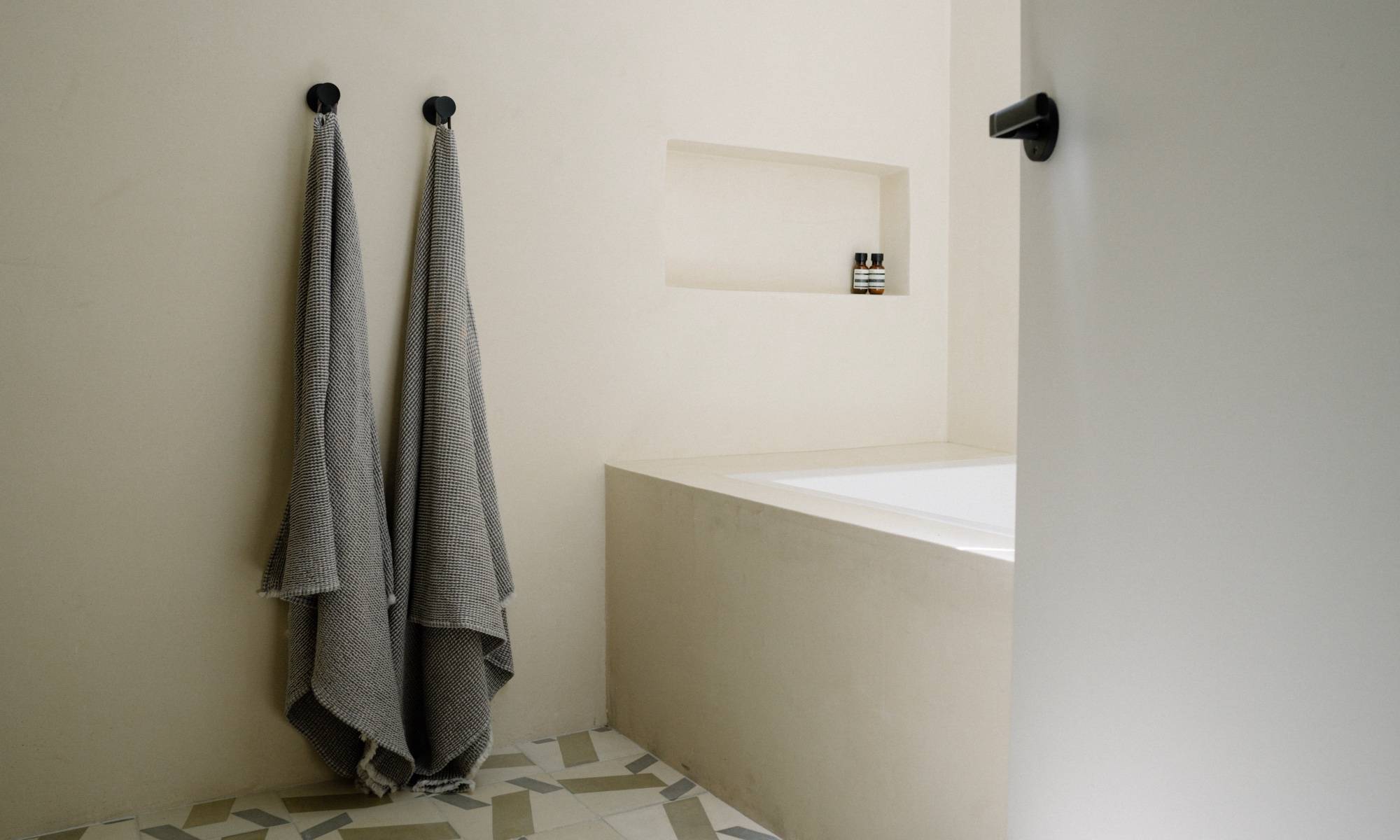 ---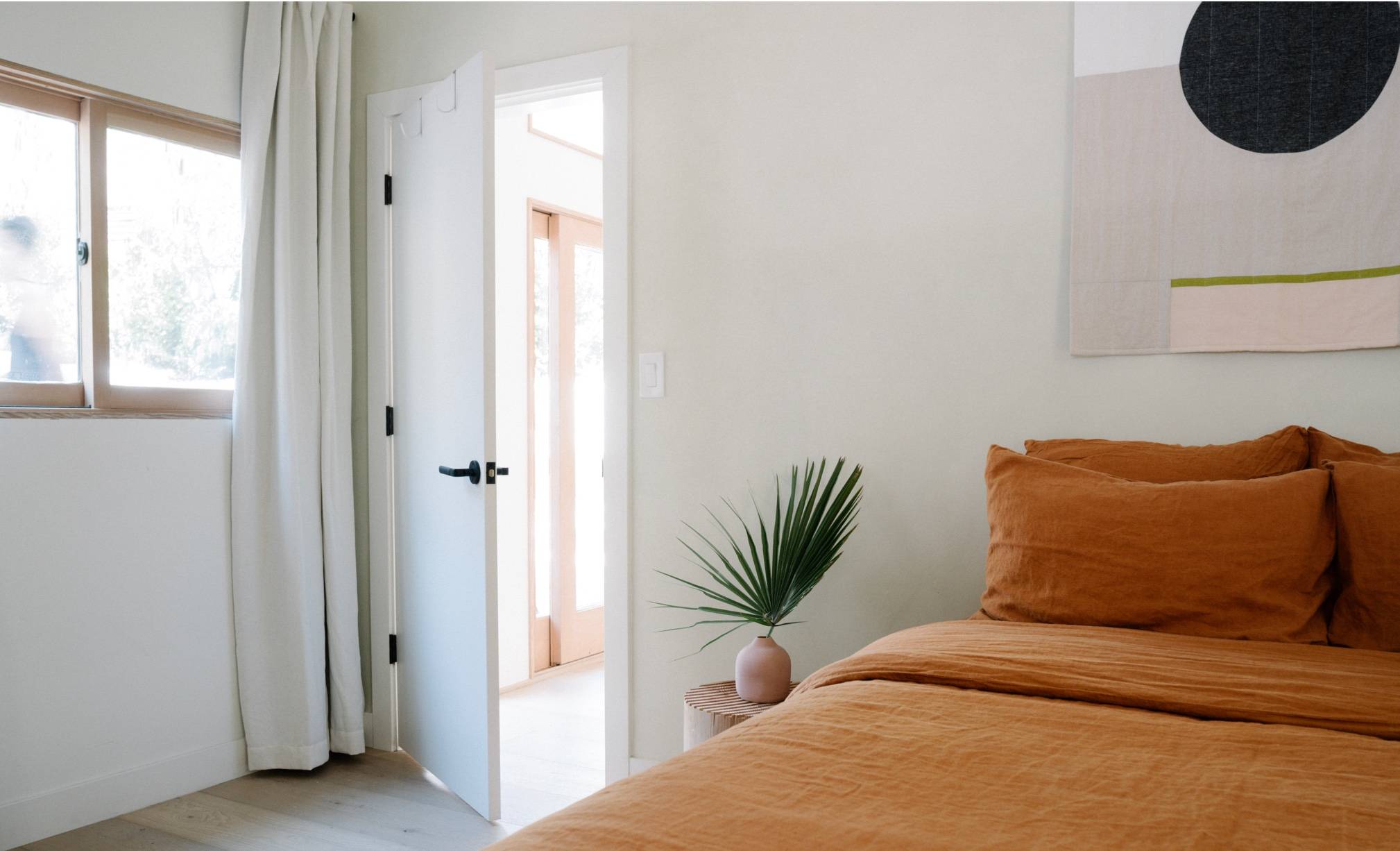 ---
Amber Lestrange's home sits tucked into the hills and greenery of Laurel Canyon. Inside, the home opens into an expansive, airy space that was gut renovated to meet the needs of a busy young family.
Minimalist pieces and a simple color palette keep the home cohesive, but the show-stopping architectural elements serve to draw the eye throughout the space and into an outdoor terrace planned for a family that loves to entertain.
We spoke with Amber about her vision for the home during the renovation, how her style has shifted away from boho maximalism, and how she's created a peaceful feel even while catering to the needs of young children.
Introduce yourself!
My name is Amber Lestrange — I'm a mama, model/actor and renovation warrior. I live with my husband Cary, 6 year old son Valentine and 1 year old baby girl Winnie Soleil.
Can you tell us a little bit about your home? Where is it?
Laurel Canyon. It has a Scandinavian style to it with wide wooden floors, plenty of light and open space.
We are aspiring minimalists but have discovered that this is quite ambitious being parents of two littles. The house is composed of natural fibres and tones and we have incorporated indoor/outdoor living elements as much as possible.
How would you describe your interior style? Has it evolved over the years?
I would describe our style as a natural minimalism. We like to work with subtle texture on a natural canvas adding pops of unique modern design elements to balance out the softness.
Our style has definitely evolved! We used to be all boho but I find that the more hectic life gets as we age the more I appreciate a zen space without too much distraction for the eye. I am also learning that balance is not only key to achieve good health and happiness but also to create a home that feels great!
What did the process of renovating your home look like? Did you have any particular sources of inspiration?
It was a LONG process. We gutted the house and spent nearly a year building it back up. We finished our bedroom first so we could live out of that room while the rest of the house was being torn apart and put back together. A cutting board on top of cardboard boxes was my makeshift kitchen for about 3 months while I was pregnant with Winnie.
We were lucky enough to work with Klein Agency who have an incredible eye for design and interiors. They were able to encourage us to lean towards modern elements where suitable and dreamed up all of my favorite aspects of the house like our fireplace bench, open plan kitchen and access from the main living area to the pool!
Did anything in your vision for the space change as you went through the design process?
We started off wanting brick or stone floors in the downstairs open plan living space but soon realized it did not meet our budget and opted for a wide oak wooden plank which ended up being the more sensible option with kids crawling and scooters zooming around inside.
We also wanted to extend the interior flooring to the surrounding exterior areas to marry the indoor and outdoor worlds. Once again, budget restraints prevented that from happening right away!
When it comes to design, did you approach your whole home as a cohesive unit or did you work on each room separately?
The whole house as a unit to ensure there is a smooth and consistent theme and feeling throughout the house. I like to work with the unique aspects of each room and what it may need to give it a little spunk.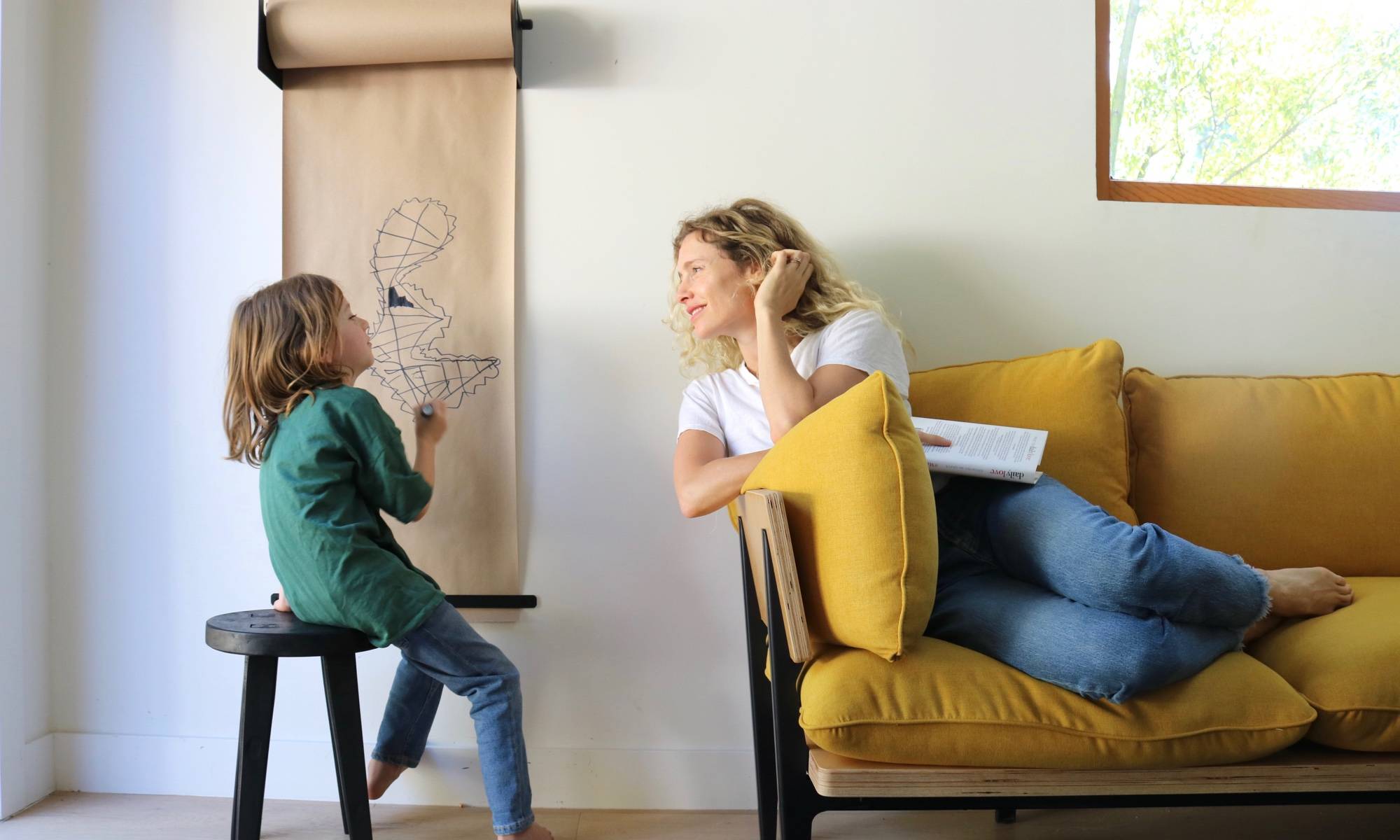 Do you tend to change and experiment with your furniture/decor or do you stop once you consider a space "done"?
Haha. This drives my husband mad. I am constantly fantasizing about new furniture to help the space feel more dialed in.
I have learned the longer you live in a space the more you get to understand the areas you use most and what items would be best where. It's also useful to start with a major piece like the couch and work around that to create balance and diversity amongst the furniture pieces around it.
Did you furnish the home from scratch, or did you bring in pieces you loved from previous spaces?
We have some pieces from our old places but mostly new furniture to fit the space nicely and represent us in this new phase.
Does the home reflect any of your favorite activities or hobbies? How so?
We love entertaining so the open living space with the kitchen involved in all the action is perfect for us.
We also love nature and feeling as close to it as possible so the large glass sliding doors and indoor/outdoor living set up really makes a difference for our every day. Opening the living room to the pool area was also important as we are always by the pool and love to have that element of water in view.
We love a space flooded with light so putting in the skylights was a must. The large, unique fireplace bench we also love- it brings in that element of authenticity that we appreciate plus it doubles up as an amazing stage for the kids.
What's the story of some of your favorite pieces? Why are they your favorite?
I love our dining table from Asplund. I like how simple and clean the design is balanced out with the solid oak panels on the base. It goes perfectly with our "natural/chic" interior brief.
I also love our custom made table coffee from Klien Agency AKA my baby elephant–– The oblong travertine top (which was left over from the travertine slab we used for the bathroom counter) with solid oak cylinder legs is a unique piece that funks up any space we place it in.
Our world's most comfortable couch, the Nest sofa from Timothy Oulton is also a fav- it has washable linen covers and a soft grey color that make it super kid friendly yet elegant.
Our Floyd sofa is also a stand out piece. The saffron was the perfect pop of color and fun for the kids room and I am so impressed with the fabrics ability to be stain resistant and keep its voluptuous shape!
Lastly, I love our vintage hanging chair on the patio that we switched with a friend for our old couch! The kids use it as a swing and it brings in that 70's Cali vintage warmth that I love.
Is there anything you think the space needs that you haven't yet added?
We are on the hunt for a great accent chair to place by the fireplace in our room and an interesting bench to go at the end of our bed. And I could always do with some more rugs!
What are some of your favorite sources of inspiration for your space?
I am constantly weaving my way through pinterest saving images that inspire me. I mostly find myself gravitating towards modern japanese architecture and design that speaks to minimalism. I am also very inspired by modern prefab homes and their eco approach. Also though a little modern N.Z architecture/design in there and we are good!
What makes you feel most at home when you walk in the door? Is there anything you can't feel at home without?
Usually it's the energetic sound of my family reverberating through the walls, the smell of a meal brewing and some Bob Dylan. Soft linen sheets are one thing that I can't go without. The coziness and decadence it adds to a room always makes me feel happy and like I am living my most luxurious life!
What's a favorite memory you have in your home?
Giving birth to my daughter in our room upstairs. Starting our mornings with a family slow dance in the living room. And simple moments like curling up on our patio daybed in the morning, sipping a coffee, listening to the birds and watching the mist move through the canyon.
Photos by Carlos Naude.