You've seen the mugs on your Instagram feed. East Fork Pottery's earthy dishware has brought traditional craftsmanship into the social media age. Founded in 2010 by Alex & Connie Matisse, the last decade has seen the brand transform from a local Asheville favorite into a studio with two retail stores and its own 30,000 square foot office and manufacturing facility.
East Fork's appeal is tangible. Each piece of pottery is heavy, glazed in the sort of colors you'd find in the Blue Ridge Mountains that surround its headquarters. Smooth curves and edges are modern but have a sense of timelessness. Thoughtful work is East Fork's calling card (and its Instagram bio).
We spoke with Connie about slow design, bringing a traditional craft to the e-commerce world, and how she finds inspiration in the everyday.
Does East Fork have an overarching design philosophy?
Slow and steady. Our work is fundamentally rooted in a long-standing tradition of functional folk pottery. In this tradition, the student replicates a form in the master's line thousands of times over.
An 8 ounce, low-slung bowl, for instance, over and over and over again. And from that run of hundreds or thousands, there may be a handful that are just right. Where each curve is in a comprehensive conversation with every other. Slowly, the master might bring a rim half a centimeter up, or widen a foot by the width of a mouse's ear. This is how we approach design at East Fork.
I'm gonna go ahead and quote my business partner, John Vigeland, since I can't explain it any better than he can. He talks about back when we were making pots in the wood kiln and selling at craft fairs.
He says, "The quality and price of a pot was based solely on the maker's own intuitive judgment. And that judgement was informed by the inter-generational striving of Potter and Apprentice, going deep into human history and drawing on lofty abstract notions of beauty. Bigger storage pots (10 gallons and up) were meant to have a "commanding and majestic presence, occupying space the way a lone oak in full leaf dominates a meadow, … the same sense of volume and internal resonances as the nave of a Romanesque cathedral".
Pots were understood to have "skeletons" and "flesh" and the right balance thereof. Certain styles of mugs needed to have expectant bellies. A good platter would emulate the fullness of the moon.
Our work is informed by that design sensibility. The rims of our plates should exhibit a generous but taut curve and a graceful quality of touch left by the person who trimmed and finished the piece. The low-slung profile of our footed bowls should give the appearance of being at rest the way well-worn river rocks do. The handles of our mugs should move with the fluidity of good calligraphy.
Our pots shouldn't ever exhibit any 'meanness' like scuffed bottoms, or rough debris around handle attachments, sharp rims or glaze flaws, but rather should resonate with the loving care of a freshly-swept floor.
So much has changed since we started this business, of course, but our rubric for a pot's goodness has stayed steady at its core—our work should be beautiful and functional. It should be made for daily, life-long use.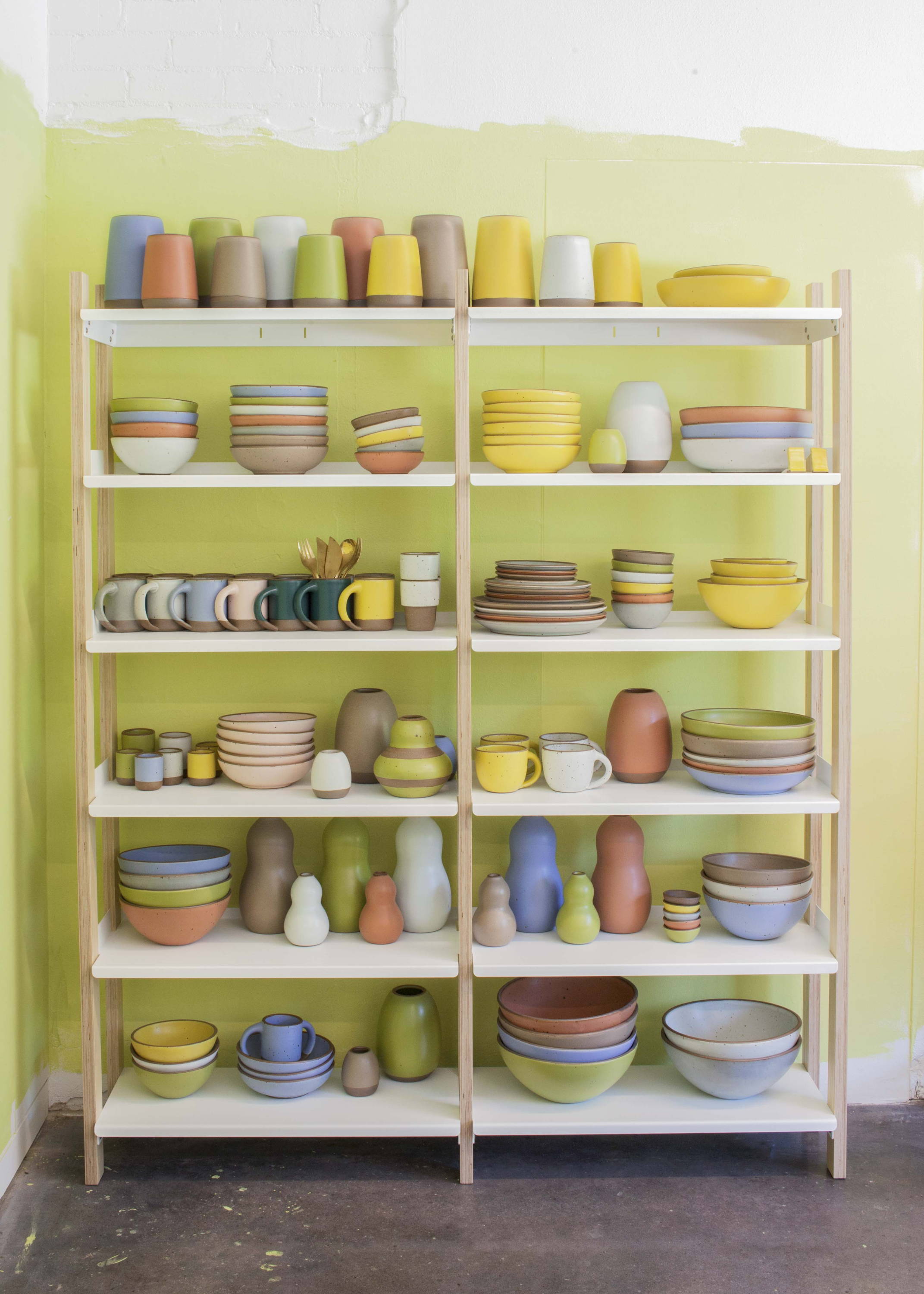 Do you pay attention to trends when you design new pieces?
We really don't. I don't mean that in a pretentious way. I love trendy stuff. But our colors take 6-9 months to develop and another 3 months to build inventory for, so I have to think about color palette at least a year and a half prior to launch. If a color is already trending, I've missed the boat. I like that this pushes us to release colors that we love for reasons 100% other than that we think they might be popular at the time of release.
I'm also just in the weeds all the time (working on it) and lately I haven't been reading, surfing the Internet, or doing anything that might make me have a better understanding of what's happening out there. I don't think this is a positive!! I'd love to have my on the pulse finger better. But not paying attention to trends has been a by-product of my tunnel vision. It has its pros and cons.
East Fork makes such high quality pieces. They're weighty and solid, and feel like they'll last forever. But how do you educate your customers on the way handcrafted pottery is worth the extra expense? (This is something we wrestle with at Floyd, too!)
We kinda hate that our pots cost as much as they do. In our ten year vision, we have several lines of thoughtfully produced pottery at several price points. Alas, right now, we sell the pots for the price it costs for us to make them, or thereabouts.
I don't have to tell y'all that it costs a lot of money to make and sell something without exploiting a bunch of people and the environment in your wake. And so we spend so much time on community education.
We see a lot of companies trying to use the concept of transparency as a marketing and brand-building tool, and it falls so flat for us. We want to use transparency as a method of radically reorienting how business owners run their companies and relate to their communities.
It's not enough to just make your information available to your customers. You have to make it available, accessible, and then actively invite your community to engage in a conversation about that information. We do that a lot at East Fork and we find that it's a great tool for educating our consumer on why it's important to prioritize purchasing well-made objects from trustworthy manufacturers if you have the means.
What do you think is most important to successfully bridge the gap between a traditional craft and the fast-paced e-commerce world?
Being a traditional craft company interacting with the fast-paced d2c ecomm bonanza is an incredible differentiator. It also means you have to try to grow an audience with way less money dedicated to digital ad blasts and way more money dedicated to making your craft and supporting your people. It means that when you stock out of something you can't just call a factory overseas and order more.
It is HARD to compete in this market. The single most important thing you can do is be in constant communication with your customer and community about why your business is different, why you're trying to do things differently in the first place, and what they should expect from that difference and
(Editor's note: East Fork has a particularly candid approach to its external communications. Take one look at the captions—often written by Connie—and you'll understand what she means with her answer).
East Fork has grown so quickly! Has growth changed the way you (& your team) feel connected to your product?
It's made us more obsessed with making it perfect.
You are known for your delicious (sometimes instantly sold-out) colors. Do you have a favorite?
My favorite is the humble Morel. Always will be. It's a perfect color
Where do you find inspiration for new pieces or variations?
We have a lot of traditional pottery in our home. Everything we need to be inspired by is already accounted for in the objects we're in constant contact with every day. We're not trying to reinvent the dinner plate. But the rim of one pot might be combined with the base of another to make something new to us.
Is there anything exciting coming up in the next few months that we should know about?
We'll be rolling out several very limited runs of forms from our Small Batch Studio, where Amanda makes small runs of pots on a wheel. It's a place for us to explore and play and test pots that might enter the line in the future.
This winter we'll be making sweet little creamers, 18 ounce mugs, tiny bud vases in a grab-bag of forms, and simple, perfect utensil crocks.
East Fork Pottery is available online, at their retail locations in Asheville, NC and Atlanta, GA, and in the Floyd Shop!
This widget makes post narrow
This will be hidden in site