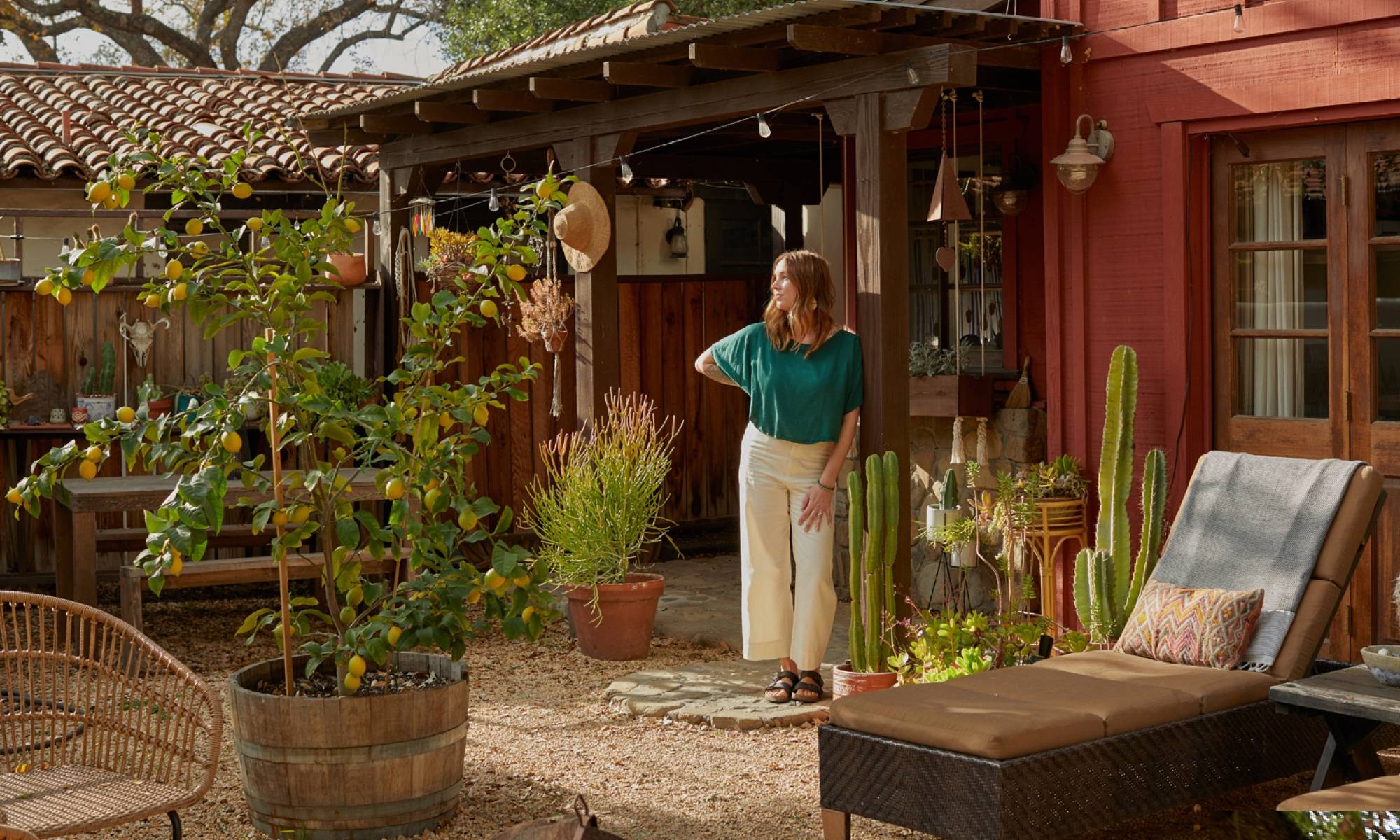 Sally England's Dreamy Ojai Farmhouse

The textile artist designed a home that honors the natural beauty of Ojai.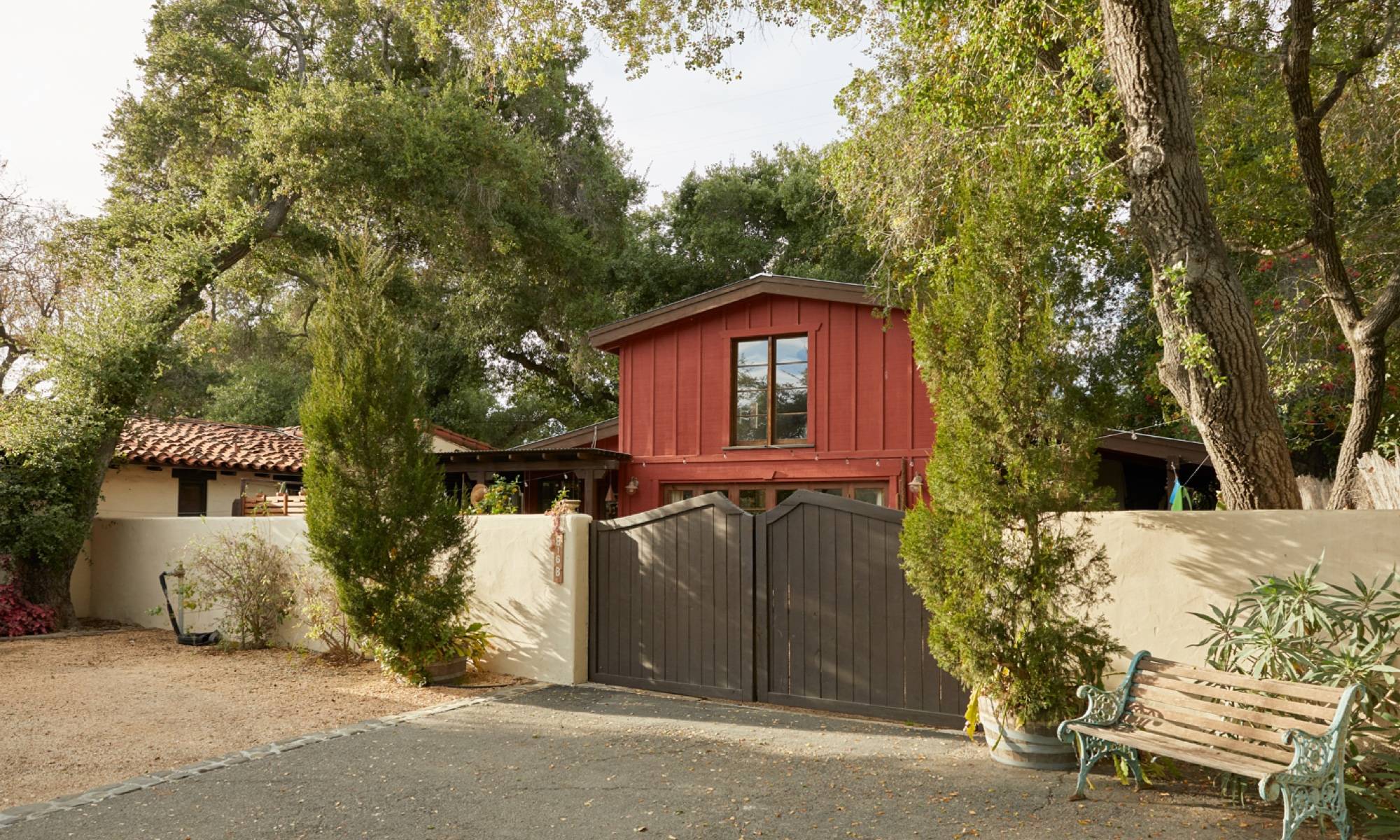 ---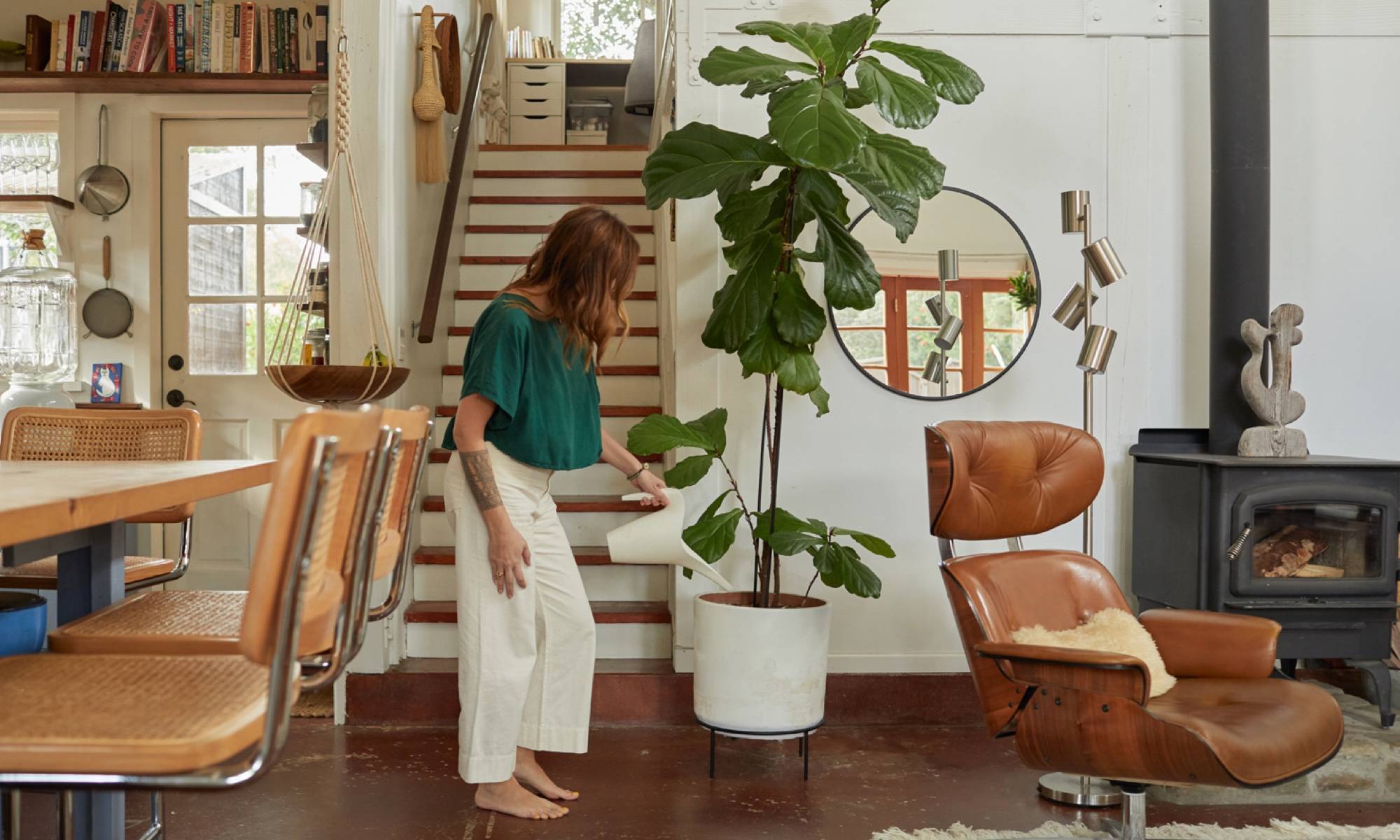 ---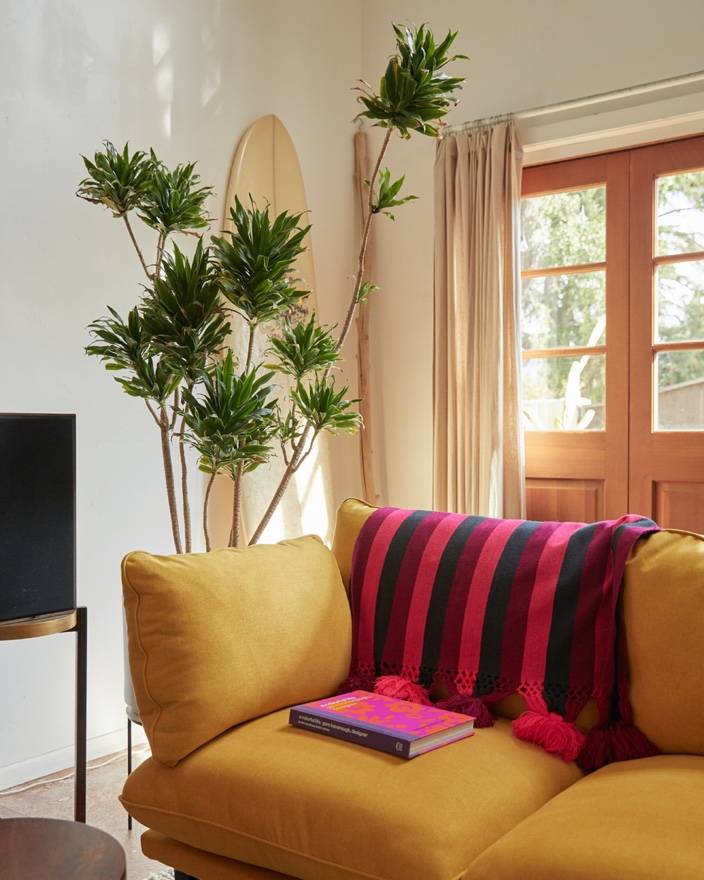 ---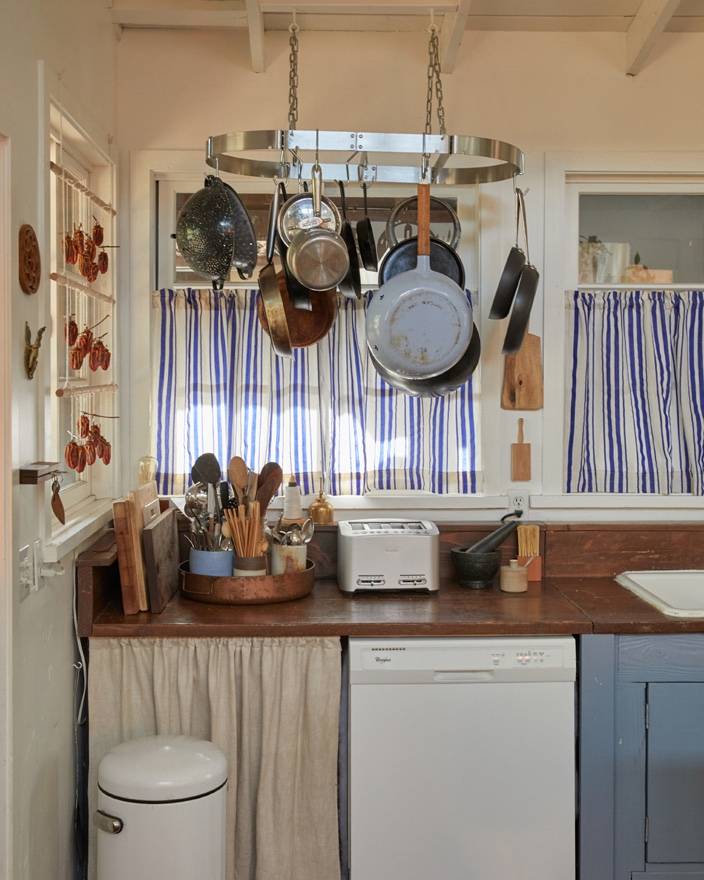 ---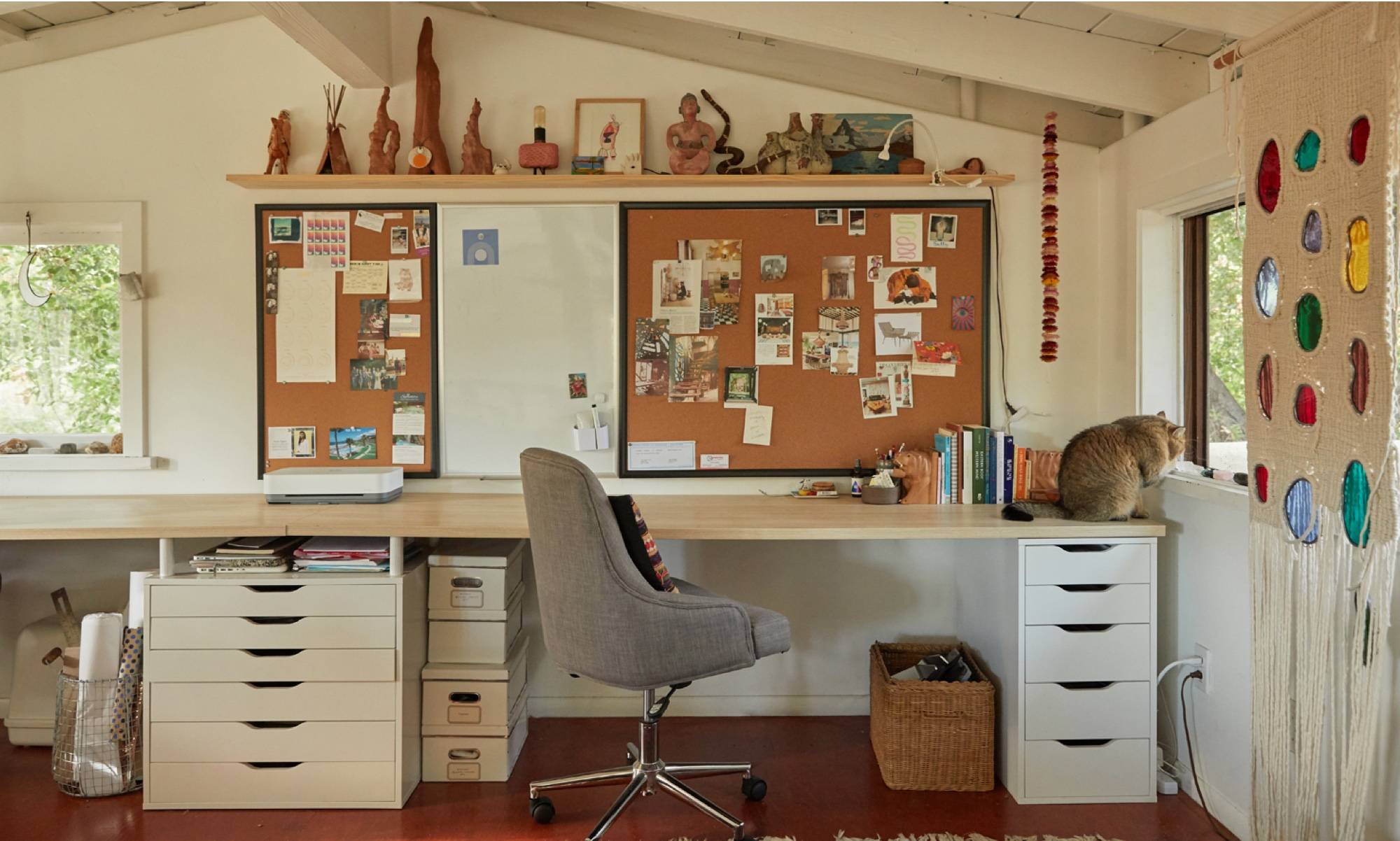 1.Header image: Sally England stands in the courtyard of her Ojai home. / 2. The house, built to resemble a barn, is situated among a grove of trees. / 3. The central section of the barn has vaulted ceilings, and functions as an open plan living space. / 4. The family loves their kitchen space. / 5. A desk area in Sally's workshop.
When fiber artist Sally England had to evacuate the Ojai home she shares with her husband Nick during the 2017 Thomas Fire, she took her Joni Mitchell records. One look at the home (which luckily escaped the fire) and it's no wonder Sally is drawn to the bohemian icon — the entire space is a dreamy, 70s-inspired oasis.
Inside, Sally's large-scale knotted creations fill the airy, vaulted interior, and sliding doors extend the living space outwards into a serene courtyard. The couple play with color and texture throughout their space, creating an eclectic home that's as California as it comes. We spoke with Sally about the home that enchanted her at first sight.
Give us an intro!
Hi! I'm Sally England, I'm a Fiber Artist and designer/maker. I live with my husband Nick, a Color Designer, and our two Persian cats Banjo and Merlin. Our home is located in Ojai, California. It's a single family rental in the Oak Tree-abundant neighborhood known as The Arbolada.
The house has a really interesting architectural style. Could you tell us more about it?
Our home was built in the Monitor Barn style, complete with a loft and folding accordion doors that span the front of the house. I believe it was built around 1990, but has the feeling of being much older.
Did you fall in love with your home the first time you saw it?
Yes! When my husband and I first moved to Ojai we were living in a tiny 450 square foot cottage, with no storage space. When we saw 'the barn' with its soaring ceilings and the beautiful light throughout the day we were in love. Our only worry was that we would never want to leave!
What room do you use the most? Did it surprise you?
We use the kitchen and main living area the most. My husband Nick is an avid cook and we love to entertain so most of the time we are gathered around the kitchen island cooking up a mess or having dinner with friends.
Has your interior evolved over the years?
My interior style is always changing and evolving with each home we've lived in. I like to decorate in a way that feels good with the existing architecture and soul of the home. Our current vibe is 1970's California craft.
Do you find it challenging to design a space that works for each of you?
Living with my husband Nick is always fun, we are constantly working on projects to improve our living environment and make our space function better for us.
We built all of the shelving in our kitchen, built a studio shed in the backyard, and put in garden beds and a tiled patio. Friends sometimes think we are crazy for putting so much work into a place we don't own, but for us its worth it for the joy it brings us in the long run.
---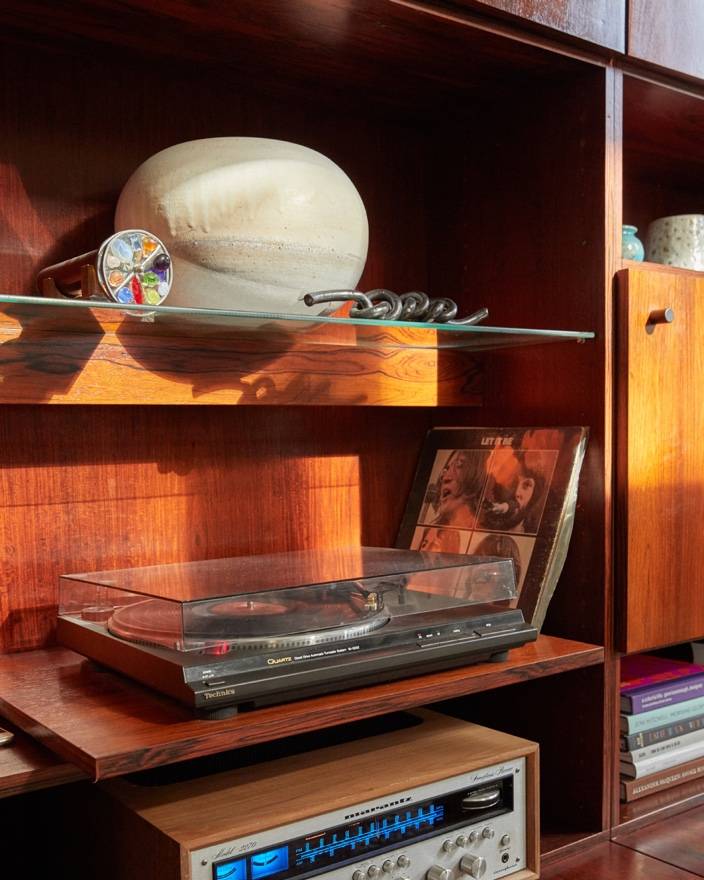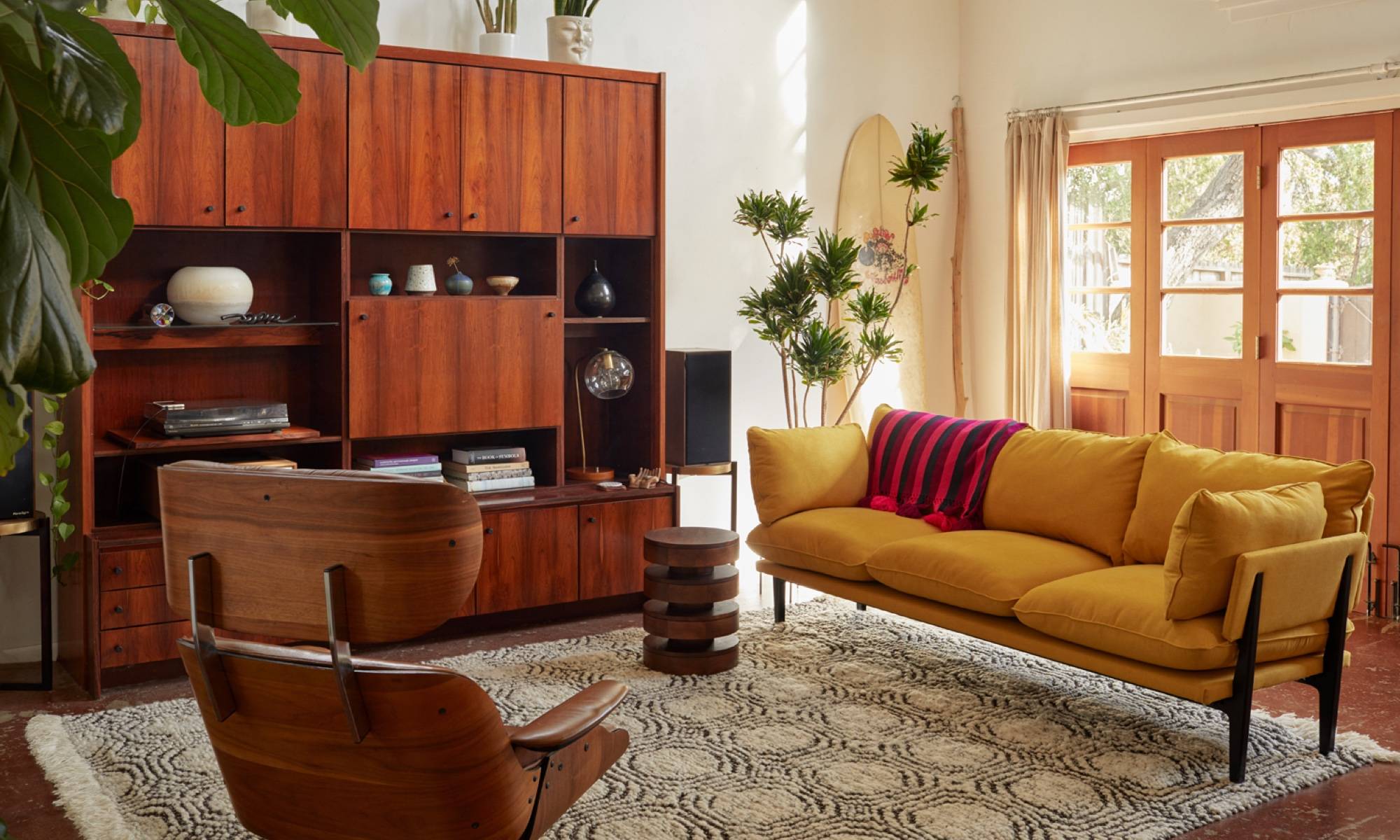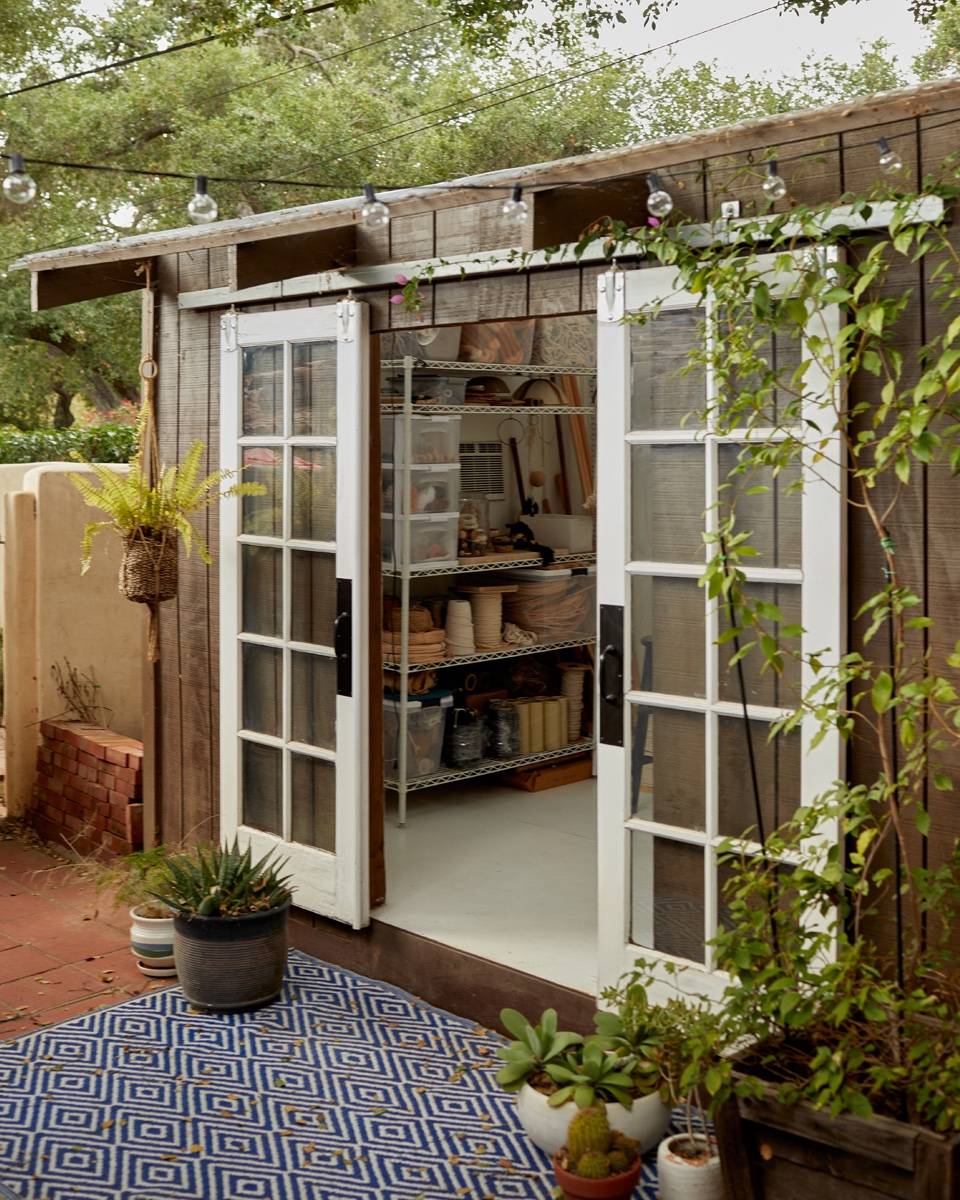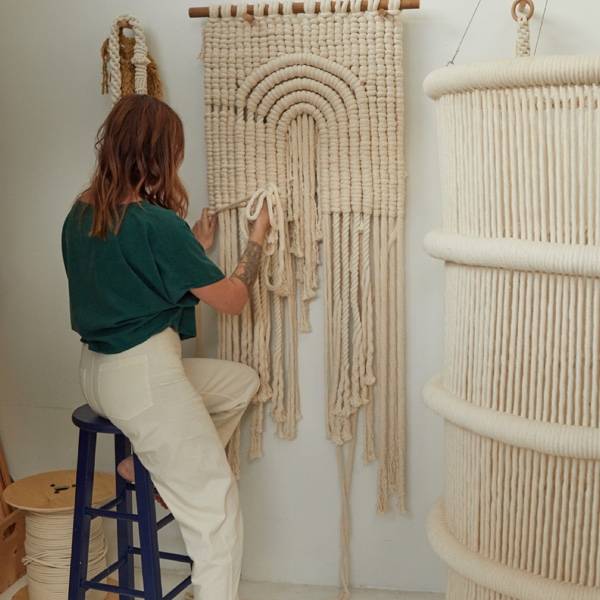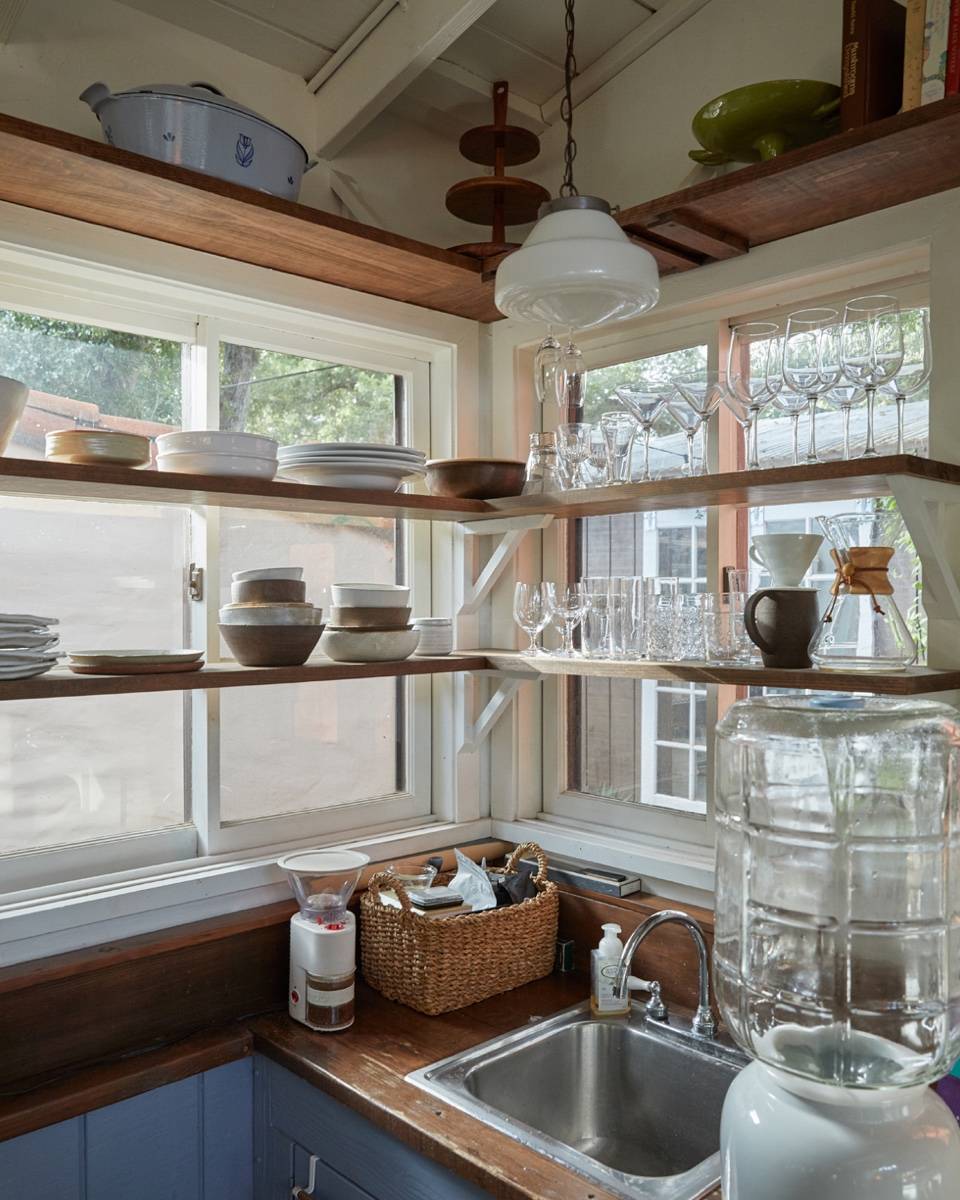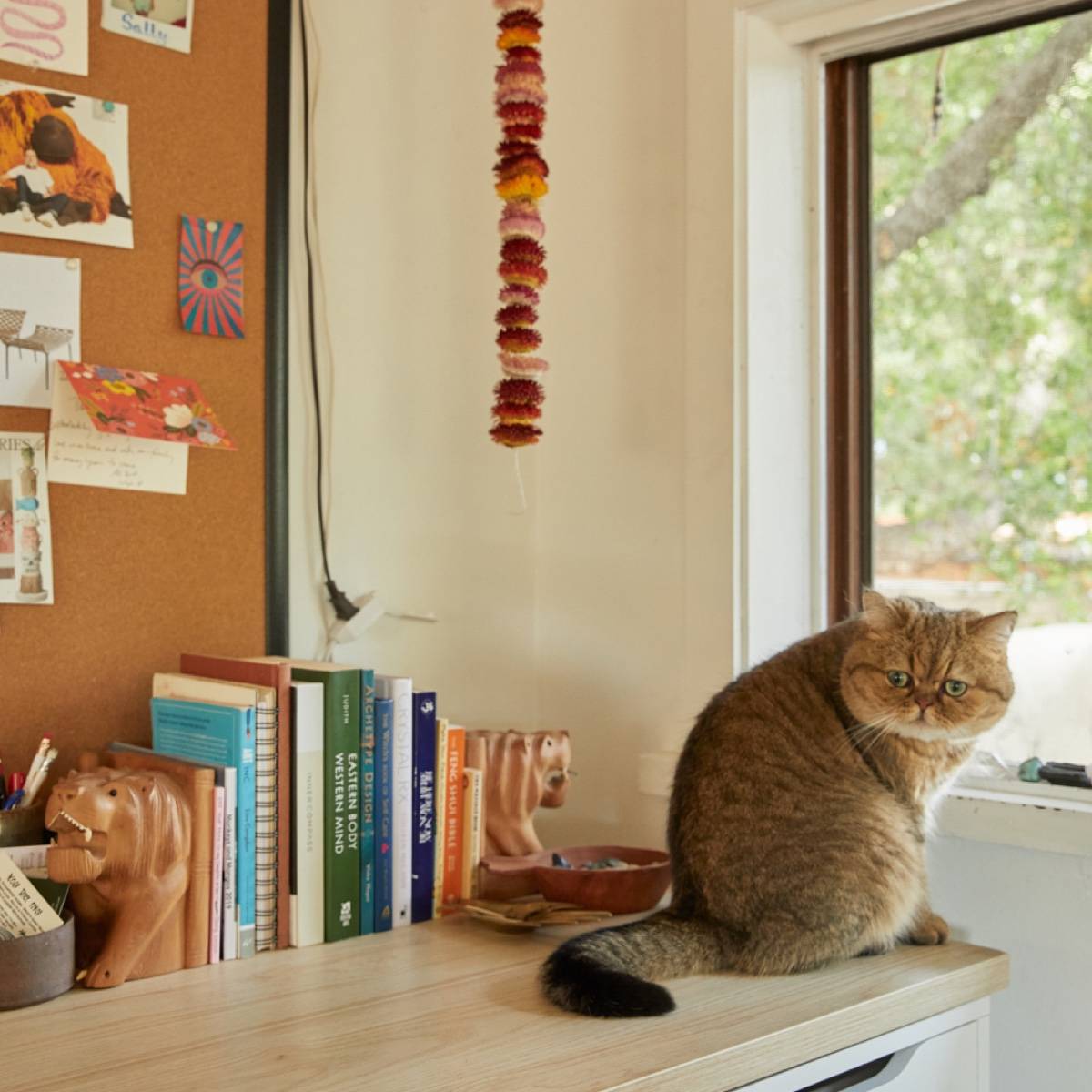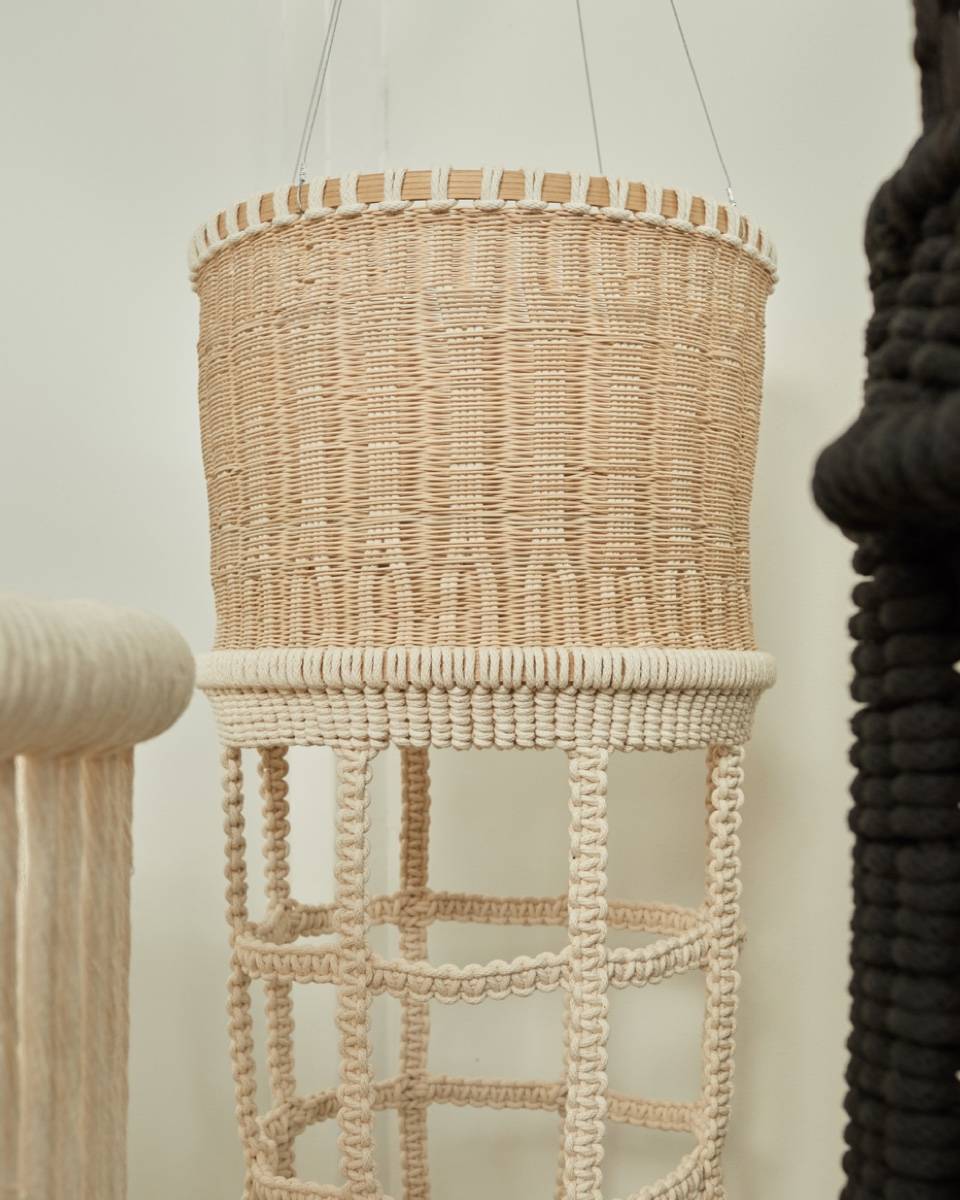 1. Sally took her collection of Joni Mitchell records with her when she had to evacuate during the Thomas Fire. / 2. The giant rosewood cabinet was a craigslist find. / 3. Sliding doors allow the workshop to open onto the patio. / 4. Sally at work on her fiber pieces. / 5. Abundant windows make the most of the California sunshine. / 6. The couple has two cats, Merlin and Banjo. / 7. Sally's work is right at home in the space.
---
Did you furnish the home from scratch, or did you bring in pieces you loved from previous spaces?
A mix of both. We are constantly rotating out rugs and artwork so our space feels fresh, new, and inspiring. We have a huge rosewood wall cabinet that we got for a steal (It cost more to move the cabinet then the cabinet itself cost!) on Craigslist that is so massive that it's hard to imagine it fitting anywhere else. It has a lighted and mirrored bar, plenty of room for our records, games, incense collection, and extra pantry storage. We love stuff, and we love anything that helps us not look like pack rats.
What's the one thing you'd rescue in a fire? (Other than family & pets, of course).
Our Floyd sofaof course! Seriously, we love it that much. We actually had to evacuate during the Thomas Fire, and we took some photos, rugs and artwork. I also took my collection of Joni Mitchell records, which is so silly because they totally can be replaced, but I just love her too much to let her music go up in smoke.
Is there anything you think the space needs that you haven't yet added?
I would love to make a really amazing minimalist cat tree someday. I think there is a real hole in the market as far as attractive cat trees.
What are some of your favorite sources of inspiration for your space?
I love old home books from the 60's and 70's. One of my favorites is Inside Today's Home by Ray and Sarah Faulkner.
Does your artistic sensibility manifest in your interiors?
Definitely. Being a fiber artist I have a deep appreciation for textiles and how texture can bring comfort to a space.
What makes you feel most at home when you walk in the door? Is there anything you can't feel at home without?
My cats!
What's a favorite memory you have in your home?
Before we got our fancy cats we would have the big front doors completely open to the outside, and every once in awhile a hummingbird would fly inside. One time, the hummingbird f was hovering in front of the second story window, looking for a way out, when outside another hummingbird appeared mirroring him on the other side of the window! He was either comforting him or taunting him. The little hummer eventually made his way out to his friend (or foe).
Images by Cody James.