Artist Charles McGee saw the vitality and struggle in Detroit.
The groundbreaking and prolific visual artist, who lived in the city for more than 80 years, created sculptures and sweeping murals in galleries and public spaces that spoke to the importance of community and the beauty of nature. A man who believed his path was intertwined with others, McGee forged the way for contemporary Black artists during a pivotal moment in the 1960s and was a humble beacon in the Detroit arts landscape.
---
Coming to Detroit as Part of the "Great Migration" North
Born in 1924, McGee grew up in Clemson, South Carolina, on his grandparents' farm.
He wouldn't attend school until he moved to Detroit with his aunt as part of the Great Migration, which saw millions of African Americans relocate from the rural South to Northern cities. The lights and movement of downtown so captivated the 10-year-old in 1934 that he said it was "like being in a movie." The world opened up to McGee in the city, and he, in turn, spent the next eight decades trying to understand the world through his art.
Witnessing "Man's Greatest Enemy"
In 1943, McGee enlisted in the Marine Corps as a teenager and was stationed in Nagasaki, Japan, after the atomic bomb was dropped two years later. He called war "man's greatest enemy."
McGee returned to Detroit following World War II, searching for a way to express what he felt when he witnessed our capacity for inhumanity. He attended art classes on the GI Bill at the College for Creative Studies, but he still needed a job.  
The Making of a Sculptor
While he studied classic techniques, McGee's work experiences also impacted his approach in the studio. A factory job taught him to weld — a life skill for a sculptor — and his time as a cartographer was reflected in the straight, bold black lines and swirling topography of his mixed media works.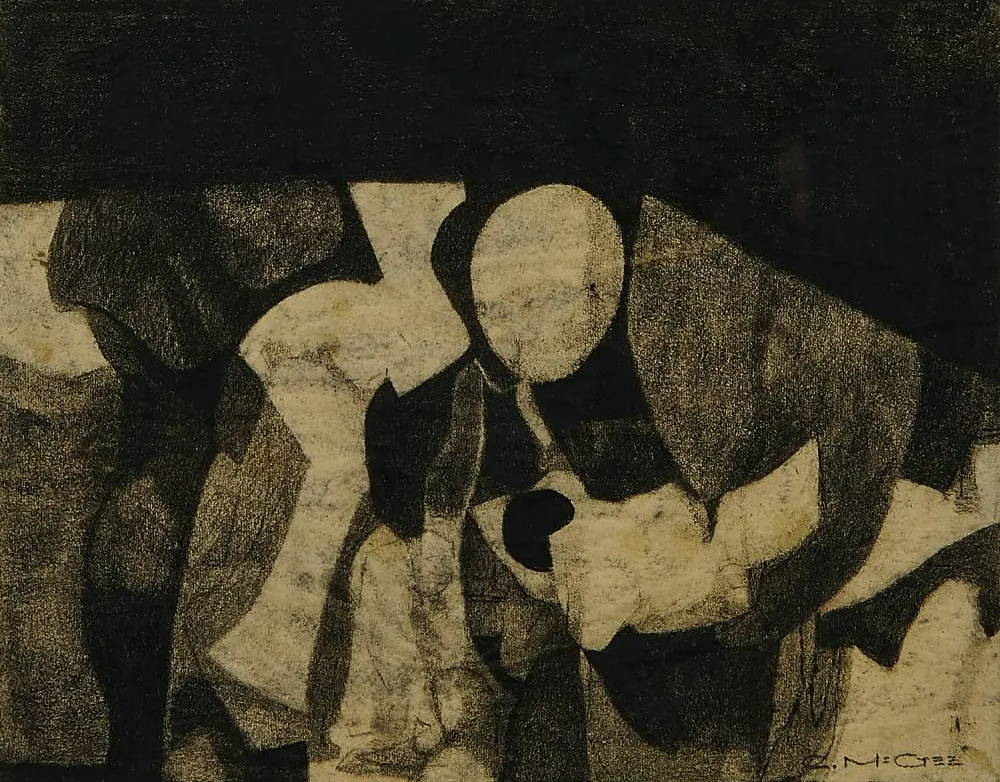 Woman Holding Baby — charcoal on paper (1960s)
McGee developed an early following with paintings and charcoal drawings that focused on Black urban life. His stripped-down portraits were captivating looks at real moments. They stood in stark contrast to the rising popularity of Color Field paintings in the 1950s, where artists like Mark Rothko created abstract geometric pops of color.
McGee's innate ability to see others and uplift them is part of why he is beloved in Detroit.
Even as his work moved from realistic portraits to more impressionistic shapes in the 1960s, they kept their emotional power because of McGee's unwavering message that a community should always strive to come together.
The Impact of Detroit
Detroit broke apart in July of 1967, in a moment that deeply impacted McGee. The Detroit Rebellion was a five-day clash between citizens and police that left 43 dead and the city in flames. The unrest stemmed from tension between the Black community and metropolitan police, declining economic prospects for urban dwellers as large manufacturers shifted production away from cities, and increased racial segregation brought about by discriminatory housing practices.
"There were several people I know that were killed during the riot," McGee said during the dedication of United We Stand, a piece he created to commemorate the 50th anniversary of the Detroit Rebellion. "We don't know what good is unless we have bad. [The Detroit Rebellion] was one of the great influences in trying to learn art and bettering my condition so I could compete in the world."
McGee again turned to art when faced with tragedy. After a year of study in Barcelona, Spain, he returned to Detroit, seeking to create opportunities for others. In 1969, he exhibited a groundbreaking show, "Seven Black Artists," at the Detroit Artists Market that highlighted his work and that of six Black contemporaries.
"All of my work has to do with dependence on each other, how we come together," McGee said.
He used the momentum generated by that show to open Gallery 7, a cooperative art space. It was a seminal moment — one often overlooked nationally in favor of similar efforts in Los Angeles and New York City — that shifted the course of contemporary art in Detroit, elevating Black painters and sculptors and creating a welcoming space that thrummed with life.
McGee continually looked to share what he had learned, likely because of what education had meant to him when he arrived in Detroit. He offered free art classes to children and adults at the Charles McGee School For the Arts. He would teach at universities and art centers for more than four decades.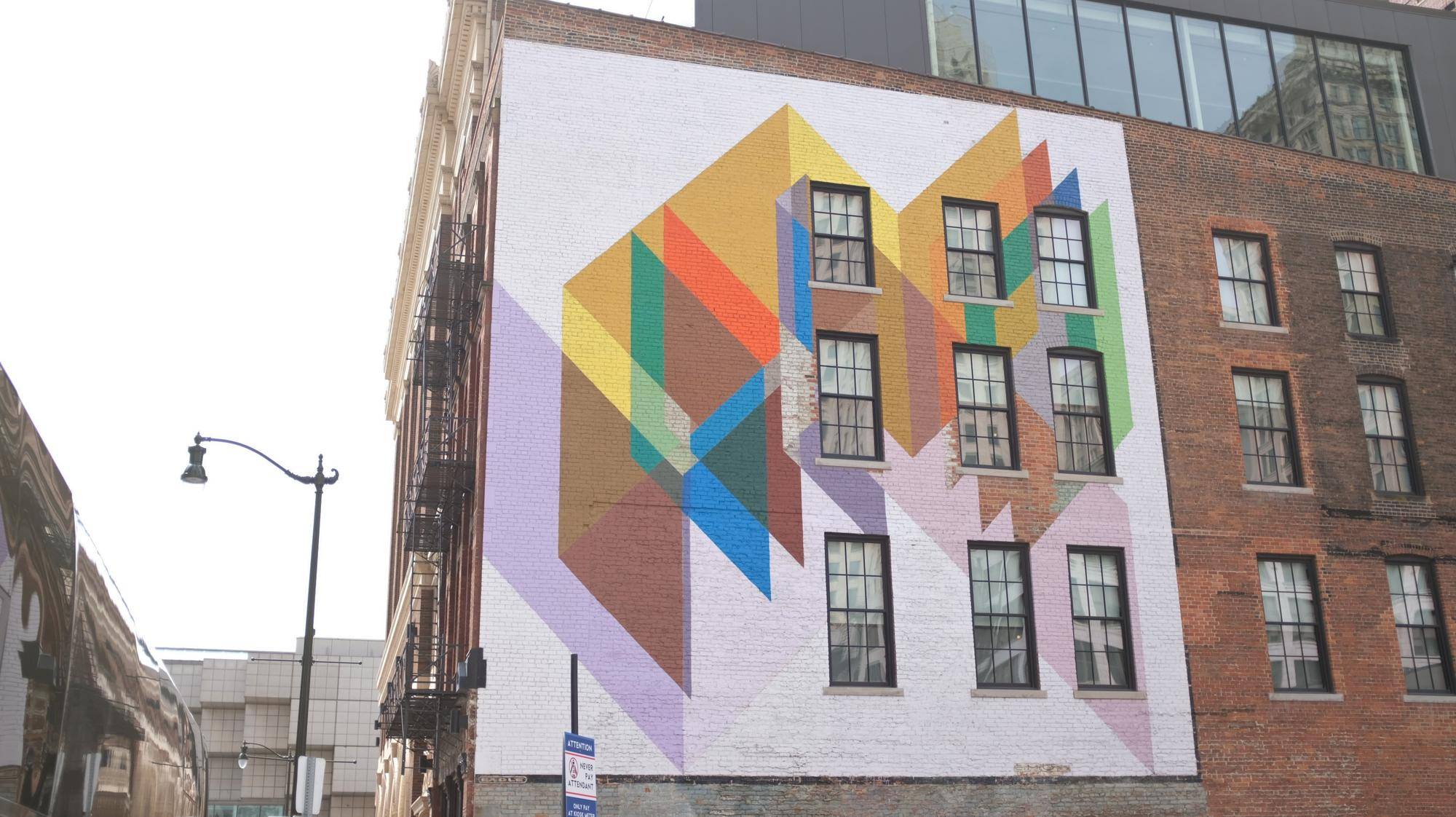 "Untitled" mural on 250 W. Larned St. (1974), restored in 2019

McGee's Imprint on Detroit's Skyline & Its People
McGee's profile grew in the latter half of his life as the force of his generous spirit worked on the world like water on a stone. In the early 1970s, he brought vibrant colors and geometric shapes to the skyline of Detroit. An untitled mural — recently refurbished — from 1974 still enlivens the bricks at 234 W. Larned Street. At the same time, he advocated for other artists, co-founding the Contemporary Art Institute of Detroit, a non-profit, community art space, in 1979.
As he fostered conversations around contemporary art and artists, his works spoke powerful odes to the joy of creation. McGee's optimism perhaps best shines through in "Noah's Ark: Genesis," completed in 1984. Here, a bold combination of painting, collaged fabric, and masonite appears in perpetual motion. It's a festive celebration of what it means to be alive.
Even with opportunities to showcase his art internationally and in major U.S. cities, he preferred the city where he first saw lights. Everything, in turn, was pulled into his orbit.
A Storyteller of Balance & Unity
McGee saw the ebb and flow of Detroit like the ebb and flow of nature. Over decades and hundreds of paintings, he became the metro's storyteller as the city expanded and contracted. In 2008, McGee was the first recipient of the Kresge Foundation's Eminent Artist Award to honor the impact he had on the culture of Detroit.
"I keep reaching for something that's better than what I am or where I am," McGee said late in his career. "I think that some of the things I do are inspired moments in time."
McGee suffered a stroke in 2011 but didn't allow his diminished physical capacity to derail what he saw as a calling. His work bloomed in scope and ambition, as he used computers for the first time to sketch mural ideas and hired fellow artists to paint and assemble sculptures.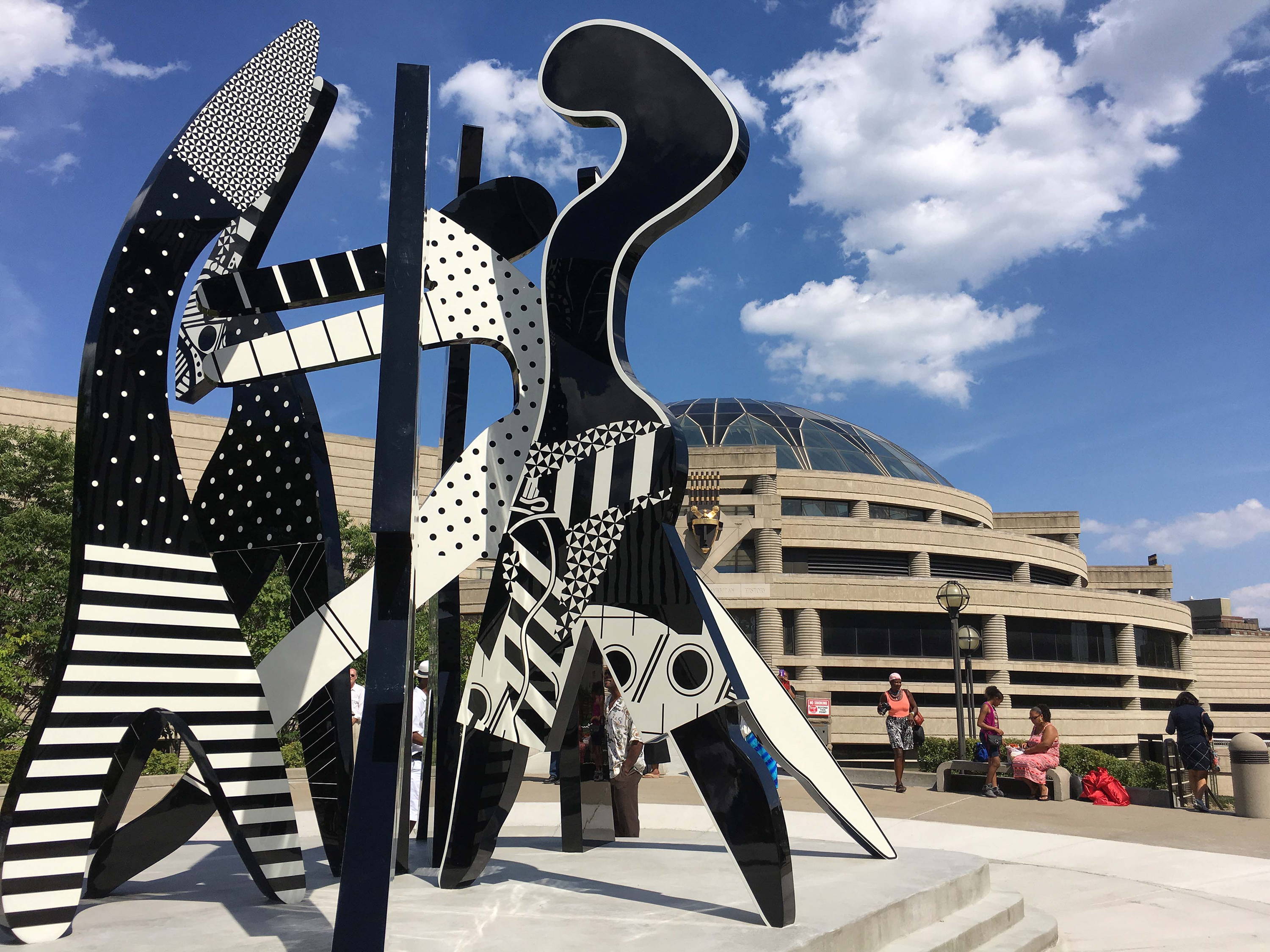 One of his inspired moments came in 2016 with "United We Stand," a metal sculpture that soars 20-feet-high in front of the Charles H. Wright Museum of African American History. Unveiled in 2016, the piece features seven black-and-white, intertwined figures, an undulating collection of shapes and lines.
"Everything changes. It rearranges. And therefore it continues in that state," McGee said at the dedication of the work.
"United We Stand" is a stirring reminder of the Detroit Rebellion and the fact that McGee had been creating dialogue in and about Detroit for half a century. His vision grew as he aged, powered by an internal well of exuberance for life. He often talked about drawing energy from the revitalization of Detroit. One of his signature works, "Unity," spans 11 stories on a building at 28 Grand in the Capitol Park Historic District.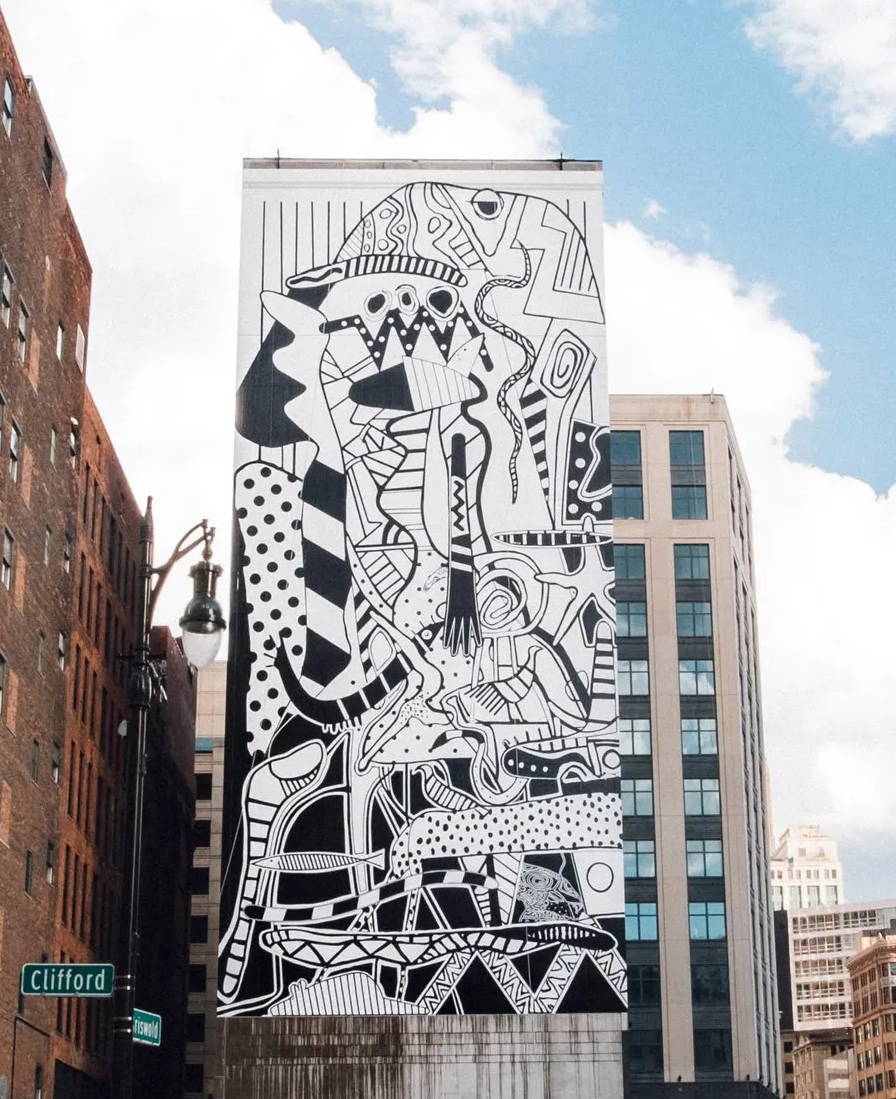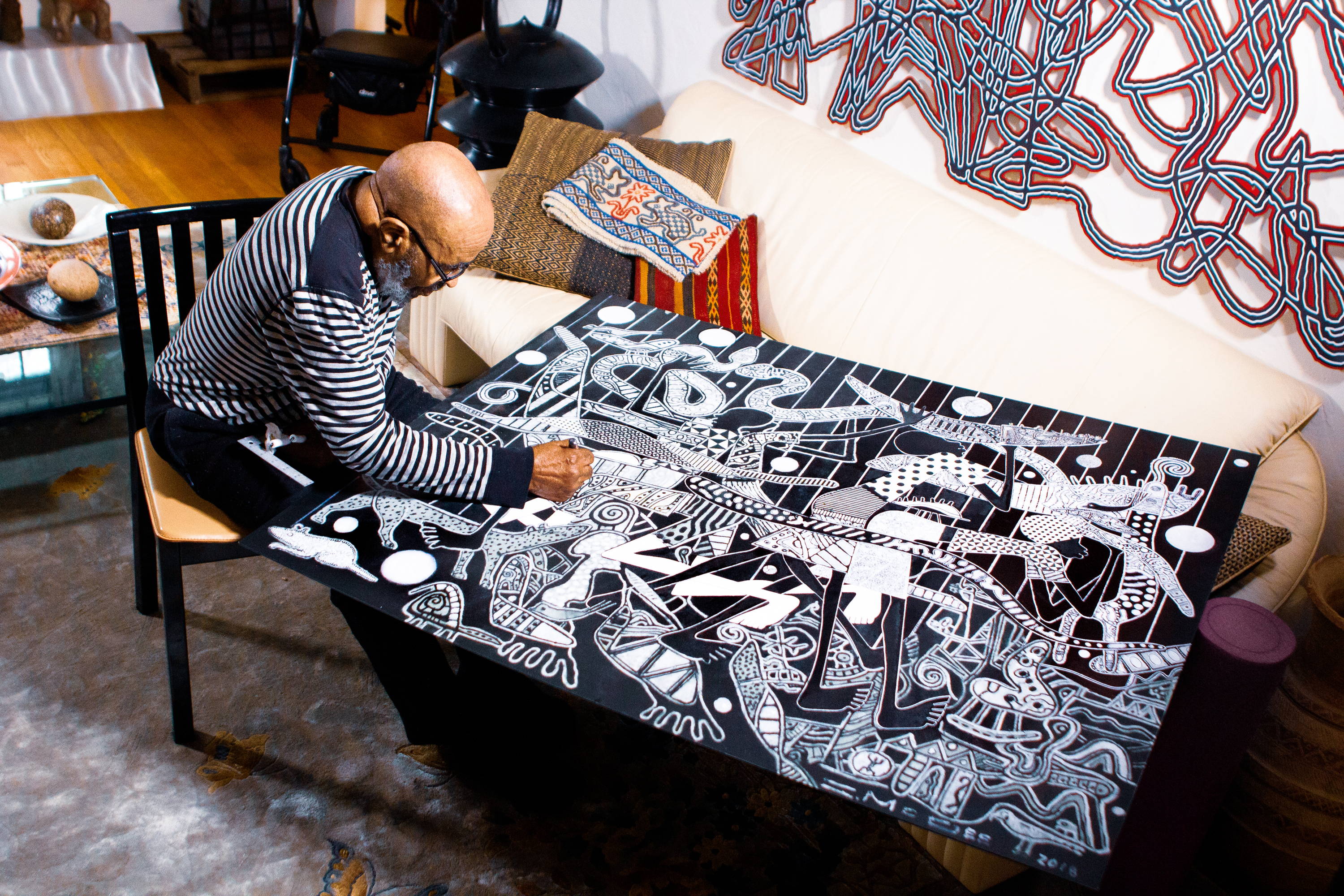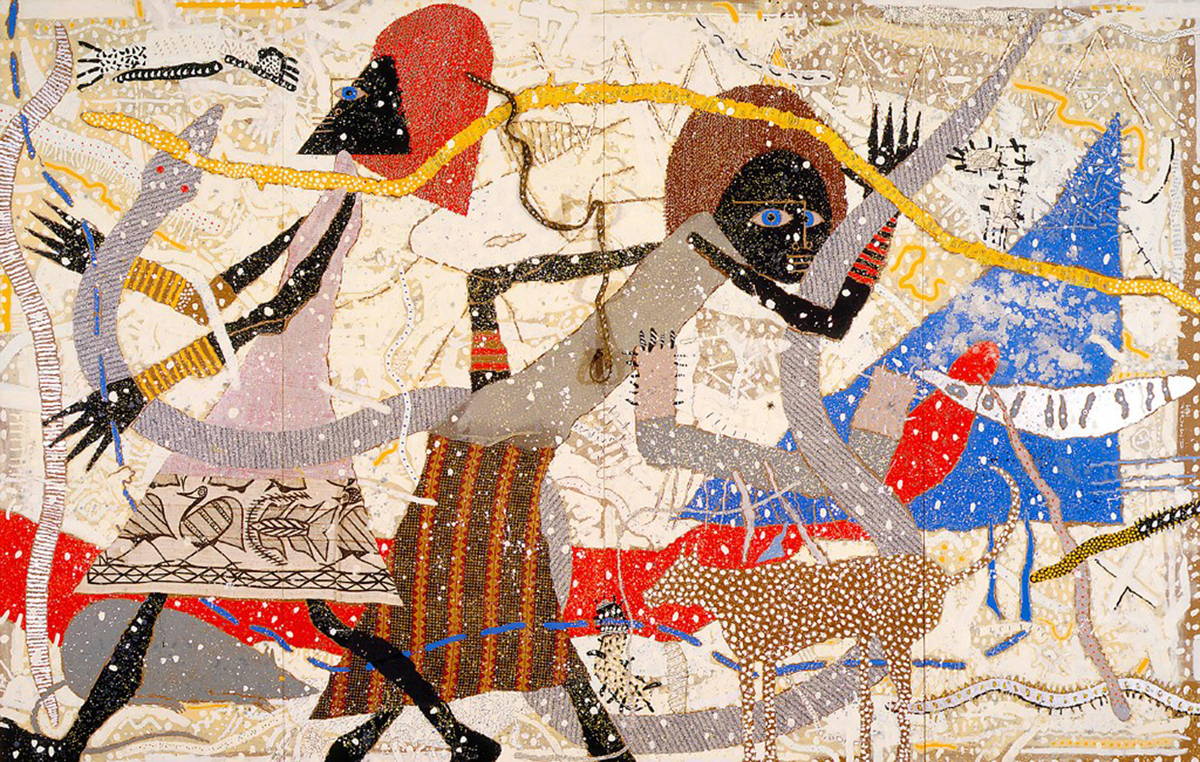 Noah's Ark: Genesis (1984)
The piece, where animal shapes, dots, and repeating patterns weave together in a dazzling interplay of black and white, is an embodiment of his guiding principle that we are all connected.  
"It's trying to understand the order that holds the world together. When we all work together, we understand more. We tolerate more. We live better lives because we are talking about being moved by togetherness," McGee said.
Celebrating the Life of Charles McGee
When McGee was honored with the Legacy Award by the Michigan Legacy Art Park in 2019, he had a chance to reflect on a career that spanned seven decades.
"Art has been a pathway through this life," McGee said. "This is my way of trying to make it better for someone else that is struggling too. I feel like that's why I was born."
McGee passed away on February 4, 2021. He was 96 years old.
Charles McGee shined a light on what is possible when we come together. He was open about our potential to be thoughtless without letting the scars of what he had seen and experienced blunt his optimism. He accepted that we are all flawed and believed that we could continue to strive to be better.
"[It takes] a lot of giving and understanding to get through this maze of life in peace," McGee said.
His art still stretches from the subway to the sky in and around public spaces in Detroit, a constant reminder to lift our eyes and see the world and the people in it.  
1. Header image courtesy of Library Street Collective / 3. "Untiled" mural on 250 W. Larned St. image by Ryan Patrick Hooper, wdet.org / 4. United We Stand, photograph by Bre'Anna Tinsley/WDET / 5. Unity Mural, photograph by Sal Rodriguez, Library Street Collective / 6. Charles McGee, photograph by Jarret Begick / 7. Noah's Ark Genesis, courtesy of Detroit Art Review
This widget makes post narrow
This will be hidden in site