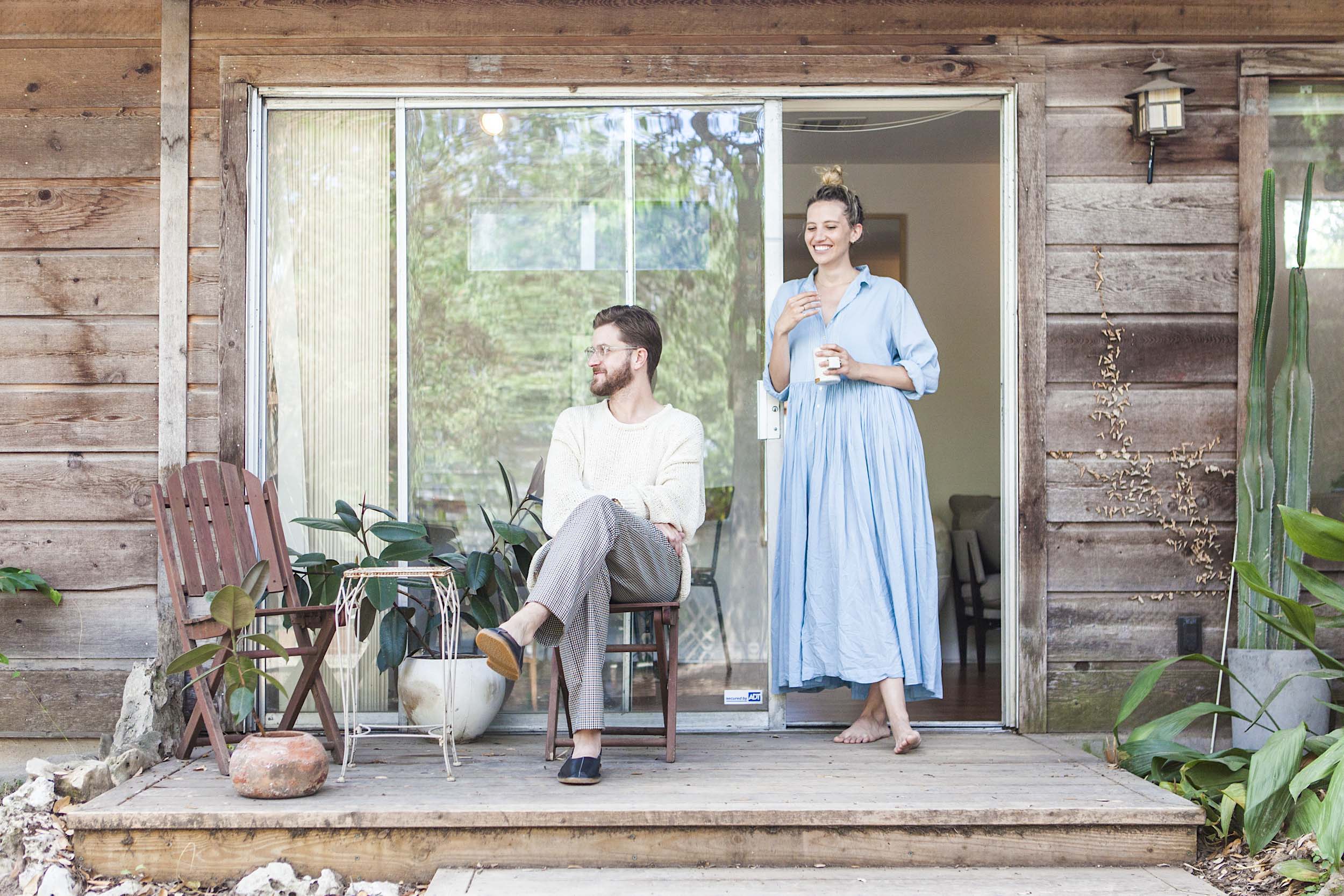 Carson & Lauren's Eclectic Austin Cottage

A pair of fashion designers craft a stylish home.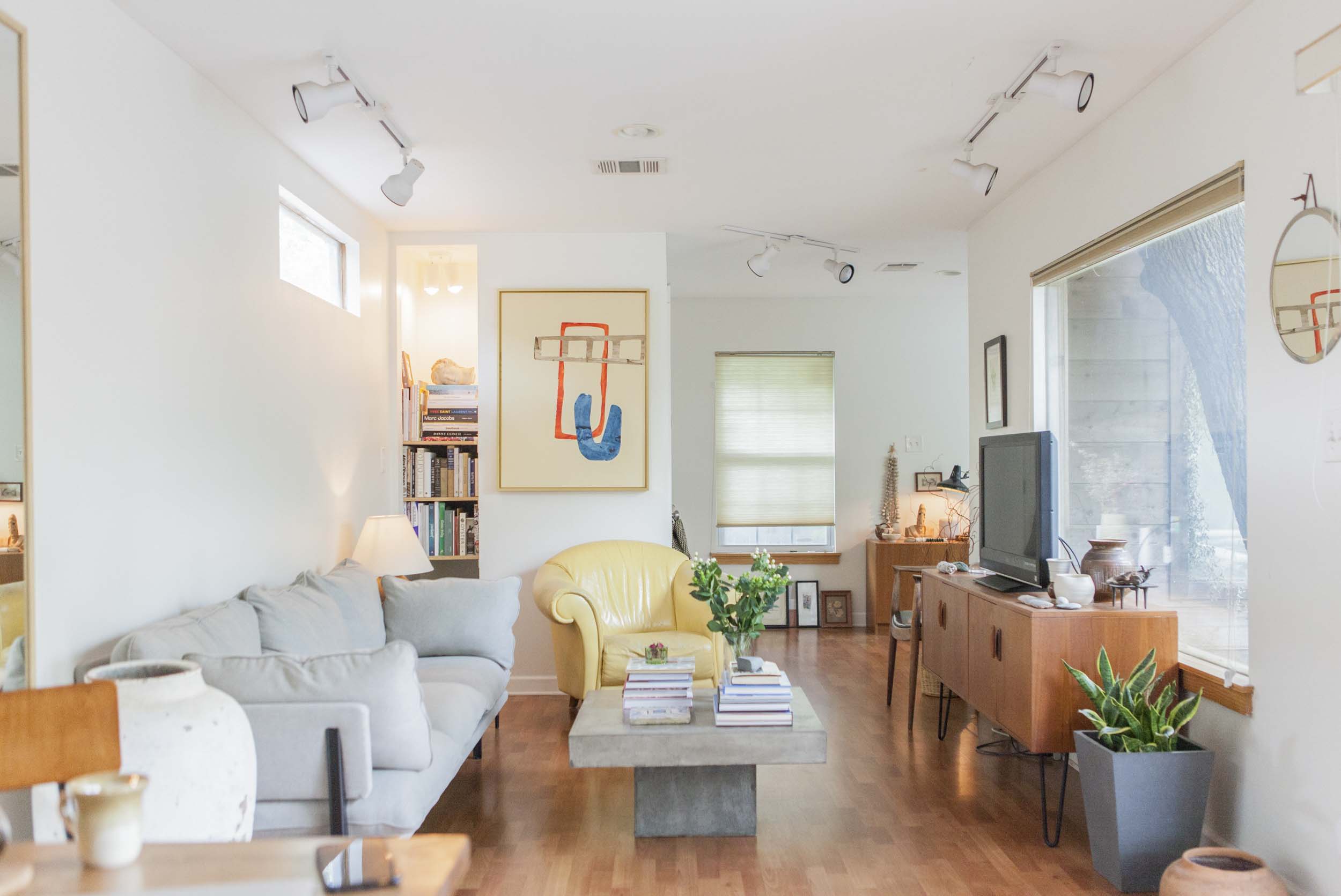 ---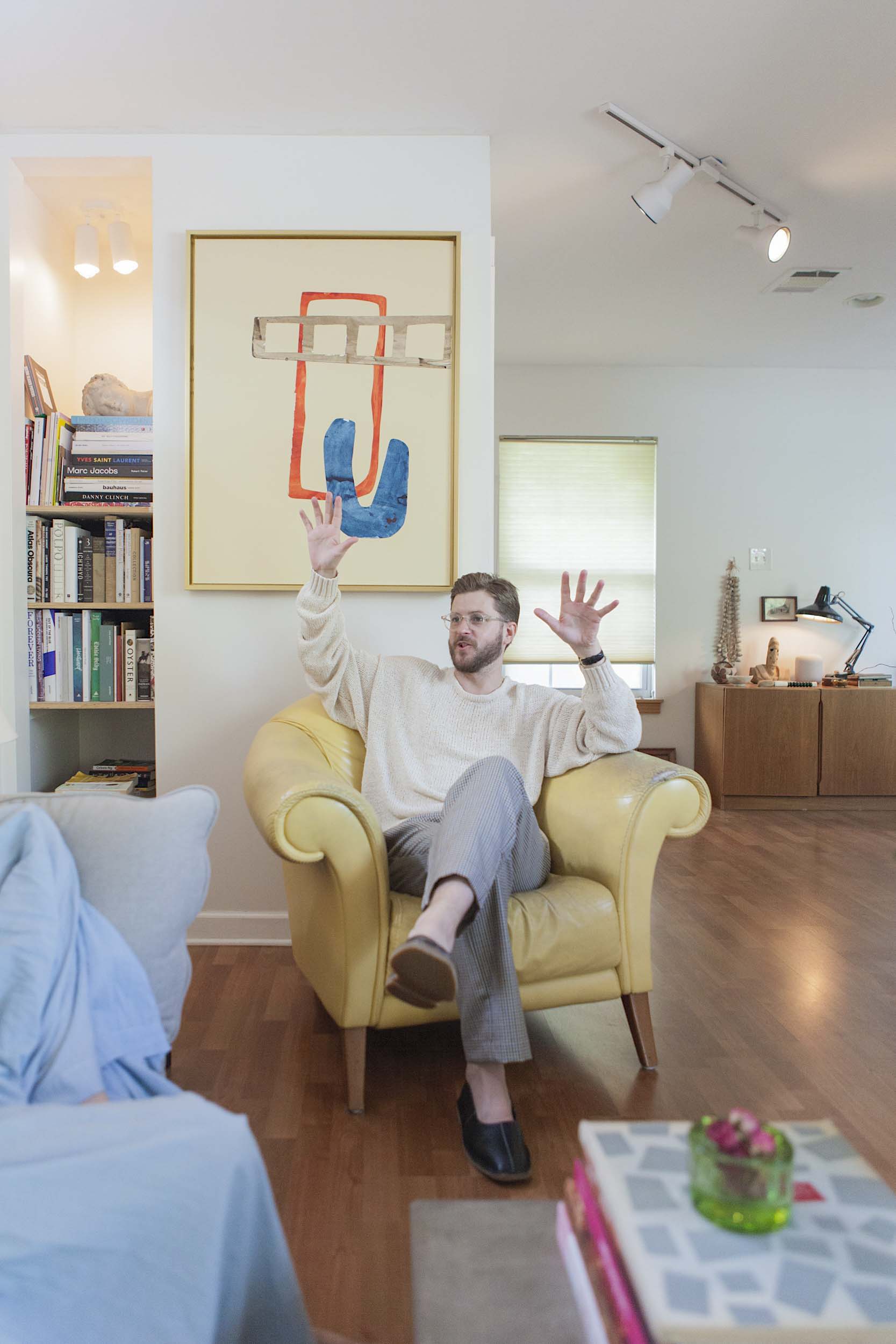 ---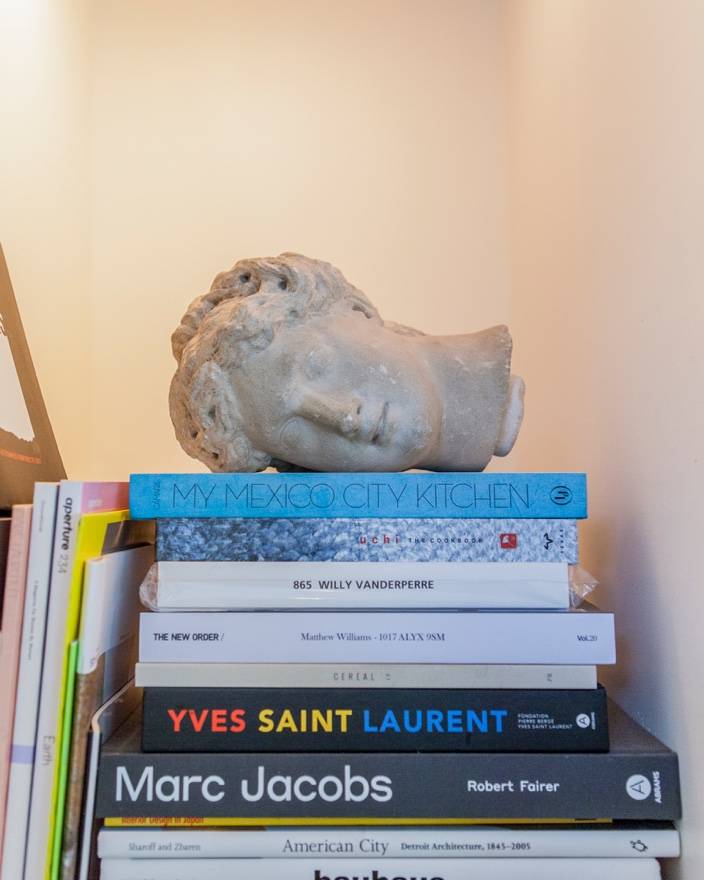 1. Header image: Carson and Lauren outside their Austin, TX cottage. / 2. The interior of the L-shaped cottage. / 3. The curvy yellow chair adds a sense of whimsy. / 4. A favorite antique bust sits atop the couple's book collection.
Michigan natives Carson Monahan and Lauren Kirby moved south to Austin, Texas about two years ago to launch their menswear label, House of St. Clair. The pair, partners in business and in life, built a brand that distills eclectic influences (grunge, 1940s menswear, skate culture, historical textiles) into clean, modern silhouettes.
Their cottage in South Austin is an extension of that sophisticated look. Inside, a soft color palette is the perfect showcase for collected art, pottery, and ephemera. We spoke to Carson about the space, his love of antique busts, and how the couple has made the cottage a home.
Give us an intro!

Hey! My name is Carson Monahan and I am the founder and designer at an independent fashion house, House of St. Clair. I live with my fiance, Lauren, and our dog, Miggy. We spend most of our time between New York and Austin, and this is our lovely cottage in South Austin.
How old is your home? Do you know any of its history?
Originally, the house was built as a sound engineer's studio, he designed it as an L shape, which creates a cool open-air floor plan that allows the living areas to flow naturally into the bedroom while keeping the two separated.



Did you fall in love with the cottage the first time you saw it?
We did! It is very modest, but it allows us to really highlight the home and our possessions that we've collected throughout our years. And having a pool in Austin is a huge plus.
---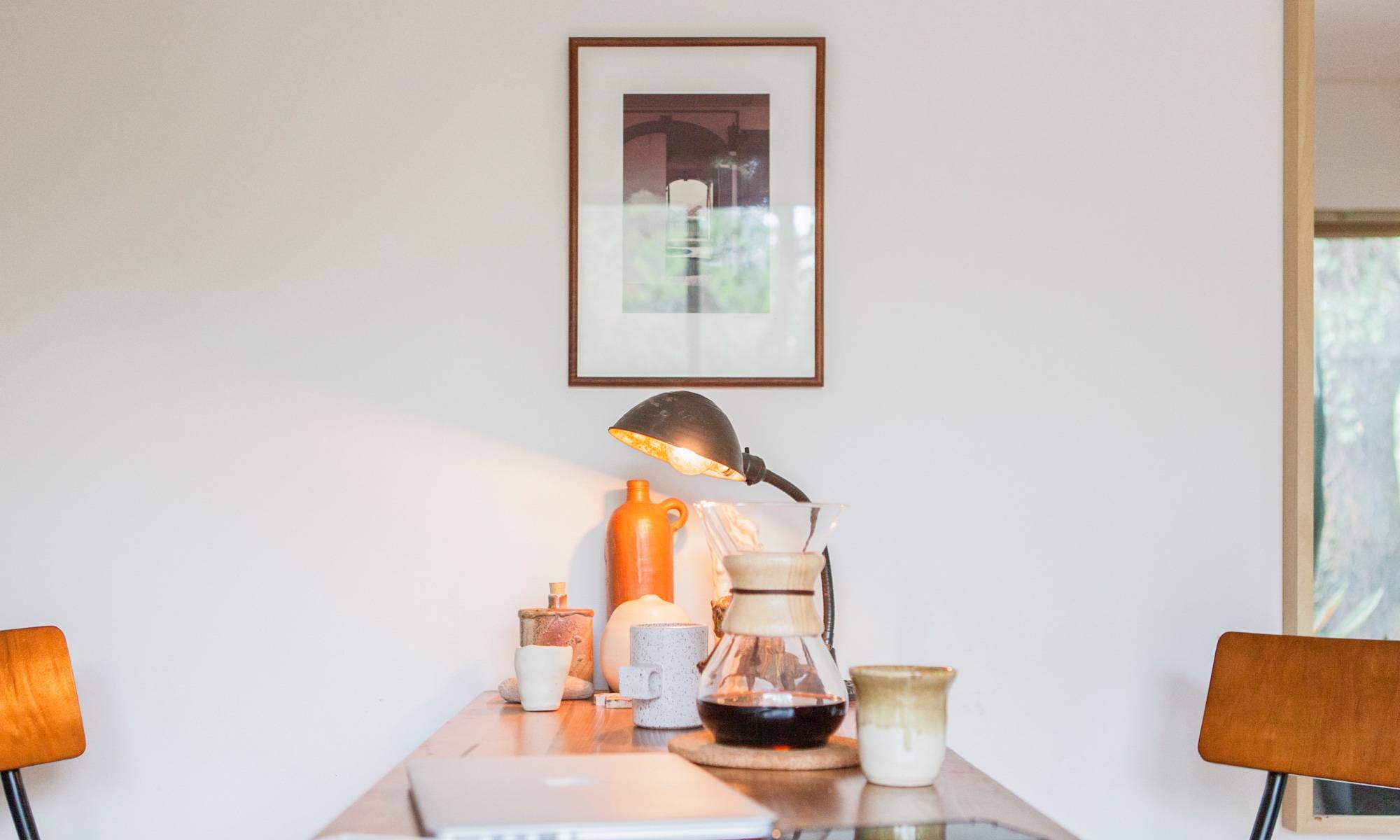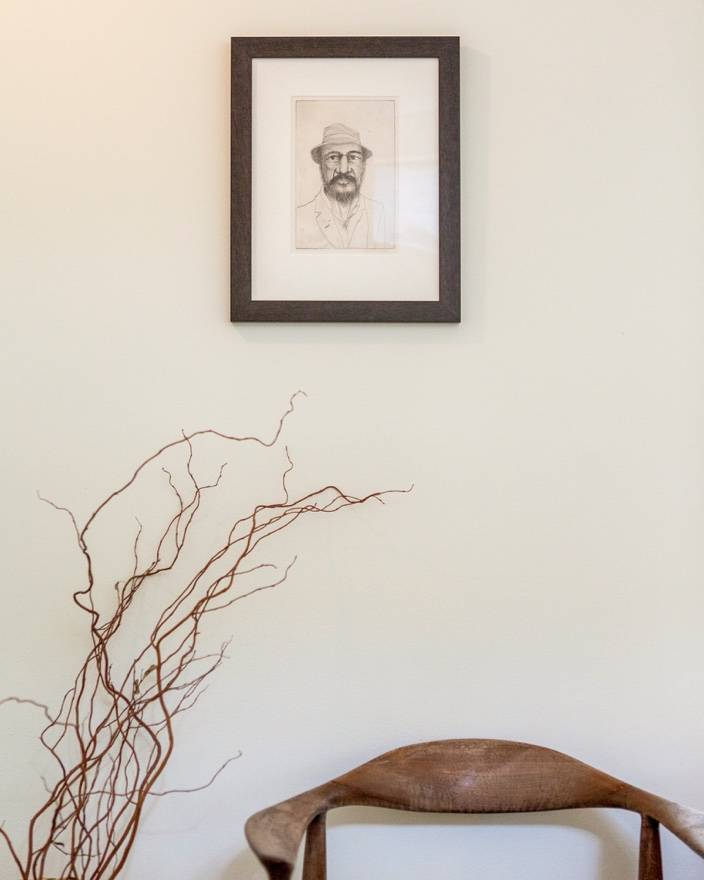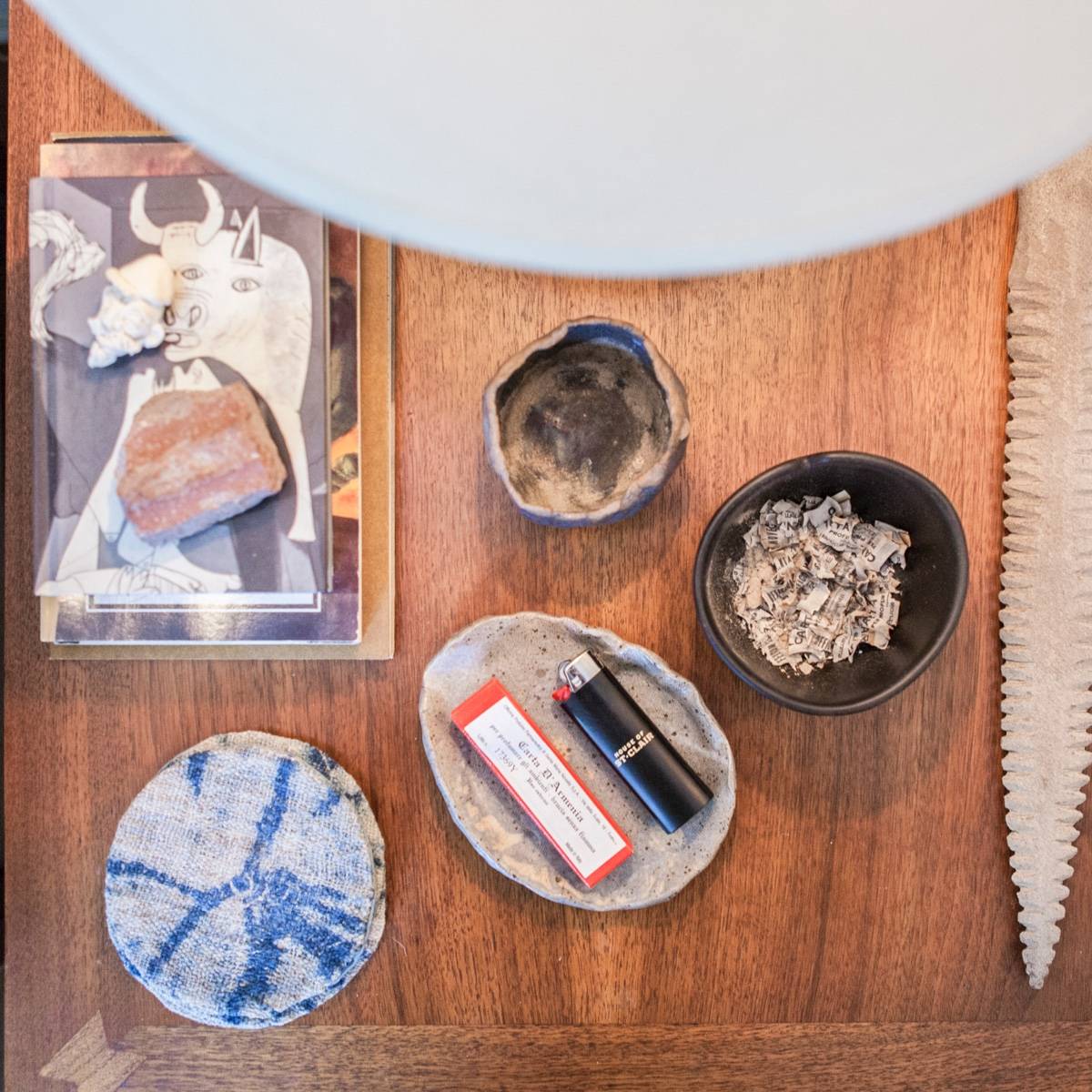 1. The dining table doubles as a workspace. / 2. The open layout is bright and airy. / 3. The Hans Wegner Round Chair is a favorite vintage score. / 4. Incense is a nightly ritual. / 5. The couple runs their own fashion brand, House of St. Clair.
Were you worried about anything in the space, before living there?
Due to the Austin market, we knew we would be going small in the locations we like. When we first saw it, we were a little concerned with the amount of space, but we quickly realized it has all the right nooks and crannies to help maximize the space.
What room do you use the most? Did it surprise you?
Besides the kitchen (we both love to cook), the living room for sure. I spend tons of time on the sofa, working, reading, making, and watching.
How would you describe your interior style? Has it evolved over the years?
My interior style has definitely evolved over the years. I don't think I really had a distinct individual style of interior design until my late 20's and I never stop letting my eye be trained and inspired.
I'd say my style is mostly eclectic. I like to balance clean, modern shapes and color with vintage furniture and objects. I also love to collect both contemporary artists and vintage pieces.
Do you find it challenging to design a space that works for the both of you?
We have a Hans Wegner "round" chair. I found it at an antique fair and scored a great deal on it. This design is one of my all-time favorites! Then there's the ceramic abstract sailor bust. I've had this with me since I discovered it in my dad's archives in high school. He is a great artist and he made this bust his senior year of high school, 1969. Another favorite is an abstract collage painting by our dear friend Alexandra Valenti. We bought this piece at her first show in Austin.
What's the one thing you'd rescue in a fire? (Other than family & pets, of course).
Said bust!
What are some of your favorite sources of inspiration?
I love collecting art/design books and magazines and travelling. We try to visit a new place every year.
When you walk in the door, what makes you feel like you're really "home"? Is there anything you can't feel at home without?
The way our home is designed, we basically walk right into our living room. The first thing I do is light a stick of incense by Astier de Villate. Incense, warm lighting, and our book collection are what make me feel most at home.
Can you tell us a favorite memory of your space?
I surprised Lauren with our antique French marble female head bust. I scored it from one of the best antique dealers in the country, Eneby Home.
Any final thoughts on your space to leave us with?
It's small but it's just right for our small family!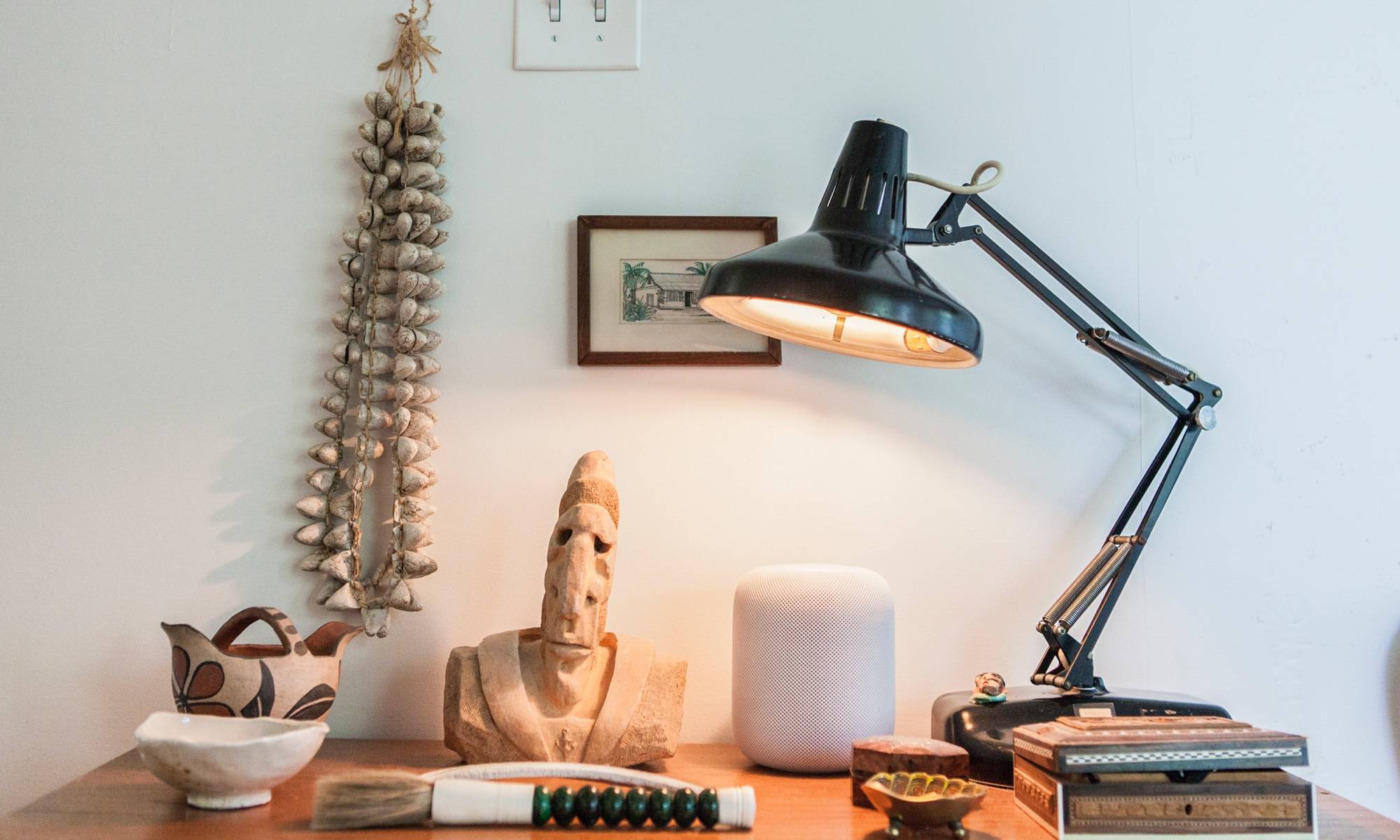 The bust was sculpted by Carson's dad.