There is a mystery waiting next to your couch. It's not the location of your remote. That's easy. Check behind the cushions.
This mystery sits on four legs. Have you ever wondered who built the very first coffee table? It's a story that might have begun in Michigan.
---
At the start of the 20th century – thanks to readily available supplies of hardwood and power generated by the falls of the nearby Grand River – there were more than 50 furniture makers in the self-proclaimed "Furniture Capital of the World," shipping out desks, church pews, theater seats, and bookcases across the globe. But we're interested in the Imperial Furniture Co., a table manufacturer started by Frank Stuart Foote in 1903.
The Foote family was a furniture family. Frank worked for his father Elijah Hedding Foote, who owned the Grand Rapids Chair Co., for a decade before going out on his own.
The younger Foote had found his, well, footing, by 1920. And this is where we venture into the legend of how the budding furniture magnate was presented with a problem that led to the coffee table being born.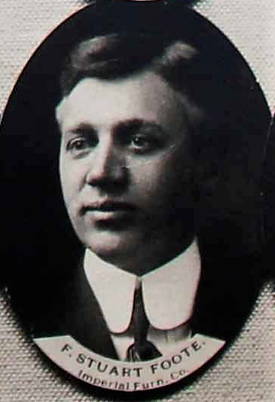 Frank's wife Edna was throwing a party at their house. She needed a table for when they were entertaining guests. This is when inspiration apparently struck the early DIY-er. Frank shortened the legs of a dining table and introduced the coffee table to the world.
There is some evidence that lends credence to the idea that Foote at least helped popularize the coffee table. A 1925 Imperial Furniture Co. pricing guide lists more than a dozen varieties of coffee table (alongside occasional tables, consoles and tea wagons), made of maple and rosewood.
And that means the company owned by Foote was using the word "coffee table" a full 13 years before architect and designer Joseph Aronson wrote The Encyclopedia of Furniture. That's where, between the entries for cocobolo (a dark purple-brown wood) and Colonial, he defined the coffee table as a:  
"Low, wide table now used before a sofa or couch. There is no historical precedent, but the shape permits the adaption of low tables or bench forms of every style."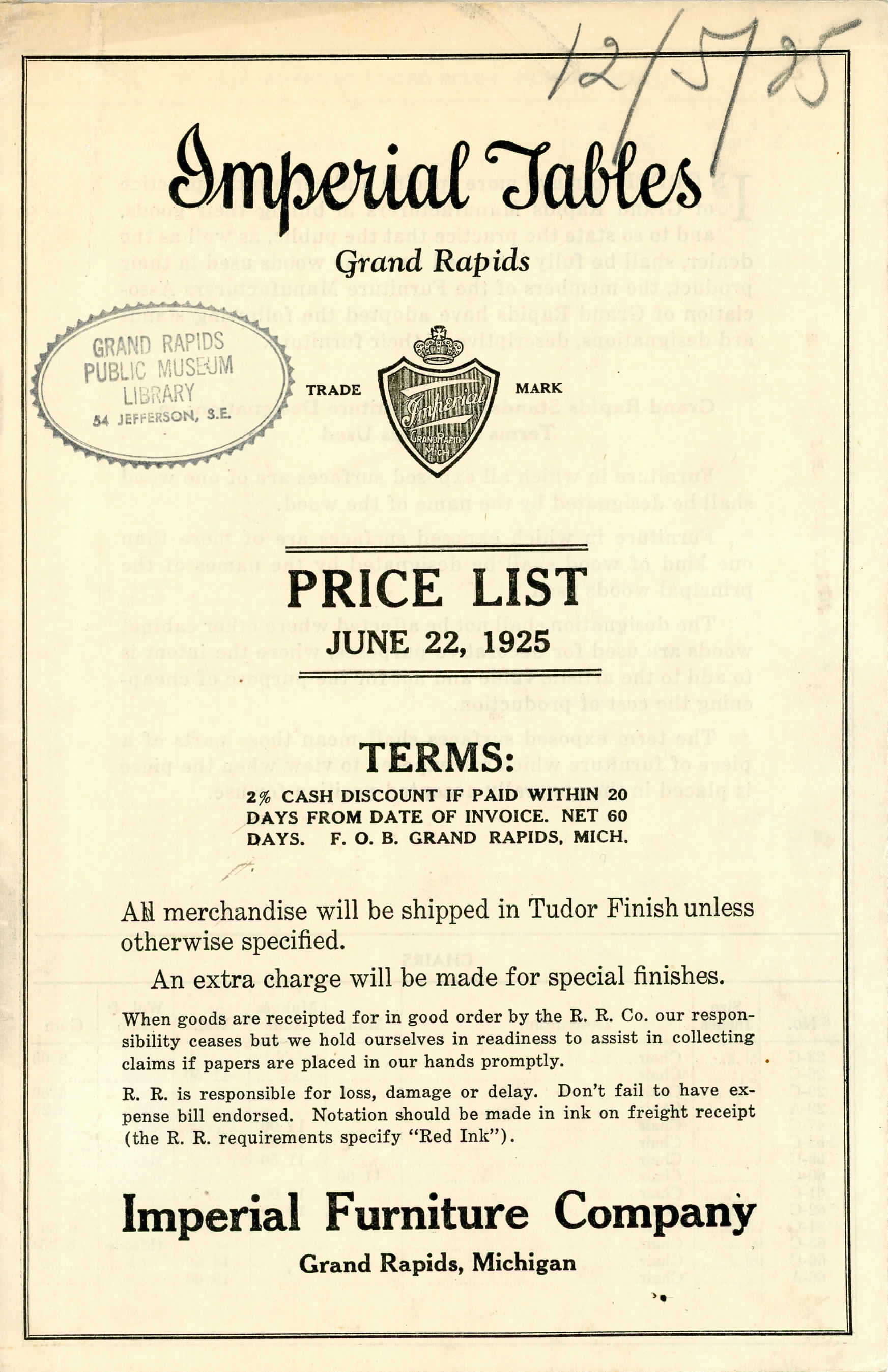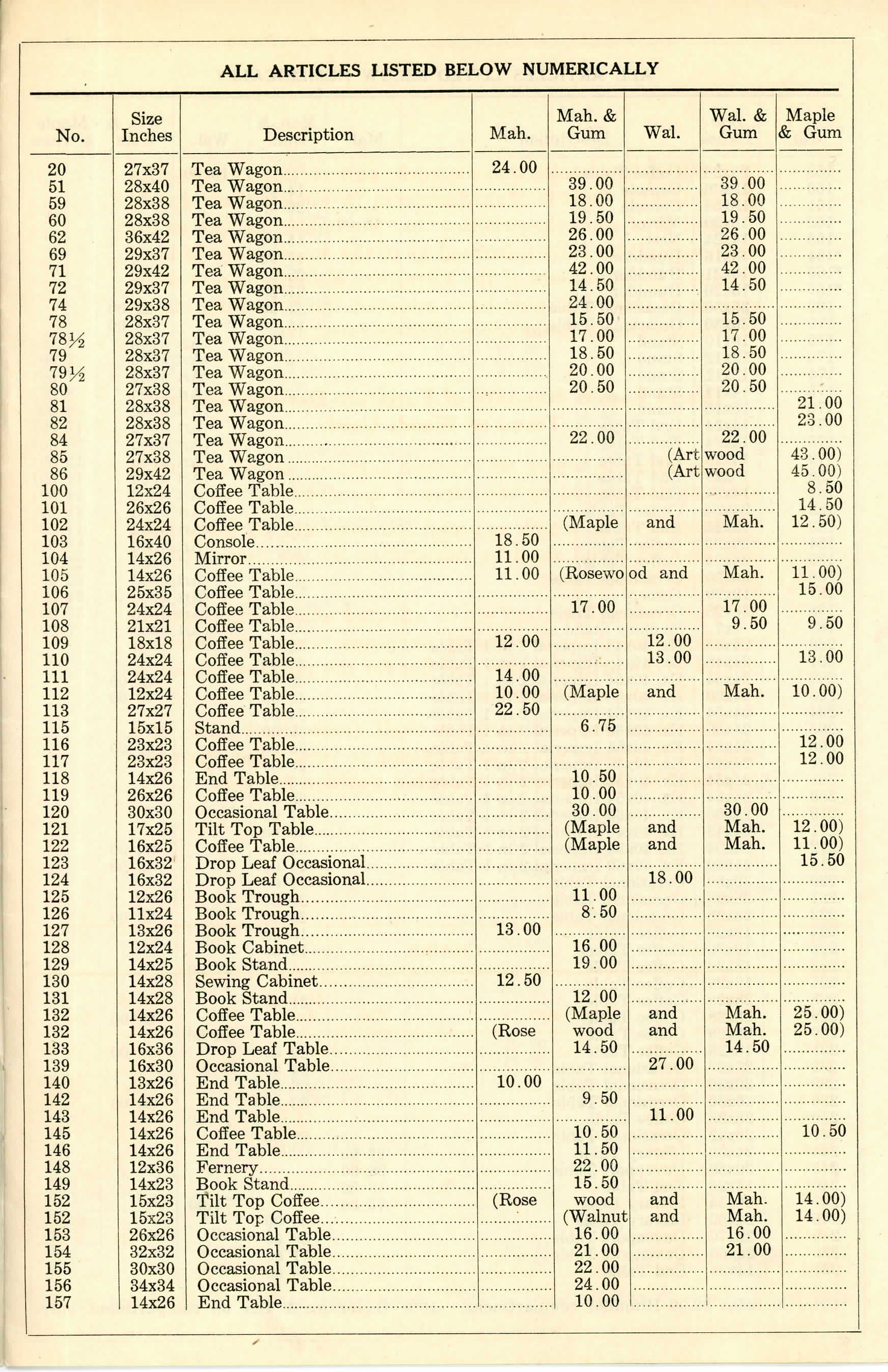 Aronson may not have been able to pinpoint a single point of inspiration because the coffee table has a variety of small table antecedents as likely to be display pieces as an integral part of tea service. Low occasional tables with a host of names and functions dot our history. Even seven centuries ago, people were searching for the perfect piece to finish the look of the room.
Long before the Grand River falls were powering the rise of furniture making in Grand Rapids, the Ottoman Empire was stretching across Europe, Asia and Africa. Whether it was the ottoman or hassock or low tables found in Japanese tea gardens, people wanted a piece of furniture that worked with their seating.
As Foote was preparing to make the leap from chairs to tables, furniture makers in Victorian England were looking to the past for inspiration with Louis XVI's elaborate console tables being revived as occasional tables. And, at least two decades before the Imperial Furniture Co. put out its price guide, Maple & Co. was selling "coffee tables" alongside music stands and work-baskets in London and France.
So, in part, the story of the coffee table has always been one of many places. And perhaps, because the coffee table was freed from the formal constraints of an established piece of furniture that's why it evolved in so many different directions.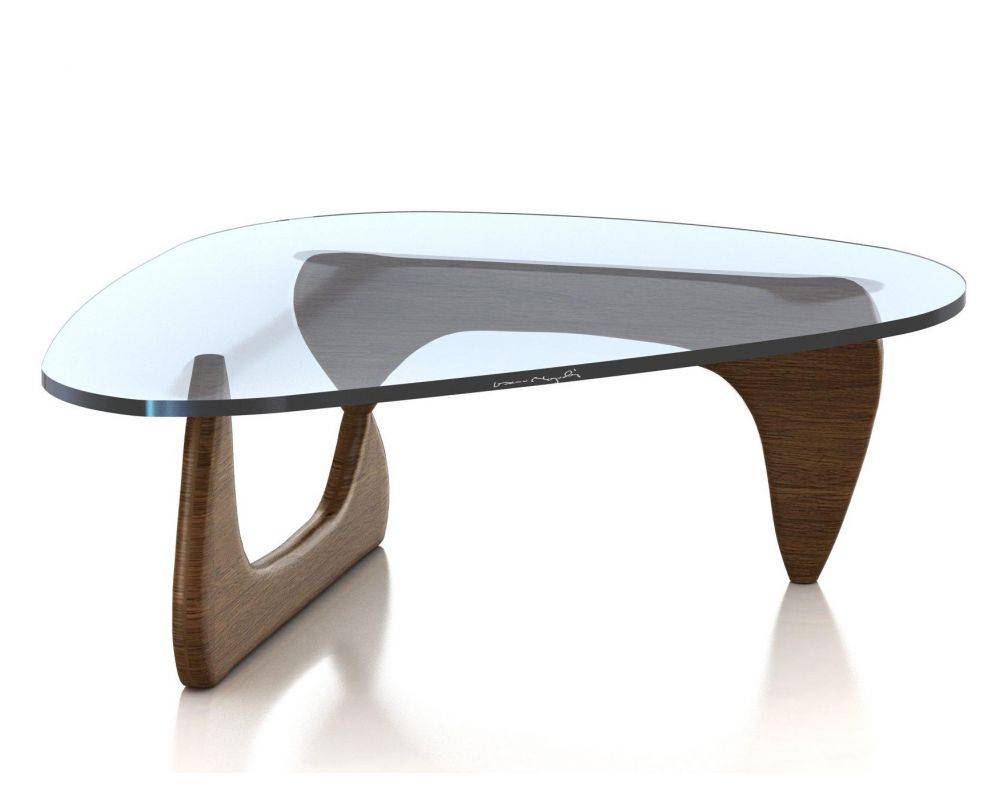 Coffee Table IN50 designed by Isamu Noguchi for Herman Miller, 1944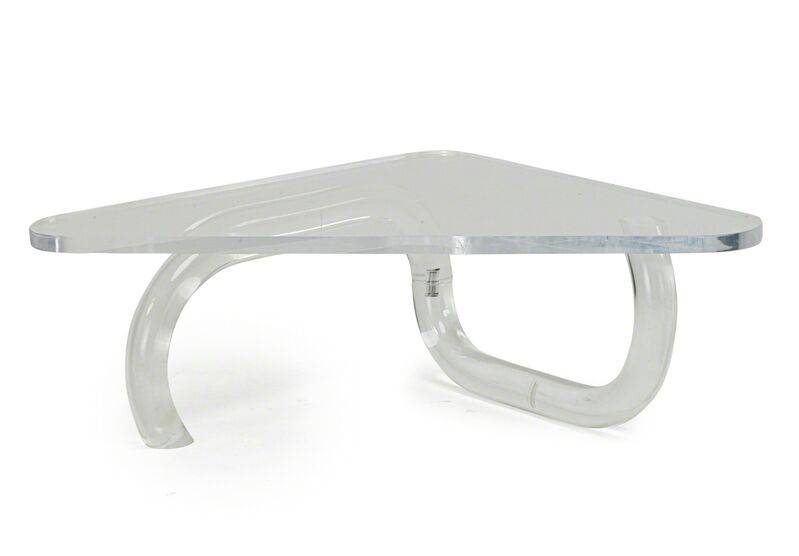 Charles Hollis Jones Squiggle Coffee Table, 1970s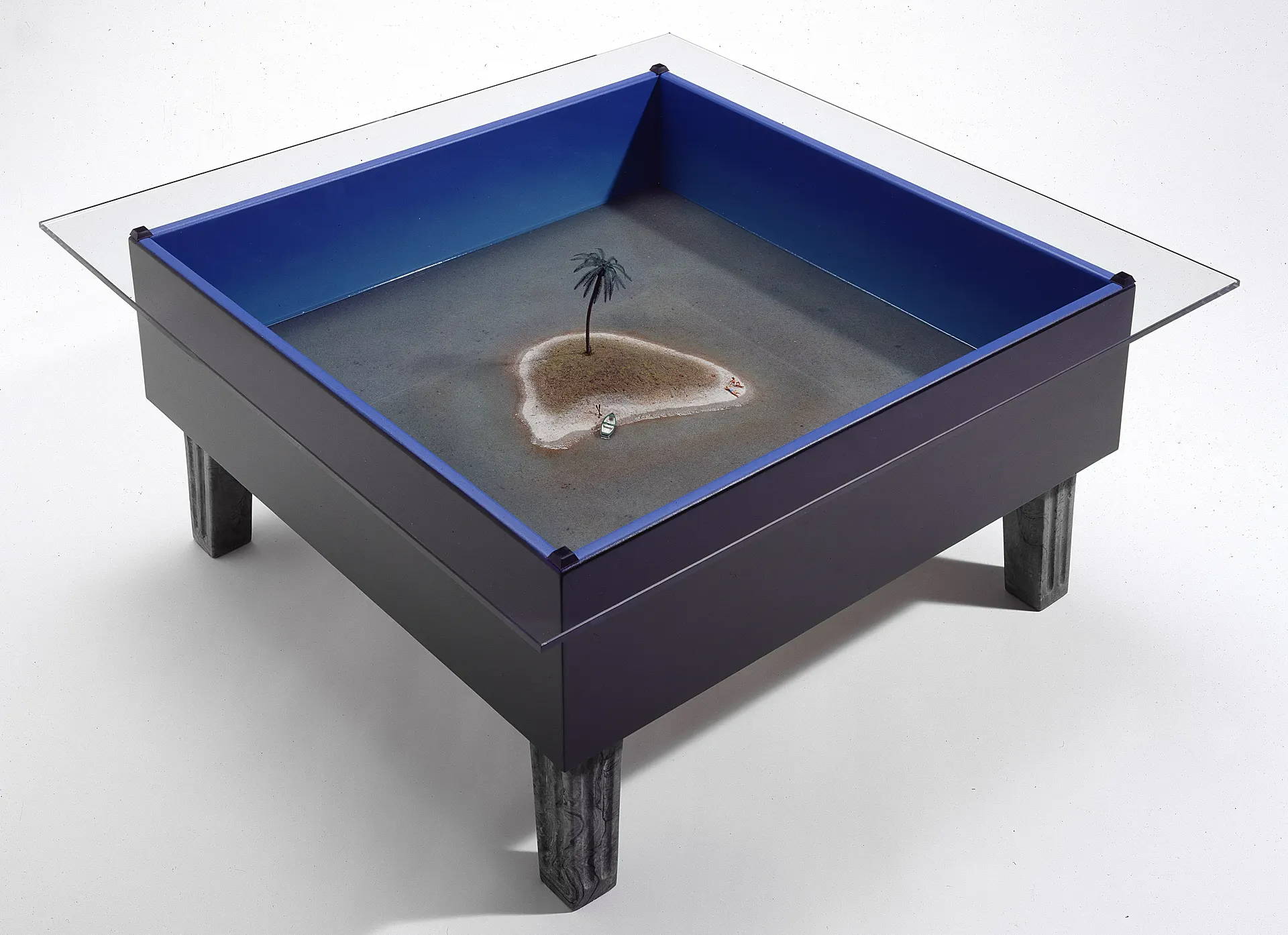 Nik Mills Island Table, 1944
The coffee table has also been a quiet signifier of our culture for the past century. The teak tables of the 1950s' held amber ashtrays, while the coffee table book debuted a decade later on low-slung glass and walnut tables. The bold colors of the 1970s were juxtaposed with clear lucite rectangles and rounded edges that disappeared into shag rugs.
The 1980s were an endless search for the remote control underneath blocky laminate coffee tables. The introduction of the universal remote in 1985 didn't stop the search around bright gold accents and light oak legs.
Coffee tables even held literal small worlds. In the 1990s, artist Nik Mills introduced a series of coffee tables with intricate dioramas underneath glass tops. There were lush hillsides and tropical paradises, tiny stolen moments with miniature figures.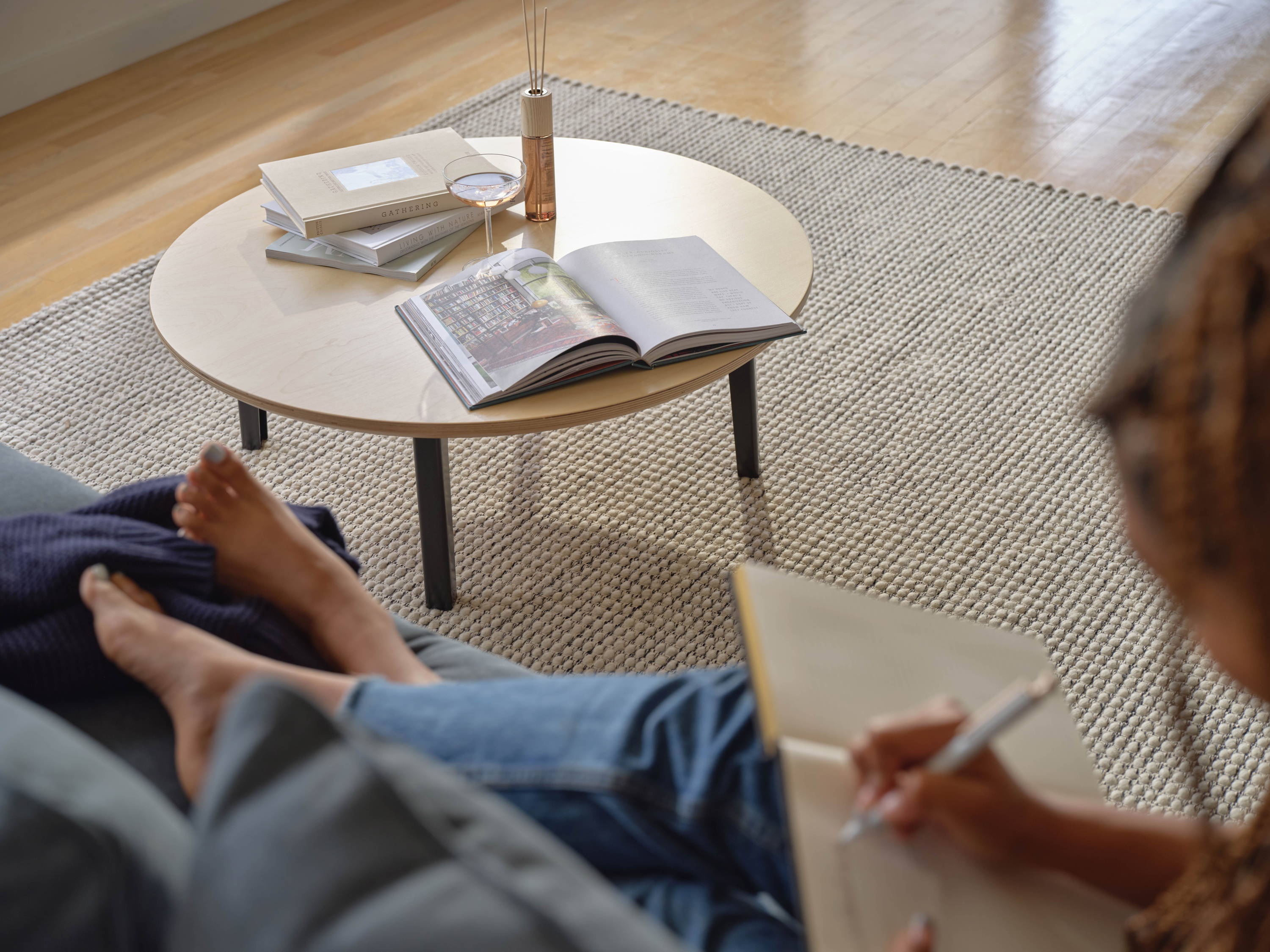 The coffee table has come in so many shapes and materials that Aronson's definition feels prescient. Case in point, the New York City couple that unknowingly were using a 2,000-year-old piece of Roman mosaic tile as their coffee table for nearly 50 years.
When Floyd set out to design our coffee table, we wanted a piece that felt timeless. A coffee table that had lightness, but intentionality. A table built to accompany a sofa and your style.
Whether it was Foote or another enterprising furniture maker that lay claim to inventing the coffee table is a matter of debate. We may never know exactly when the coffee table was born; but we do know that the right coffee table will stand the test of time.
2. F. Stuart Foote - Robert Worden, findagrave.com, 3. Cover of the Imperial Furniture Company, Price List, Tables, 1925 - Grand Rapids Public Museum, 4. Coffee Table Price Listing, Imperial Furniture Company Price List 1925 - Grand Rapids Public Museum, 8. The Floyd Coffee Table, in round, birch/black.
This widget makes post narrow
This will be hidden in site