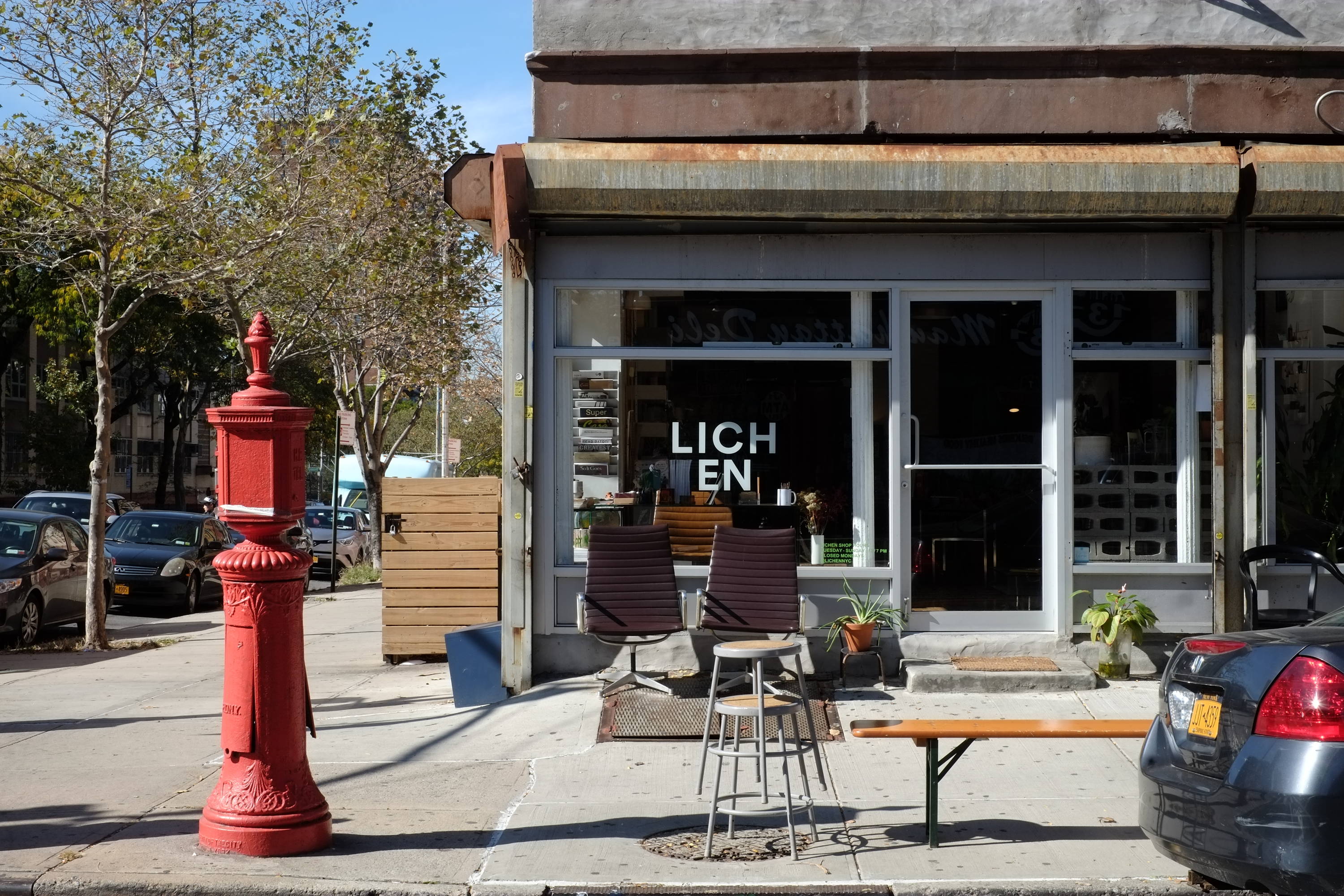 ---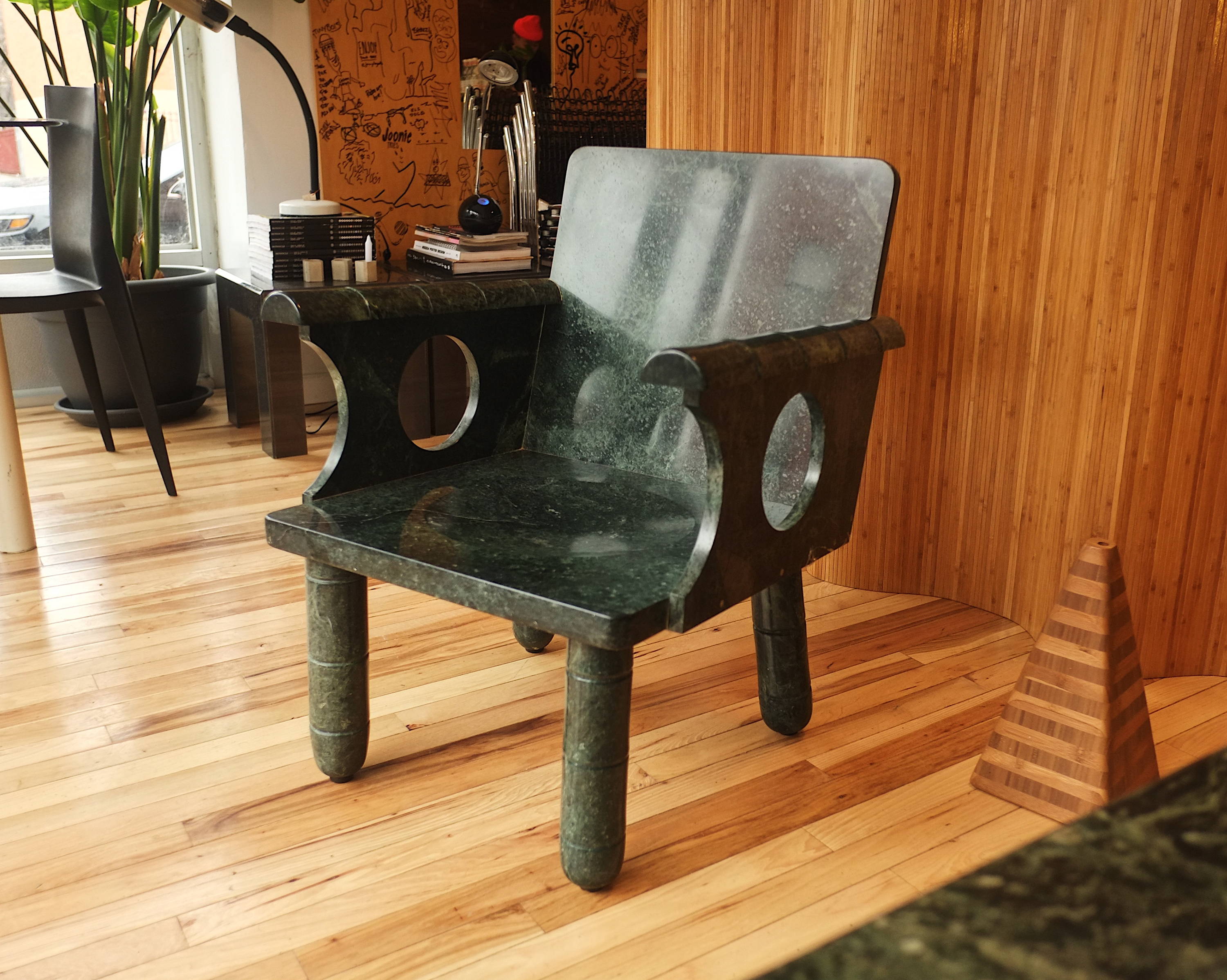 ---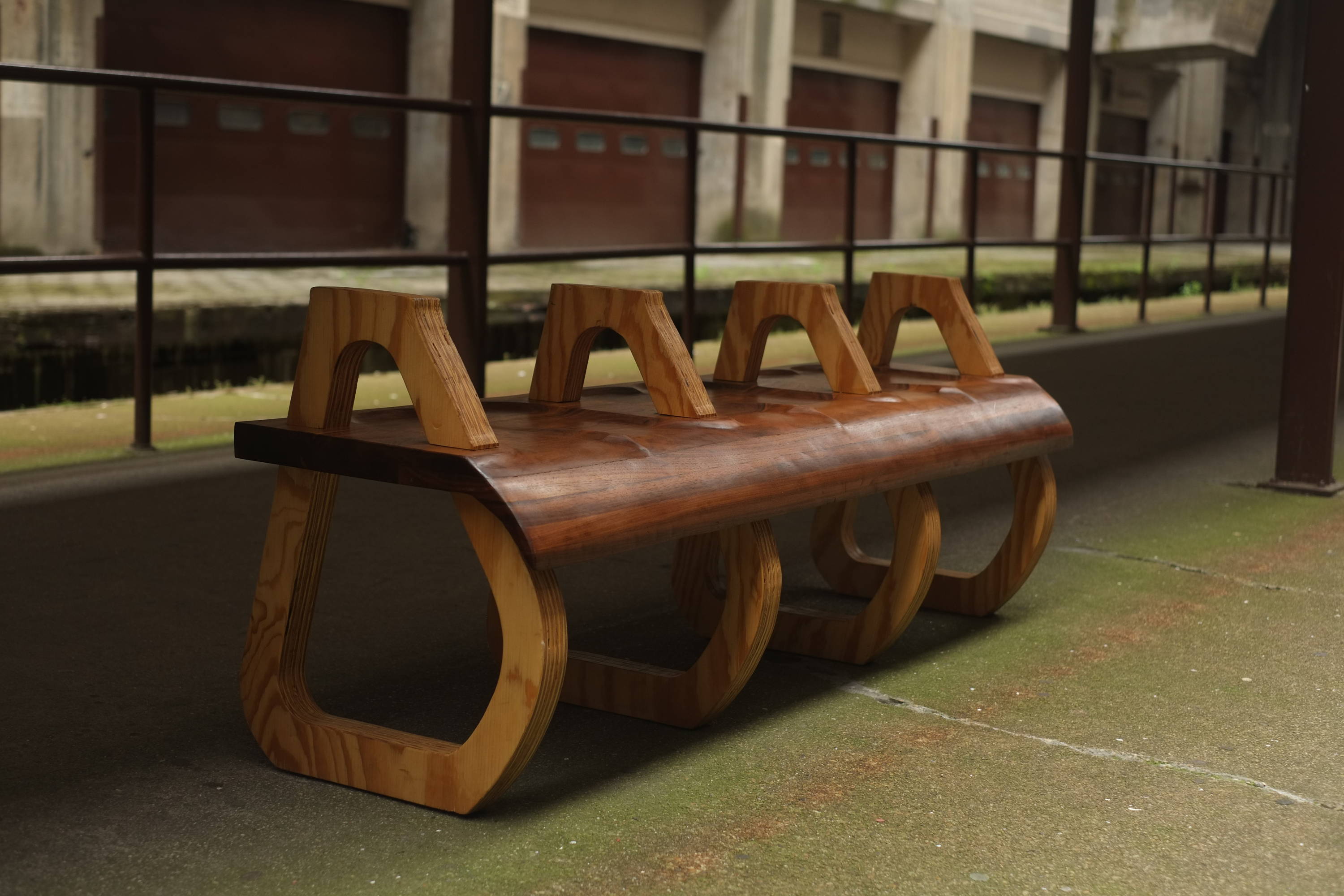 1. Jared Blake and Ed Be in the Lichen shop. / 2. Outside Lichen in Brooklyn. / 3. A solid marble chair (throne?). / 4. A modernist bench made by Jesse Kessler Groom.
On a corner in Brooklyn, you'll find a furniture store that serves coffee. And a coffee shop that sells furniture. The relationship between the casual ease of a cafe and the finely curated selection of furniture pieces feels symbiotic at Lichen — perhaps a natural outcome given the shop's name.
Co-founders Ed Be and Jared Blake have created a furniture-buying experience that brings together vintage and modern, classic and unexpected. The shop demonstrates the easy interplay of furniture, fashion and culture. A coffee mug with a Nike swoosh; a beautiful oil painting of a crushed Sapporo can; a mirror frame with Sharpie notes from the shop's visitors.
Inside, the pair guide customers toward one-of-a-kind pieces that feel fresh in any space. We spoke to Jared and Ed about how vintage furniture can coexist with modern interiors, and learned about a few of their favorite finds.
Tell us a little bit about Lichen and yourselves!
Lichen was incepted in the summer of 2017 when Ed Be bought a chair from Jared Blake and Jared asked where the chair was going to end up. They spoke about the idea of stockpiling to start a brick and mortar space. We started selling through instagram from their homes and eventually a storage space. A storefront in Brooklyn, presented itself a few months later, and we took the opportunity.
Lichen's ethos is good design and good coffee with empathy at its core. Those three things helped facilitate an ever growing community interested in furniture, interior design, industrial design, and collaboration.
How did you begin curating vintage pieces?
We began collecting vintage pieces while working at our day jobs a couple of years ago. The collecting started as mostly an appreciation for the aesthetics of good design, but that quickly grew into an obsession about the designers behind the pieces and why we resonate with them.
Do you refurbish your pieces? What goes into that process?
We tend not to take on any pieces that need refurbishing as time doesn't permit it so often. We often opt to customize pieces though. Taking classic designs and putting our spin on them by adding wheels, putting a marble slab on top of an old table or chair base, or reupholstering in old army surplus gear to create something unique and one of a kind.


Do you have an all-time favorite find? Or a few?
One of our favorite finds was from a Taiwanese family in Queens. They were selling a set of marble furniture that their father had shipped over from Taiwan in the 60s. Two armchairs and one coffee table made entirely of marble. They're as heavy as you can imagine. They also had a dining table and set of 8 stools which we regret not getting as well.
Where do you look for hidden gems like that?
We search everywhere, honestly. Some interesting finds come from the sidewalk.


Do you have any tips for incorporating vintage into a space without making it feel like a period movie set?
We never design based on a specific area of design. While we start with mid century in mind, we are definitely influenced by Postmodern, Brazilian, Judd and Bauhaus furniture movements. We even have collaborated on furniture with architects on some contemporary pieces that take cues from Japanese joinery using American black walnut.
When building a home it's important to like what you like, not what you think you should like. It's important to build a home where the pieces have stories, they make themselves more valuable and special because of that. If your home is starting to look like a period set, get a bunch of weird plants, they add quirk, character and life to a space that most movie sets didn't have.
Any go-to designers or pieces to look for?
We don't have any specific designers that we're looking for, but are definitely interested in what American furniture design holds in the future. We're usually most excited about up and coming designers and students because they offer a contemporary perspective that is sometimes difficult to find.
What's your dream furniture score?
Our dream score is always about finding those custom, 1 of 1, pieces. Sometimes they're vintage. Sometimes they're contemporary.
One of our favorites that we were able to pass on to its next home happens to come from an artist and woodworker, Jesse Kessler Groom. He's not traditionally trained in woodworking. He concocted a bench that resembles a typical New York City train bench, but with a Brazilian Mid-Modern feel; think Percival Lafer or Sergio Rodrigues. The seat was crafted in pure walnut wood and juxtaposed with some pine plywood.
You can shop Lichen in person at the shop in Brooklyn, and find a selection of pieces online.
Photos courtesy of Lichen.