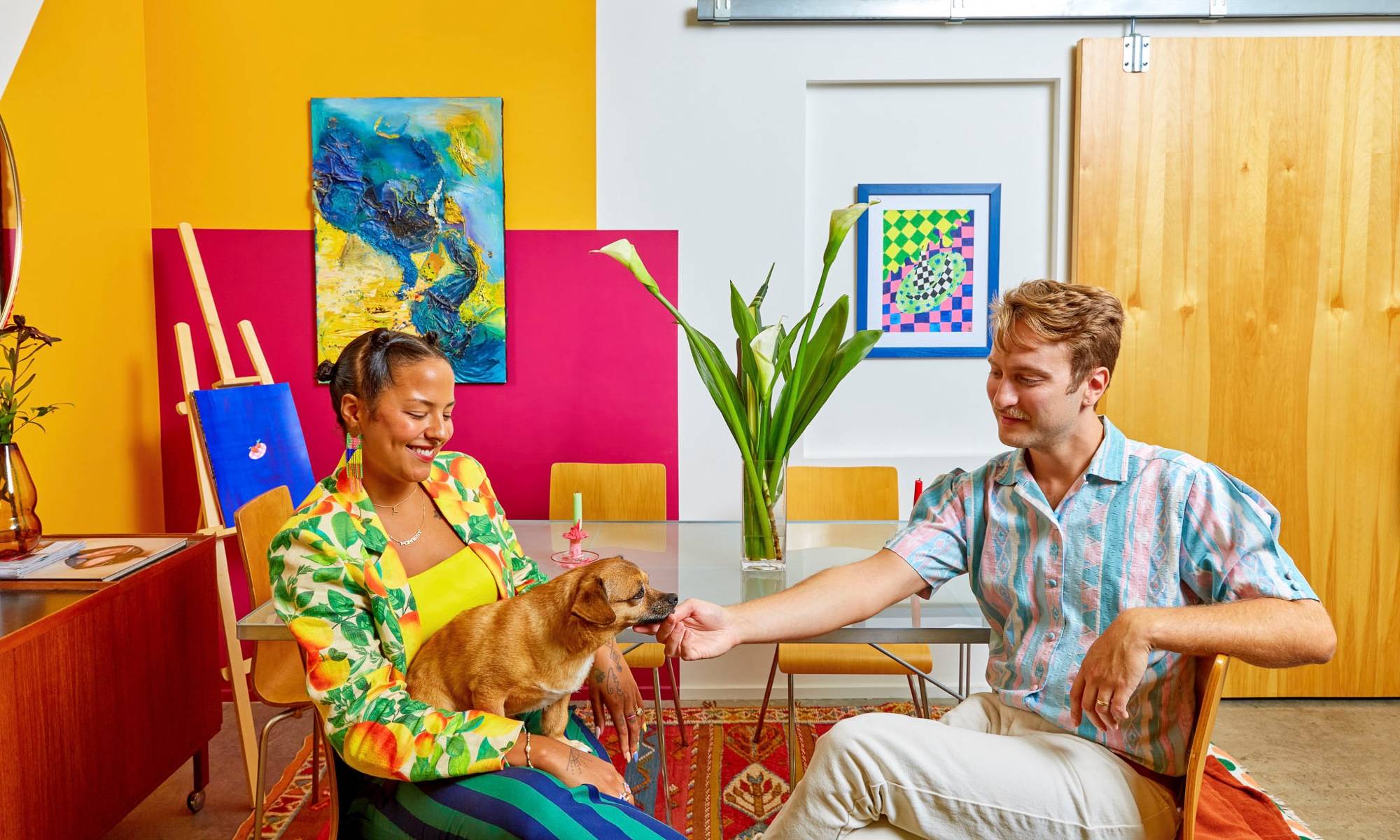 Michelle & Forrest's Color-Blocked Atlanta Condo

The duo behind Tropico Photo show us around their space.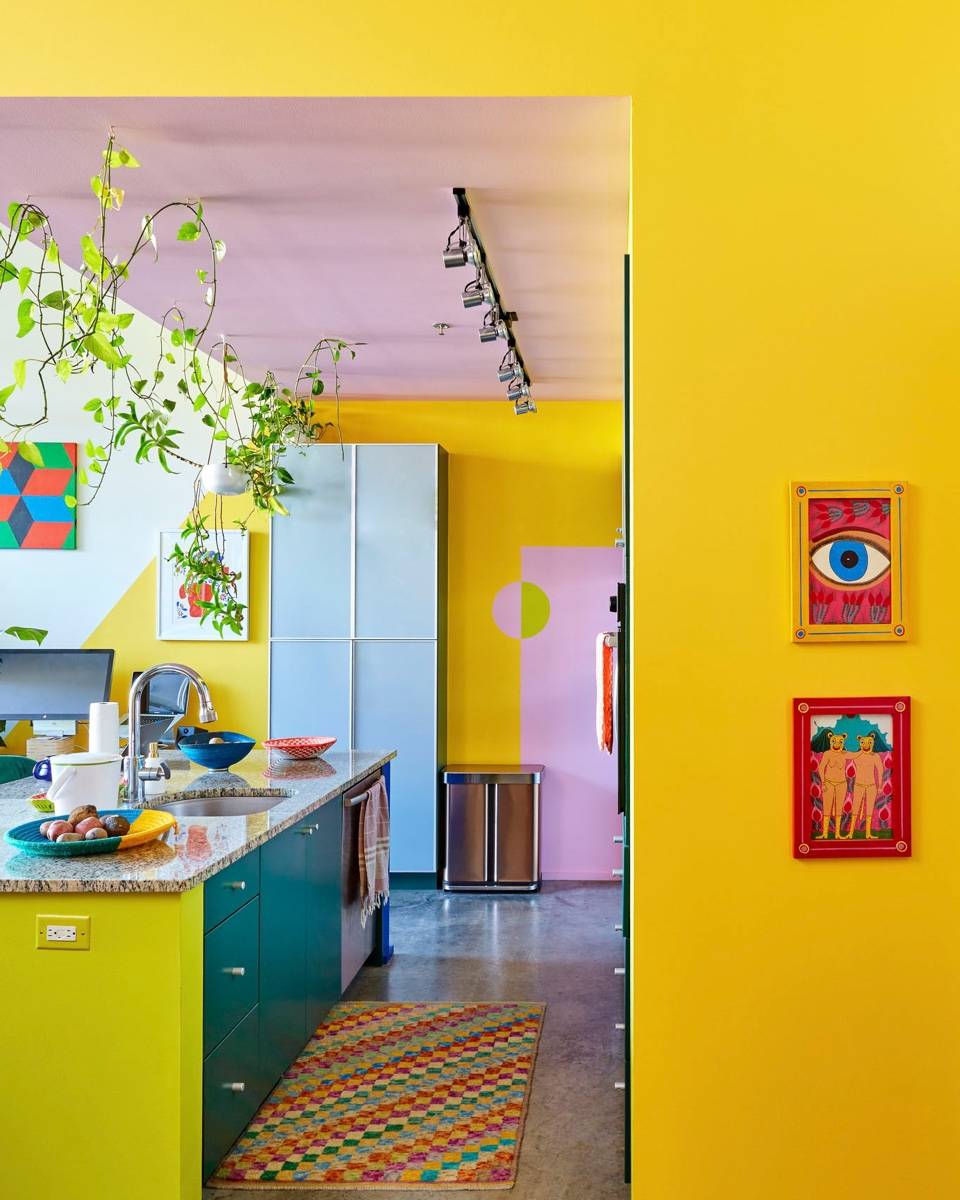 ---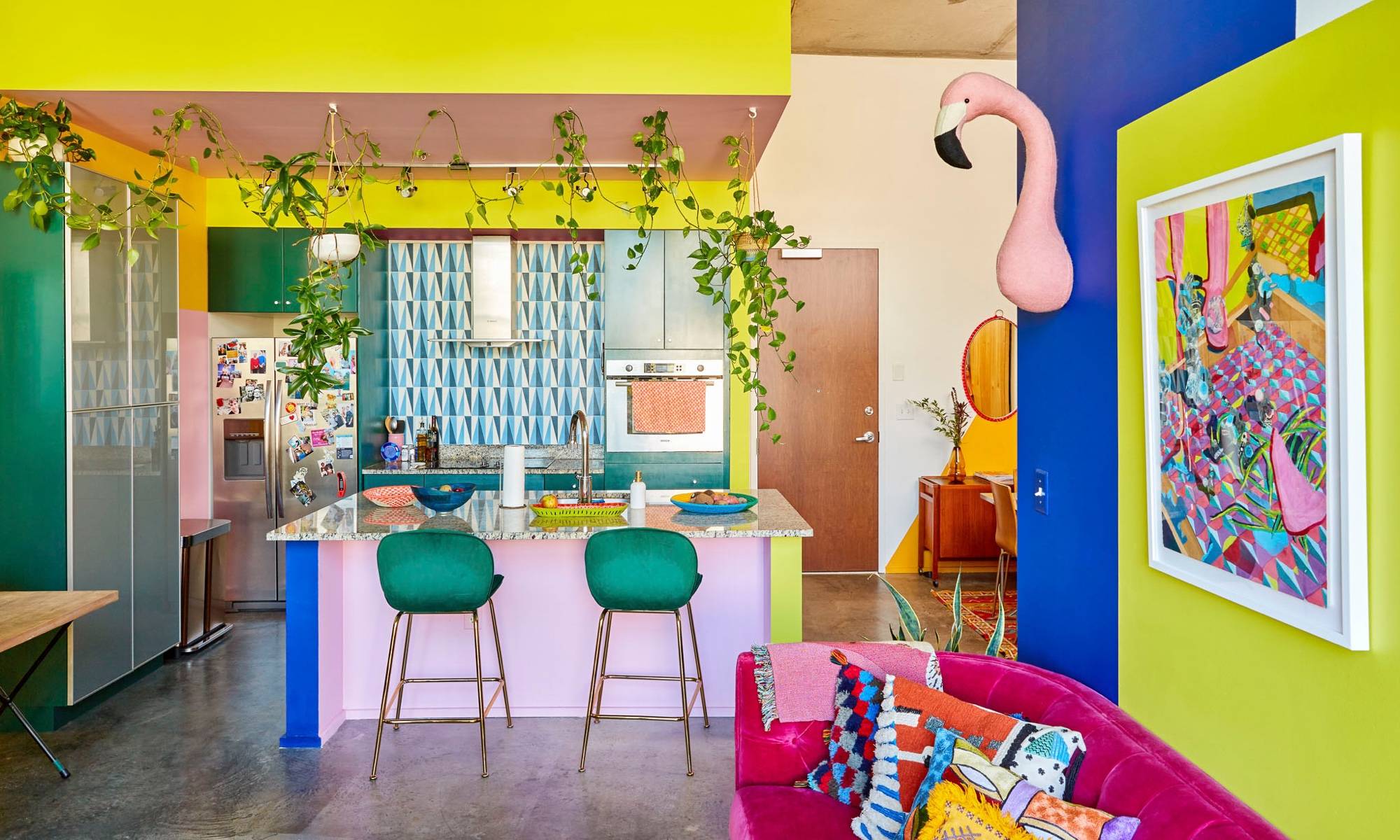 ---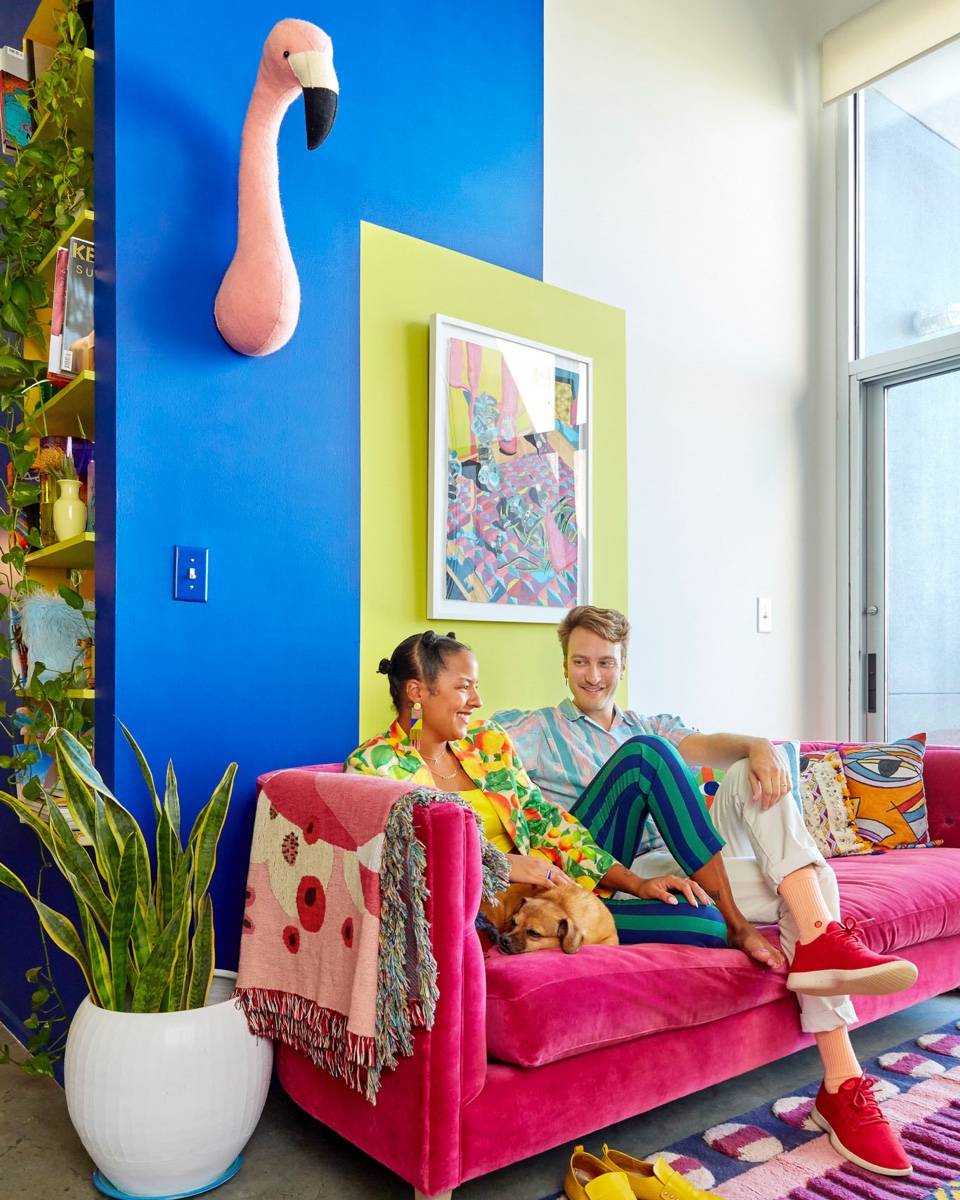 ---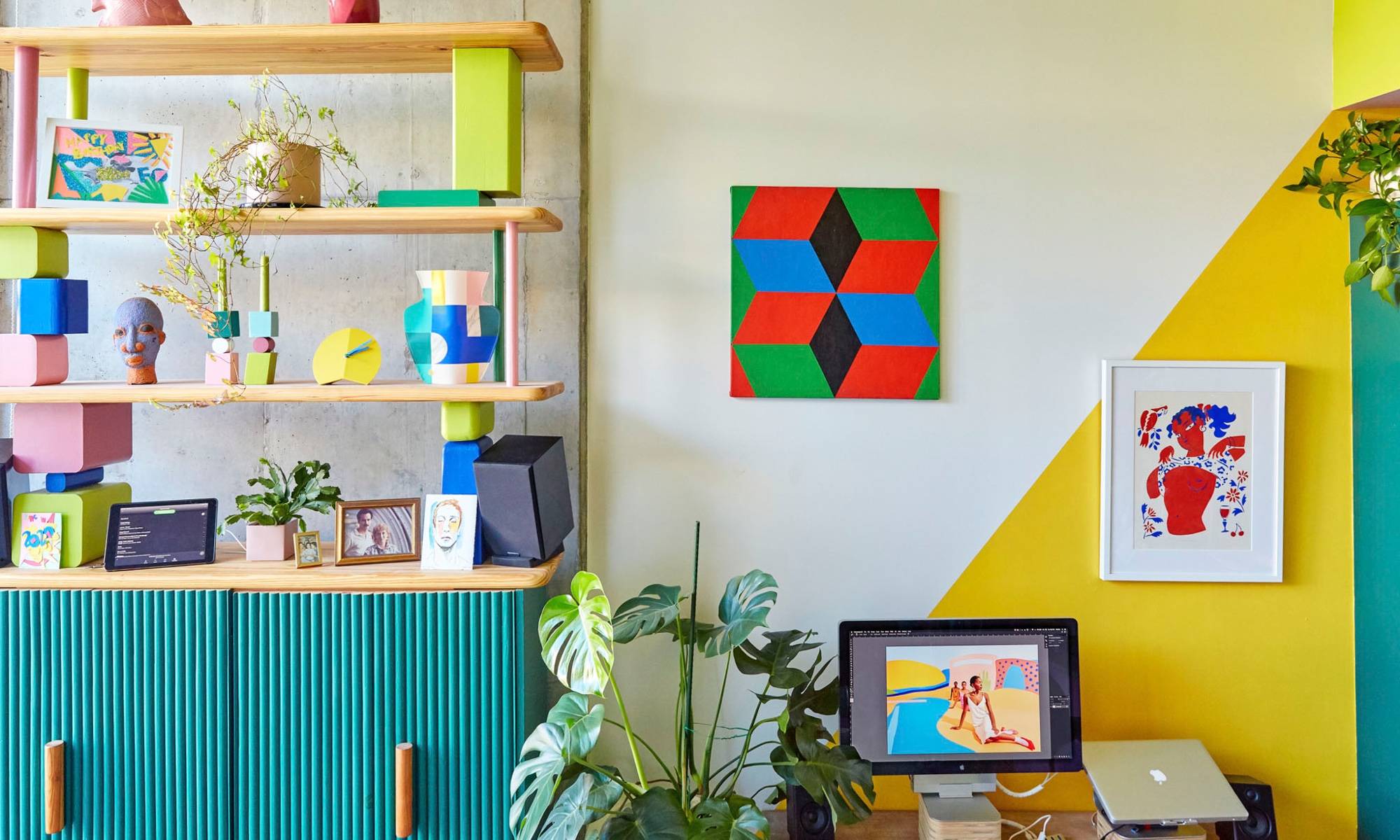 ---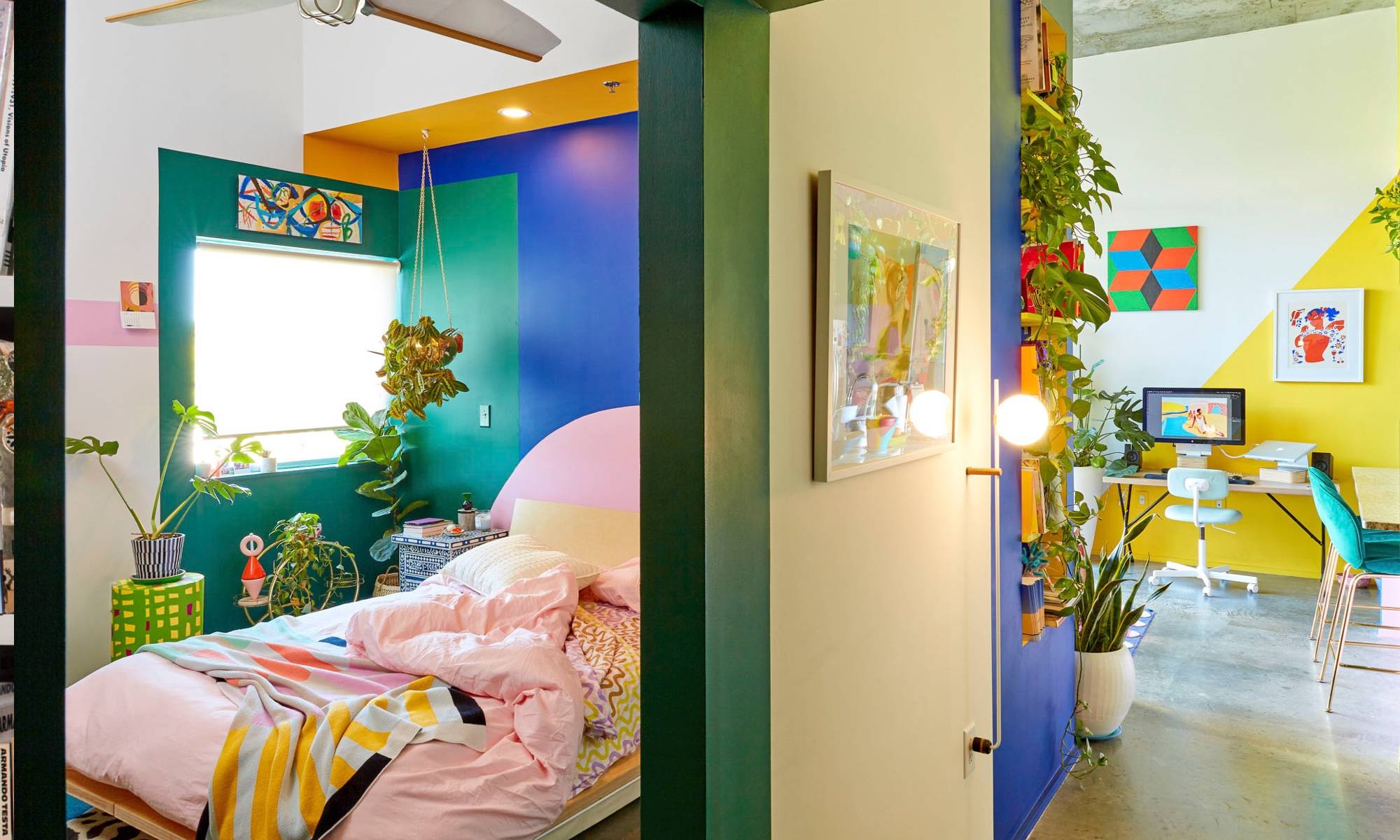 ---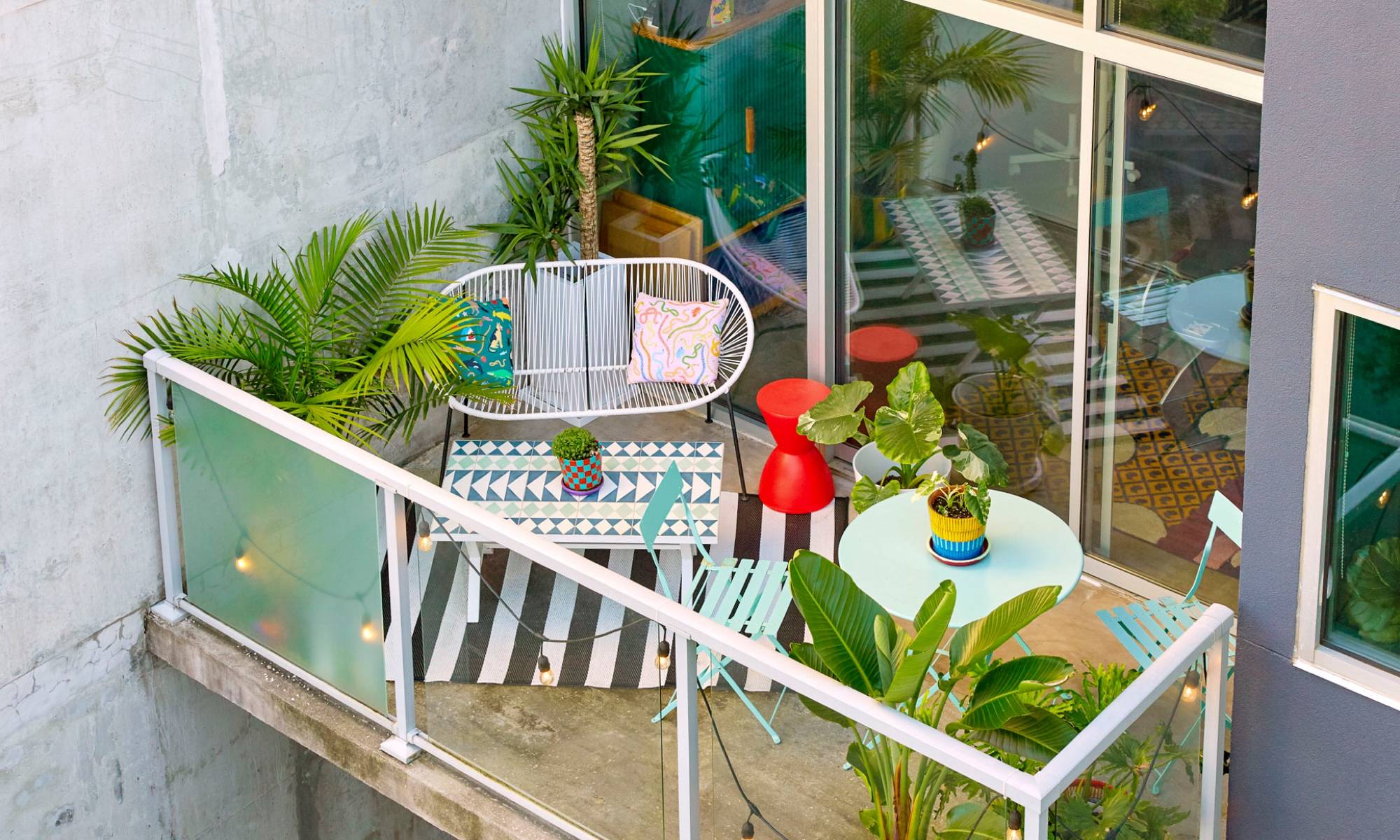 For photographers Michelle Norris and Forrest Aguar, no color is too bold. They've transformed their Atlanta condo, once a modern blank space, into a home color-blocked from floor to ceiling. As owners of Tropico Photo, the pair are known for their bright, poppy look, so it makes sense that their home is an extension of that signature aesthetic. They've taken inspiration from architects like Luis Barragán and Ricardo Bofill to use electrically-charged colors throughout their space, and experiment with paint treatments that inject a lively sense of humor & style. We spoke with Michelle about how she went about choosing colors, what she still wants to add, and learned about some of her most unique pieces in the process.
Introduce yourselves!
I'm Michelle Norris! I live with my husband Forrest and our dog Taco in what we like to call the Tropicondo. We co-own Tropico Photo, a photography and art direction team.
Could you tell us a little bit about your home?
We live in an 800 square foot one-bedroom condo in Atlanta. It's a really modern design with concrete floors and high ceilings.
Did you fall in love with the space the first time you saw it?
Yes! We loved all of the natural light and how full of sun it felt even into the evening.
What struck you about it at first?
Definitely the natural light, a place that felt like enough space for us but where we could stay really central, no carpets! Also we had to have an outdoor space.
How would you describe your interior style? Has it changed over time?
For the longest time I would have just said eclectic. Now it's morphed a bit to be more color-blocking because it was our first time buying and being able to alter the space so much more than in a rental. I think we like the modern flair that the style of our condo has that balances the wild and fun touches.
Do you approach your whole home as a cohesive unit or do you work on each room separately?
We wanted the whole space to make sense together but we did focus on each room as one idea. With the kitchen, living room, and dining room, those were a mix because they are all open to each other so we needed the color story to make sense where it overlapped. We chose about 6 colors and repeated those in different blocks throughout the space so that there would be a natural cohesion no matter what.
Do you tend to change and experiment with your decor or do you stop once you consider a space "done"?
We had a specific vision and went straight for it but things are always naturally evolving. In a smaller space like this, there is limited rearranging that can happen. We didn't complete the porch until months after moving in, while the rest came together on a pretty rapid timeline. I'm always acquiring new plants so that does lead to a bit of a shuffle. Our close friends own Silt Studio and they've built some beautiful custom pieces for us, so we love to swap those in as they have time to work on them.
How did you go about furnishing the space? Did anything come with you from previous homes?
We kept a few furniture pieces like the bar cart, dining room table, Forrest's desk and our bed, but otherwise we traded out for more unique pieces that suited our playful style. Pieces like our TV nook built custom for us by our friends at Silt Studio and our outdoor furniture are new additions.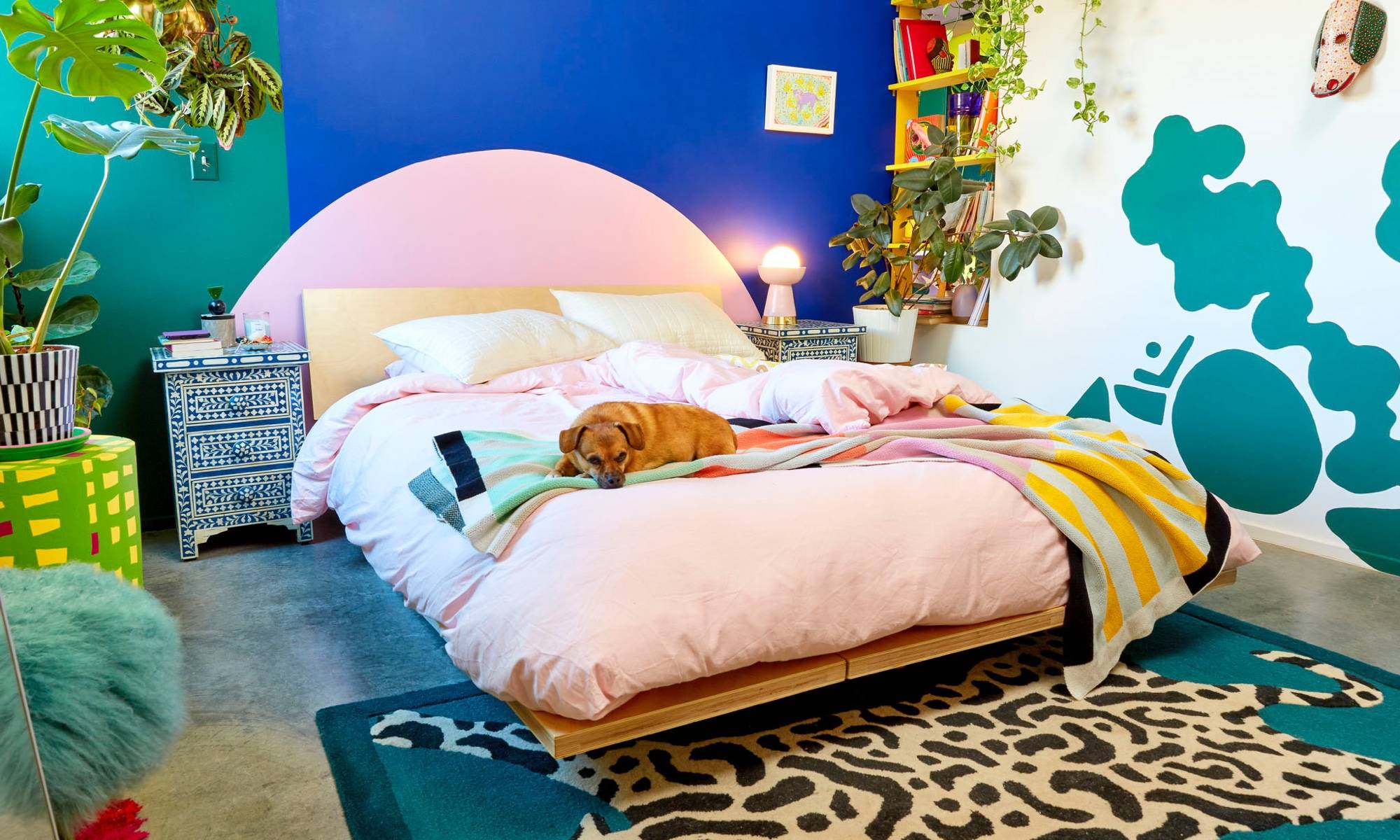 How does the home reflect your favorite activities and passions?
We share a love of travel and art and that's reflected in so many of wall art and knick-knacks that have largely been picked up on our adventures. We're also obsessed with our dog Taco so the space is perpetually set up for his comfort with stacked pillows and blankets laying around for him to make a bed in. Since moving into this space, I have loved taking care of plants so that's definitely reflected. I've also taken up painting in the past few months and now my easel stands in the corner of the dining room, as well as having one of my paintings up now. The closet is overflowing because I love clothing a little too much. We're both very into cooking so having the kitchen open where we can chat and entertain while making meals is lovely.
What's the story of some of your favorite pieces? Why are they your favorite?
The flamingo in our living room was a Christmas gift from Forrest and he's such a star. My family was mystified by it when I opened it up but it was exactly what I wanted. I always think about that when I look at it. The two paintings hanging above each other by the kitchen are ones that we bought at a market in Mexico City and they are some of our absolute favorites. One family has been making them for years and the style is so beautiful and also always takes us back to that trip. The slender painting above the window in the bedroom was made by our good friend Max Beeching and it always feels like such a treat with the burst of color in an unexpected place.
What's the one thing you'd rescue in a fire? (Other than family & pets, of course).
My entire closet or our laptops! But maybe the flamingo head actually. He's a part of the family.
Is there anything you think the space needs that you haven't yet added?
We're hoping to add some shelves for plants to live on higher up. I would also love to swap our big Ikea mirror for a custom one eventually.
What are some of your favorite sources of inspiration?
We're big fans of Ricardo Bofill and Luis Barragán so we considered their magical use of big swaths of color. Miranda Makaroff is an inspiration in many ways but especially with her home that mixes a lot of pinks and big tropical plants. Gustaf Westman's pieces are mind-blowing and inspire us to take chances with unexpected shapes in our space.
What makes you feel most at home when you walk in the door?
A comfy couch with a lot of pillows is key. We love movies and TV so it's a nice spot to unwind. Sometimes I'll even do work on the couch if I'm trying to feel cozy.
What's a favorite memory in the space?
Our house-warming last year. We had friends and family come into town for it and it was so much fun to show off our first real home and spend time with our loved ones.
Images by Tropico Photo.