September is Detroit Month of Design. In its 11th edition, Month of Design offers local designers an opportunity to showcase their work in various exhibitions, installations, and talks. We had a chance to speak with emerging designer Yazmin Dababneh, one of the participating artists of the event.
Once focused on science, Yazmin made the shift to art full-time. Her work is driven by her fascination with quantum physics, metaphysics, and the unseen energy in all matter. Her use of glass, steel, light, shadow, and video projection is uniquely paired to evoke a sense of interconnectedness and wonder.
Hear from Yazmin about her art, inspiration, and current work on display at Month of Design.
---
Tell us a bit about yourself and what got you into art

?
I actually started out studying biomedical sciences. I had always had a passion for drawing and painting when I was younger. Still, I didn't really know anybody who was an artist, so I didn't think it was possible to become an artist. Then, two years into biomedical sciences, I realized it just wasn't what I wanted to study and switched completely into the creative route.
I spent one semester at the College for Creative Studies (CCS) in Detroit, took a year and a half off and did a little bit of film school, and then came back to CCS a year and a half later.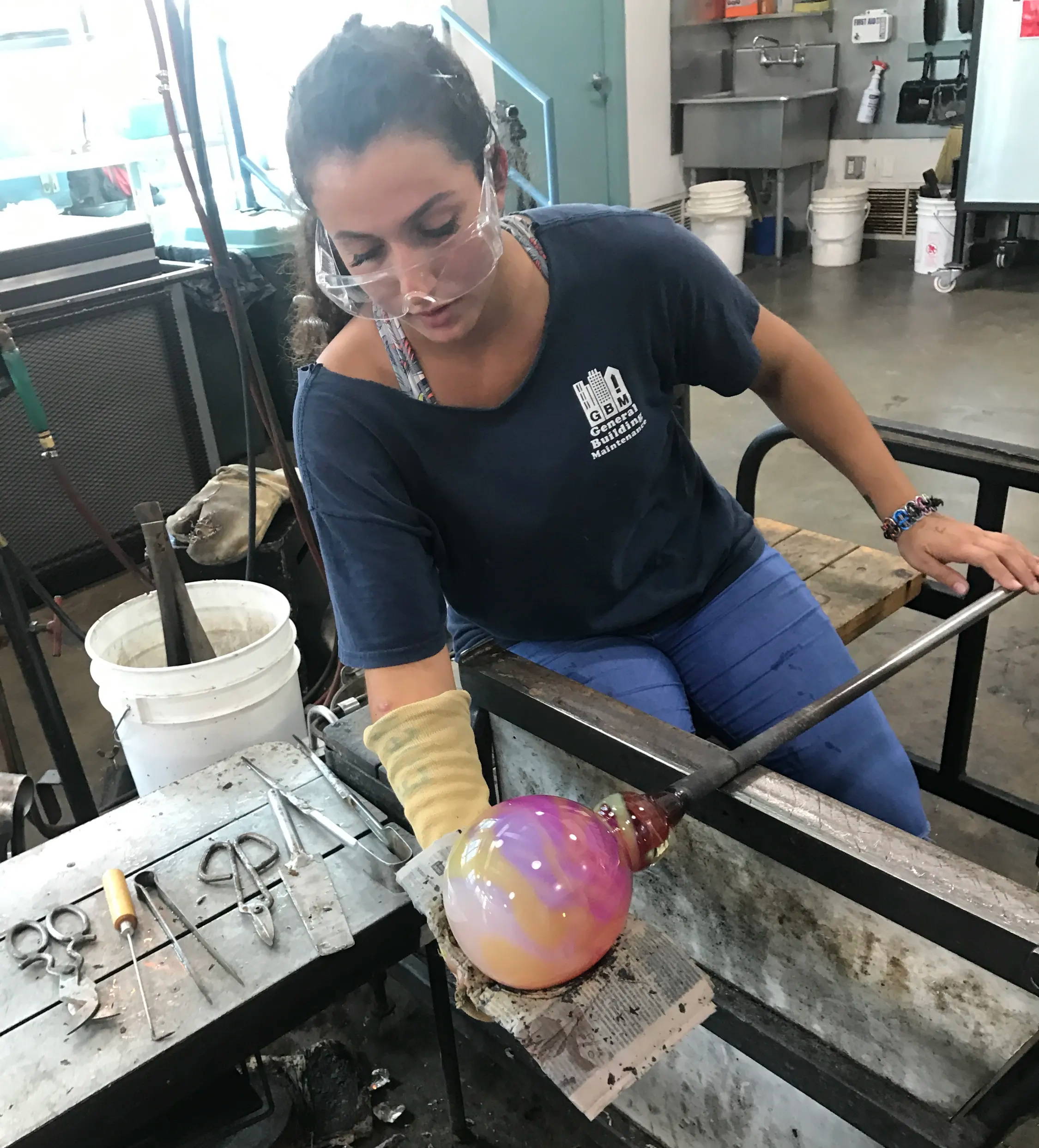 Artist Yazmin Dababneh working with glass.
What is it that inspired you to move into the type of art you do

?
I created a lot of hyper-realistic work when working in 2D, and I did explore abstract painting. It was fun, but there was just something missing. Then, I came across a glass-blowing studio. When I first saw it in person, it was just so mesmerizing — the way the material is so unpredictable and fluid. The different states that it goes through just fascinated me. I think glass is what forced me to start working three-dimensionally.
And then, after COVID happened, I lost access to studios. But what I had access to were a bunch of glass pieces laying around and a couple of projectors, and I thought maybe I could try and work with what I have. So COVID actually is what pushed me to jump into the immersive, interactive, and experiential space.
Now I'd like to say that I work in the fourth dimension because I create these experiential pieces.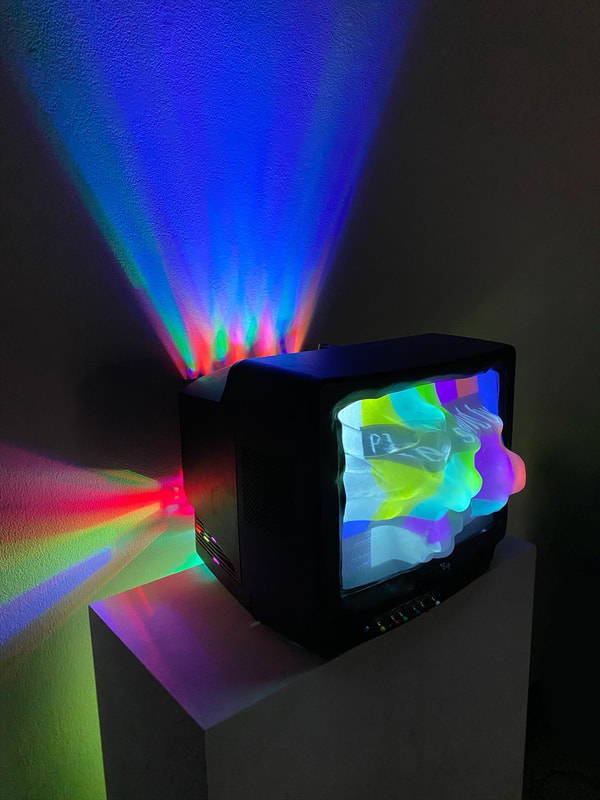 Escape — immersive projection using slumped glass and a gutted CRT television (2021)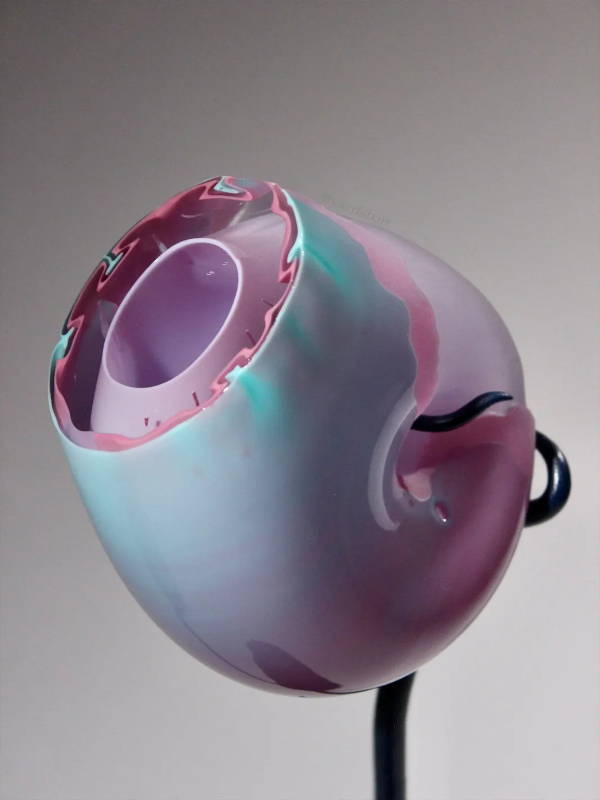 Realm — blown and coldworked glass combined with steel (2019)
How did you get into steelwork

?
I love steel just as much as I love glass. I'm very interested in seeing how the two interact with one another. I do a lot of those slump pieces — like my piece Transcend — bend steel rod and then slowly heat a piece of flat glass on top of the tangled steel form, trying to capture that moment where they both exist in that free form state. That's what really fascinates me.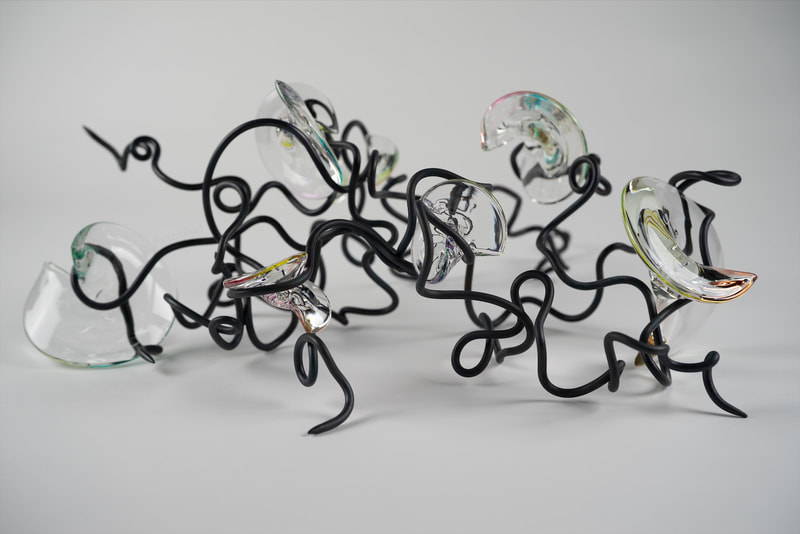 Charkras — hot sculpted glass and steel (2019)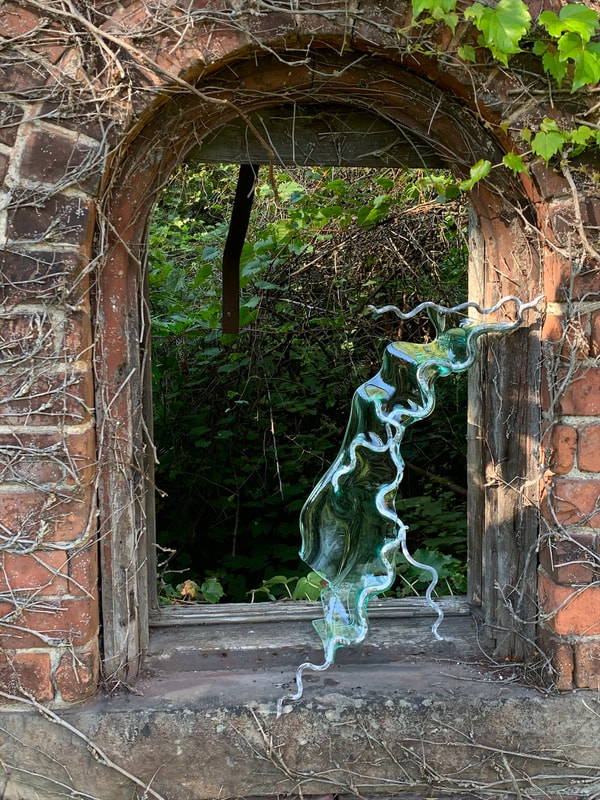 Transcend — slumped glass and steel (2019)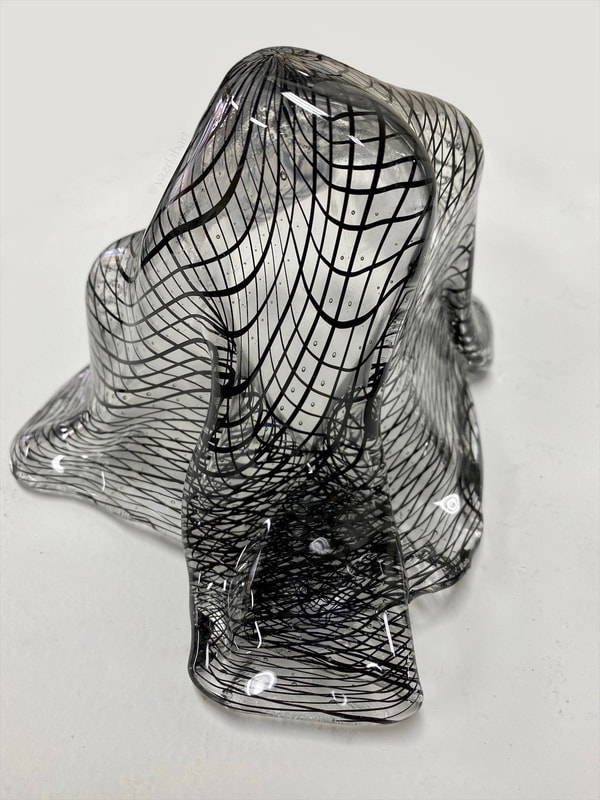 Folding Space-Time — blown and slumped glass (2020)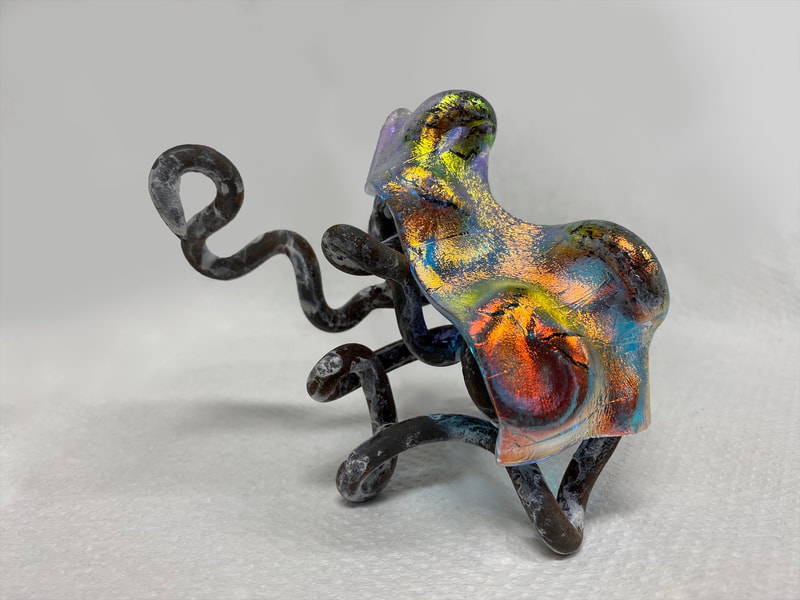 Limbic Resonance — sculpture using slumped glass and steel (2020)
Tell us about your home space. Do you work in your home? Do you use studio spaces around Detroit?
I had always told myself that I wanted to find a space where I could be surrounded by my artwork. I realized that I should have been more specific because I am so surrounded by my work; it's like a jungle gym walking through my house.
I kind of work all over the place, although this summer I did mainly work out of my home. When preparing for this exhibition over the summer, I used an angle grinder right on my front lawn!
I do still work over at the College for Creative Studies. For glass blowing, I work in a couple of private studios. I also do assist with the demos on the weekends at the Flint Institute of Arts. I also sometimes work at Acorn Glassworks in Plymouth, at a few studios at the Russell Industrial Center, and Epiphany Glass in Pontiac.
Are there any artists that have sort of served as inspiration or influence for you

?
Yes! Stephen Knapp and Paul Friedlander. Stephen Knapp used these tiny pieces of colored glass, placed them on the wall, and then used light at an angle to create, what he called, lightpaintings. Paul Friedlander is a physicist who became a light artist and is known for kinetic light sculptures.
How did you end up working with Detroit Month of Design?

 
I had this wild idea for my proposal, which I called YayaLand Takeover — I would cover all of the CCS campus lights with this dichroic film, which is a transparent iridescent film that changes colors depending on what angle you look at it. And my proposal was accepted.
Soon after, Design Core and Rocket Companies approached me because they saw my work on my website and social media. They were looking for an artist or a designer to create an immersive exhibition. And that's how I got the exhibition.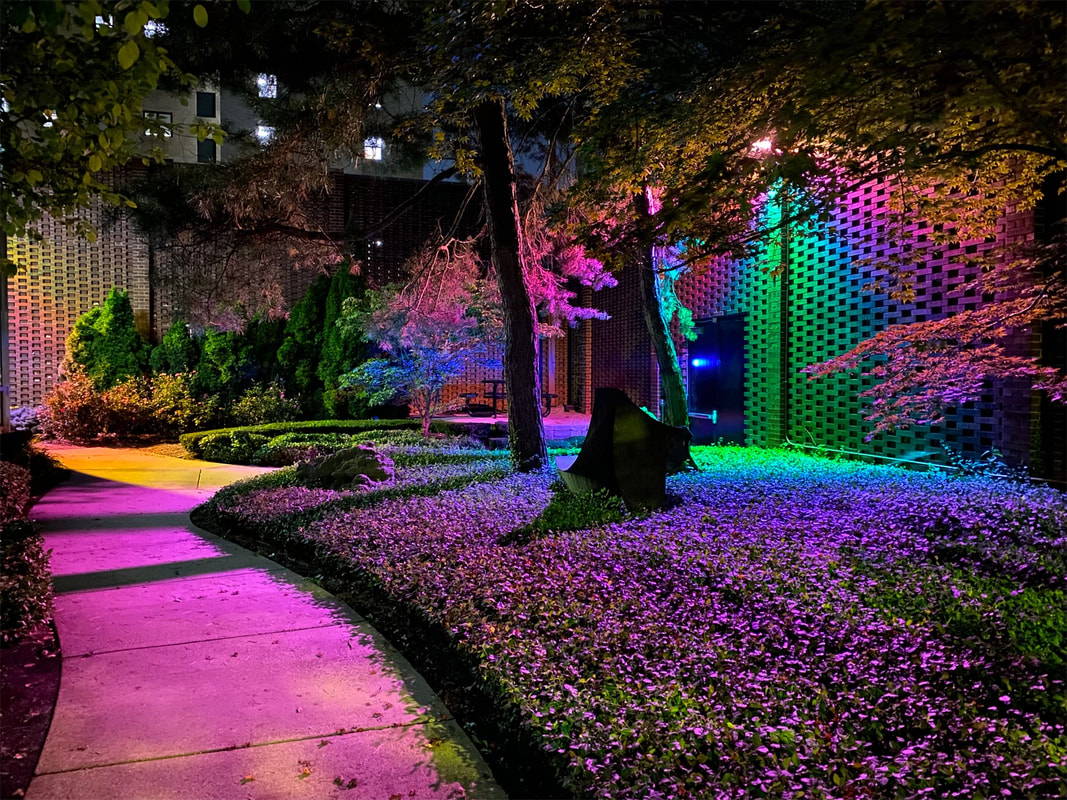 YayaLand Takeover — immersive experience on CSS campus using dichroic film and light (2021)
Describe the exhibition to us.
It's called Moments of Immersion, and basically, each piece is just its own little moment of interaction or immersion. Each piece has a projector that activates it, and all of the projections deal with nature in some way. I call them crafted landscapes. They're just mostly flowing forms, and then I have a projector hitting it in some way.
The nature landscape projected onto the crafted landscape gets distorted because of all the dips and humps and bumps. So it creates a state of contemplation when you're staring at it.
Immersive Sculpture II — immersive interaction piece that uses slumped glass, projection, acrylic, experimental film, and foam (2021)
What are you hoping for people to experience or feel as they're there or leaving?
In some way or another, all of my work deals with this invisible, unseen realm that connects everything in the universe. I hope that people get excited about the work, wonder about it, and walk away contemplating their own personal realities and how they perceive the world around them.
If you'd like to see Yazmin's work, visit the Moments of Immersion exhibition located at the First National Building, 660 Woodward Ave., Suite 6, now through Sunday, September 26. For more information on dates and times, visit: designcore.org/event/moments-of-immersion.
Make sure to check out YayaLand Takeover on the CCS campus beginning at sundown.
For more about Yazmin please check out:
This widget makes post narrow
This will be hidden in site