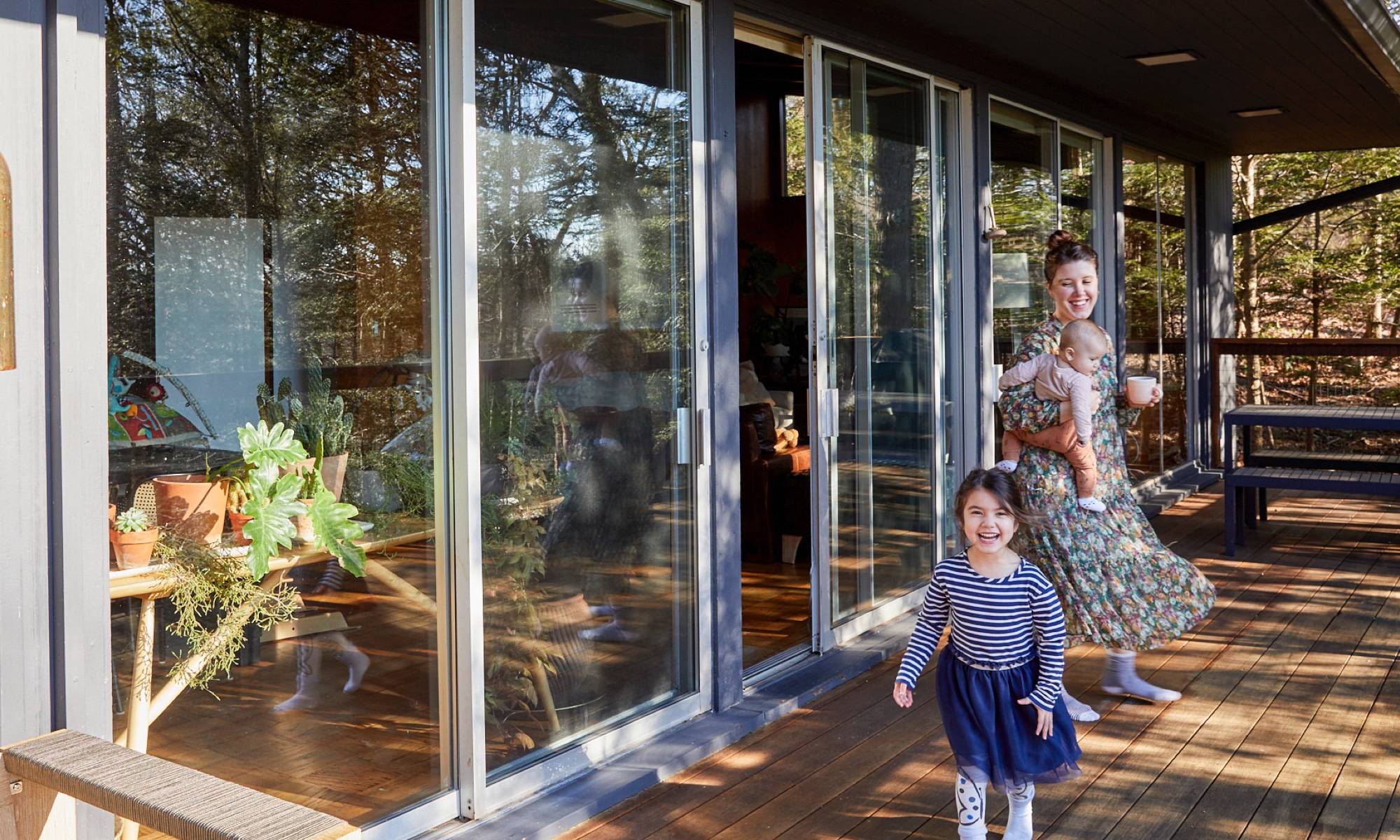 Kate Jordan's Organic Mid-Century Modern

The stylist created a warm, welcoming home in Pound Ridge.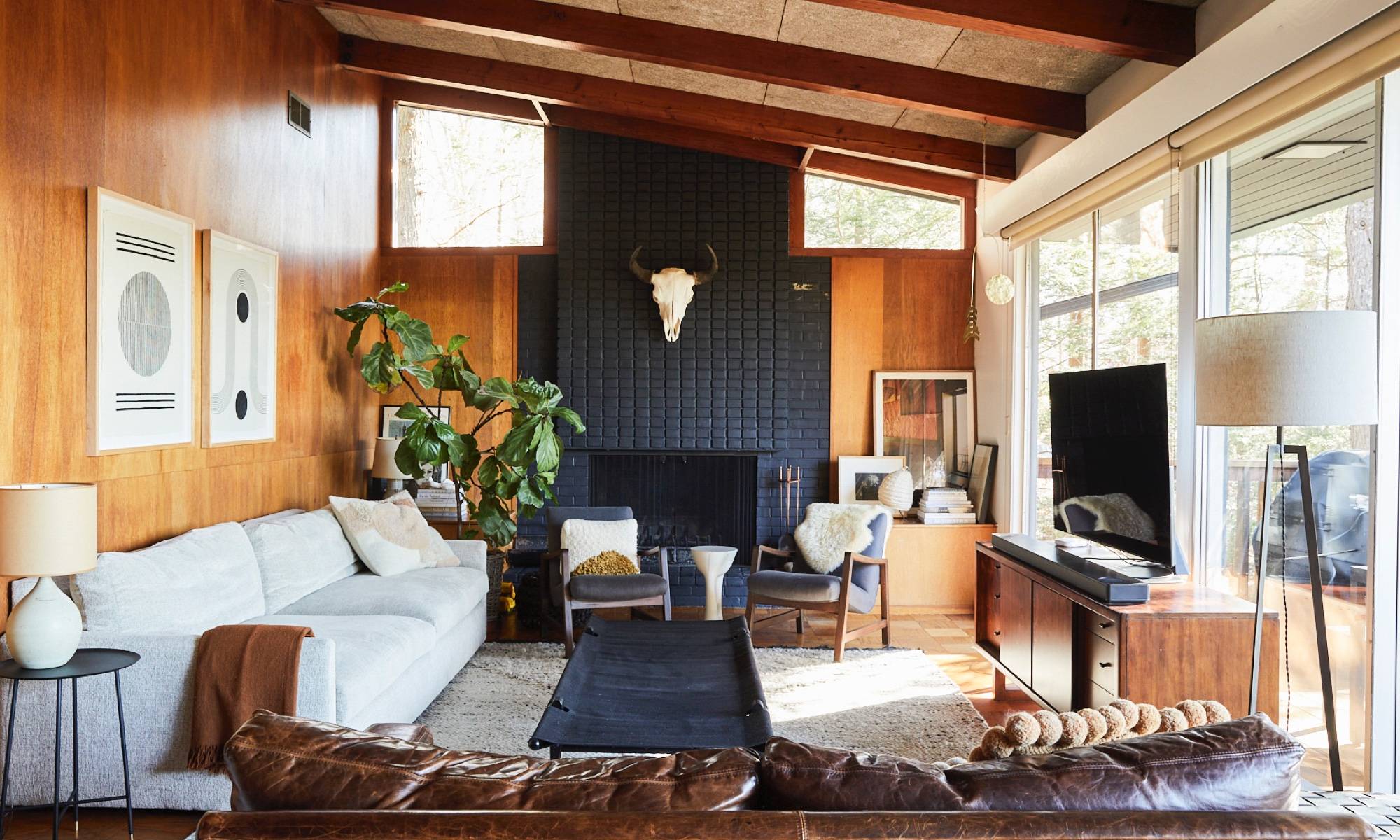 ---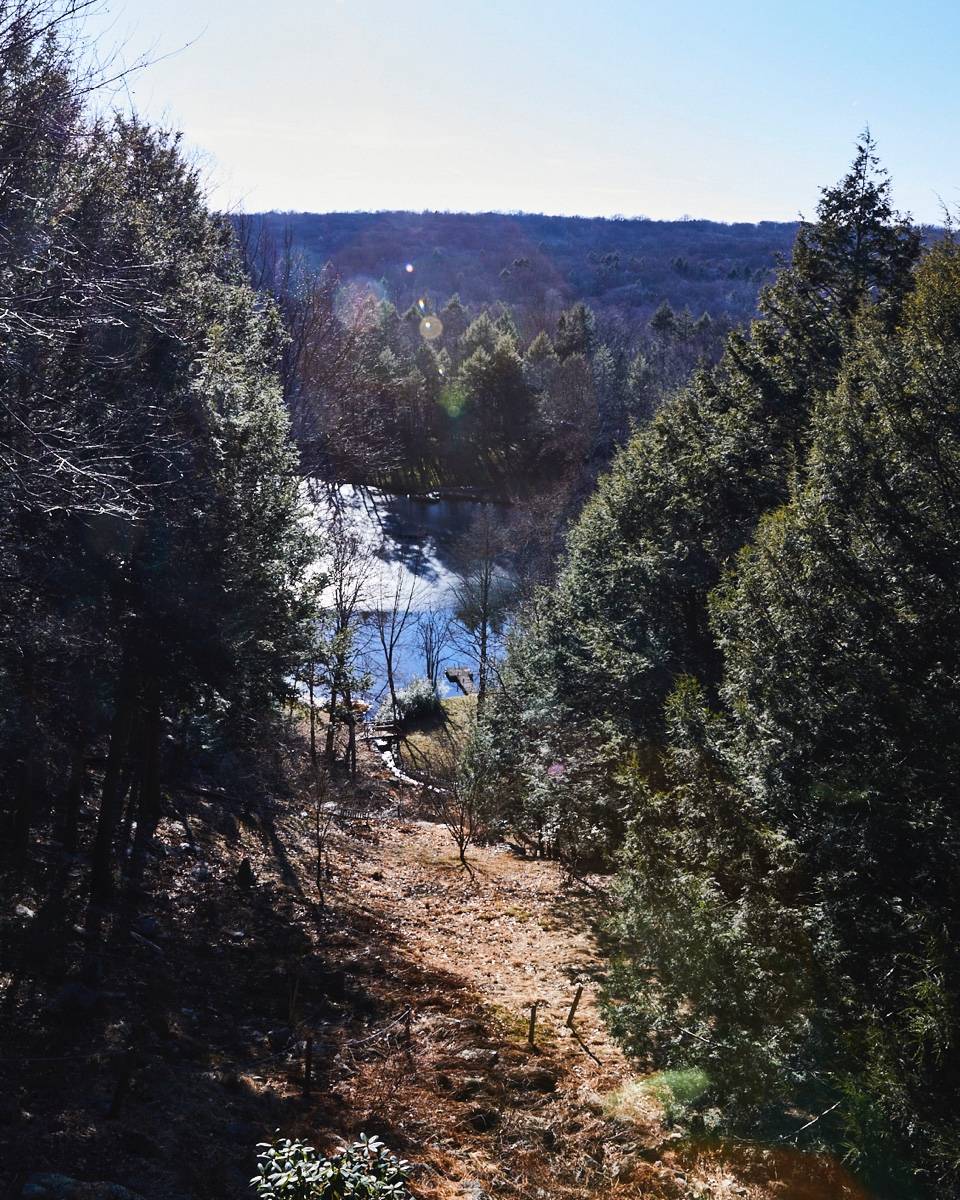 ---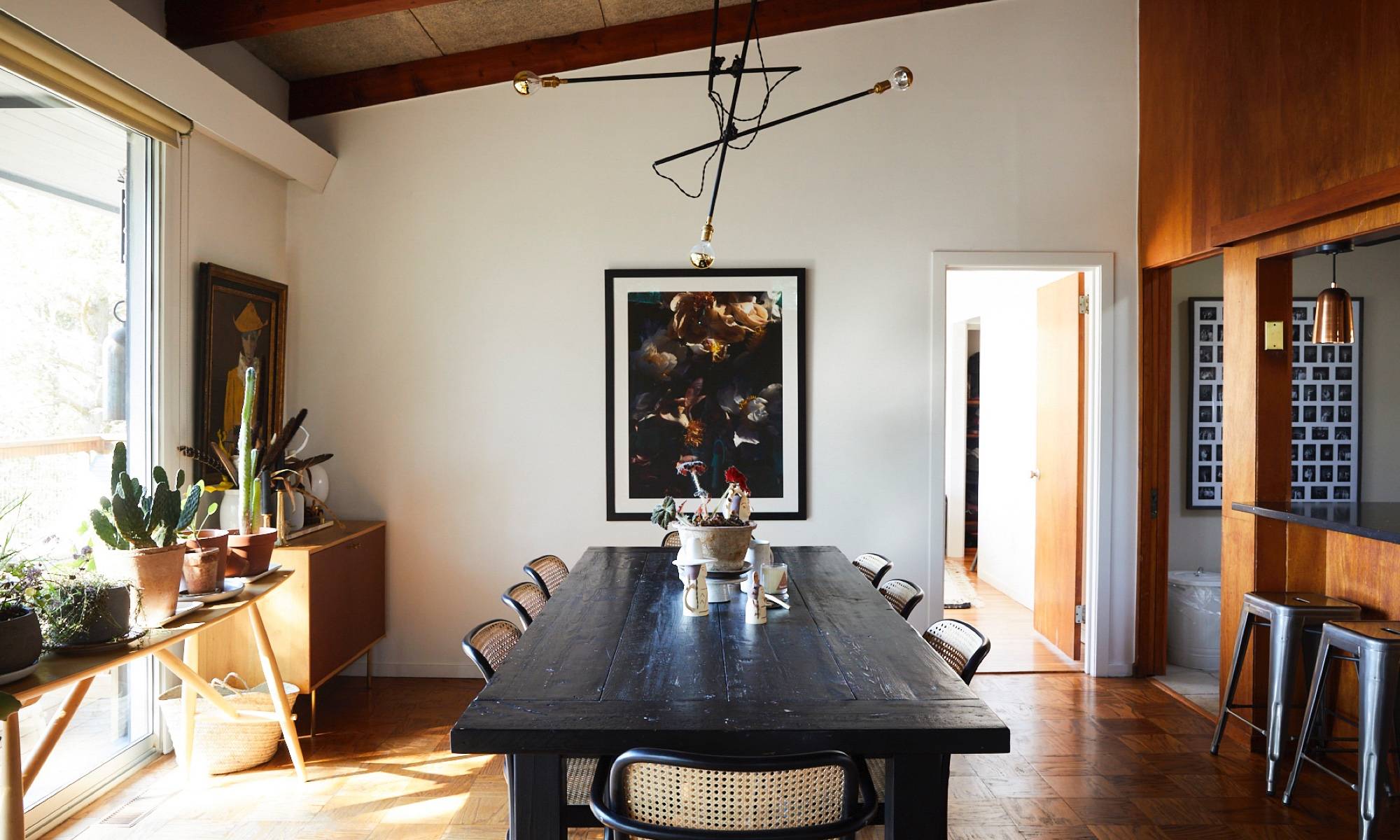 ---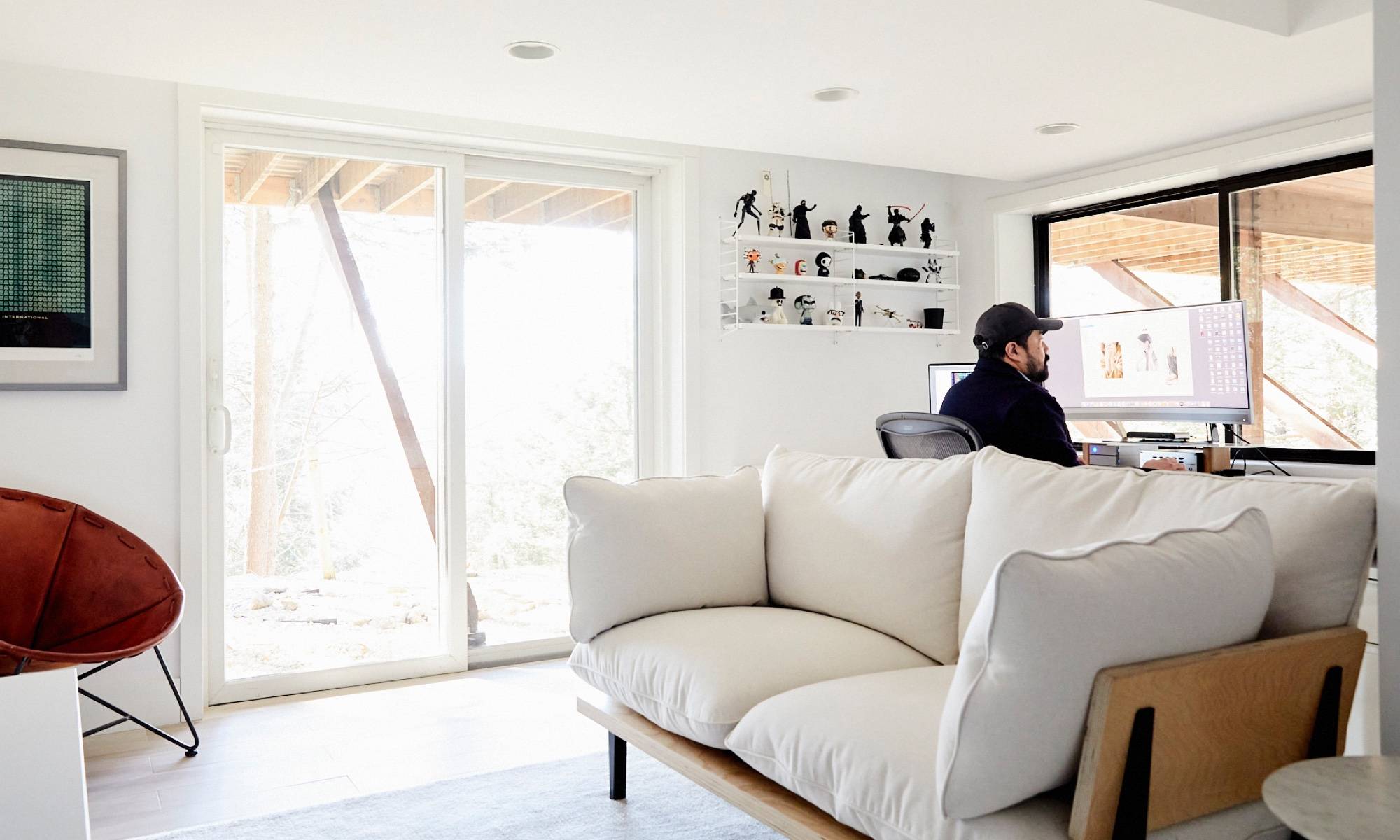 ---
---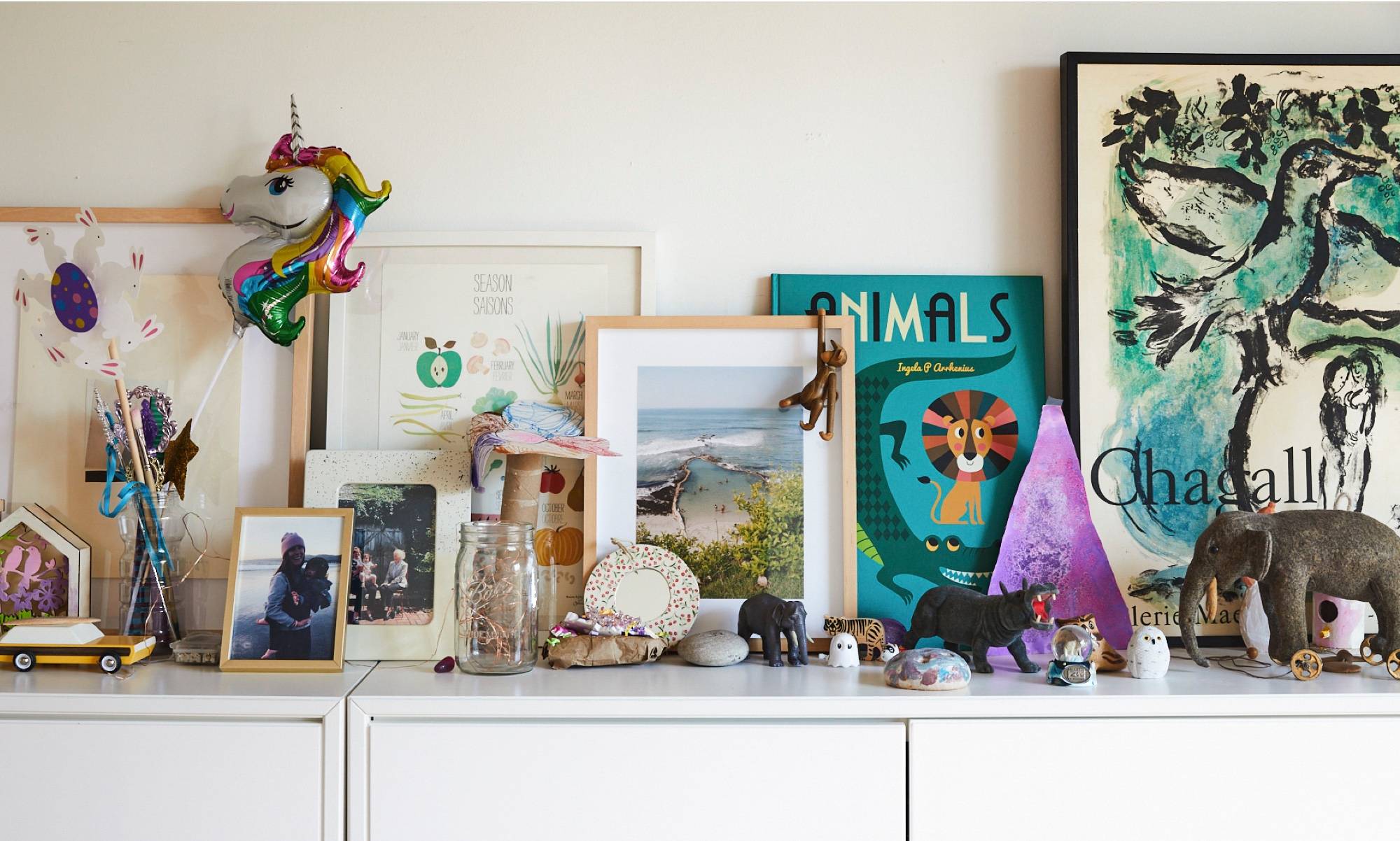 ---
1. Warm wood surrounds the monochromatic living area. / 2. The view of the river from the house. / 3. Hoffman chairs contrast with the lighter woods in the space. / 4. Every office needs a comfortable seat. / 5. The kids' room is designed for daughters as creative as their parents. / 6. An artistic eye runs in the family.
Home is a palette cleanser for stylist and Lokah coffee co-founder Kate Jordan. While she spends her days creating elaborate vignettes for brands like West Elm and Design Within Reach, she prefers to come home to a space that is restful, sophisticated, and as calming as its woodsy setting.
With a tightly edited color palette that lets the expansive views pull focus, Kate's home is an ideal break from her busy schedule and a source of creative rejuvenation. When we took a peek inside her mid-century home, Kate spoke with us about her favorite sources of inspiration for a house that has been the setting to all of her most important milestones.
Give us an intro!
I'm a stylist and art director. I live with my husband, David Chanpong, an art director and website designer. We also run a fair trade coffee company together, Lokah! Our little family includes our four year old daughter, Isabel, our five-month-old daughter, Charlie, our cat, Micah, and our pup, Sadie.
Tell us a little bit about your home.
We have a little house in the woods of Pound Ridge, NY. It's a small mid-century that's tucked away in a hemlock grove, perched above the Mianus River Gorge.
Did you fall in love with your home the first time you saw it?
We sure did! We had been on the hunt for months and months, and by the time our realtor called about this one, I had serious real estate fatigue. But he convinced me to come look at it, even though it hadn't yet hit the market.
I went with my sister in the late afternoon, just as the sun was putting on such a glorious sunset, and was bowled over. I called David and had him run out of work to come see it. He actually saw it at night, so couldn't see the view, but we still put an offer in the next day.
The people we bought it from were so kind and generous with their time, too; we still keep in touch with them and had them over for a visit recently! It's a magical spot that stays with you forever.
As a stylist, did you look for anything in particular when you were searching for your home?
For us, the most important things about a home are good bones and great light, both things that this house has plenty of. I tend to swoon over older architecture with a lot of character, and a special outdoor space; David loves the clean lines that mid-century architecture offers. We somehow found a really good middle ground with this house!
How would you describe your interior style?
As a stylist, I love texture and character and crumbly bits and patina, but I also really need to have a controlled sense of chaos. Nothing too Mad Hatter! I think my work aesthetic is a bit different from what I expect of our home.
When home, I need a visual rest from color and this house really offers that. I think, if anything, my style has evolved towards a more sophisticated, less whimsical style. And my mission in life has somehow become to figure out how to stem the tide of kiddo clutter, haha.
When it comes to design, do you approach your whole home as a cohesive unit or do you work on each room separately?
Definitely a cohesive unit! I think the parts have to always equal the whole. But I think there's room for fun, too, especially in our kids' rooms. We really want their environments to be inspirational and approachable.
Do you tend to change and experiment with your furniture/decor or do you stop once you consider a space "done"?
Oh gosh, I'm always moving things around! I try to keep our furnishings tonal so that they can live all over the house. I'm definitely of that opinion with art, too. A room can feel so different just by switching the art around.
---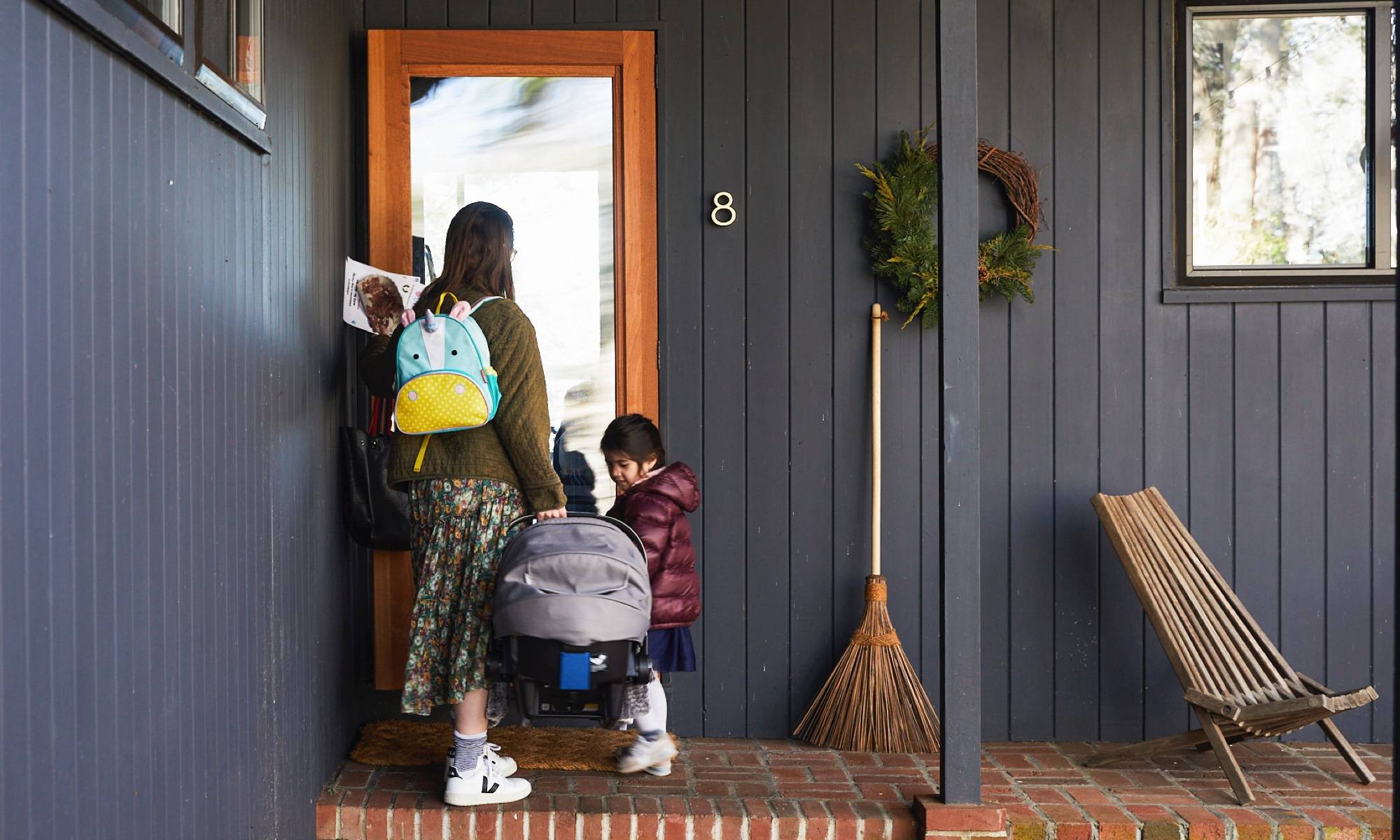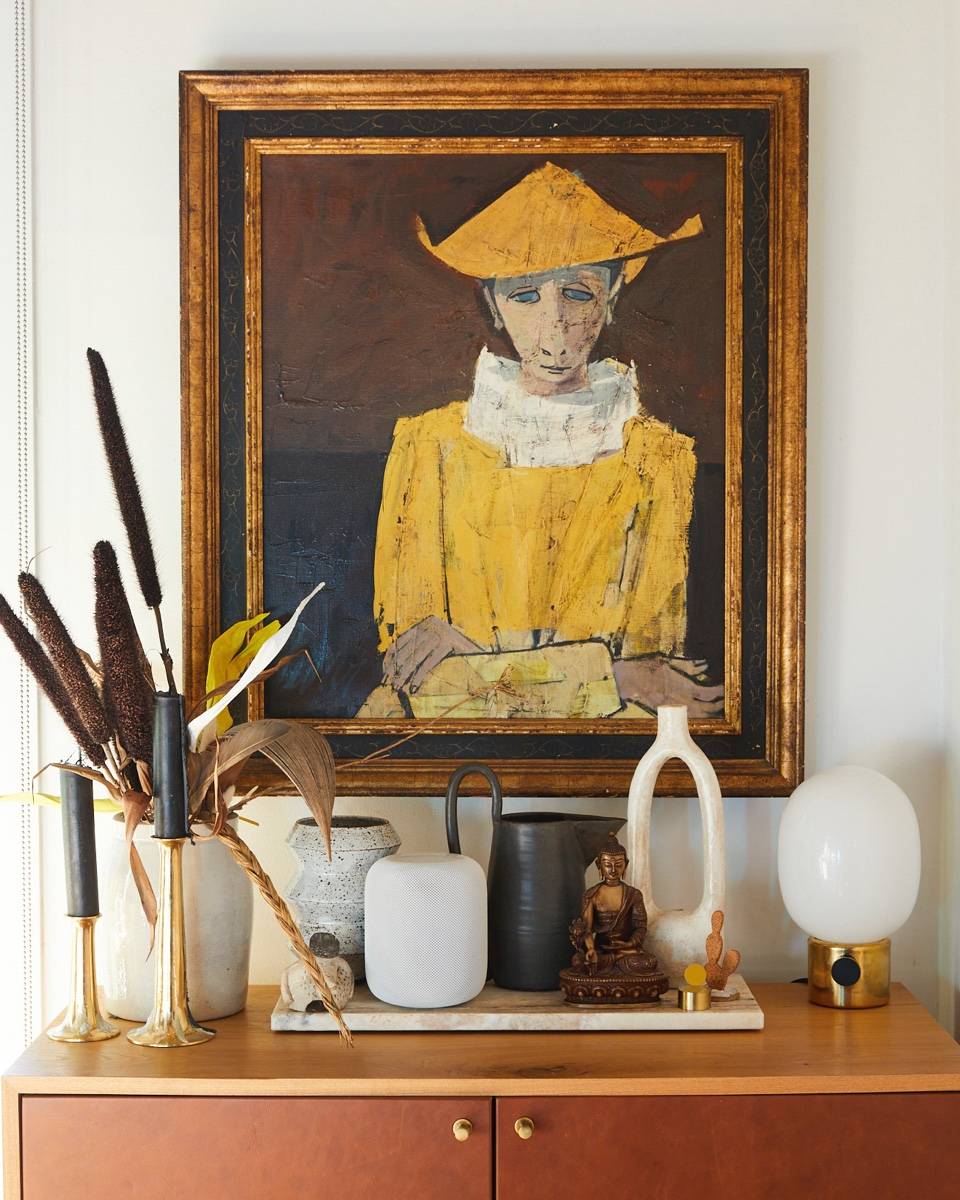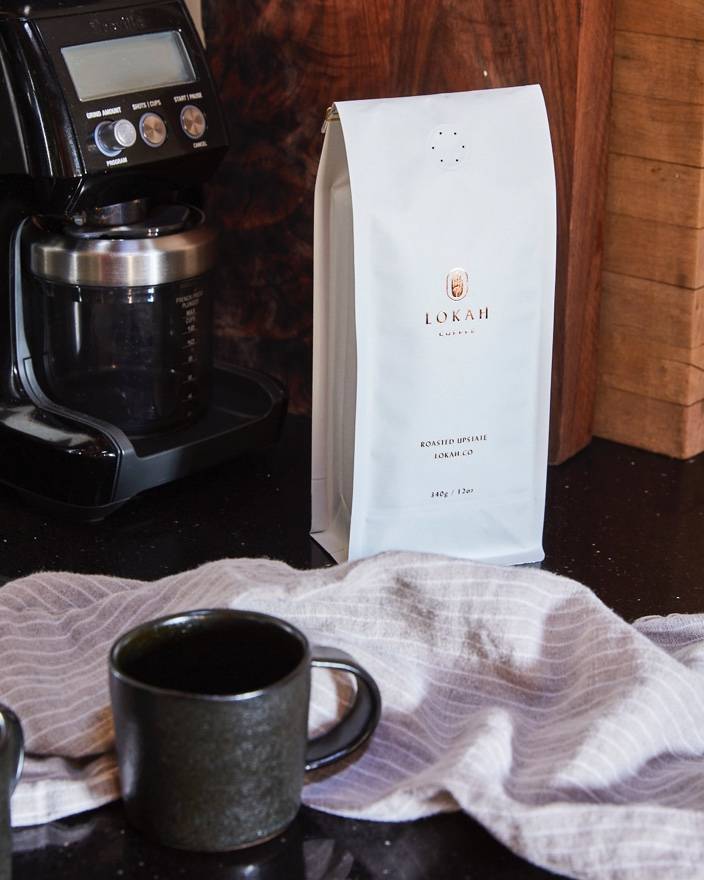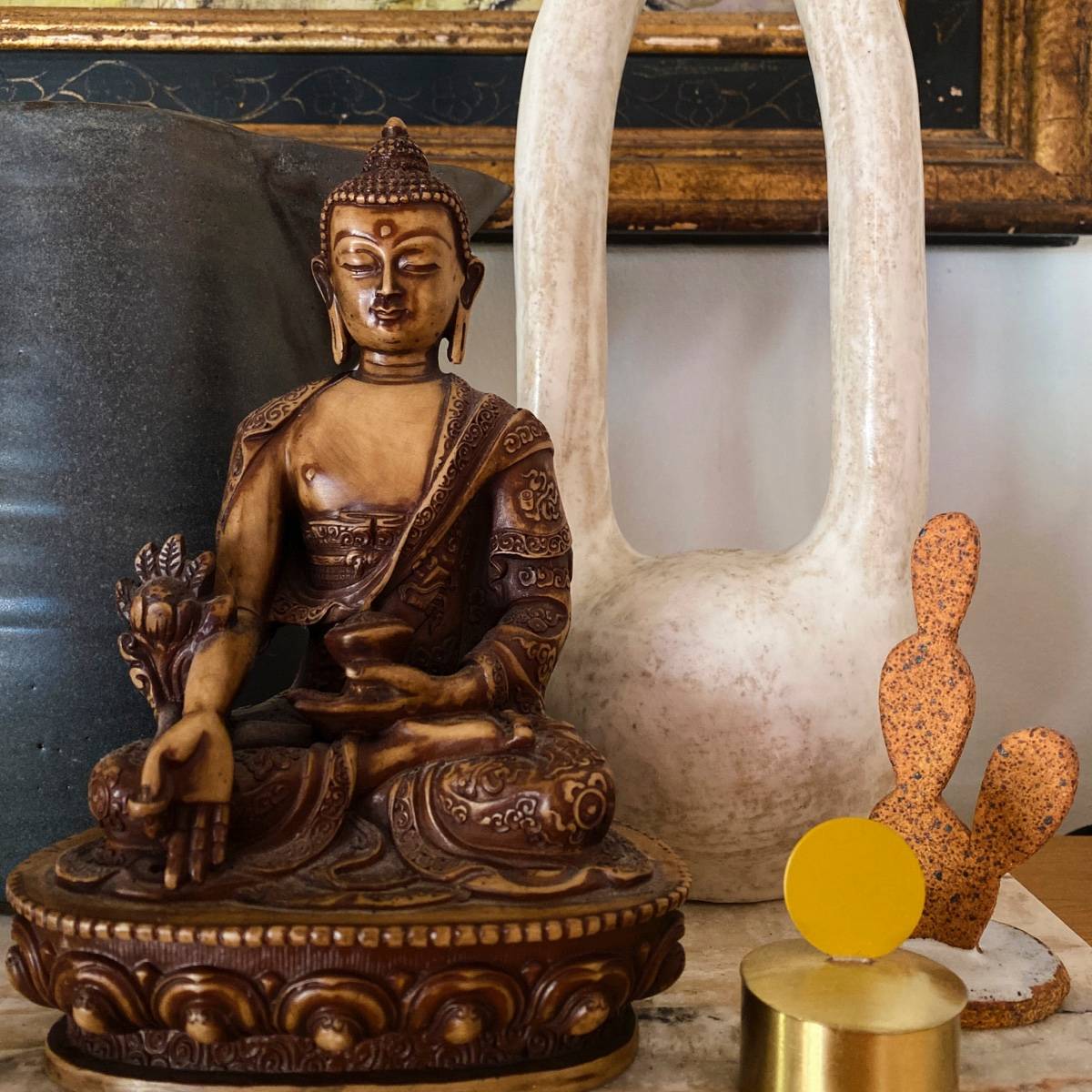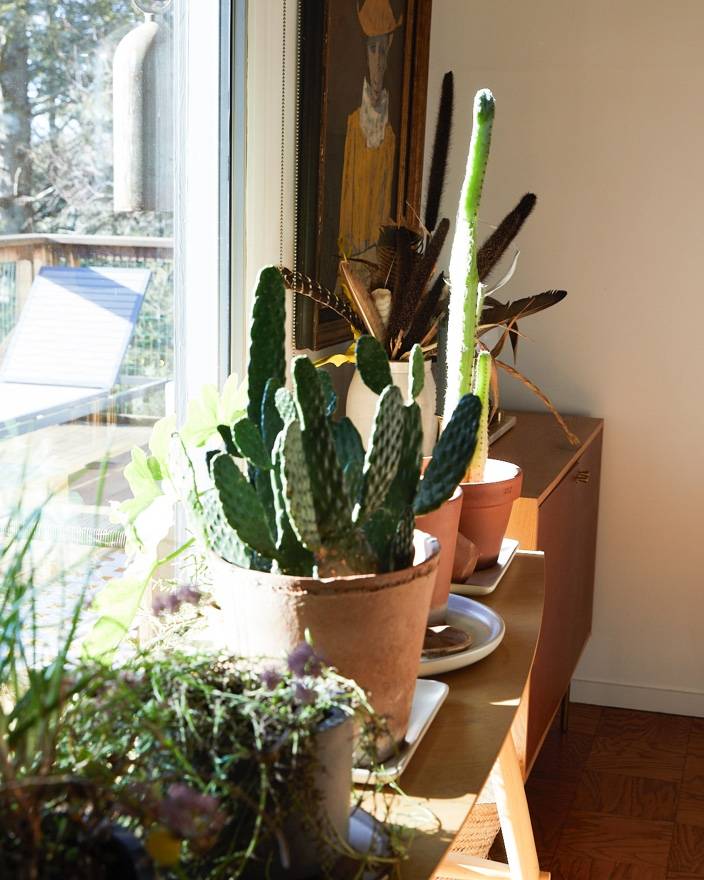 1. When they bought the house, Kate & David loved how it combined clean lines with rustic style. / 2. Kate loves playing with a neutral palette through interesting textures. / 3. Details from the dining room. / 4. Kate and her husband David started Lokah, a coffee company that sources fair trade coffee from women farmers. / 5. Like any stylist, Kate has an eye for detail. / 6. Kate, David, and their daughters. / 7. Light in the space allows for an impressive collection of plants.
---
What's the story of some of your favorite pieces?
David and I have such different aesthetics, so I think some of my favorite pieces are ones that we spent forever searching for and agreeing upon. I also love a few family heirlooms that I have; they connect me everyday to the people I love but who are no longer with us.
What's the one thing you'd rescue in a fire? (Other than family & pets, of course).
Oh my, good question! Probably a very special painting that hung in my grandparents' apt for 60 years before coming to our house, and maybe also our coffee maker. Couldn't live without that!
Is there anything you think the space needs that you haven't yet added?
We're always trying to rethink things! Right now, with two kids, we're a bit storage-deprived! So I'm always trying to edit things out, and think through purchases before bringing anything home.
What are some of your favorite sources of inspiration?
Dare I admit it? I'm woefully addicted to Instagram. But there are so many amazing shelter magazines out these days, even though print is having a tough moment. Milk Interiors is a fave.
What makes you feel most at home when you walk in the door?
Definitely my family, first and foremost! There's nothing in the world like being greeted at the door with a hug from my babies. All the stuff in a home makes quality of life so much better, but the people who inhabit it are the soul of a home.
What's a favorite memory you have in your home?
Oh my, so much! David and I got married here, we brought our babies home to this house, we launched our coffee company from our dining room table! There have been so many milestones and celebrations here; this house is just loaded with sweet memories!
Is there anything else you want to tell us about your space?
It's a very special place, indeed! Thank you for stopping by!