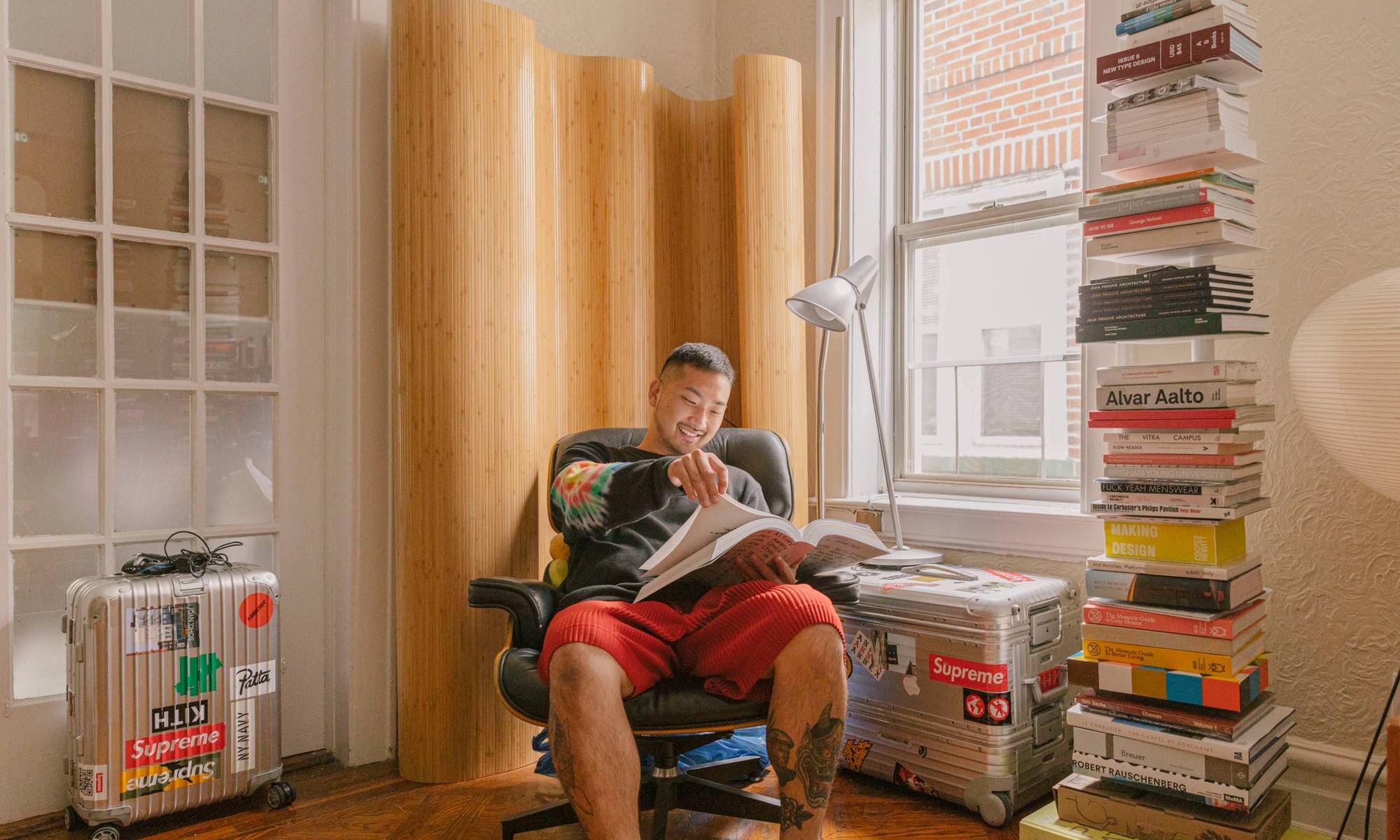 Justin Ryan Kim's Space Centers His Collections

The creative director is constantly experimenting with his home.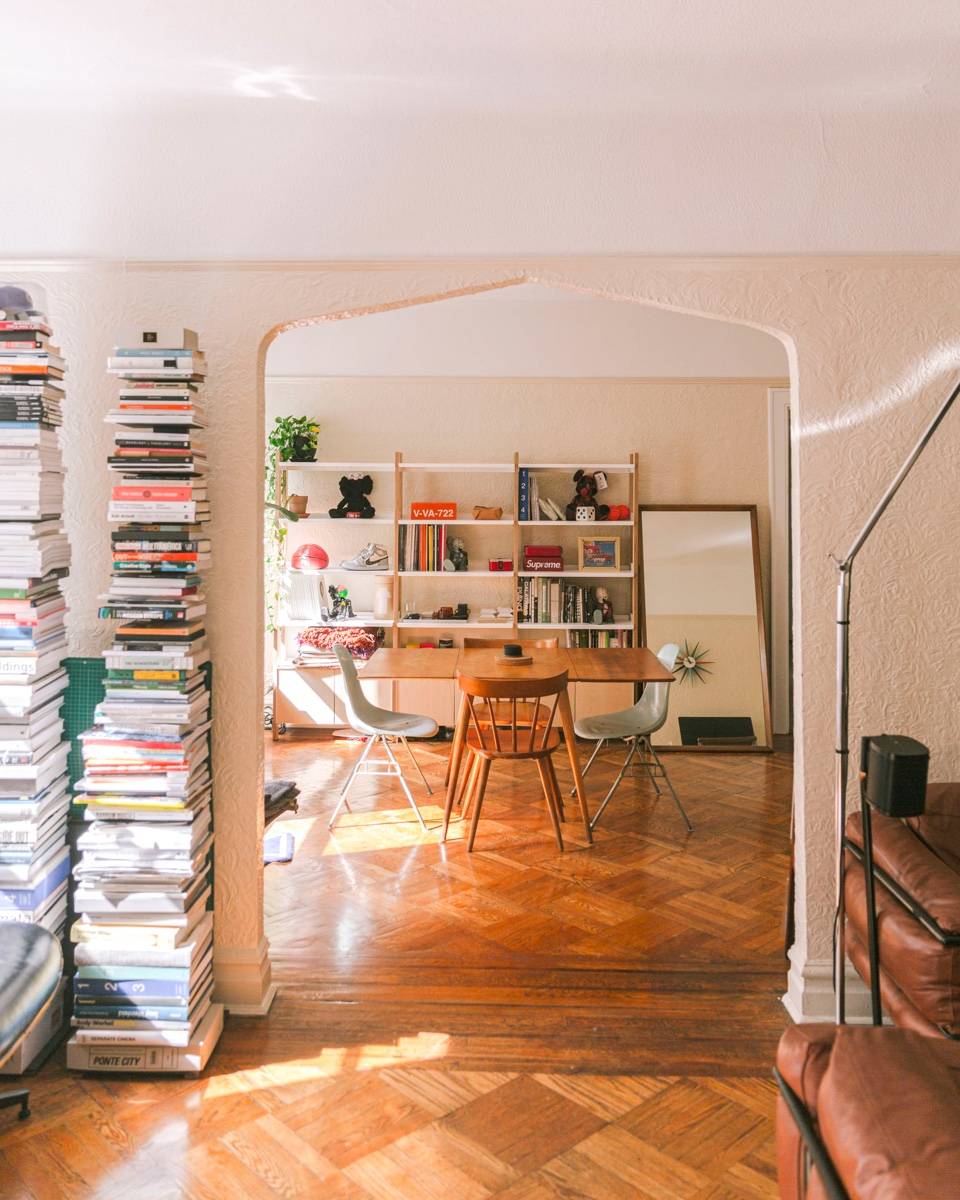 ---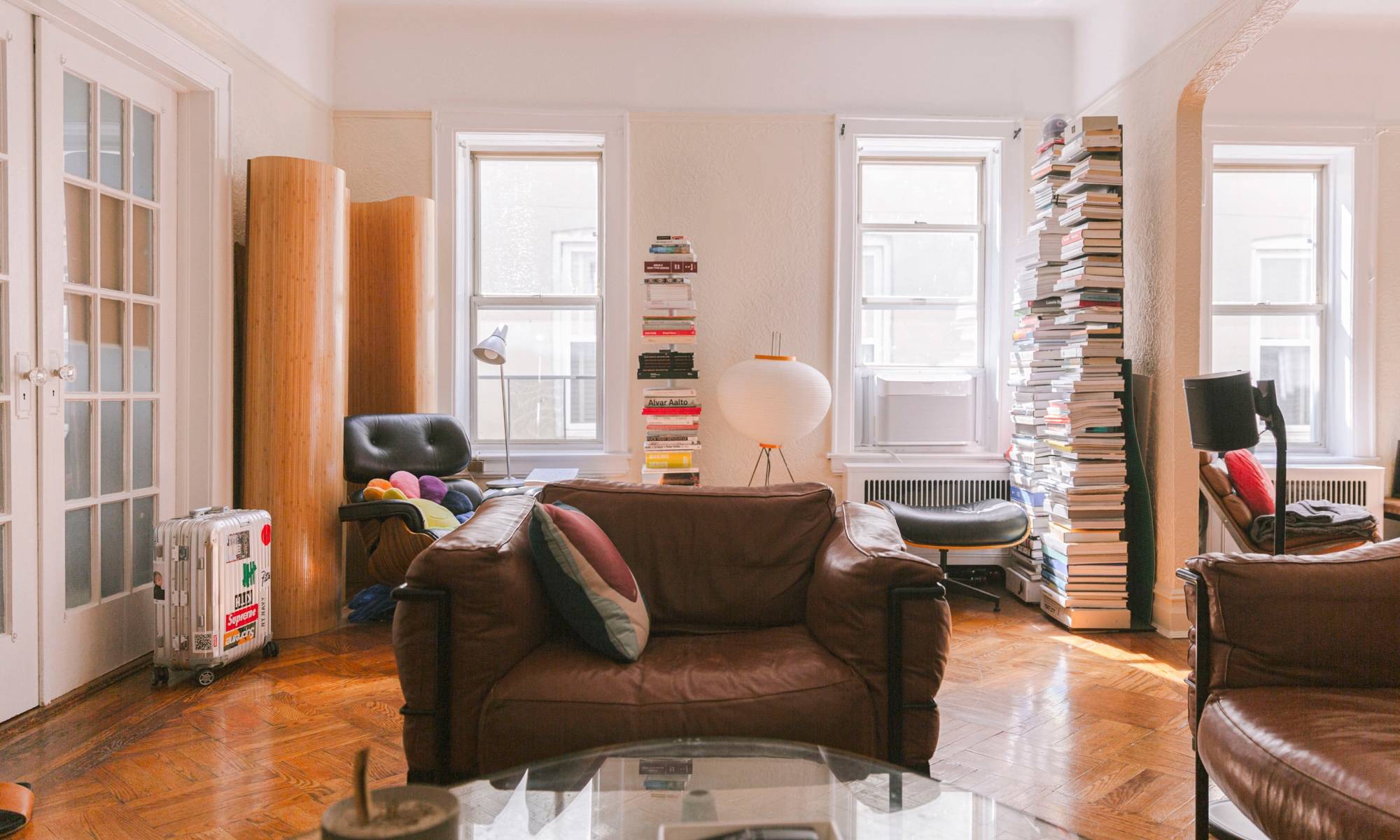 ---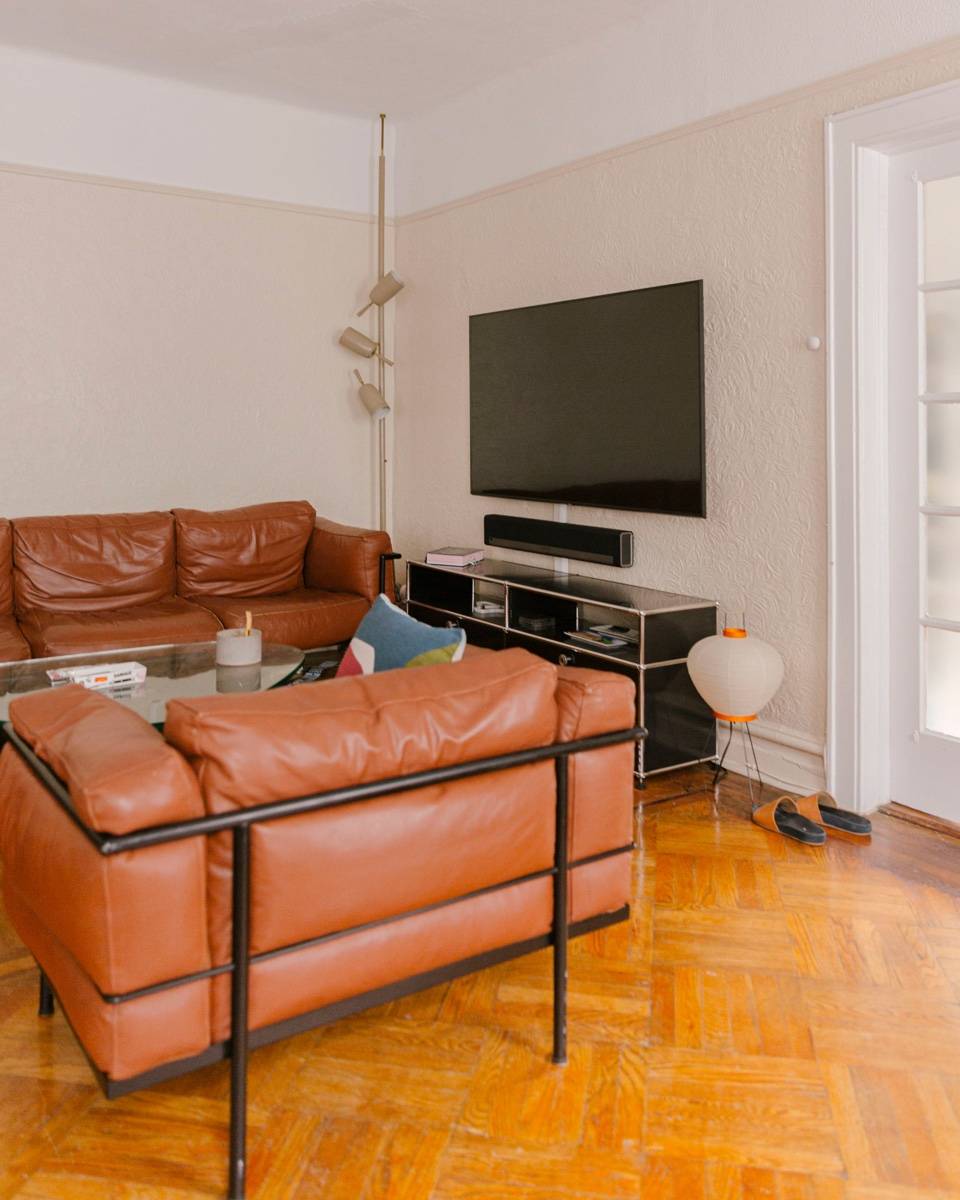 ---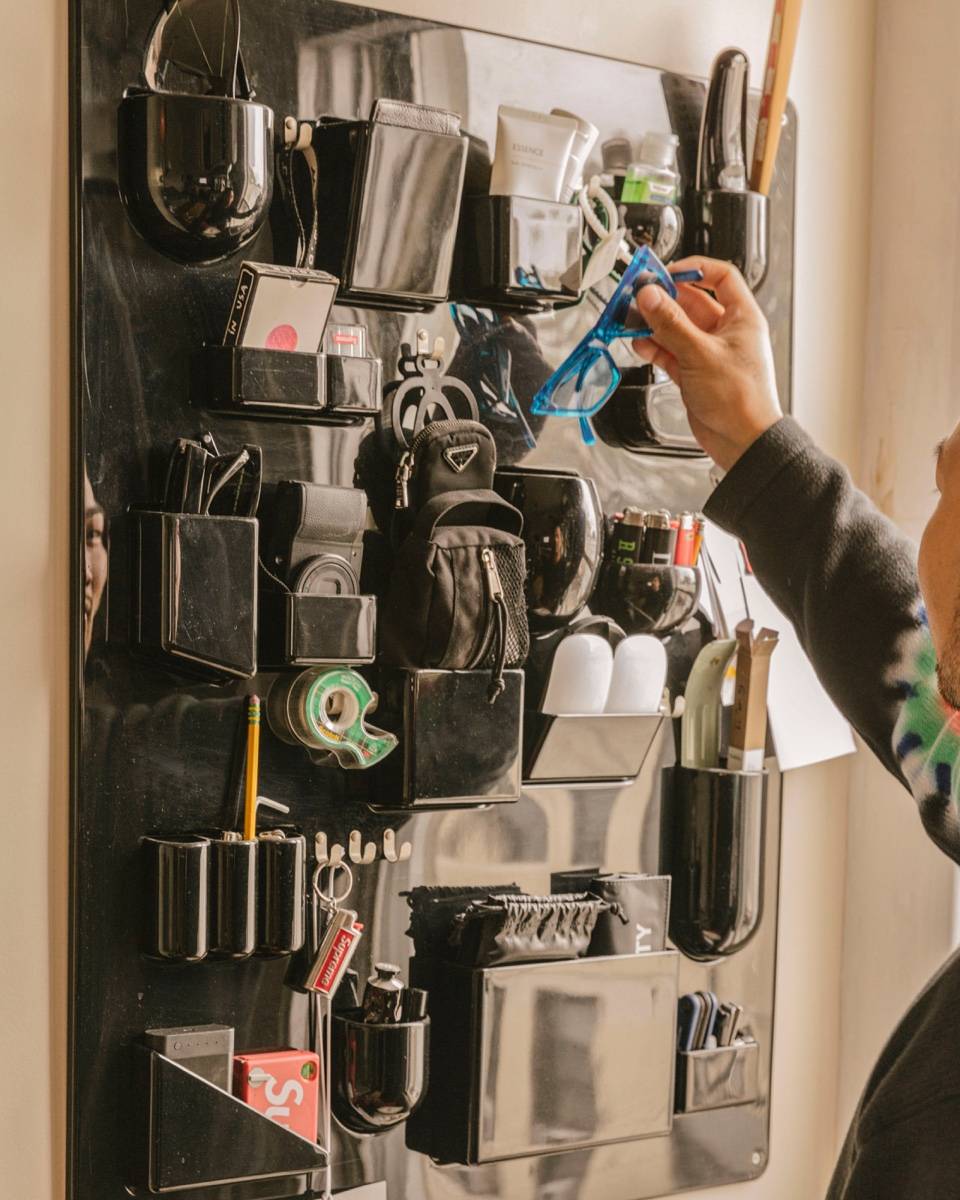 ---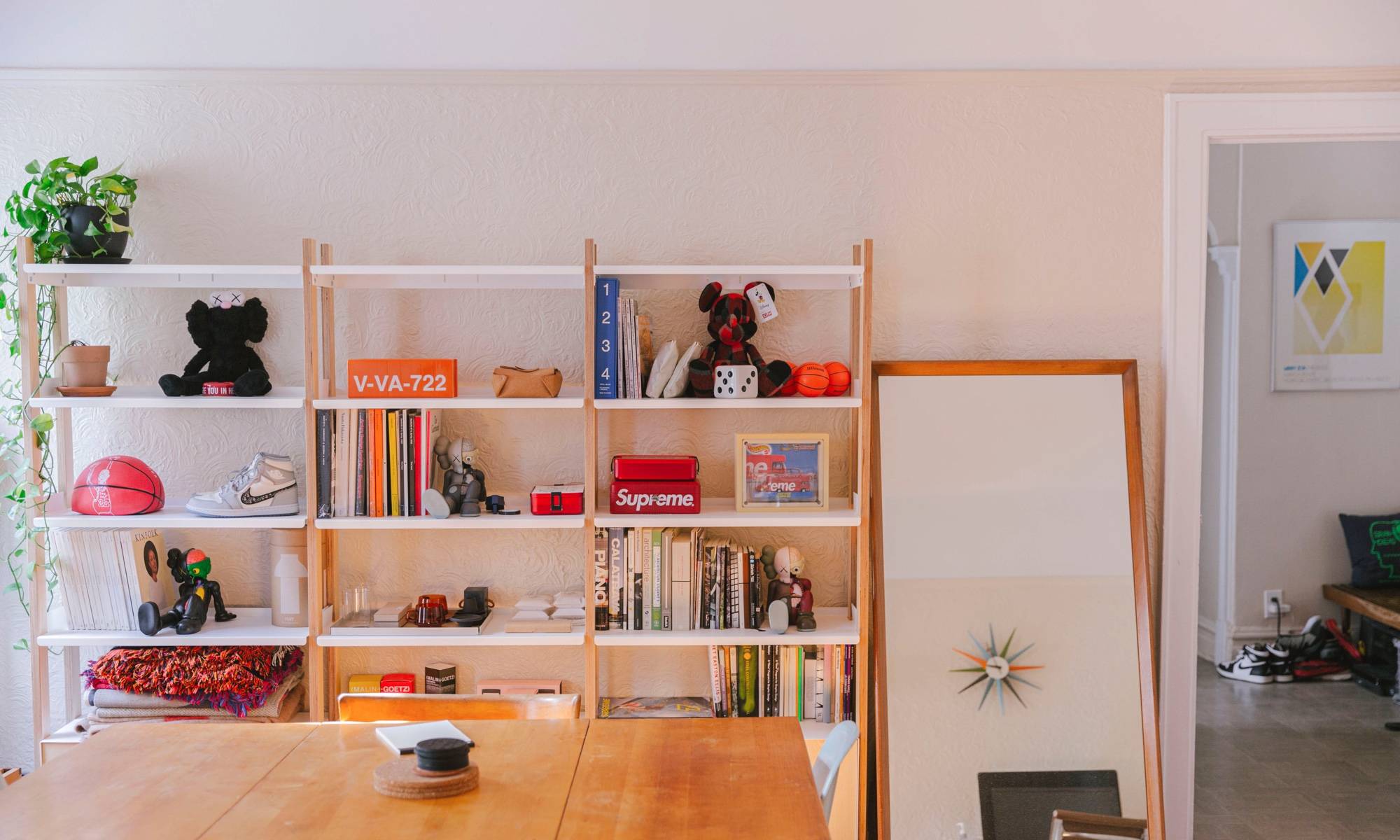 For creative director Justin Ryan Kim, home has become a place of visual inspiration and experimentation. Justin's creative chops are on full display in the eclectic interiors of his home, where he blends high-end style with a sense of comfort and approachability.
Inside his Queens apartment, you'll find design classics alongside cheeky pieces from streetwear brands like Supreme, and a massive collection of books.
We spoke with Justin about his design process, why south-facing windows are a key to success, and how his approach to his belongings has shifted over the last few years.
Introduce yourself!
My name is Justin Ryan Kim, I'm a Creative Director based in NYC and currently living with a fellow designer Thom Lee.
Tell us about your home! Where do you live?
I am located in a pre-war multi-family home in Astoria Queens!
Did you fall in love with your space the first time you saw it?
To be honest, I wasn't. With so much going on around the time we were moving in, we kind of had to jump the gun and pull the trigger on something quick. We saw a lot of potential in the apartment and figured we could put some work in to make the space feel more like home.
Did you look for anything in particular when you were searching for your space?
The first thing I look for is always south-facing windows, as a former photographer, it's something I haven't been able to live without. If you could find solid windows, it's always felt easier to work around them!
How would you describe your interior style? Has it evolved over the years?
Living in New York City, you're always limited to the space you're in. In my time here, it seems like my style has evolved and progressed pretty naturally. I've always been interested in classic household staples like Herman Miller and Knoll. But with time, I began branching out and looking for pieces that spoke to me.
While I love "design" I've also found it hard to let go of what brought me to where I am now. Hence all the KAWS, Supreme, etc., which had a really large impact in my life. I'd like to think I have a "clean" style, but it's hard to say, I guess I just like what I like?
When it comes to design, do you approach your whole home as a cohesive unit or do you work on each room separately?
It's honestly a little bit of both. I try to find pieces that speak to me and build around them. As I'm getting older, I do have to admit that I'm beginning to transition from the zones to a cohesive unit.
It's a nice feeling when you can walk into your home and feel like everything fits and works with each other. Whether it's via color, a storage system, design language, etc.
Do you tend to change and experiment with your furniture/decor or do you stop once you consider a space "done"?
Home decorating has been an endless journey for me personally. It seems like every day I'm finding myself facing new problems and trying to find solutions to make things better and more functional. I feel like if I ever got to feeling that a space was "done" my interest in it would slowly fade as well, which is sad to think about.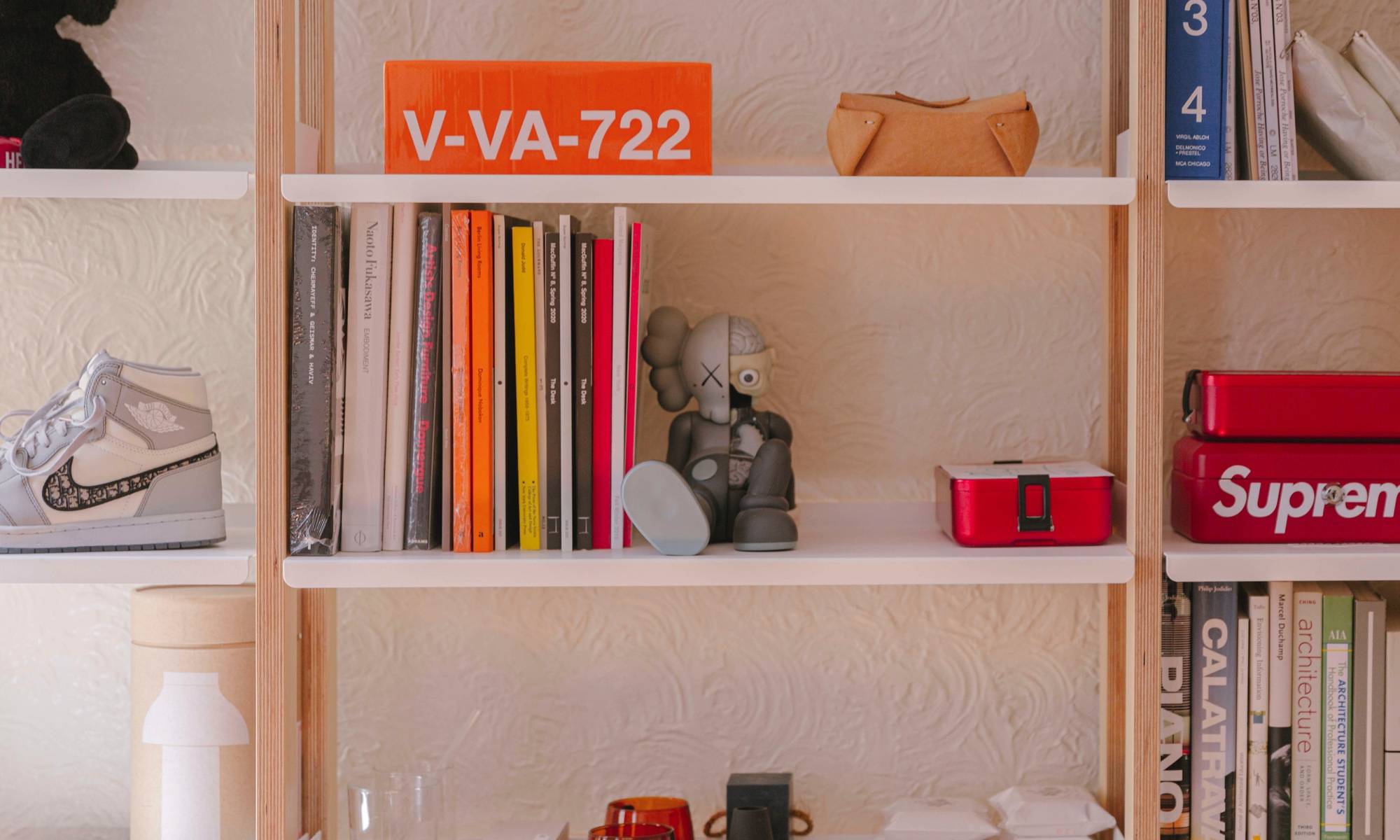 ---
How does your space reflect your personality and the things you love beyond your home?
I'm a photographer and an art director by trade and it's definitely had a huge impact on how I've put together my space. I was raised on skateboarding, 90's hip-hop and classic rock. So I guess eclectic would be an easy way to describe how I've put my space together.
I'm far from being a purist when it comes to bringing together the highs and lows. One thing I guess that I've become particular about is placement. Having spent so much time as a print designer, it seems like I've approached furniture placement the same way, with a clear language that needs to be cohesive throughout, regardless of size, color, shape, etc.
Do you have favorite pieces?
Some of my pieces I've held onto for years. With each move I've made up excuses on why I needed to keep them. But especially this year, I've learned a lot about letting go. It's sad to think about to be quite honest. But I've also found joy in knowing that something that had been such a large part of my life could live on in someone else's.
What's the one thing you'd rescue in a fire?
Honestly and practically speaking, probably my hard drives. No, they're not furniture but they have all my life's work and photographs I've collected over the years. I don't think I'd be able to carry anything I really love out with me haha.
Is there anything you think the space needs that you haven't yet added?
Art! My walls have always been pretty bare, as a renter I always hesitate putting more holes in the wall than I have to.
What are some of your favorite sources of inspiration?
I'm an avid reader and love having books. I probably have an excessive amount of books for a city dweller, however, it's usually where I find most of my inspiration!
What makes you feel most at home when you walk in the door? Is there anything you can't feel at home without?
In my 10 years in NYC, I've lived alone, with roommates, and something that has always brought me a sense of peace or joy has been my key holder/coat rack! It's always a good feeling knowing that you're coming home to something or someone.
We use the key holder as a system to know when we're home. We also have a bench sitting underneath it that we initially used to put on shoes, but lately it's become a home for packages and mail.
What's a favorite memory you have in your home?
My favorite memories definitely have to be cooking at home! I love prepping and cooking for friends and family. The idea that something can be created from nothing has always been a great inspiration!
Photography by Justin Ryan Kim.