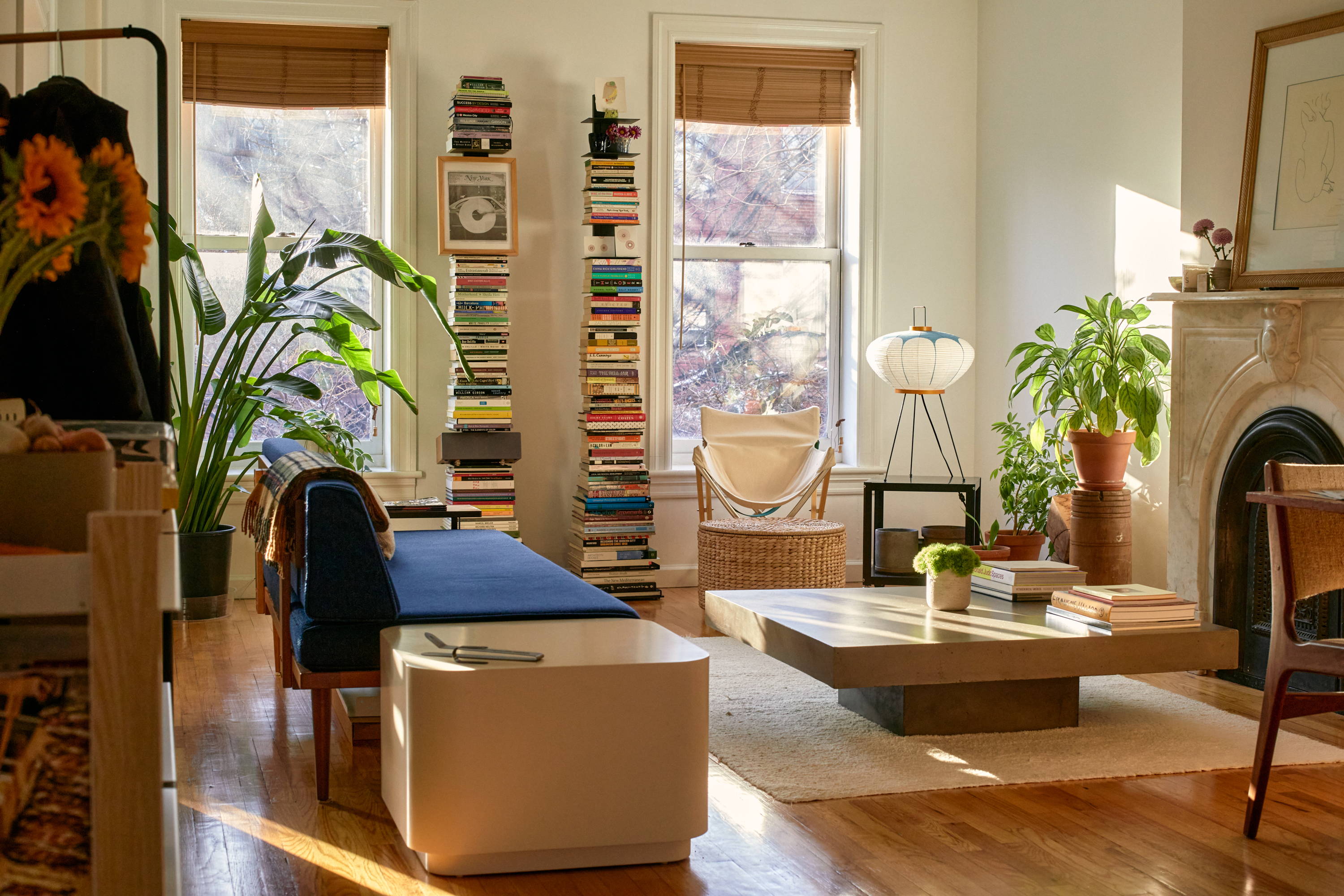 Jill & Aaron's Minimal Brooklyn Brownstone

Two design professionals have created a low-key home with sculptural style.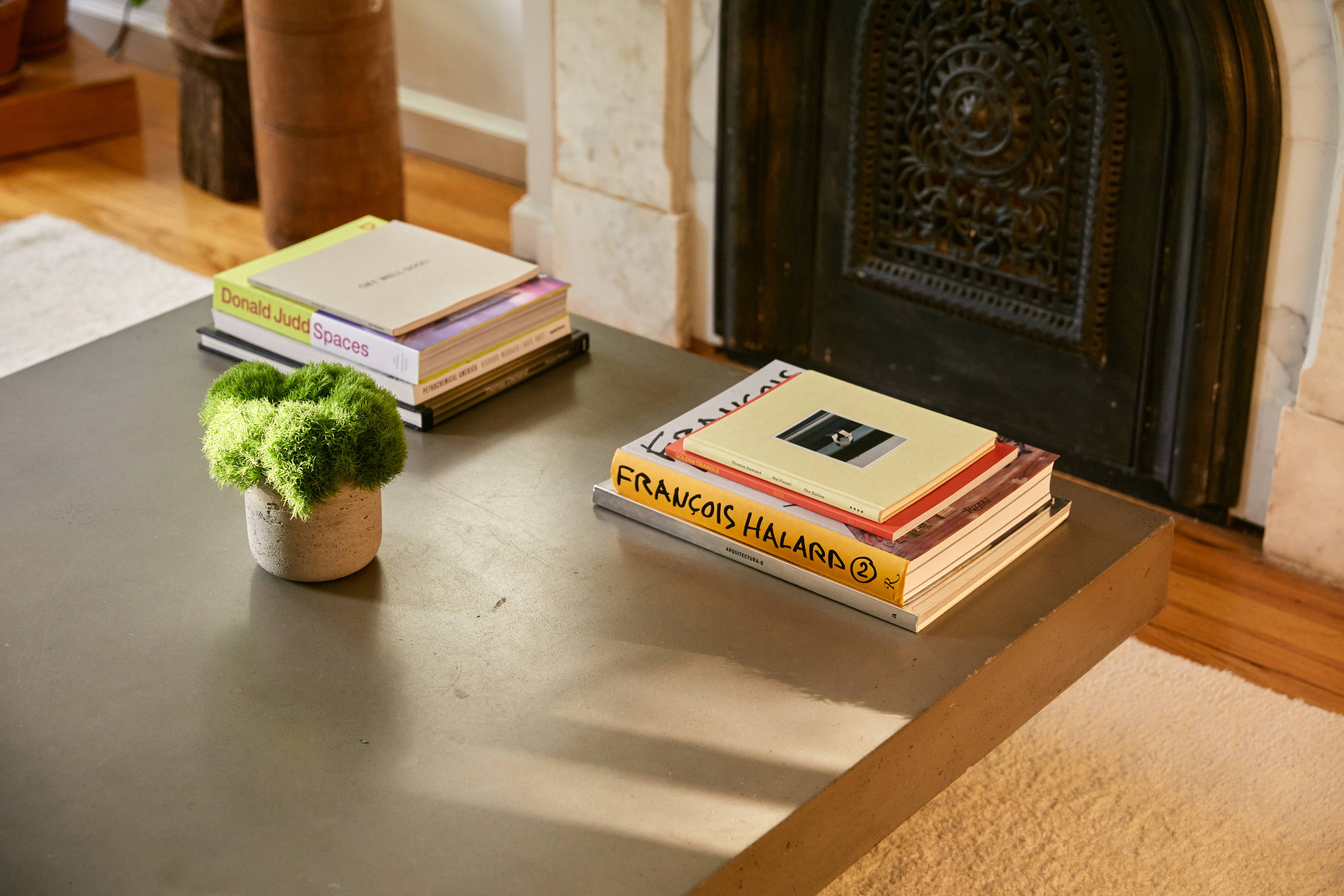 ---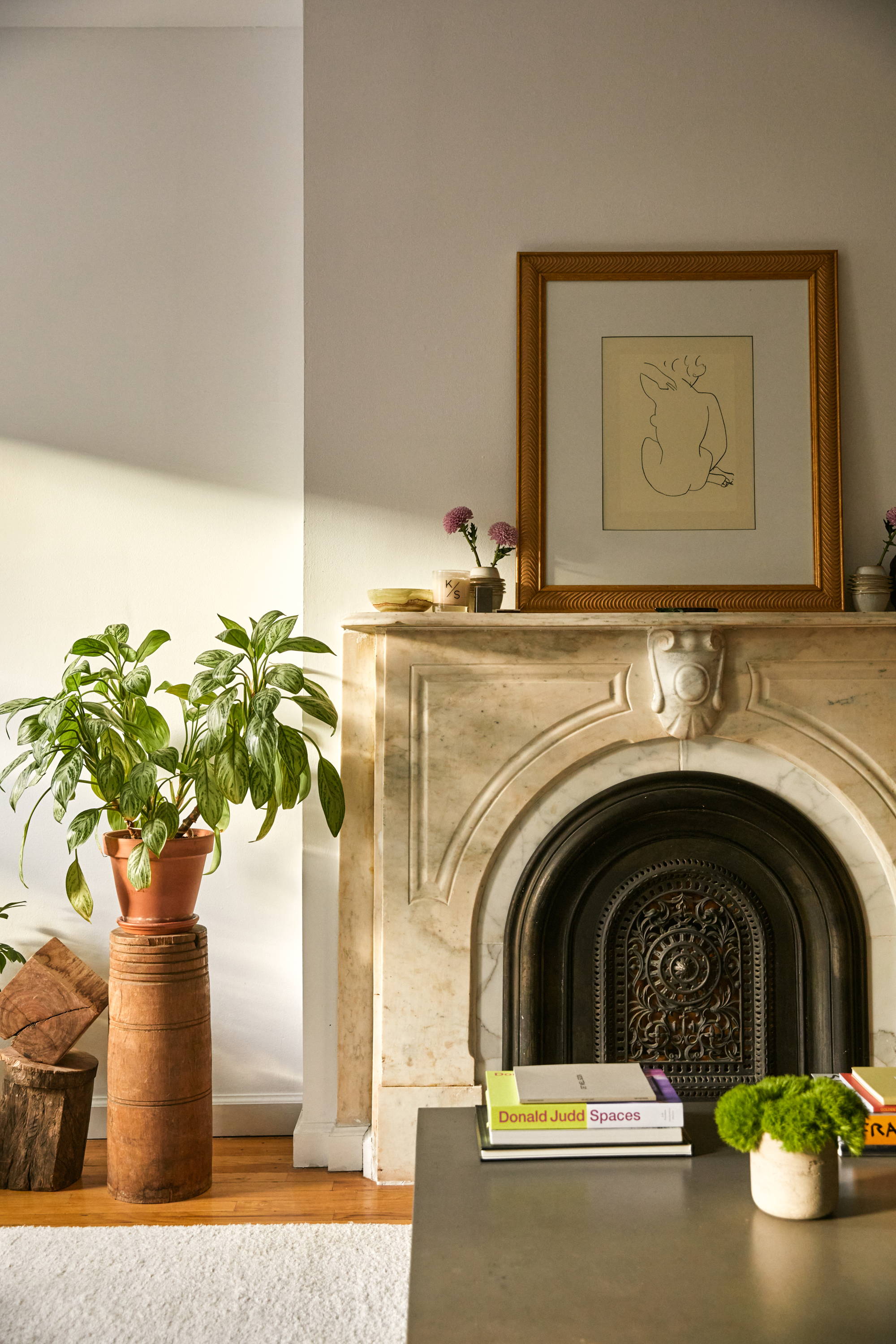 ---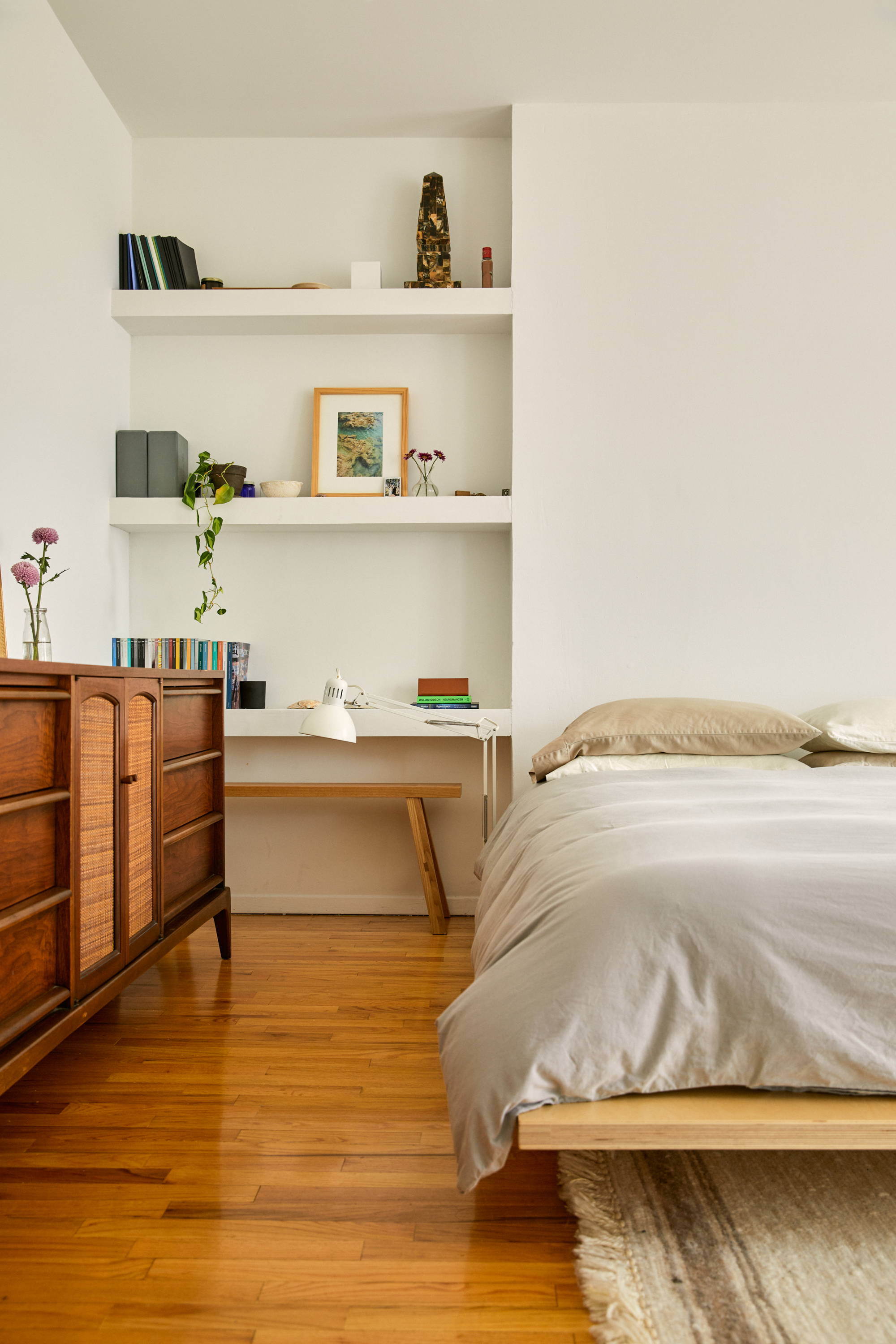 ---
---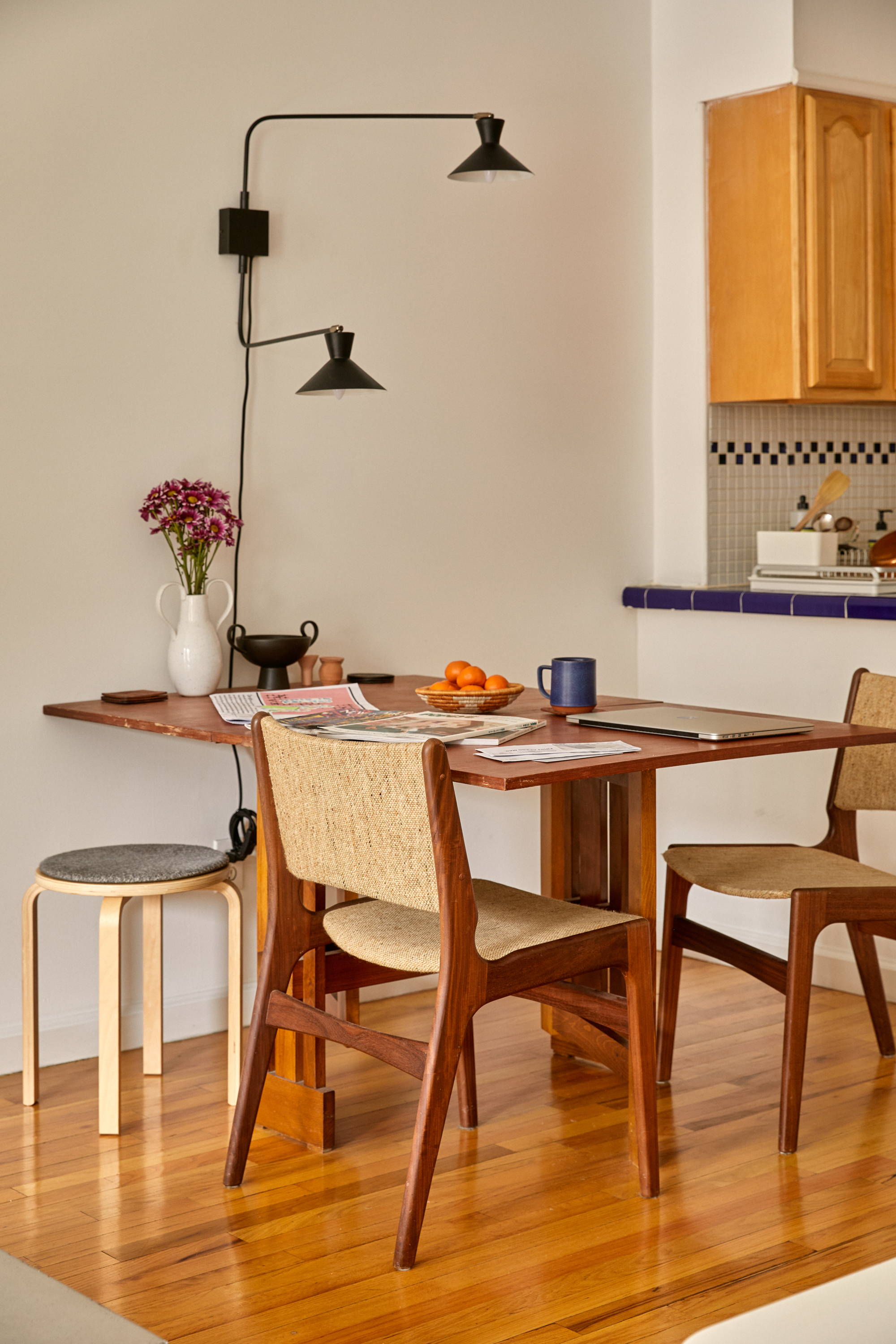 ---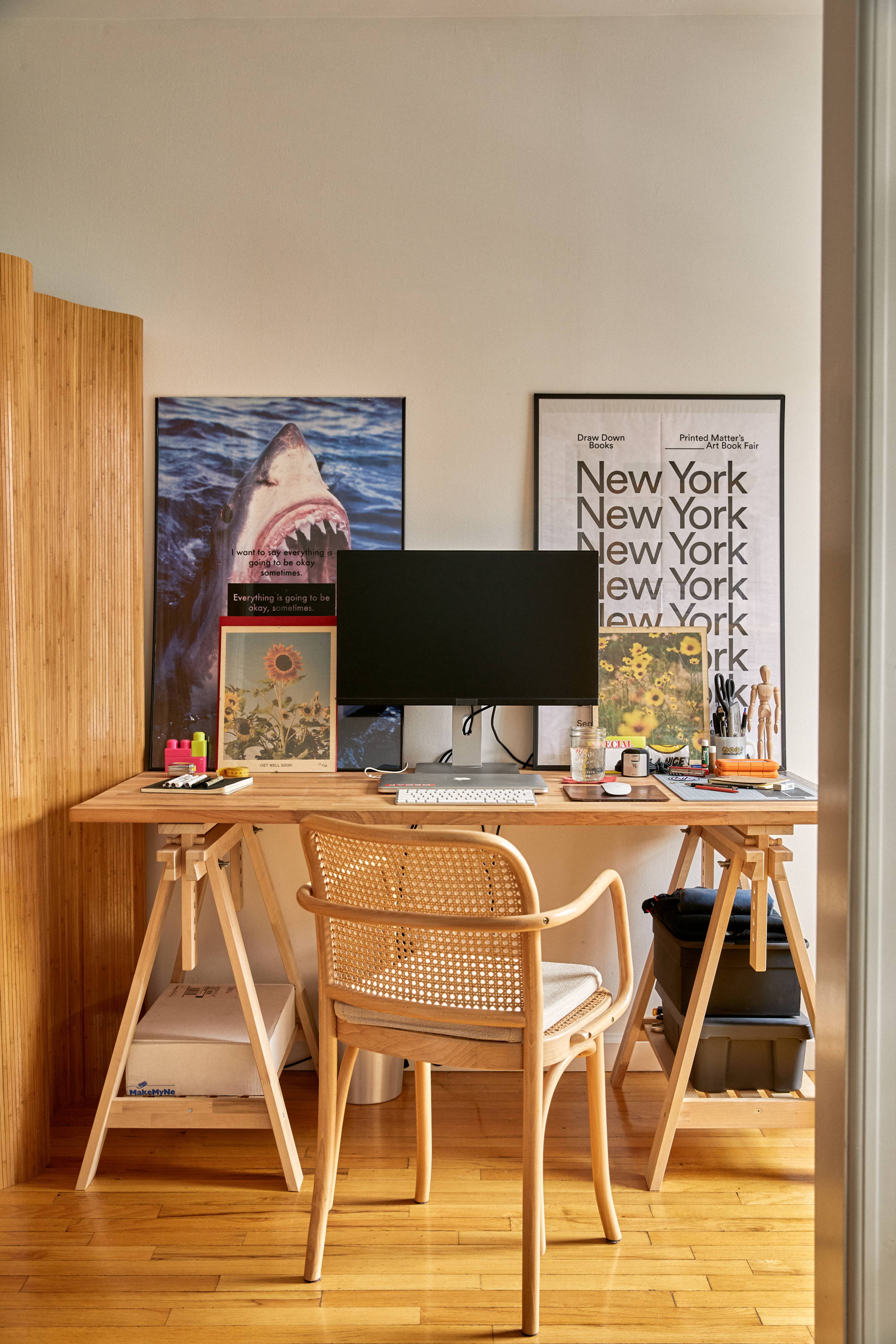 ---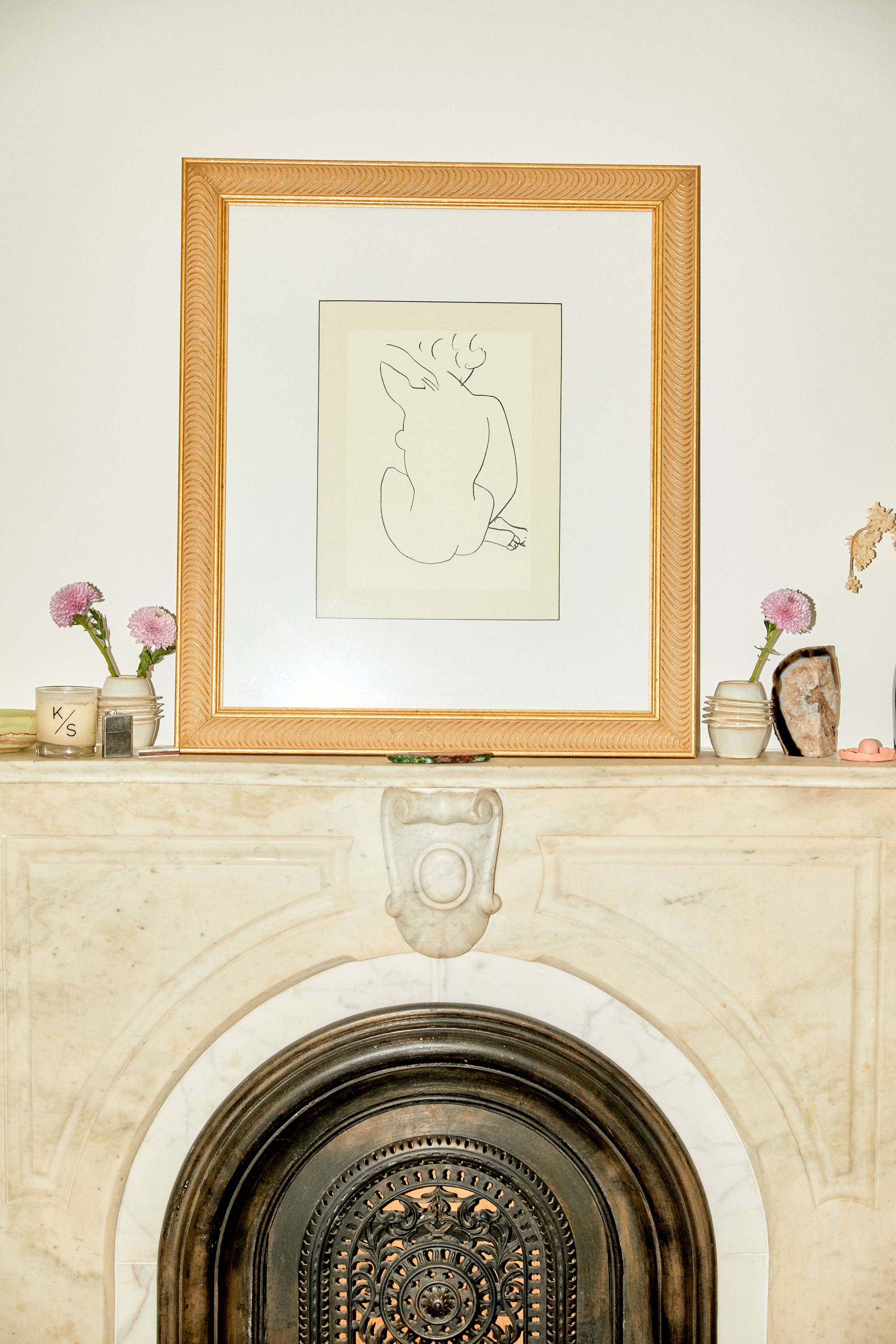 Jill Schmidt Bengochea and Aaron Bengochea lucked out: they moved into a new (and larger!) apartment right before the beginning of the pandemic. In the year since, they've created a home that's minimal and low-key, but displays their mutual affinity for thoughtful design.
We spoke with Jill & Aaron about their space, how their work as an urban planner and photographer have influenced their interior style, and what it has been like to find themselves at home more than ever.
---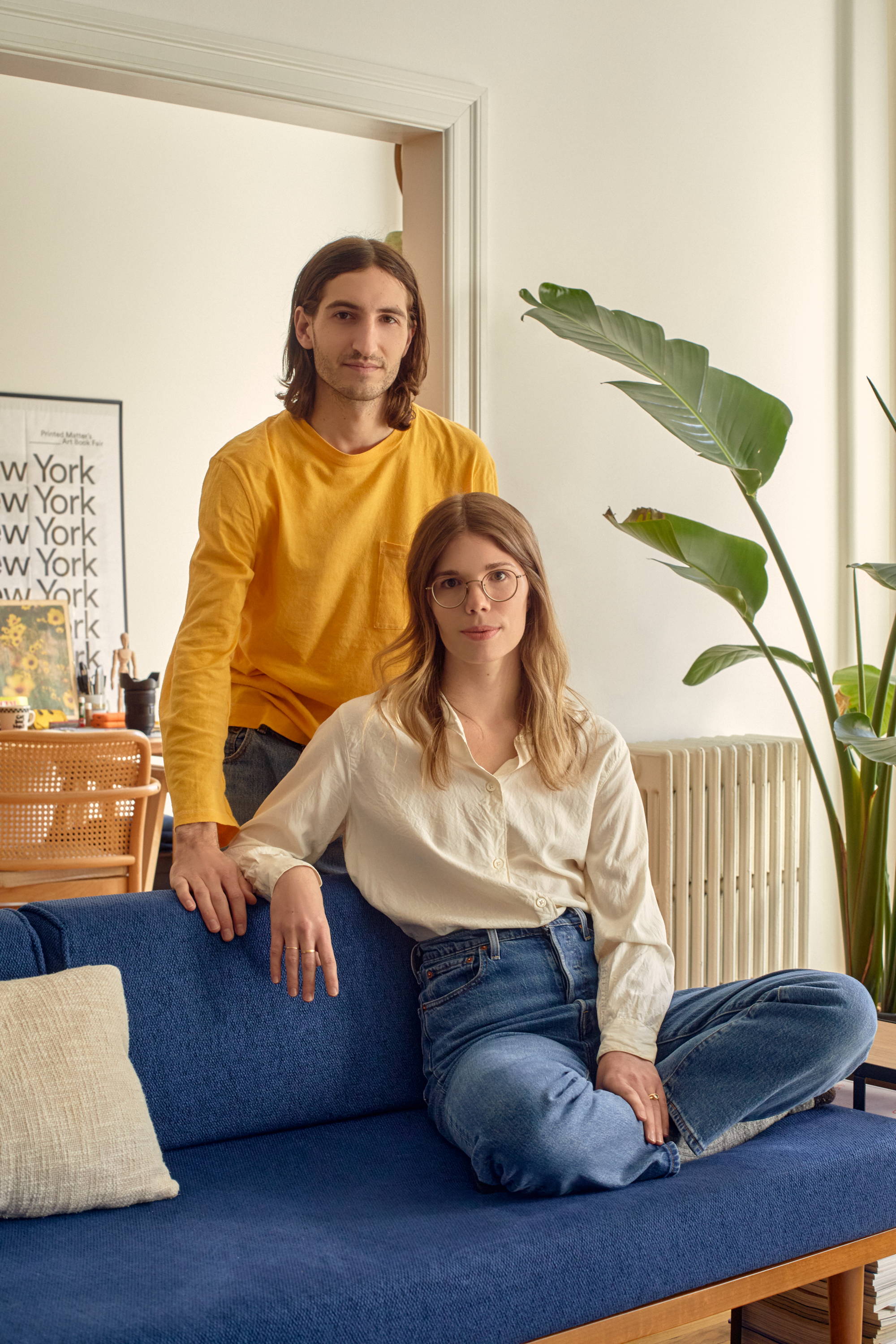 ---
Give us a bit of an intro!
Jill Schmidt Bengochea: I'm an urban planner in Brooklyn. I recently completed the yearlong Forefront Fellowship with the Urban Design Forum focused on the risks of extreme heat for urban areas due to climate change.
Aaron Bengochea: I'm Aaron Bengochea, photographer based in Brooklyn, NY. This last year I finally released my first proper book, "Get Well Soon". It was a pretty small release but a nice test to gauge interest in my work. I'm now back in a phase of shooting a few different series and we'll see if any feel strong enough to try and design another book in 2021.
Can you tell us a little about your home?
JSB: We live in a brownstone in Clinton Hill, Brooklyn. We have an entire floor of a multi-family brownstone and, like many apartments in these buildings, we have a half-room office of the living room that makes an ideal work space. We also get to enjoy a lot of natural light on both ends of the apartment.
AB: It's a super cool setup; only two other families live in the building and we all know each other pretty well.  
Did moving around the time of the beginning of the pandemic change any of your priorities as you were looking for a home and as you decided how to utilize the space?
JSB: We moved into our apartment one month before New York City shut down due to COVID and we were extremely grateful for it. We had already unpacked and set up the space by mid-March, but the shutdown gave us more flexibility to try out different arrangements.
AB: It was more of a coincidence when it came to the timing of our move. Our last apartment was only a few blocks away and my sister was actually renting the place we live in now. She was looking to move to the city, we wanted a new apartment, and another close friend wanted our old place. It was as if the stars aligned and we all made moves at the same time. Then a month later, the whole world was turned on its head.
The apartment feels really natural and low-key. Did you have a cohesive 'vision' for the space before you moved in? Or did it arise organically?
JSB: Our home came together organically. There are plenty of arrangements someone could try out in the apartment, but this layout felt natural when we first brought in our furniture so we went with our intuition, knowing we can always experiment with other arrangements later.
AB: I wouldn't say we had much of a vision but it did help that we already knew everything about the apartment we were moving into since my sister had been living there for awhile. We had zero surprises/issues when taking over this place which I'd say is pretty rare when renting in NYC.
How would you describe your interior style? Has it evolved over the years? Are there certain elements that you're always drawn to?
JSB: My style is minimalist. We both collect various objects or artifacts that we pick up or inherit, often they're sentimental for me, and they end up all over surfaces like bookshelves and desks. Aaron is drawn to Japanese styles and elements. He also likes concrete and stainless steel, hard lines in general. I try to soften the edges and make sure there's enough textiles to be comfortable.
AB: It was almost like flipping a switch when it came to furnishing a home as "real" adults. Before our last few apartments, I couldn't care less about the style of my home. Then I started shooting more interiors and I became obsessed and very opinionated about how our home should look. Our place is pretty minimal at this point in our lives but that could change with age and acquiring things over time. I'm really drawn to lower furniture because I feel like it visually takes up less space and we also like the warmth that natural materials like wood can add.
Do you find that this minimal design sensibility is married to your taste in other areas of life? How does that manifest in your home?
JSB: My style is also minimal and I prefer neutral and natural tones. I'm not this way about food and cooking though. Natural, yes, but I like a lot of colors and complexity when I'm cooking.
AB: Maybe?? I'm a bit neurotic and hyper specific with things and how I want them to be. I can't stand clutter and not being able to find something when I need it. Having a minimal home is relatively streamlined and functions in a way that I want all aspects of my life to be.
You have a lot of very simple, sculptural pieces. What draws you to those super clean lines?
JSB: Aaron deserves credit for a lot of the sculptural elements in our home, but I think we both think a lot about form - lines, shadows, empty space. I thought about form a lot in design school and Aaron has such a good eye for it as a photographer.
AB: It's probably a manifestation of that neurosis/obsessive behavior, haha! It's extremely satisfying to me when everything is in its right place, lines up visually, and functions properly.
Do any of your pieces have an interesting story behind them?



JSB: We have a rug at the foot of our bed. Aaron's grandmother has been raising and caring for alpacas in the Nevada desert for decades. Until recently, every year, she would have someone shear their fur. She'd let them keep the fur and they would make things from it, but in return, they would occasionally give her a rug. Aaron's mother has two and I remember noticing it the first time I ever went to their family home. A couple of years ago, she gave one of hers to us. It's one of the only things that I know I would grab in a fire.
AB: The alpaca rug in our bedroom is probably our most prized possession. My grandma is a magical lady who lives out in the desert with a bunch of animals on her property. Shoutout to my mom again(!), who let us take this little rug off of her hands. It's a nice gentle reminder of my desert roots.
Do you tend to change and experiment, or do you stop once you consider your place "done"?
JSB: I think it's too soon to tell how much we'll experiment in this space. We've made small changes and I can imagine us trying out different arrangements at some point, but I expect that we'll always come back to largely how we have it laid out now.
We never stop adding books, which I consider a part of decorating. We have two column bookshelves, stacks of magazines in chronological order, a shelf of cookbooks near the kitchen and then stacks of whatever we're reading or perusing laid across surfaces in every room, and we keep collecting more.
AB: Not really. I wouldn't ever consider the space to be "done" done, but once an item lives in a specific place for long enough, we rarely ever move it around or try different layouts. The last pieces we added to our home were the two Matisse prints in our living room and bedroom. These were gifts from my mom and had been hanging in her home for a long time before she passed them onto us.  
Did you bring in pieces you loved from previous homes?
JSB: We both moved across the country with as little as possible, which meant not a single piece of furniture. Everything in our apartment we collected over the last few years, most of it within the first few months of moving into our first apartment in New York.
AB: Like Jill said, we moved to NYC with next to nothing. Jill moved east for grad school and I drove out separately with everything I owned fitting in a minivan. We had no furniture. This was both a good and a bad thing when it came to furnishing our home. The blank canvas was nice to work with but it takes a while to get to a point where your home actually feels homey. Our dining table and chairs were the first pieces we bought. Before that, we spent a lot of time chillin' on an air mattress.
You both think a lot about design in your work, but in different ways. Does that affect how you each approach the space? Were there any compromises you made to accommodate each other?
JSB: As a planner with training in urban design, I think a lot about the program of a space - who is it for, how will they use it? I think about how I want a space to feel and be enjoyed, where I'm going to read or write. We talked a lot about where our friends would gather when we arranged the furniture, not knowing that we'd only have them over one time in our first year in the space.
AB: Since I shoot a lot of interiors for work, I get to see plenty of examples on how other people live (good and bad). I prefer to have a home feel as big as possible by not filling it up with pieces that are large and obtrusive. We definitely make compromises when it comes to picking stuff for our home. If it were up to me, we'd just have a bunch of uncomfortable chairs and industrial shelving from hardware stores. Jill carries the rational side and helps make our home cozier and livable.
You've both been working from home, as many of us have during the last year. Has that changed how you think about 'home' as a realm separate from 'work'?
JSB: For me, yes, a bit. I worked in an office full-time before the pandemic and enjoyed a fairly short walking commute. Over the past year, I felt grateful that we had space to both work in our apartment comfortably. Since last March, I've also gone on walks at the beginning and/or end of the day as a sort of ritual to empty my mind and move.
AB: I've been working from home for a while now, but it wasn't until we moved into this apartment that I even had an official workspace. Prior to that my idea of what was home vs work space was pretty murky. Cut to a few short months of living in our new place and we're both working from home. Luckily we already had one dedicated workspace and a decent folding table that helps create an extra pop-up office when we need it.
What are some of your favorite sources of inspiration for your space?
JSB: I like browsing McNally Jackson's design and architecture sections. I miss the inspiration from restaurants - they're incredible for ideas for kitchens, dining areas, and spaces for gathering, indoors and outdoors.
AB: I'm an "Apartamento" fanboy, there's no denying it. I also really love the work of François Halard, who shoots amazing interiors. Ricardo Bofill's former cement factory turned home/office/compound is the ultimate goal (just a much smaller version).
Images by Aaron Bengochea. Thanks to Jill & Aaron for sharing their home with us!