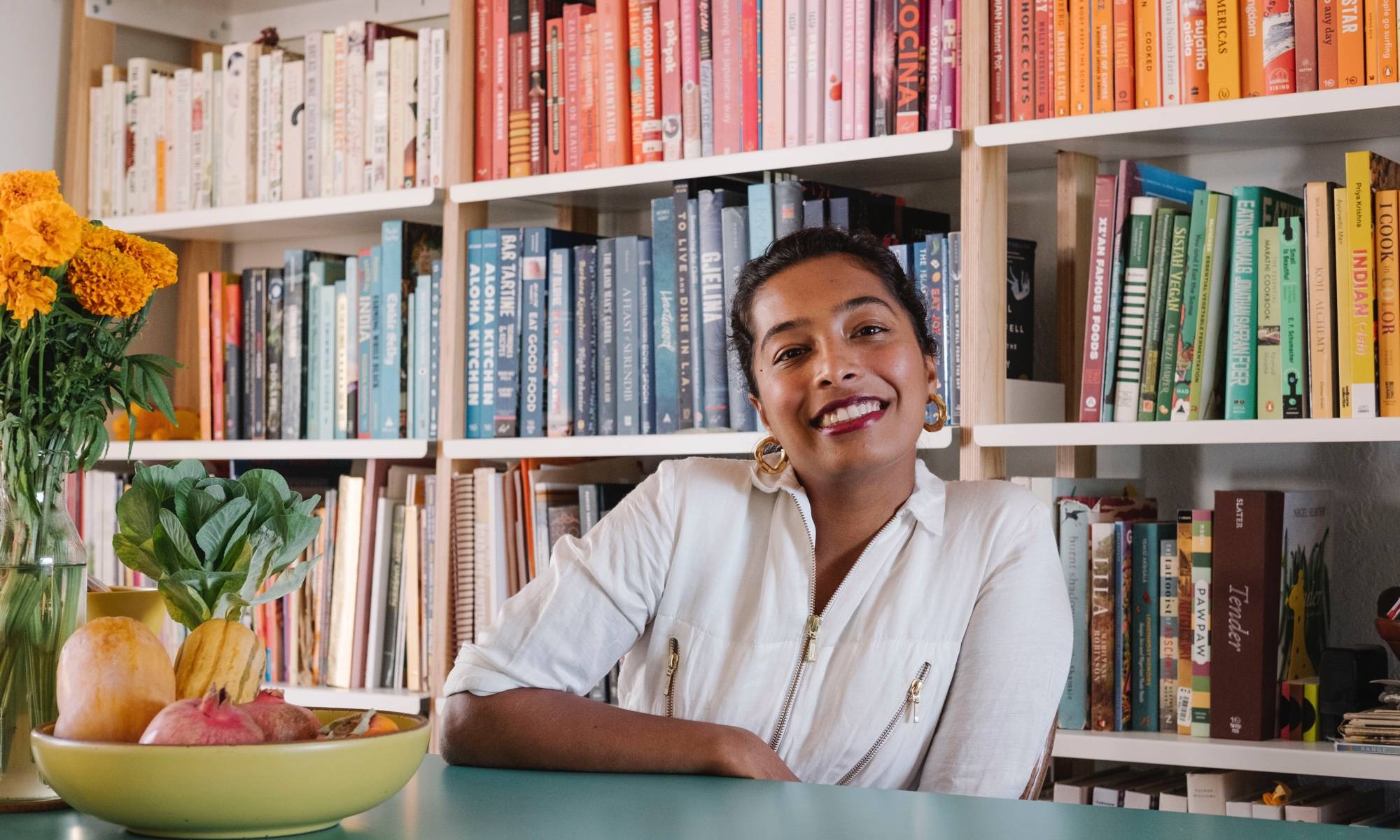 Sana Javeri Kadri is Building a Better Spice Trade

The founder of Diaspora Co., at home in Oakland.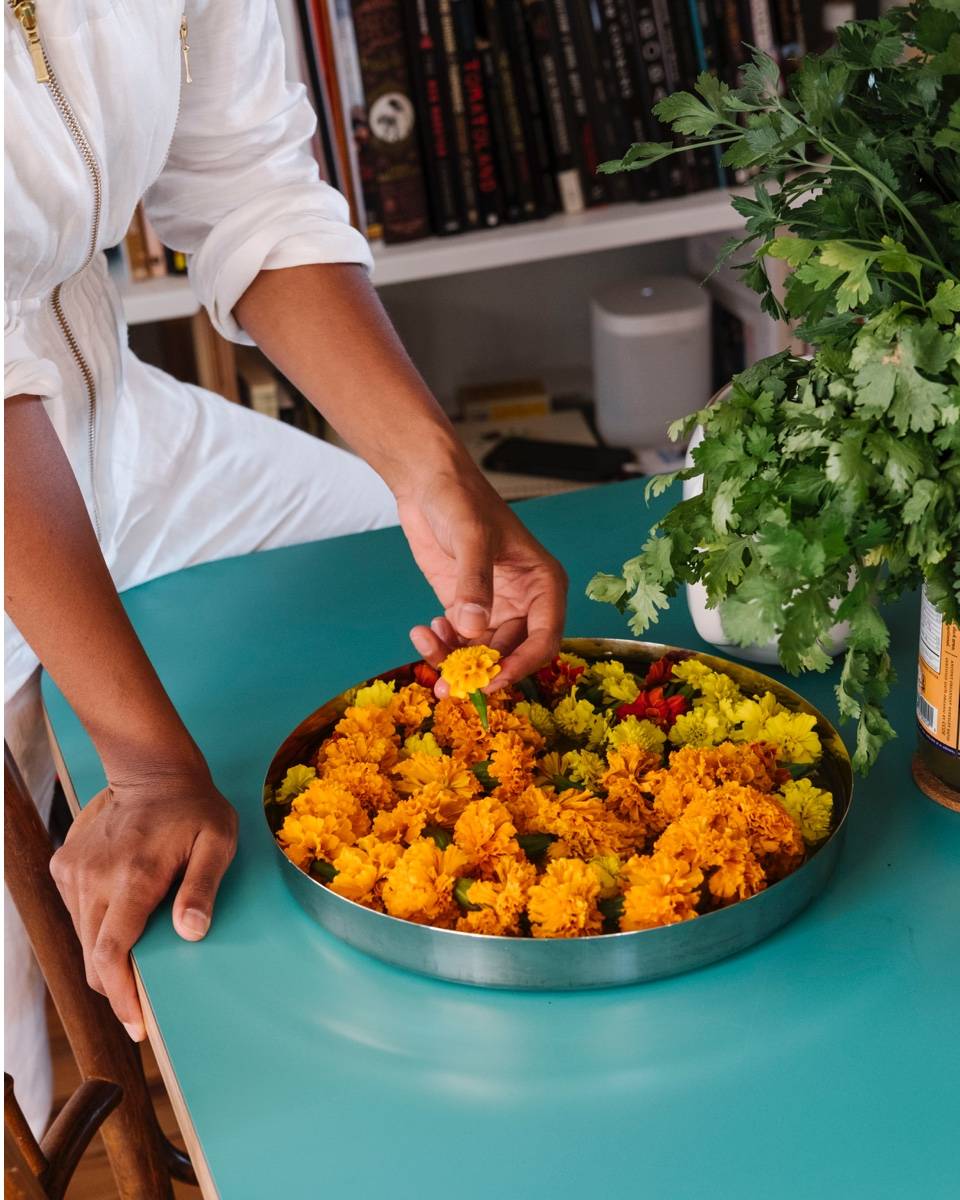 ---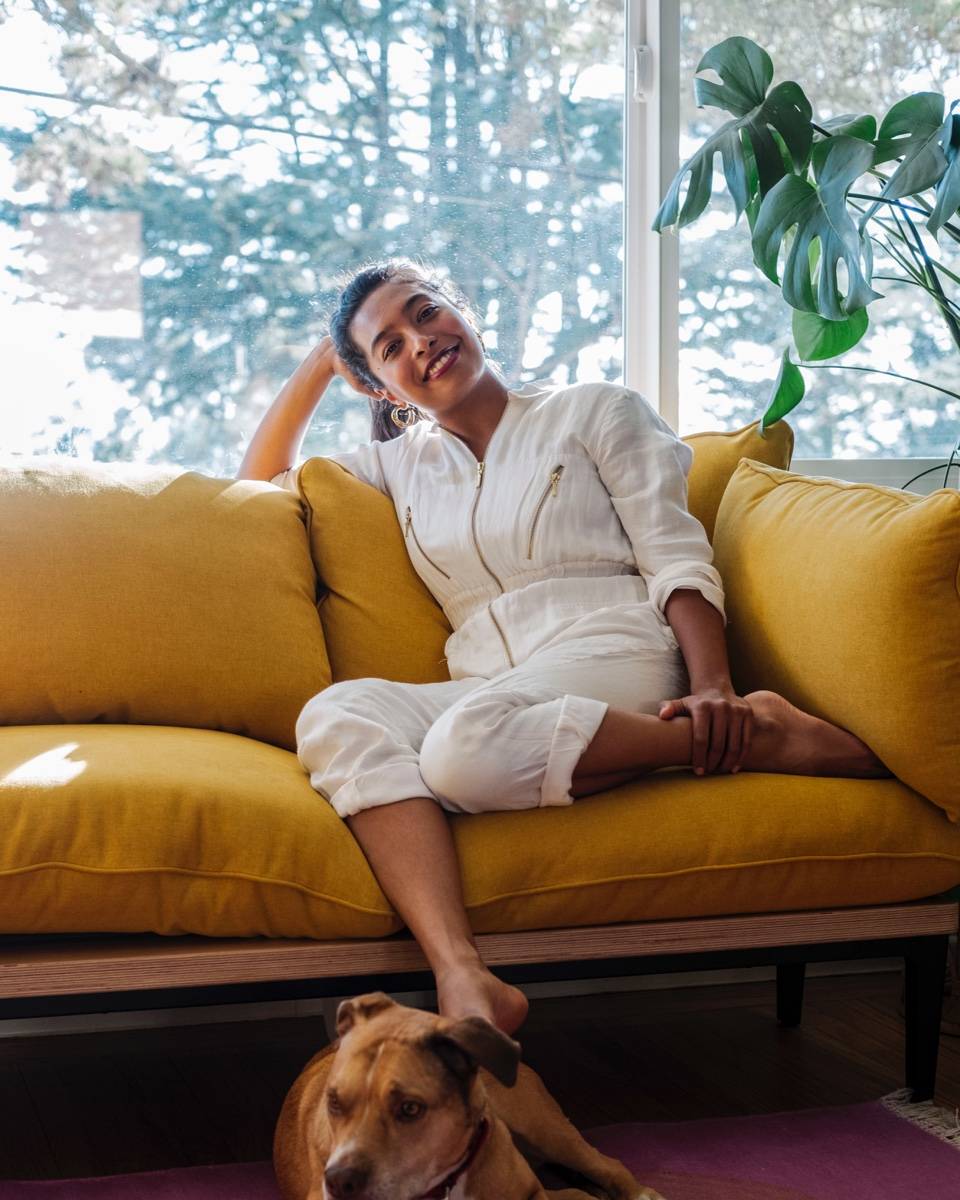 ---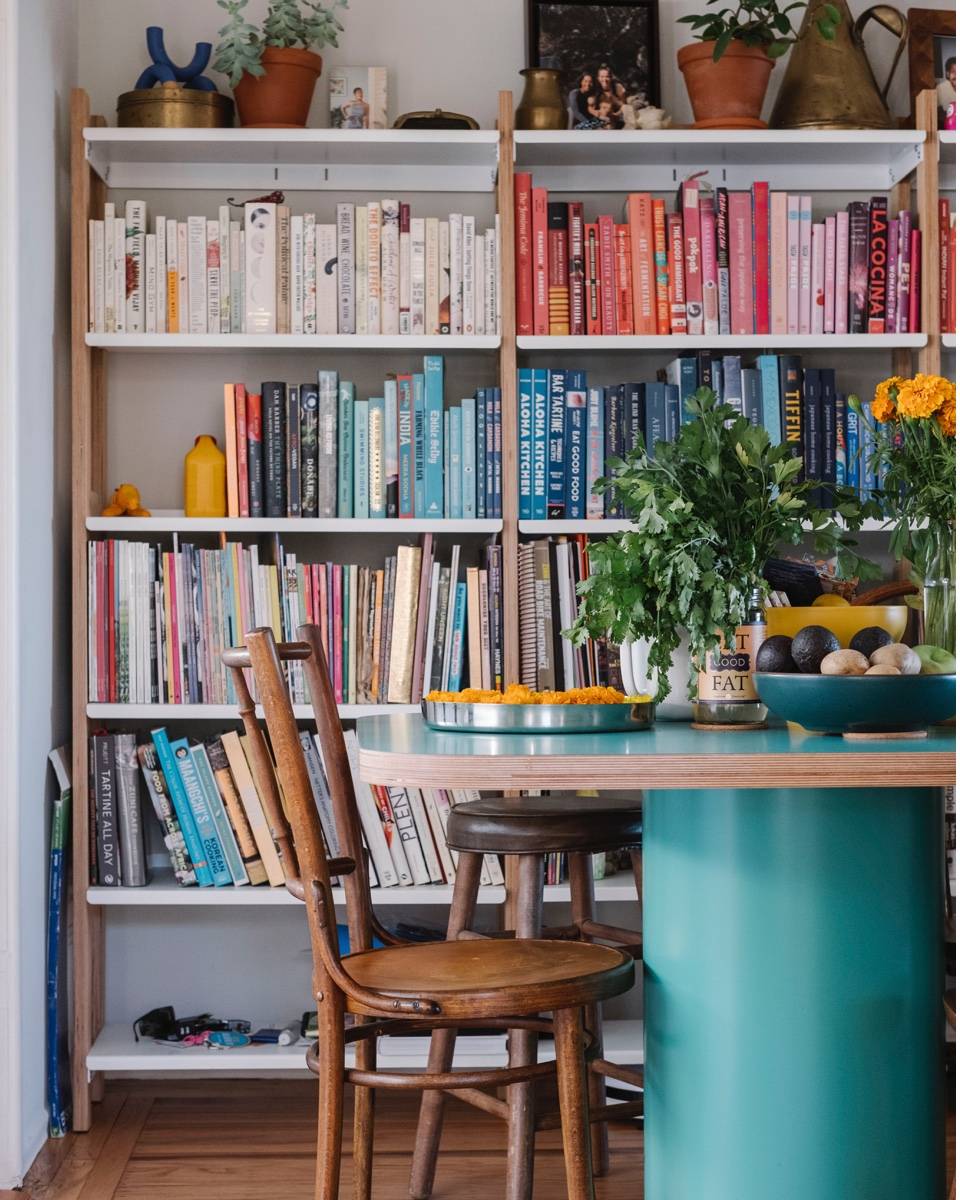 ---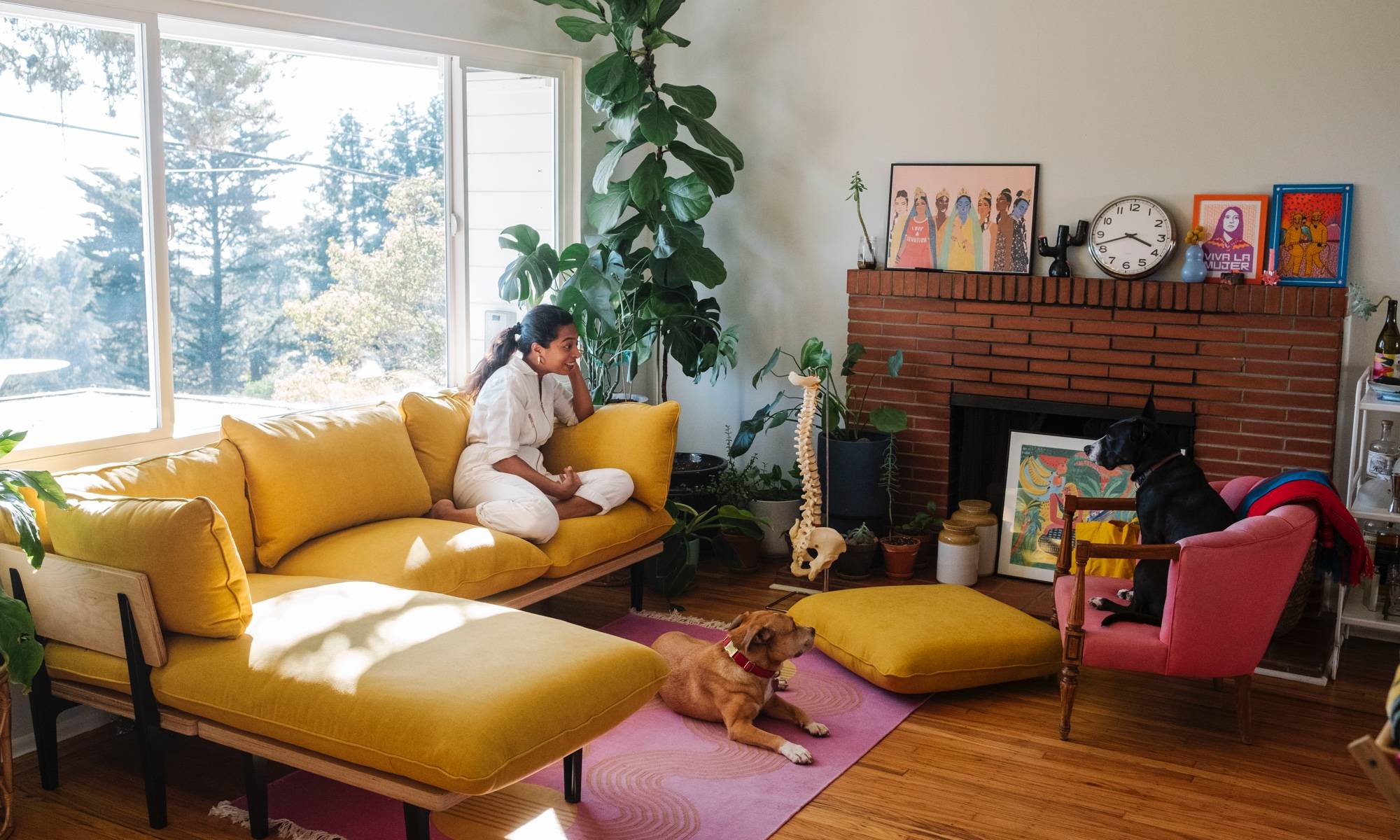 As soon as we saw Sana Javeri Kadri's bookshelf on Instagram, we knew we had to get to know its owner. The Oakland-based entrepreneur founded Diaspora Co. to bring equitably sourced (and truly delicious) spices to wider audiences.
Once we were lucky enough to take a peek inside Sana's home— which also serves as a workspace—we found a cheerful space filled with momentos and books as personal as they are beautiful. We spoke with Sana about her business, the things that inspire her every day, and of course, a few of her very favorite dishes.
Hi Sana! Could you introduce yourself?
Hi hi! I'm the founder & CEO of Diaspora Co., a third generation Mumbaikar, and queer dog mom living between a creaky old cottage in the hills of Oakland, California, and my childhood home on the Arabian Sea in Mumbai, India.
I was raised in a family of wildly idealistic, and highly argumentative architects who I think taught me to believe that literally building a better world is absolutely possible, it just takes time and putting one foot in front of the other.
Tell us about Diaspora Co.!
We're a single origin spice business dedicated to equitably sourcing truly delicious spices and herbs from small, organic family farms across India.
Beyond highlighting gorgeous, indigenous spice varieties, for me, it was also about creating a business for us, by us. Complicating and deepening what "Made in India" means, and how we tell our own stories of freedom, struggle, and diaspora through food. We've got big, big dreams!
Have you always thought about starting a company? Or, did a particular moment or event shape your desire to bring Diaspora Co. into the world?
In retrospect, I would never have lasted long at a job. I hate being told what to do, I work terribly hard, but only on my own terms and schedule. I hate feeling bored/monotonous in my work, so I can safely say that whilst running this business has been many horrible, unexpected things, it has never once been boring.
I was pretty lost, miserable, and yearning for a project to apply my ample brain noodles towards in 2016, and I think the huge possibility that the spice trade as it had existed for 150+ years was overdue for an overhaul was a suitably huge project for me to take on.
Four years in, I'm definitely chuckling at the wide eyed, hungry 23 year old who birthed this idealistic, colorful, and very queer business with no financial support, nor fear of failure. I think the idea that even if the business stayed 10x smaller than it is today, it would still provide an equitable market for one farmer, and his one spice, and thereby create change, that was enough to propel me forward.
Today, we work with 30+ farms across 11 Indian states, and that sense of responsibility has only grown, and continued to make more sense. I'm so proud of 23 year old Sana's fearless vision, that I'm only just grasping the magnitude of all these years later.
A lot of what you do is centered around creating equitable, responsible supply chains. Why is that important?
I had really hoped that 2020 was the year that we made sourcing sexy again. But then the pandemic hit and supply chains went for a complete tailspin. Where did the coconut milk powder in your latte come from? Who grew the grapes in your sexy bottle of pet nat? How are there always enough oats for organic oat milk?
Our current food system has purposefully obscured and concealed food origins from us, under the guise of providing us with the stability of mass production.
Making supply chains sexy again, especially with something as niche as spices is my small way of trying to encourage us all to begin to reimagine our food system, and rebuild it to serve our farmers and their workers, to serve the land, and to serve us all a more delicious final product.
This idea that small businesses can be excellent and ethical whereas large corporations will somehow crumble under that same pressure is highly flawed - it's a logic we accept because demanding accountability, pushing for policy that binds businesses to certain standards is much harder than just accepting vague statements from men in suits about scalability, feasibility and "the only way to feed the world".
Your business is very tied to your identity, particularly as you work from your home. How do you manage to make time for yourself, and create some space, both mental and physical?
I don't really?! Haha! I have been working hard to establish what the values of the business are vis a vis which are my own personal values that don't need to be reflected within the business.
So much of that intertwined identity came from the fact that for the first two-three years, the business was really just me and our farm partners! But at this point, we're a team of nine incredible women and non binary folks who represent many identities, but share a common value system about our commitment to equity, community and deliciousness.
I wish I had established working hours, and designated time off (my partner Rosie would definitely love me more if this was the case!), but that is not the life I signed up for, at least for this decade.
Mentally, reading (fiction, cookbooks and my precious Sunday paper) and watching a ton of Korean dramas helps me unwind and unplug. Physically, Rosie & Lilly (our pup) will often drag me out of the house for long dog walks in the morning or evening that I have come to appreciate so much more in the pandemic.
What inspires you?
I'm a total bookworm, always have been. As a kid who grew up in a heteronormative, patriarchal culture that didn't make space for me, books were my escape. As an adult who tends to hold onto the pain of the world very tightly and sensitively, books have a way of helping me make sense of things that would otherwise overwhelm me.
I make it a point to cook 1-2 meals for my partner and myself every day, because it's at once calming, productive AND delicious. So cookbooks tend to be my biggest inspiration! I read cookbooks in bed every night and they are probably the one thing I really splurge on.
Since I grew up reading almost entirely white, male and British authors (hello colonial hangover!), I'm making up for that by reading fiction mostly written by WOC and trans authors in my adulthood.
It is a joy to finally see nuanced and complex representation in my literature— my favorites from the past two years would be - America is Not the Heart, Freshwater, and Girl, Woman, Other.
As the daughter of two very opinionated architects, browsing design magazines, and endlessly reorganizing my home decor Pinterest boards is another inherited habit that allows me to weave together 70s Europe's color blocked interiors, post-colonial tropical modernism a la Goeffrey Bawa, South Asian kitschy maximalism, and our current IG obsession with all things mid-century modern.
You are clearly very well-versed in food from an industry perspective, but also as a cook. What's your favorite dish to make at home?
Without a doubt, Sundubu Jjigae, or Korean soft tofu stew! I first had it at the iconic now-closed Beverly Soon Tofu in Los Angeles during my freshman year of college, and have spent years iterating to get it to taste half as good.
Currently, I grow Second Generation Seed's beautiful Lady Choi peppers every summer specifically for my sundubu jjigae habit, and also use incredible Queens SF's gochujang. Paired with Koda Farms Kokuho Rose heirloom rice cooked in a dashi broth, there is truly nothing better.
Are you working on anything new right now that we should look forward to?
Yes! We're launching SO many new spices this year, from truly exquisite farms all over India! I can honestly barely keep up. If we're lucky, it'll be roughly 20 different spices, which is pretty wild! My favorite recent launch has been our Kashmiri Saffron, which is by FAR the best saffron in the world, which is not something I say lightly/just because I'm biased! We literally tested every other saffron on the market and ours simply scored higher and tasted better than everything else.
Shop Diaspora Co. and follow them on Instagram