Catherine Nakajima's childhood love for interior spaces eventually evolved into a career in interior design, art, and hospitality consulting. From studying film and working in graphic design to becoming the interior designer and design director of a 21-story apartment building, One Museum Square, Catherine's journey has been anything but traditional. We visited Catherine at her apartment in Los Angeles to chat about her journey thus far, her approach to design, and what she loves most about her own home.
---
Tell us about yourself!
I'm a somewhat self-taught interior designer residing in Los Angeles, motivated by the psychological dimension of space (and sound) and driven simultaneously by utility, emotion, science, and instinct.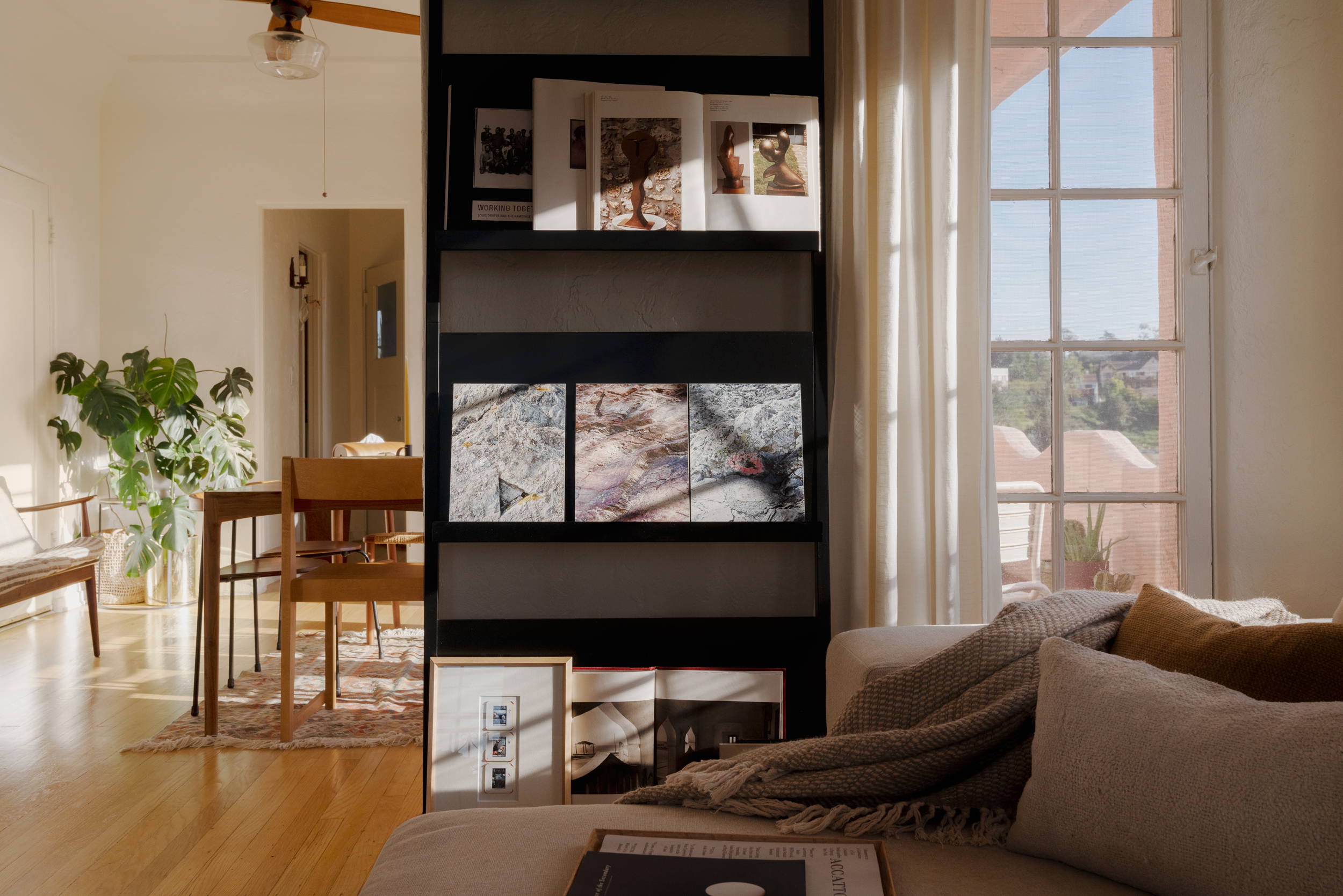 How did an interest in interiors and design begin? And what has your journey been so far?
I always liked thinking about how someone's home reflected their personality and way of living. As a child, I'd create dream homes with wooden blocks or clay. I'd re-envision my room by sketching floor plans and rearranging furniture, testing out arrangements to see how they affected the way I lived in the space. It gave me a sense of power to be able to change the function and mood of a space and imbue it with fresh possibilities.
I knew I wanted to articulate space in some form, but I didn't know how that would play out. I studied film and had a graphic and editorial design background from working on a college magazine. I worked in other industries like hospitality and event production before landing a job at a design studio called Simplicity in Tokyo in 2014, where I further explored graphic and editorial design, branding, and art direction. I translated the interior design team's plans and presentations, which is how I learned how to read drawings. I moved back to Los Angeles in 2017 to work on the interior design of a 21-floor luxury apartment building, and that's when my career in interior design began.
How do you find that your experience growing up in different cultures influenced your design aesthetic? 
Growing up biculturally in Los Angeles and spending time in various parts of Japan heightened my awareness of my surroundings. It gave me perspective and has encouraged me to continue seeking other perspectives. From a young age, I saw many ways of doing things instead of deeming things as absolute. It's given me a bigger well to draw from and makes me more open-minded and willing to adopt new design elements. I don't want all my work to be tied to a specific culture or influence.
What about your time in Japan or studying in Copenhagen shaped you as a designer?
I was in Copenhagen for six months doing a crash course in design as an exchange student, and I loved the experience-based style of education there. The instructors would take us to see the buildings we studied, and then we'd discuss our thoughts over coffee. Copenhagen is where I learned to carry a tape measure and measure everything around me like a crazy person so that I'd have an internal log of comfortable sofa depths and toilet seat heights.
Working in Japan taught me to be as thorough and detailed as possible. Measure twenty times, cut once. I'd had a very DIY approach to things before living in Japan, so this gave me a level of organization and professionalism that's been valuable. It also taught me to value ideas and concepts larger than my own individual expression.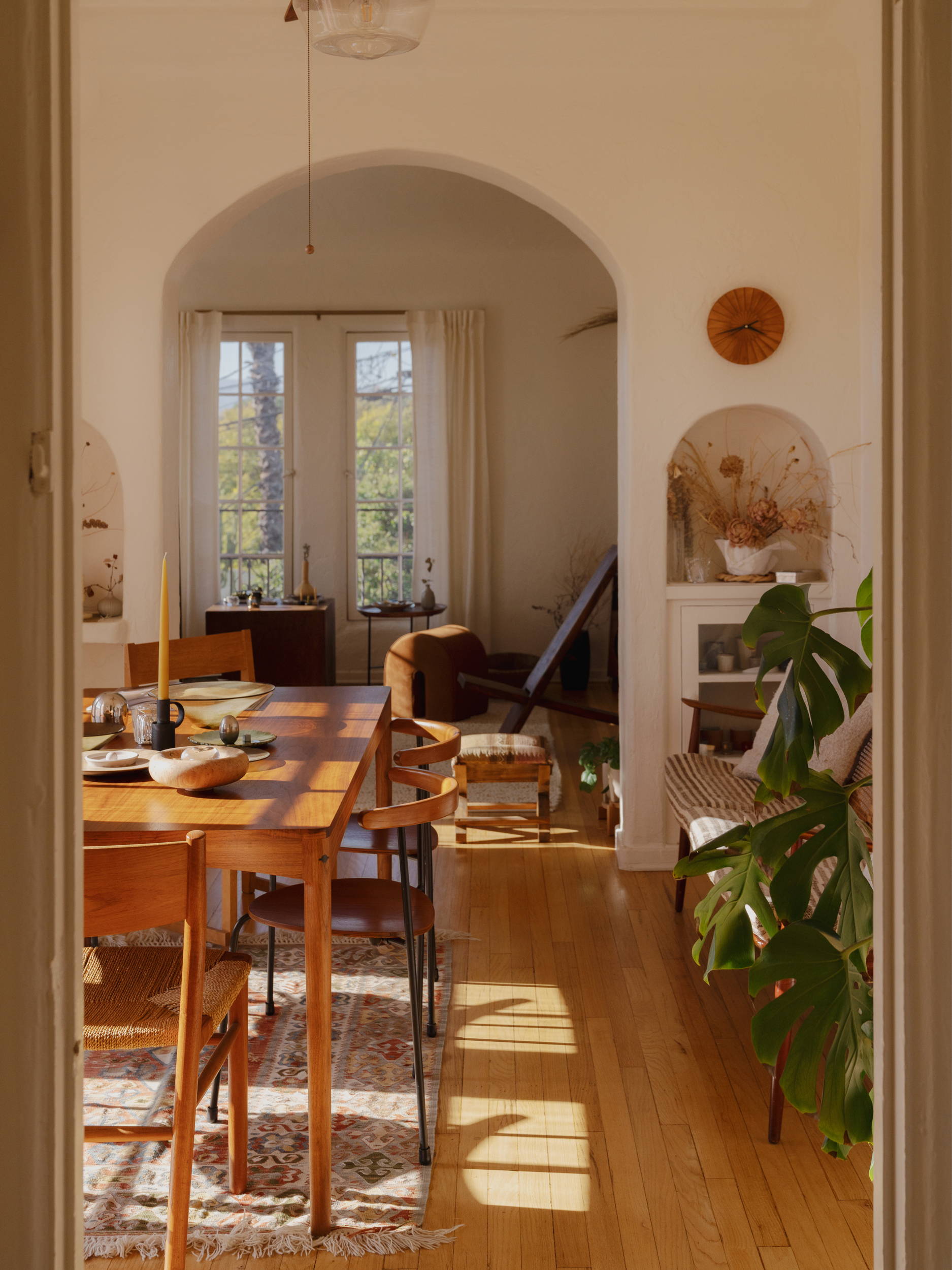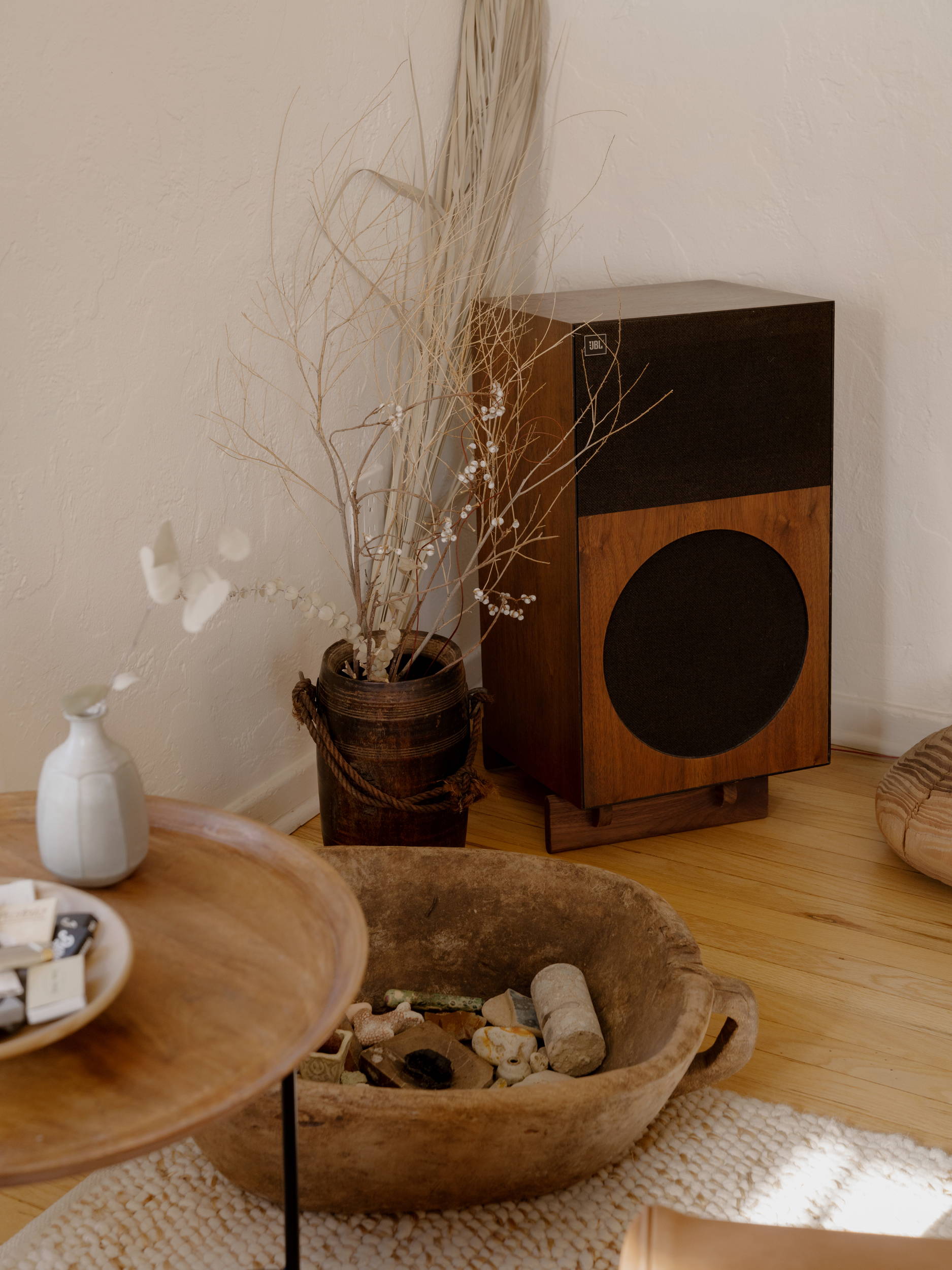 You've mentioned that you hope to create sustainable structures of design and service. Could you elaborate more on this? 
Growing up in Los Angeles, there was always an emphasis on recycling but not enough on how we live, consume, and waste. Living in Japan, I had to clean and sort every piece of trash, which was a good exercise in getting up close and personal with my own waste. I try to think about the sustainability of materials and products from several angles, like any ongoing long-term maintenance that may make it less sustainable in the long run. I'd like to figure out sustainable systems of acquiring materials and repurposing construction waste for future projects. For now, my focus is on designing for longevity and choosing products strategically to reduce the need to replace things where possible.
Tell us about a recent project you've worked on? What was the experience like?
From 2017 to 2021, I worked as the interior designer and design director of a 21-story apartment building called One Museum Square. Working closely with the contractor and construction team, I got the chance to learn about the many aspects involved in constructing a building from start to finish. I also helped with project management, which gave me insight into each trade's work and how it was relevant to the next. Finally, working closely with the developer throughout the project helped me make informed decisions that addressed the longevity of the furniture and materials and long-term management and operational issues.
How did Nakajeem come about?
After completing my work with One Museum Square, I wanted to bring some seemingly disparate interests and skills together in one place. Nakajeem is a design consultancy that offers interior design services as well as hospitality consulting. I'm excited to develop Nakajeem into a hub of creativity where experimentation takes place, through which I'll be able to collaborate with a variety of talented people.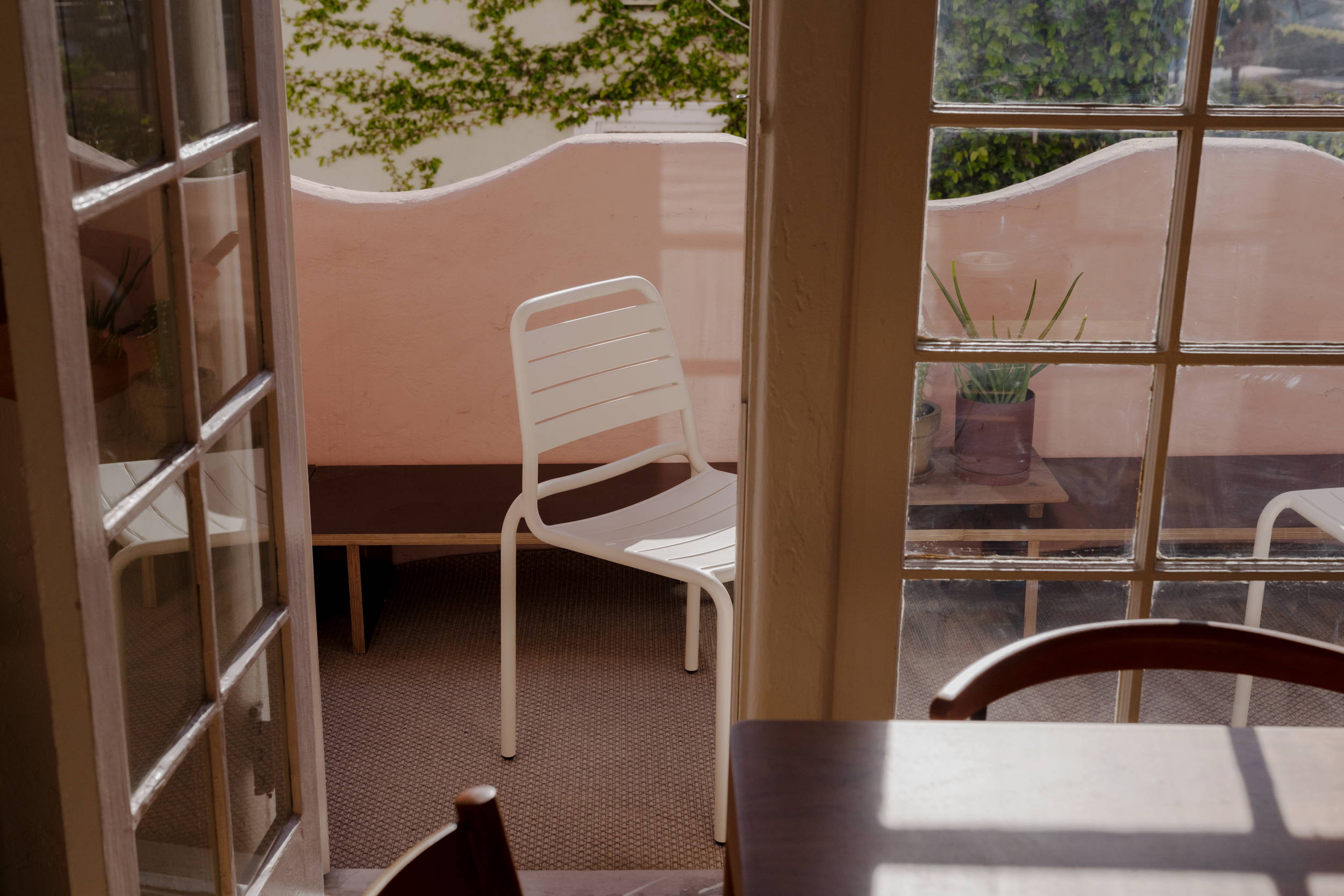 What keeps you inspired?
I feel most inspired when I'm in a space that makes me feel something, even if it's a negative feeling. Any space that evokes a visceral emotion is something of value, and I like to take that and explore why it makes me feel a certain way. Is it the monotonous color scheme that depletes a space of depth? Is it the mismatched music that creates an eerie atmosphere like that of a horror film? Is it the lush landscaping that makes me feel like I'm in a five-star resort?
I found myself fixated on the discomfort I felt in various spaces as a child, from building lobbies and doctor's offices to friends' homes. Discomfort is something we usually try to avoid, but to this day, it inspires me to think and create. I bring the same philosophy into my work — I want the spaces I design to be ultra-comfortable and cozy, but with a perceivable something that inspires a visceral connection.
What keeps the creativity flowing?
I love water. I like drinking it, showering in it, and swimming in it. Anytime I feel stuck, I take a shower or a bath. I also keep the creativity flowing by taking walks, exchanging ideas with people, and making playlists, which is like an exercise in storytelling.
Describe your home in five words or less.
A bright and tranquil oasis.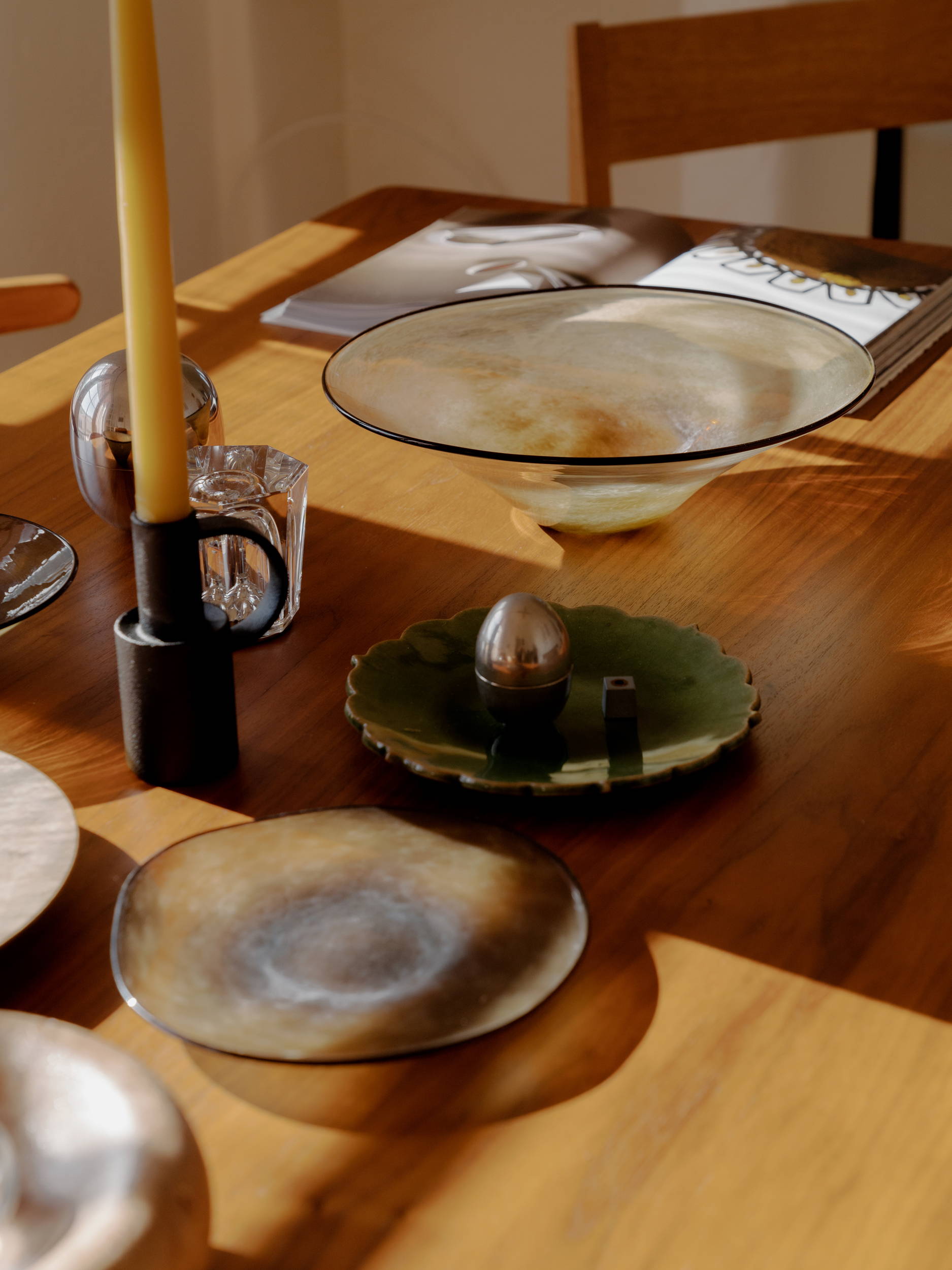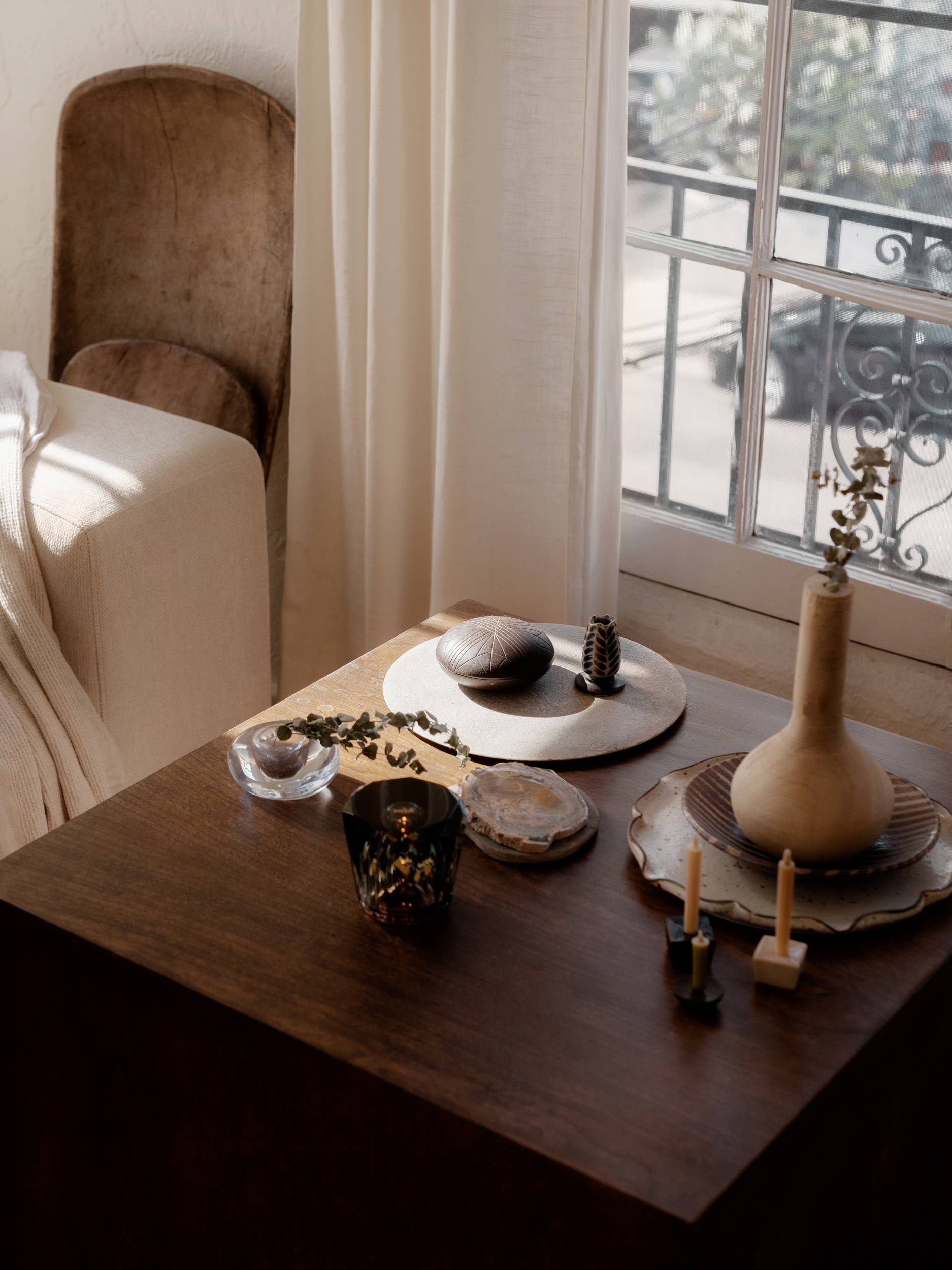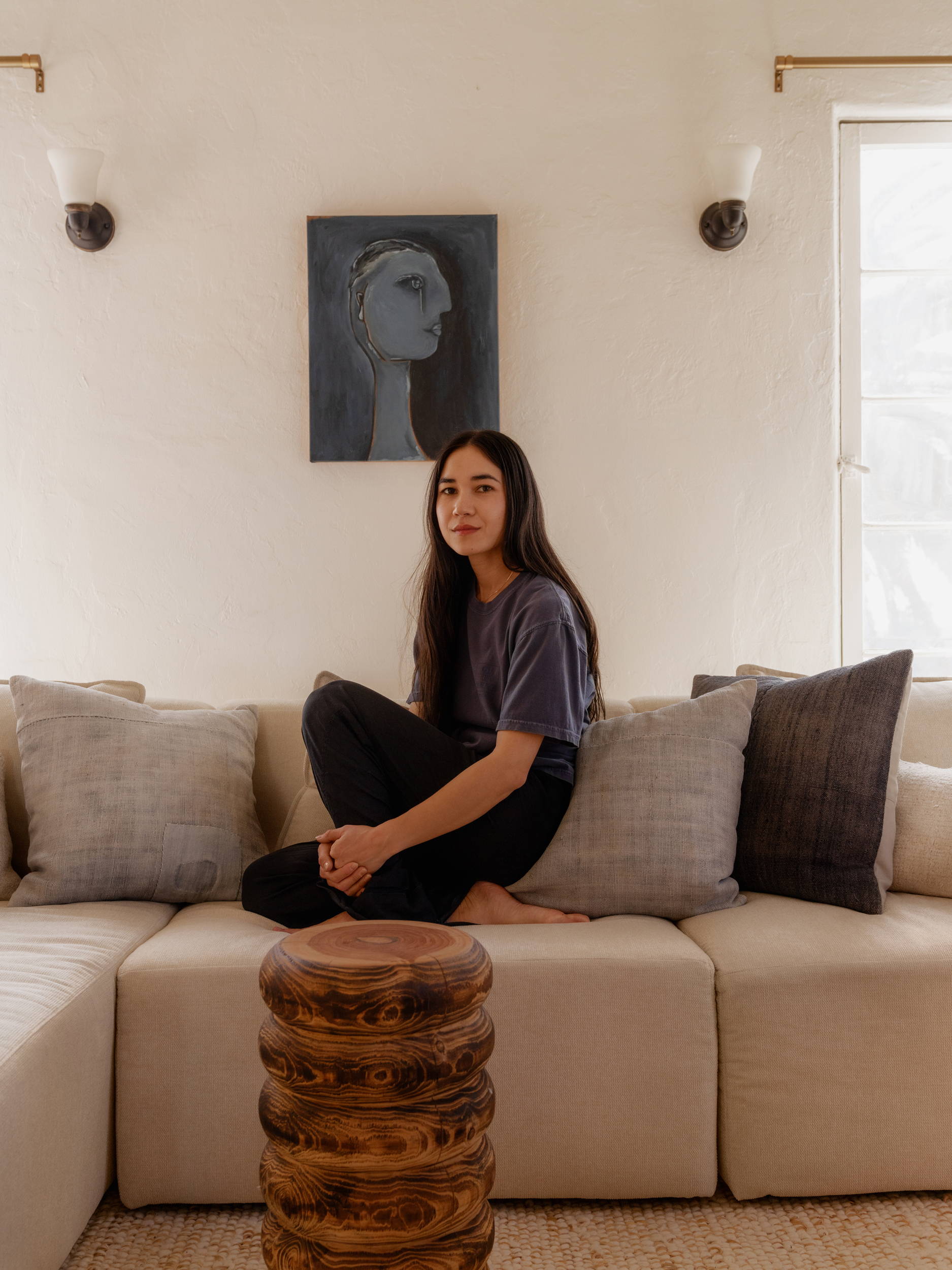 Where did you draw inspiration from for your home decor? What pulls you toward this aesthetic?
My head was deep in a project when I got this apartment, so instead of developing the design from a concept, I furnished my place in a very slow, piecemeal way, collecting items when I found them, starting with more essential items then layering upon them. I like the organic feel of materials like wood, linen, wool, metal, stone, and glass. Sometimes I think my apartment looks like a beach — the rug looks like sand, the wood furniture like rocks, the various objects I have floating around everywhere like coral or sea glass washed ashore.
What is your personal style? 
I like things that are versatile, like stools you could use as step-stools or as extra seating. I've moved around a bit, so I appreciate lightweight furniture that's easily movable. It's all about balance, though. I like mixing textures and weights, and natural materials like wood with more dramatic fabrics like velvet and chenille.
I'm not a minimalist, but I am very conscious of my space and the things I bring into my home. You wouldn't be able to tell from my apartment, but I really appreciate color and intricate patterns and moldings.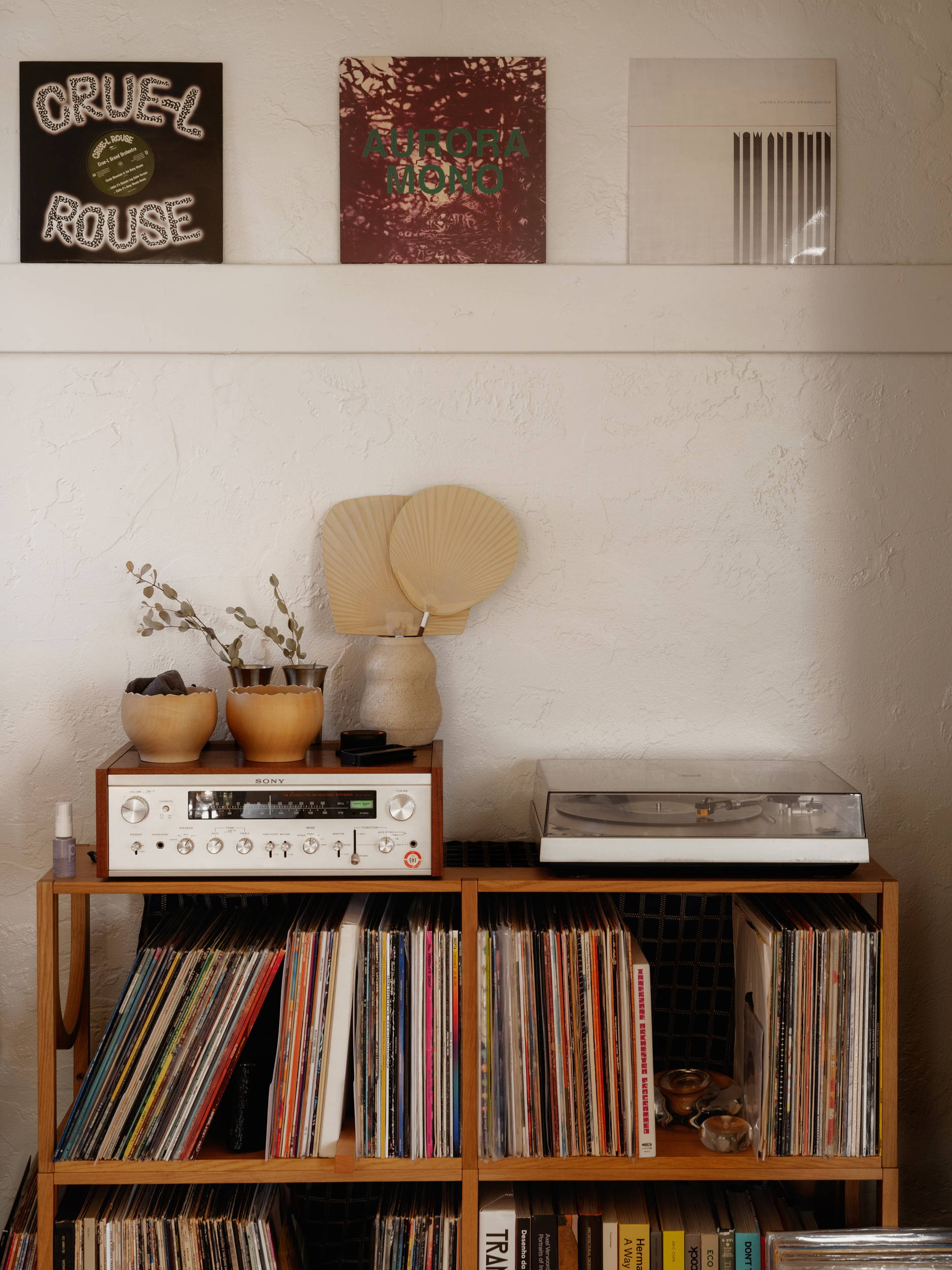 You've got quite a record collection! What are some of your favorite albums?
I love all my children equally.
Some records I revisit often are "The Tribal" EP by River Ocean ft. India, United Future Organization's "Now and Then" compilation, "Programmed" by Innerzone Orchestra, "Chill Out" by The KLF, and "Everybody Knows This is Nowhere" by Neil Young.
I like vinyl because it encourages me to listen to an entire album front to back instead of skipping around. I enjoy streaming and listening to mixes as well, but it's just a different experience. It's haptic and visual; you touch the record and perceive the album art. When you tap into multiple senses while focused on one thing, you form a connection linked to a certain place in time.
What is an item in your home that you plan to never part with?
I'm in love with this hand-cut crystalline rechargeable LED lamp I found in Japan last year. The craftsmanship is beautiful, and it emits the softest, most beautiful, candle-like light. I don't like bright lights at night, and I found myself taking it around my apartment from the living room to the shower and to the bedroom in lieu of using actual lights. It's like a traveling nightlight.
For more about Catherine please check out:
This widget makes post narrow
This will be hidden in site