Aaron Wiggs is a person of the people. Wiggs — as he's infamously known around the city — is a naturally curious person who is observant, sharp, and deeply charismatic. He moves with intention and a type of care that does not go unnoticed. These characteristics materialize in everything he does, from furnishing his apartment to better reflect him and his interests to creating an engaged community with his Sidewalk Sale fundraiser.
Wiggs is someone who works relentlessly to meet the moment and manifest the best life for himself and for everyone else around him. We spoke about design, paying attention to habits formed that ultimately define who we are, and the meaning of home.
---
How did you end up in New York?
I first visited New York when I was 22 years old. I was living in Los Angeles, fresh out of a break-up, and a few friends of mine were going to New York on a skate trip and invited me. So, I got on a last-minute flight, came to New York, and fell in love with the city.
At first, I would come to visit every summer for a month or so. I would ask people how they ended up here and how they did it before I mustered up the courage to do so myself. The first place I ever stayed in New York was in Bedford-Stuyvesant, Brooklyn. I loved it — I felt like I was in a Spike Lee film, and I really connected with it as a place.
Why was that?
It was my first impression of New York and reflected the music and the kind of hip-hop that I was listening to like Digable Planets, Black Moon, and a lot of Brooklyn-based artists.
I first stayed in Bed-Stuy. I liked the calm and quietness of the neighborhood and the architecture of the brownstones. I remember walking around one day, and I walked through Clinton Hill and Fort Greene, and I just remember saying to myself that this is where I'm going to live. It felt cool because the neighborhood was Black, and I felt like I was at home because of how beautiful and preserved these neighbors are. My favorite movie is Clockers (1995), a Spike Lee film mostly filmed in Fort Greene, and after seeing it in person, I just decided that this is where I wanted to be.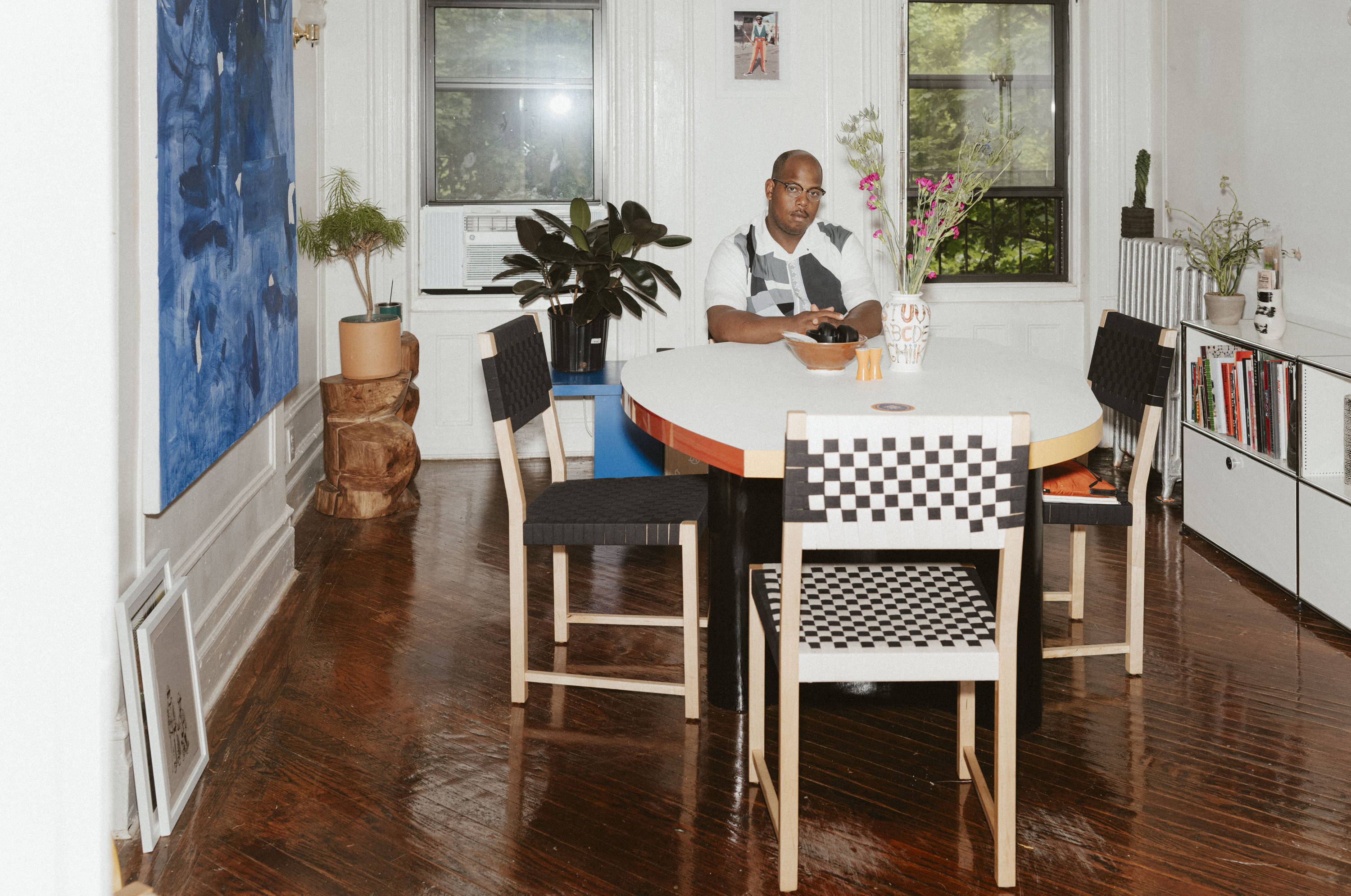 What does home mean to you

?
When I first moved to Greenpoint, my attitude towards home was different. Many of my friends at the time wouldn't really leave the neighborhood, and I felt that I didn't move across the country to just post up in one place all the time. I wanted to move around and get to know the city. So it became the kind of thing where I would tell myself, "This is where I pay my rent, this is where I rest my head, and that's it." It took a few years until I settled into my neighborhood and was able to get comfortable with the scene and form a routine.
Home is where you can be yourself — you must be happy there because it's your sanctuary. So now, when I come home and open my door, I'm happy to be here. I know I can breathe, do my own thing, and most importantly, be on my own time and exist in my own space.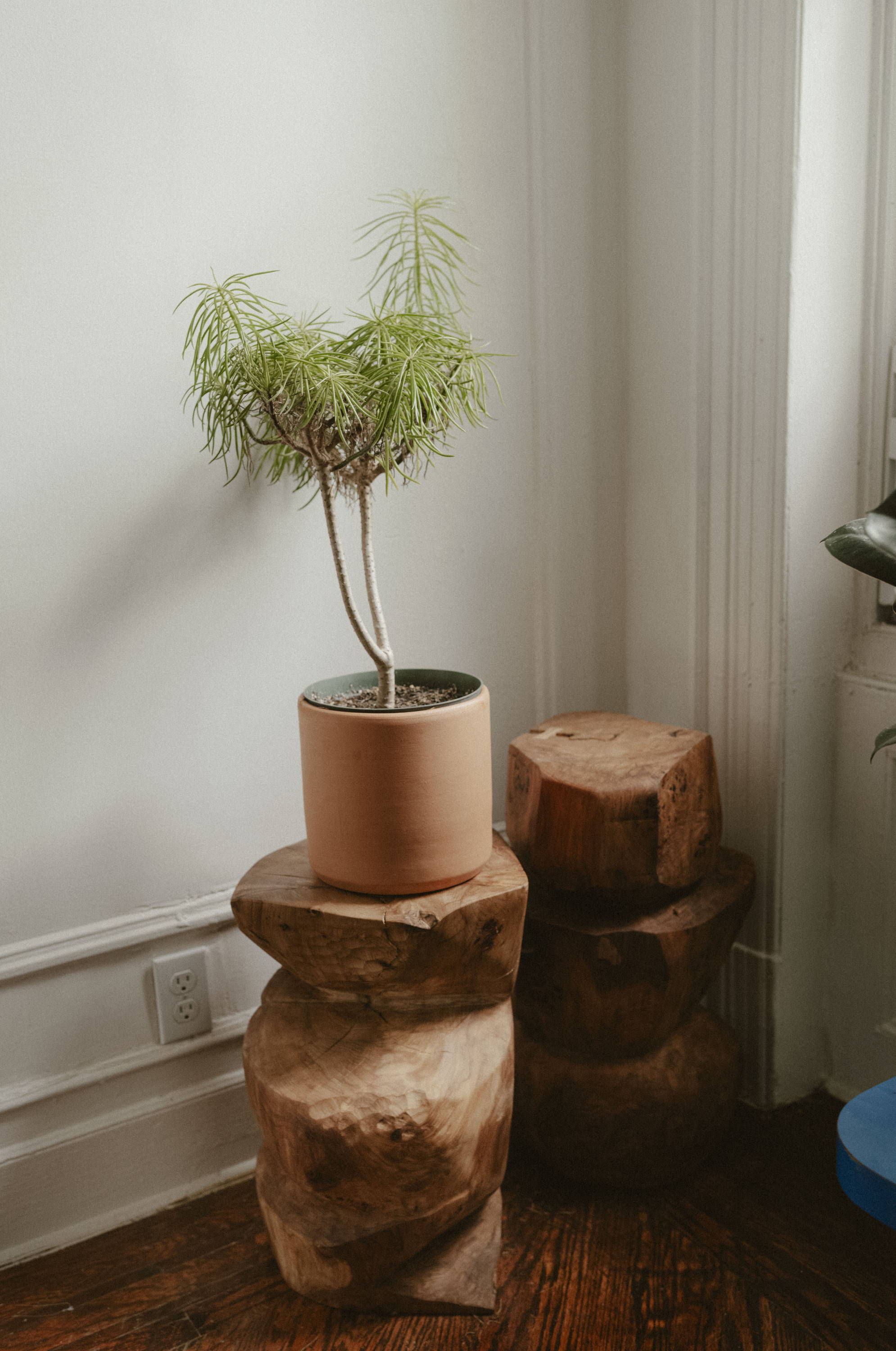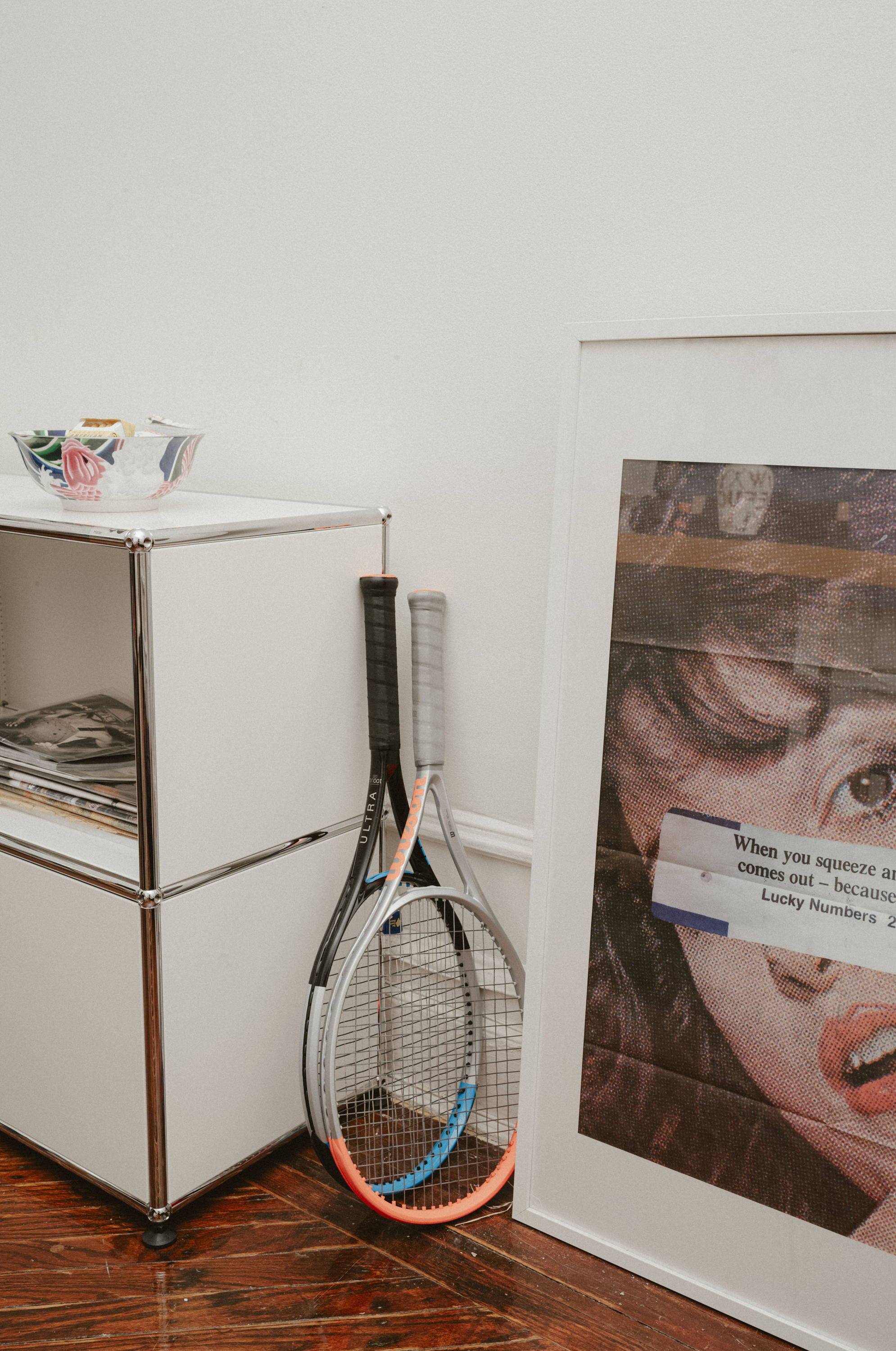 Were you always interested in design and interior spaces?
When I was younger, after my friends and I were done skating, we'd end up going to our local Barnes and Noble, and I would always pick up a copy of Dwell Magazine. It became a habit; my mom noticed that I was bringing them home, and one day she bought a subscription for me. I would always sit in my room and flip through Dwell and bring it wherever I would go.
I have always admired interior décor and thought about how it would feel to curate spaces. When I was a kid, I always wanted to know what my friend's rooms looked like, always asking, "What does your room look like? Can I go see it?" I would look at their posters on their wall, their desk, and their bed placement.
I would collect different magazines and look at the photos instead of reading the articles. I'd imagine what it would be like to go to the person's house in the photograph and have dinner at the table, experience the architecture of the space and the lighting of the room.
I always had an eye for nice things. When I was in L.A., I loved to drive up to South La Brea Avenue and go into the furniture shops. I didn't have the kind of interest in furniture where I was studying the designers' names or anything but more that it was intuitive for me; I was excited by it.
When I first moved to New York, my attitude was different; going out and spending time with my friends was my priority. I was also under the impression that apartments were small. I would be moving a lot, so I didn't want to buy something that would get destroyed in transit, so I got most of my furniture from Target, Wayfair, and Ikea.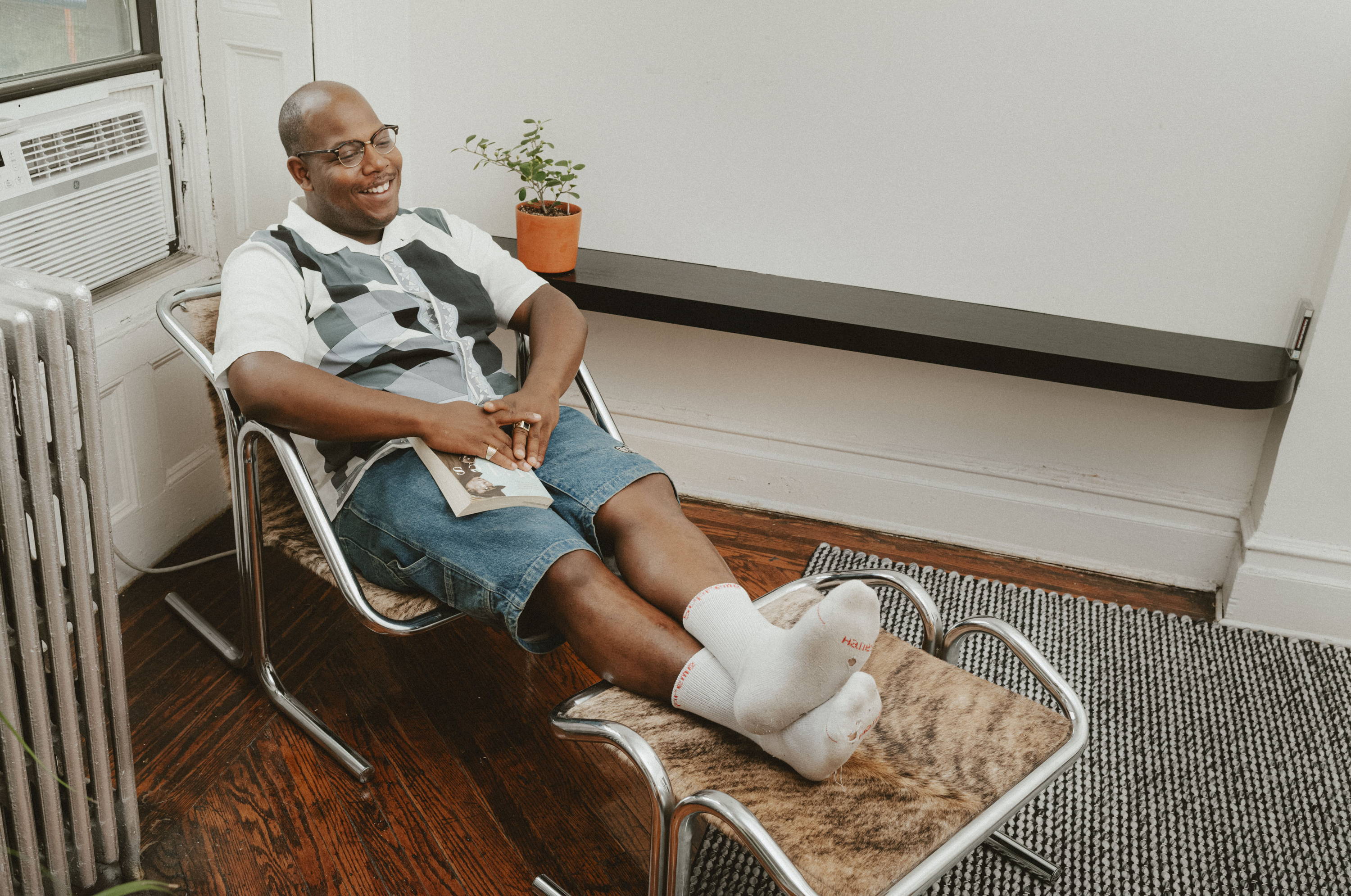 What is your relationship to the items in your apartment now

?
The cool thing about being in a place like New York City is that you meet cool people who make and do incredible things. One of the first pieces I bought when I moved in was this blue painting that my friend Caleb Weiss made, who I know through skating. A few years ago, he started painting and posting pictures of his artwork, and I always told myself that once I got my own spot, I would get one of his pieces to hang on the wall. I like the construction and materials of the piece; blue makes me feel good, and it feels reflective of me.
Also, I have a friend, Vince Skelly, who makes wood sculptures, and I asked him to make me a few stools; one of them is made out of the trunk of a tree from a street that we used to hang out on in L.A.  
Then I had to decide how I would go about purchasing the big items: my bed, dining room table, and chairs. I did a lot of research and followed a lot of furniture accounts on Instagram.
When I first moved in, I wasn't in a rush to fill the place out, but it just so happened that I found a Tucroma lounge chair on Friends of Form that reminded me of this sofa that my grandfather gave to my mother when I was a kid. When I went to pick it up, I noticed a lounge chair with an ottoman that I thought was cool. It was lined in black leather, and I decided to have it relined in hide, and it came out beautifully.
I had this idea for a bed but wasn't convinced to buy anything that I had seen, so I called my friend Kevin Graver, and he made me my frame — a low platform bed with a headboard.
Then, when I was looking for a table, I worked with Kevin to develop the idea. I gave him a cardboard cutout of the shape I wanted and my plan: the table should have a laminate top and sides, and the top would have a different texture, and the sides would be different colors. The table shape is inspired by a painting called "Composition Abstraite" (1968) by Serge Poliakoff.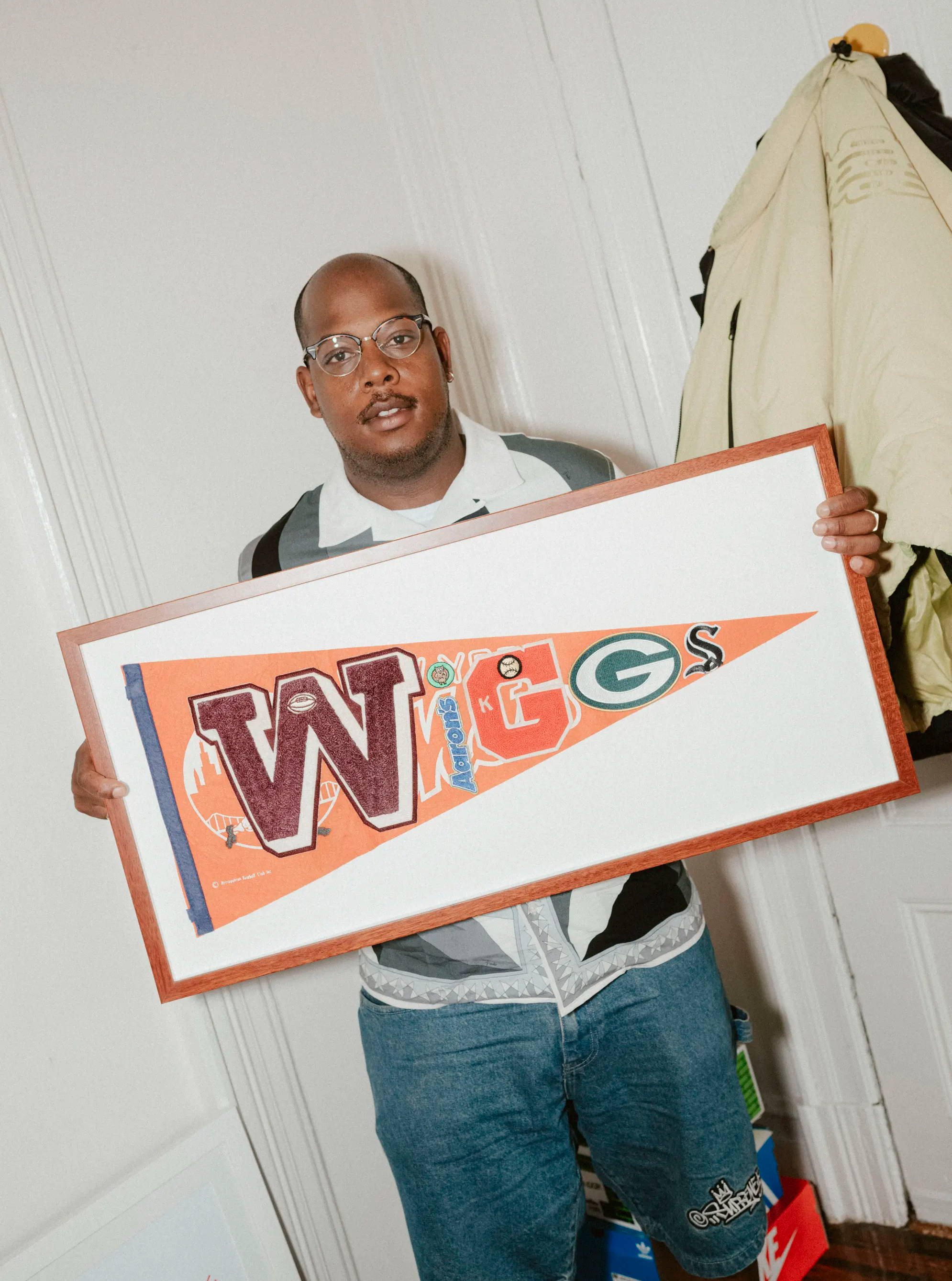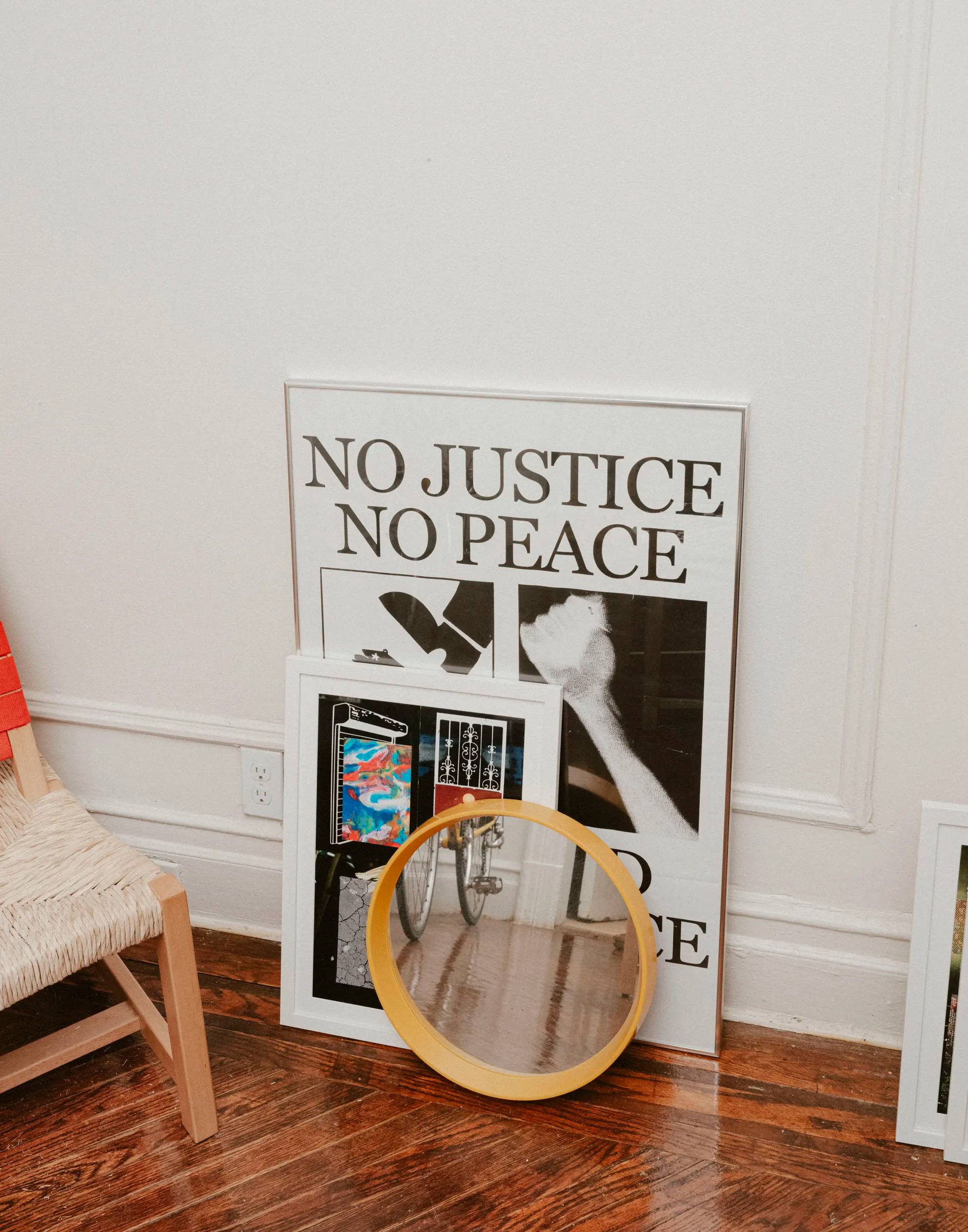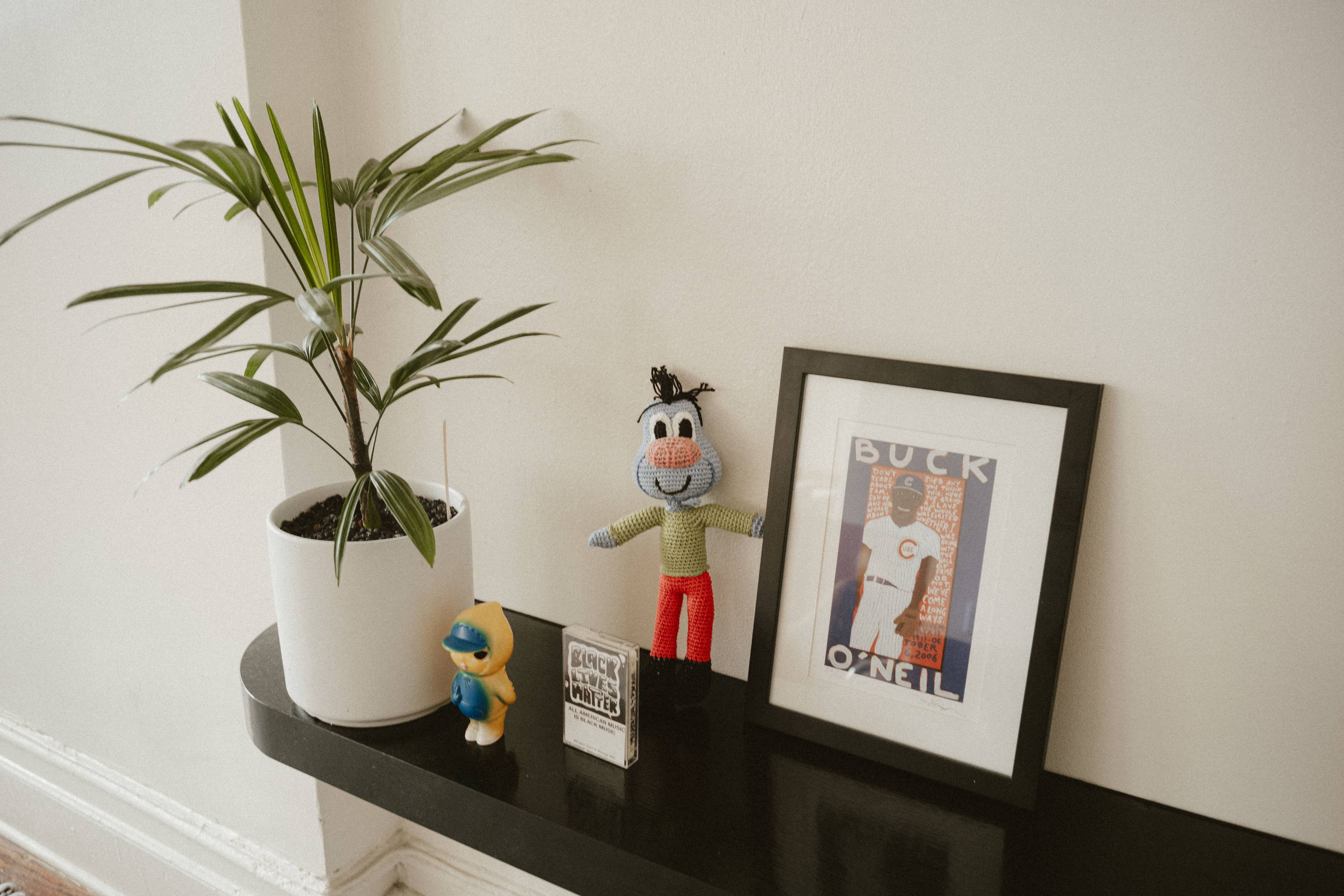 What characteristics do you look for in objects to know that it's right for you?

 
For one, I usually take time to think about it and how it will work in the space or room that I want to put it. It also must call to me in some kind of way.
I send a lot of references and pictures to friends and usually work through how I feel about it in conversations before I really know. Still, it's mostly intuitive for me — I'm always looking for an intimate connection.
Let's talk about the Sidewalk Sale. How did it come about

?
It was a weird time, and everything was shut down. We didn't know how long it would last, and the country was in outrage about the collective suffering that Black people have had to endure for the longest time. So we — my friends Perry Goodman, Sachiko Clyde, and myself — decided to do something constructive. And we decided on the Sidewalk Sale and held it Greenpoint.
The morning of the sale, so many people showed up on the park block that I thought I would faint. We ran the first two sales back to back, and they were both successes, and then to do it bi-weekly. This really shifted the conversation of how we would contribute to our immediate communities and charities. Overall, we've raised over $260,000.
What does it mean to do that kind of work for you

?
I've been so interested in organizing and activism work since I was a kid. I learned about the work and activism of Rosa Parks, Martin Luther King, Jr., Harriet Tubman, and Malcolm X.
The Sidewalk Sale is my own manifestation of the type of work and organizing these four did. I'm interested in providing people with the resources they need and being a pillar of change.
For more about Aaron please check him out on Instagram:
This widget makes post narrow
This will be hidden in site