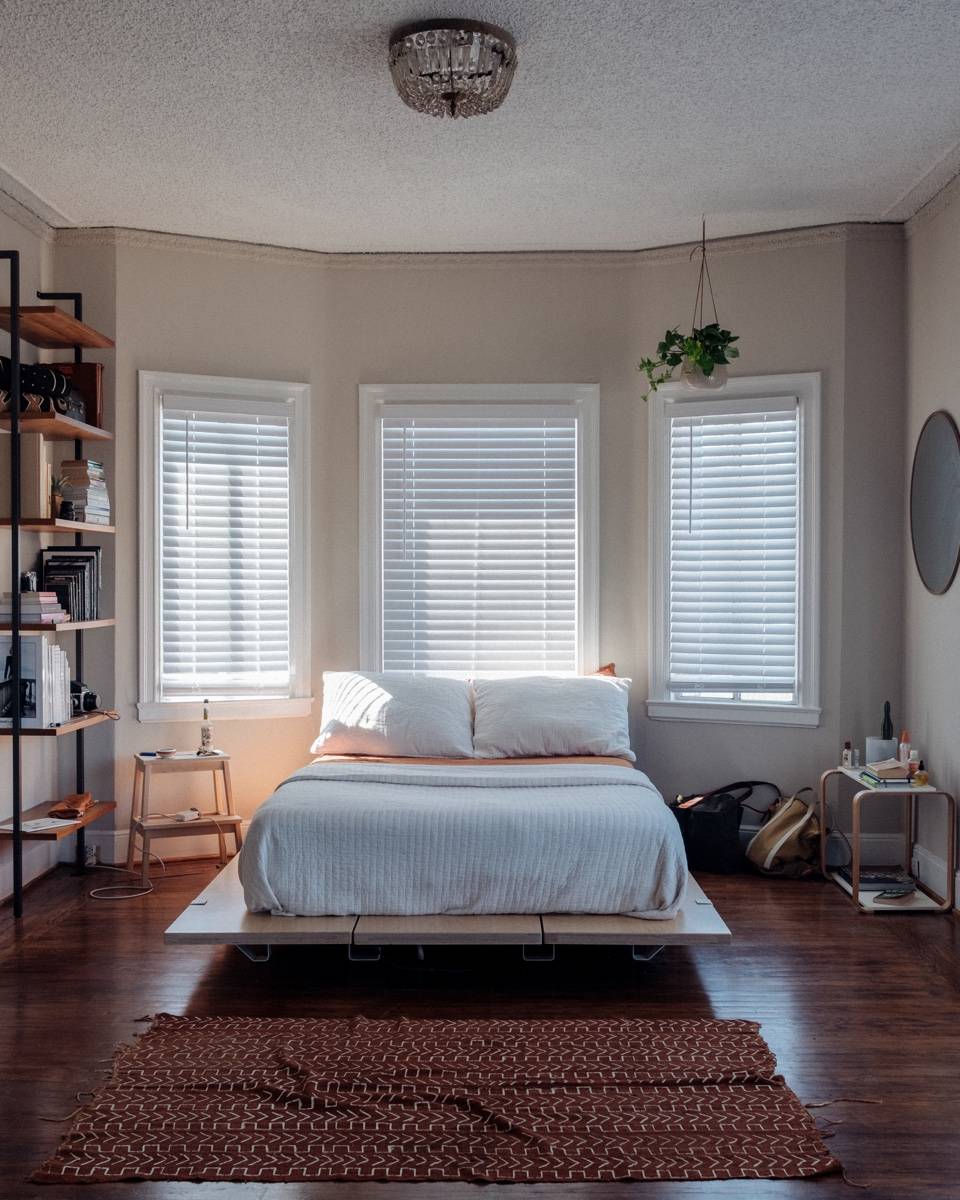 ---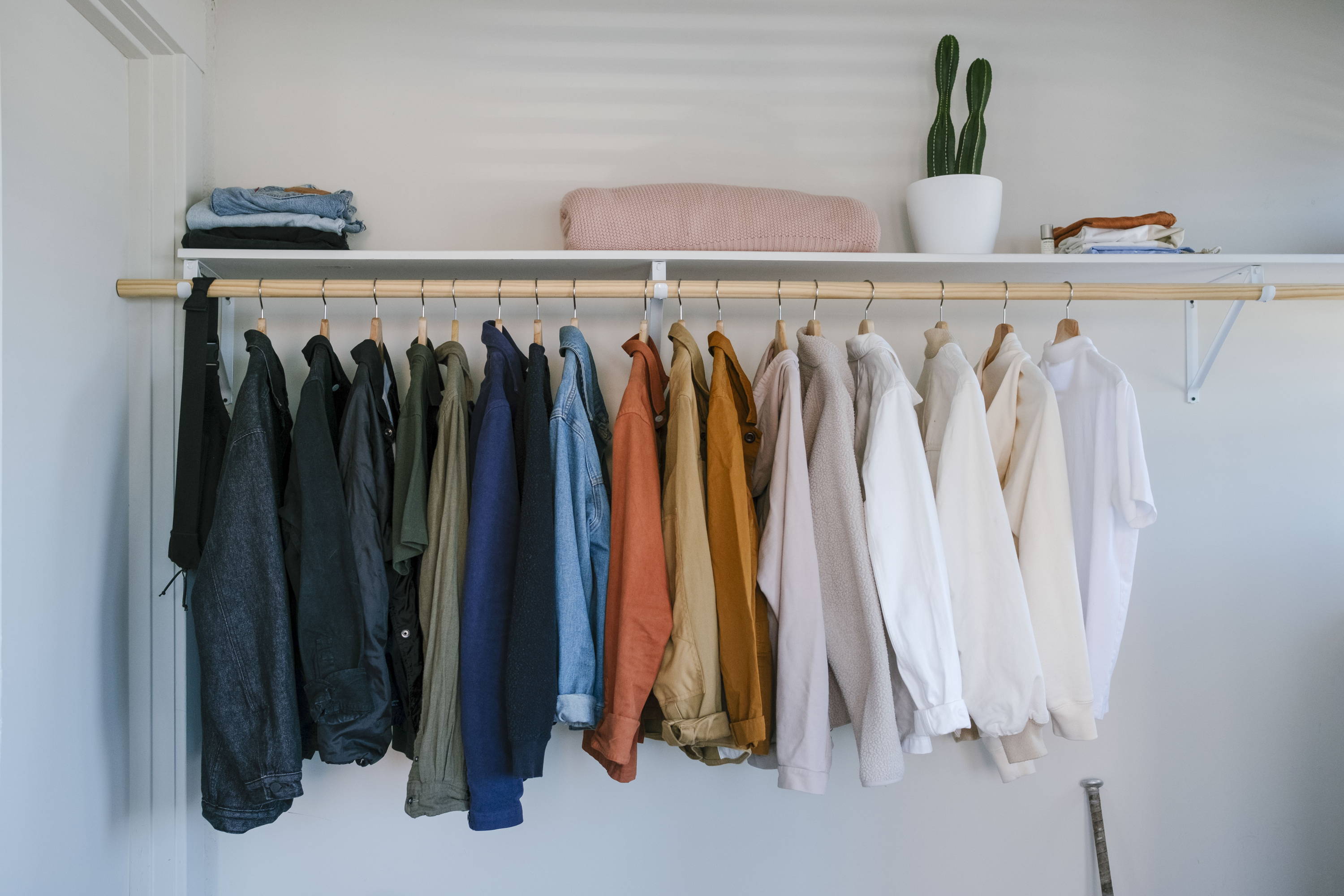 1. Kameron Richie's Berkeley apartment is a perfect example of using minimalism to make a small space feel more expansive. / 2. Carefully edited open storage becomes something of a statement.
While TV shows might lead us to believe that palatial apartments are common in big cities, the truth is that many of us have to make the best of a small space.
It can be daunting — how is it possible to make room for lounging, sleeping, cooking, and eating without creating a stressful mess? But there are certain tricks that design experts turn to in order to maximize space and create a functional, beautiful living environment even in the smallest of apartments. Here's what we recommend:
Proportion is Key in a Small Space
You can have a small and comfortable sofa, bed, and storage in your studio. But it's important to think about the scale of the space and the scale of your pieces in relation to each other.
Designers would think of it as "visual weight." The idea is to create a space that doesn't feel cluttered or overfull, dominated by oversized pieces. Instead, slimmer lines or more delicate proportions can help a small apartment feel balanced, not stressful.
Key elements to think about when it comes to visual weight are color, height, and "airiness." For example, you may want to forgo a huge leather armchair in favor of a chair, sofa or loveseat of sparer proportions.
Lean into Minimalist Design and Negative Space
We lean toward minimalism at Floyd, and it's more than an aesthetic preference. We find that simplicity works really well in small spaces, and can be a perfect neutral base for bedding and accessories in whatever style you love.
In any small space, you're constantly fighting the claustrophobic feeling of clutter closing in. By picking more minimal furniture, you're able to combat that feeling from the ground up.
There's a reason minimalism has long been associated with zen-like spaces. But ultimately, any style can work in a small space — you just have to edit more carefully. Choose the pieces you really love, and try to avoid filling every wall with furniture and clutter. Think of negative space as a place for the eyes to rest.
Get Strategic About Home Storage
Obviously, storage is at a premium in studio apartments. Even so, there are tons of underutilized spaces that can be turned into functional places for all of your favorite stuff. Try to incorporate as much closed storage as possible, whether it's with closed-door cabinets, boxes, or bins (we quite like the looks of these from Open Spaces).
Closed storage just keeps your space visually cleaner, even if opening your boxes reveals utter chaos. There are tons of options for underbed storage too, even if you have a low-to-the-ground frame. Just make sure to measure before you commit to your new storage solutions.
Of course, there's only so much room under every bed. So, don't forget to be creative. There is space under skirted chairs and sofas, inside ottomans, or above your kitchen cabinets. Try to keep accessibility in mind: you'll want to make sure the items you use most are the easiest to reach when you need them. Otherwise, pack that out of season gear and unused luggage as high in your closet as you need to.
Zone Out
Our final advice for your super-small city apartment is to try to create distinct zones in both your habits and your layout. If you have room for a smaller-scale dining area, it might feel right to try to keep any snacking in that zone and away from your sleeping space. Similarly, you can separate your sleeping area from your living space with visual cues, like light curtains hung from the ceiling, a functional bookshelf divider, or even a rug.
Color can also serve to delineate the function of your small space: keep your bed neutral for a relaxing boutique-hotel feel, and go for more color in the living area (that will also help draw the eye toward a more 'public' space).
Don't be afraid of a small space. Often, it can be a really great way to hone in on what you really need in your daily routine. Small spaces can have just as much personality as any large home, they just may take a bit more tinkering to get right.
Photos by Kameron Richie. See the rest of his space here.