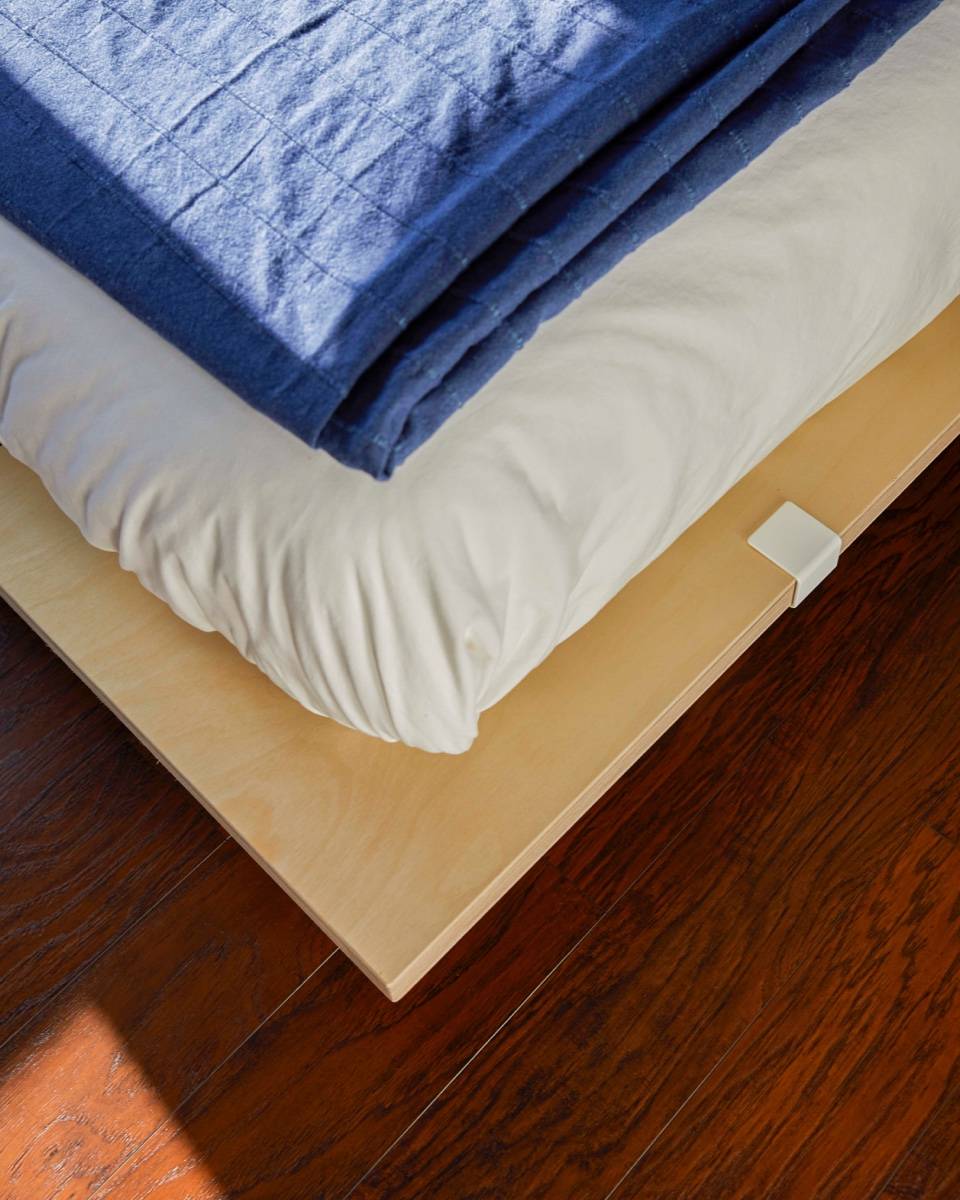 ---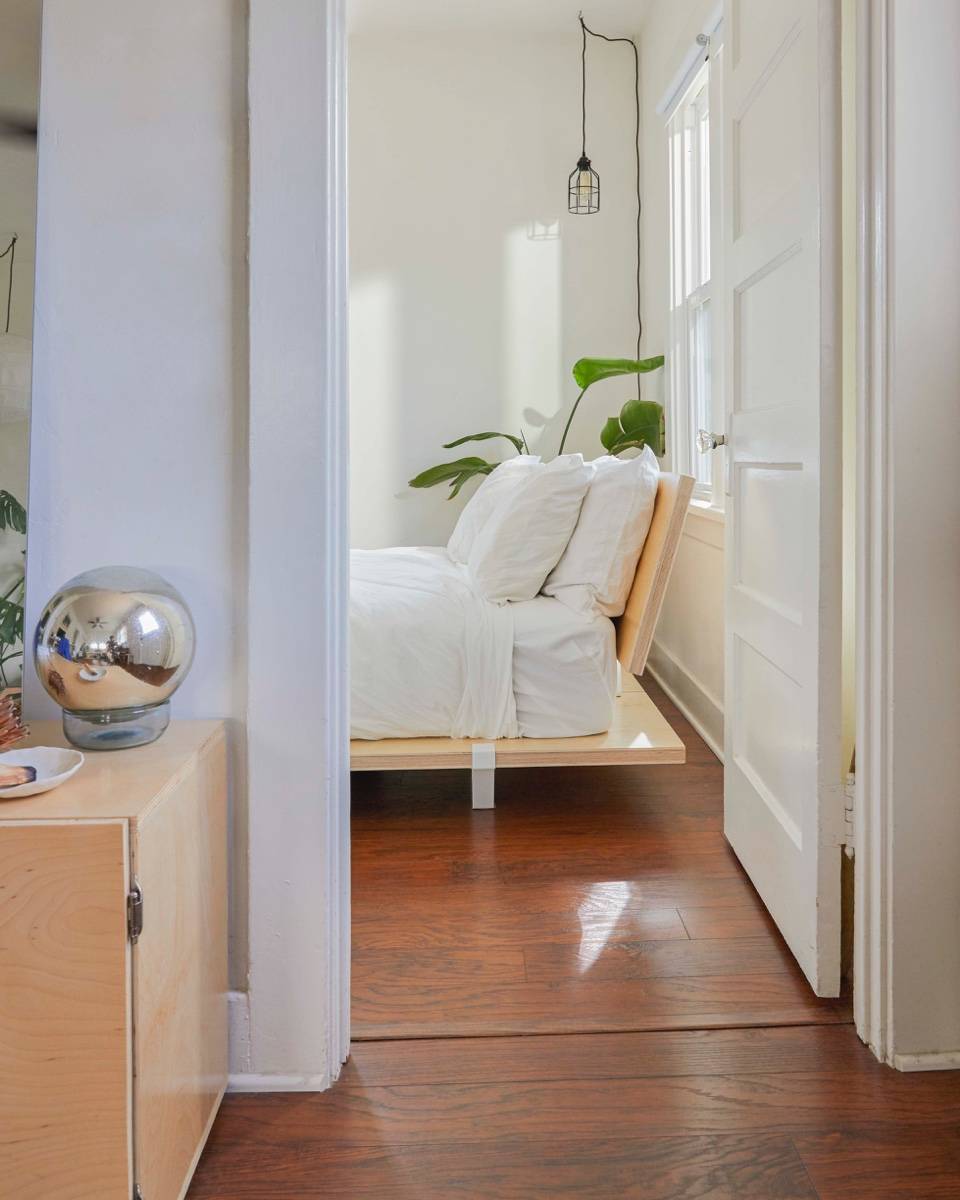 1. Tightly tucked duvet corners. / 2. Keep the open ends of your pillowcases facing inward for a cleaner look.
They say that successful people make their bed every morning. But we have a hunch that just making your bed won't cut it these days. Now that our homes also serve as workspaces, gyms, and spaces for online happy hours, it's time to get serious about creating a relaxing space to rest and recharge.
What makes a bed exceptional? Lately, we've found ourselves dreaming of plush, perfectly fluffed hotel beds. Maybe it's just because we can't go on vacation. But the good news is that it is possible to create a hotel-style bed at home. It just requires some attention to detail!
Here's how to set yourself up for your own staycation.
Buy a New Mattress
First, make sure you have a comfortable mattress. Pick one made for your specific type of bed. For example, if you have a platform bed, make sure you get a mattress with strong edge support.
If your bed has seen better days and you're not ready to buy a new mattress, you can always add a memory foam or down pillow top, which goes a long way toward creating that lush boutique-hotel feeling.
We recommend investing in a smooth mattress protector or pad, especially if you have a memory foam mattress or mattress topper. That smooth fabric layer between the memory foam and your linens makes for a better feel when you slip between your sheets!
Get New Pillows
Beyond the mattress, your bedding basics can really elevate the experience. Most hotels use down-fill pillows. Firmness is a matter of preference, of course, but mixing two firm pillows with two fluffy pillows will create that wonderful "sleeping in a cloud" feeling.
If you have a queen or king-size bed, consider upgrading to king-size pillows. They are longer (and require special pillowcases), but really elevate the sleeping experience. They also look great when the bed is made!
For sensitive skin and noses, be sure to use a pillow protector. Just like a mattress protector, the extra layer between the down and your pillowcase helps to keep rogue feathers at bay, and also prolongs the life of your pillows.
Invest in a Down Comforter
The next building block for your at-home hotel bed is a down comforter. There are some wonderful down-alternatives out there if you prefer, but a classic comforter is the best gift you can give yourself. They last forever with proper care, and can even be washed (though carefully).
Start with a mid-weight option that has some loft (the space between the "baffles", or the stitched squares on the comforter). A high-loft comforter is what creates that deliciously crinkly, crisp feeling when you pull the covers back. If you're going for a European feel (or if your partner steals the covers) you could even use two twin-sized comforters side-by-side.
Buy Bedding that Feels and Looks Great
Now for the materials that will touch your skin. Hotel sheets somehow always feel crisper, cooler, and smoother than anything at home. But it is possible to approach that feeling at home — even if you don't have a giant iron press to take out every wrinkle.
Hotels typically use percale sheets, which have that signature crisp feel. You also may be surprised to learn that hotel sheets often aren't 600-800 thread count. Instead, they fall somewhere in the 300-thread count range. That's because 600 thread count sheets use thinner threads in order to fit 600 into the weave.
The thicker threads of the 300-thread count sheet actually make for a more durable weave. And since hotel bedding is washed constantly, durability is key. So while thread count is a personal preference, consider trying a lower rating and washing your sheets more often. You may be surprised how nice the sheets feel!
The truth is that hotel beds also feel so great because of how wonderful they look. But making your bed like a hotel is the easiest part! Use a single color of linens for a cohesive look, and keep the duvet cover simple.
Accessorize
If you love pillows, add square Euro shams behind your sleeping pillows for extra volume and support while you sit up in bed. Tuck the ends of your pillowcases under, and face them toward the inside of the bed so you can't see them from the side. Use hospital corners to tuck your sheets tight, and fold over the top of your duvet cover to create an inviting feel.
If you really want to tackle any remaining wrinkles, you can spritz the top of your comforter with tap water from a spray bottle before smoothing it out across the top. Neatly fold a soft throw blanket at the foot of the bed if you like, and add a bolster pillow for color.
The final step is to pick matching bed tables. To achieve a calming, airy effect, choose side tables with long legs that open up the space. Consider adding matching table lamps as a final touch.
Voila. Now put on your fanciest pajamas and put yourself in that vacation mindset.