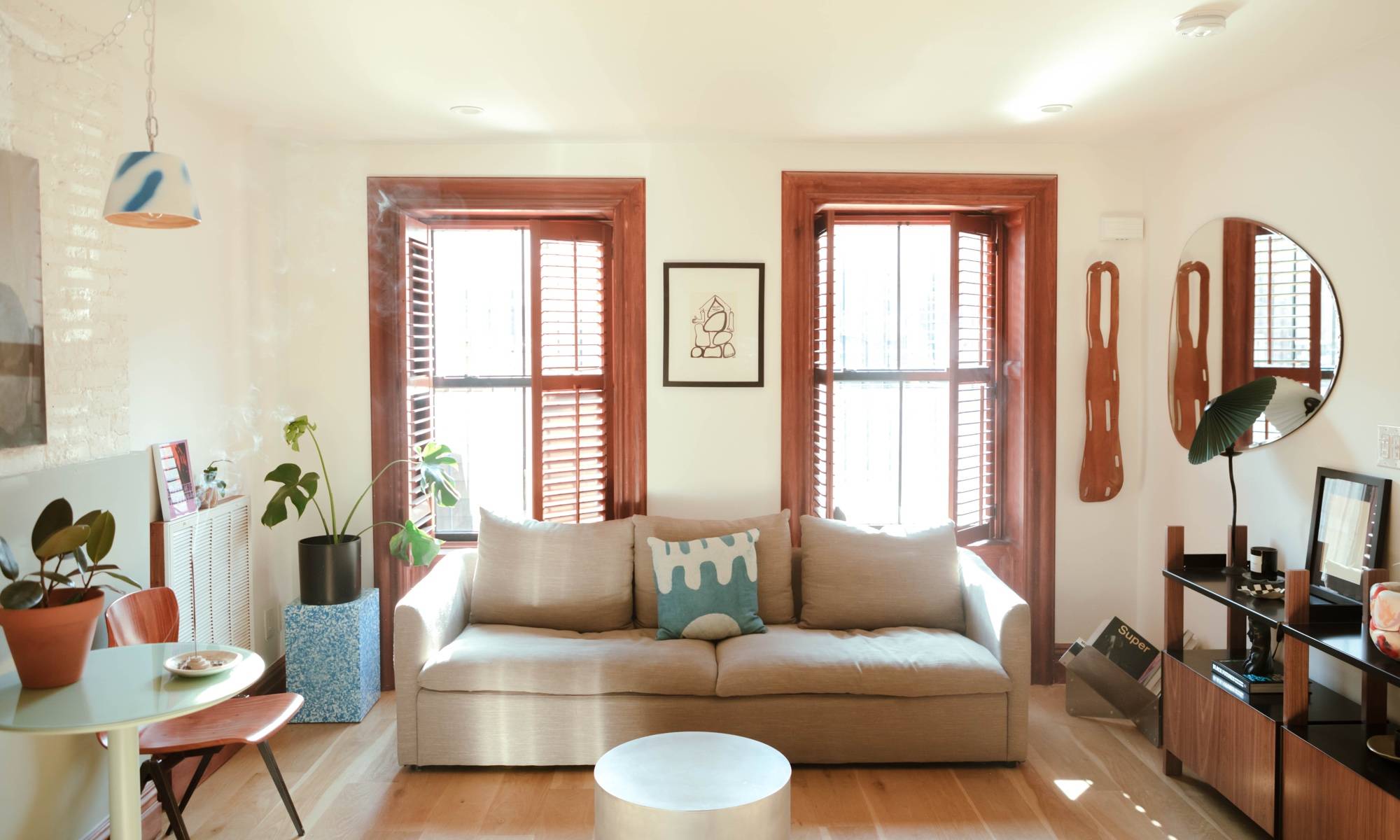 Vanessa Granda's Apartment is a Study in Eclectic Minimalism

A bi-level Brooklyn apartment with an envy inducing art collection.
---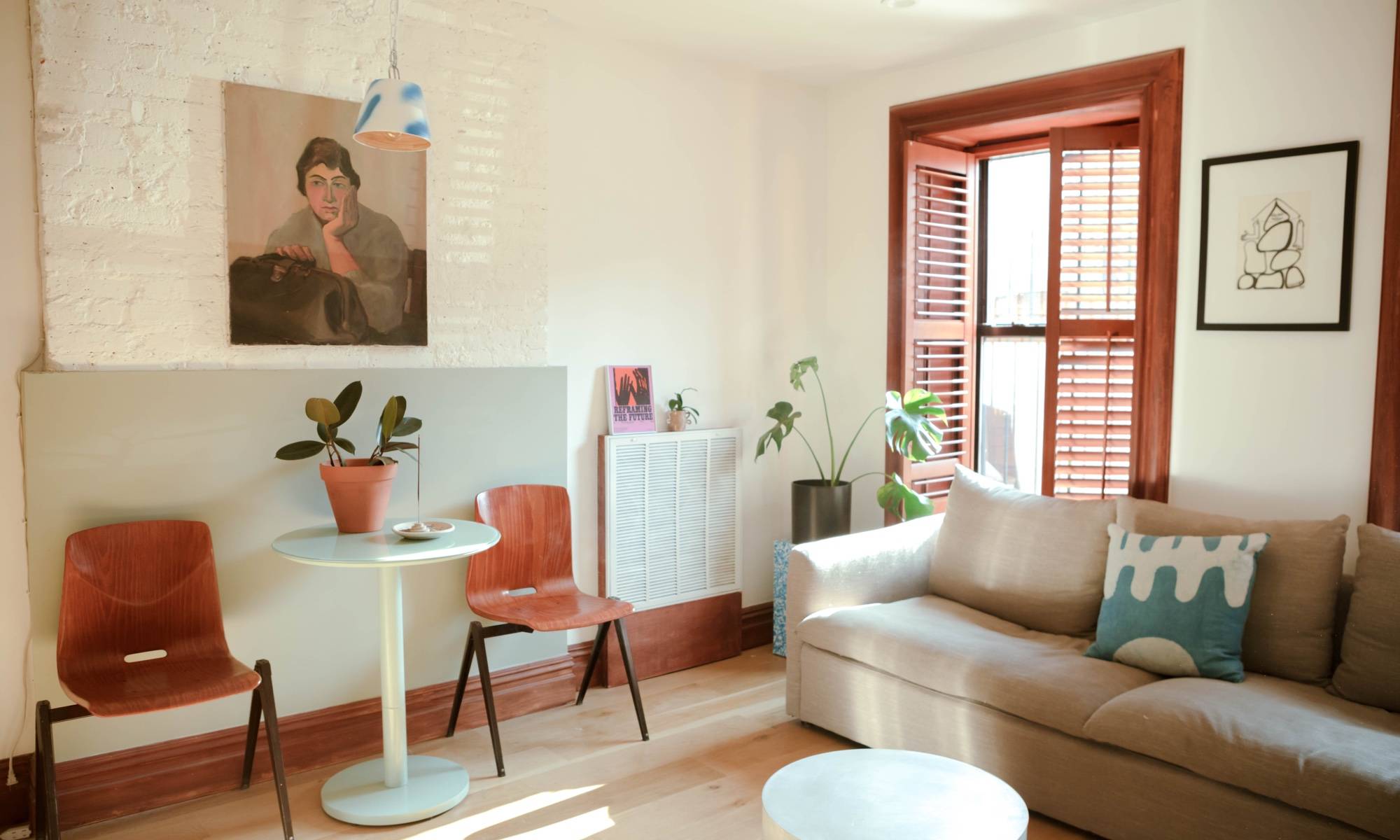 ---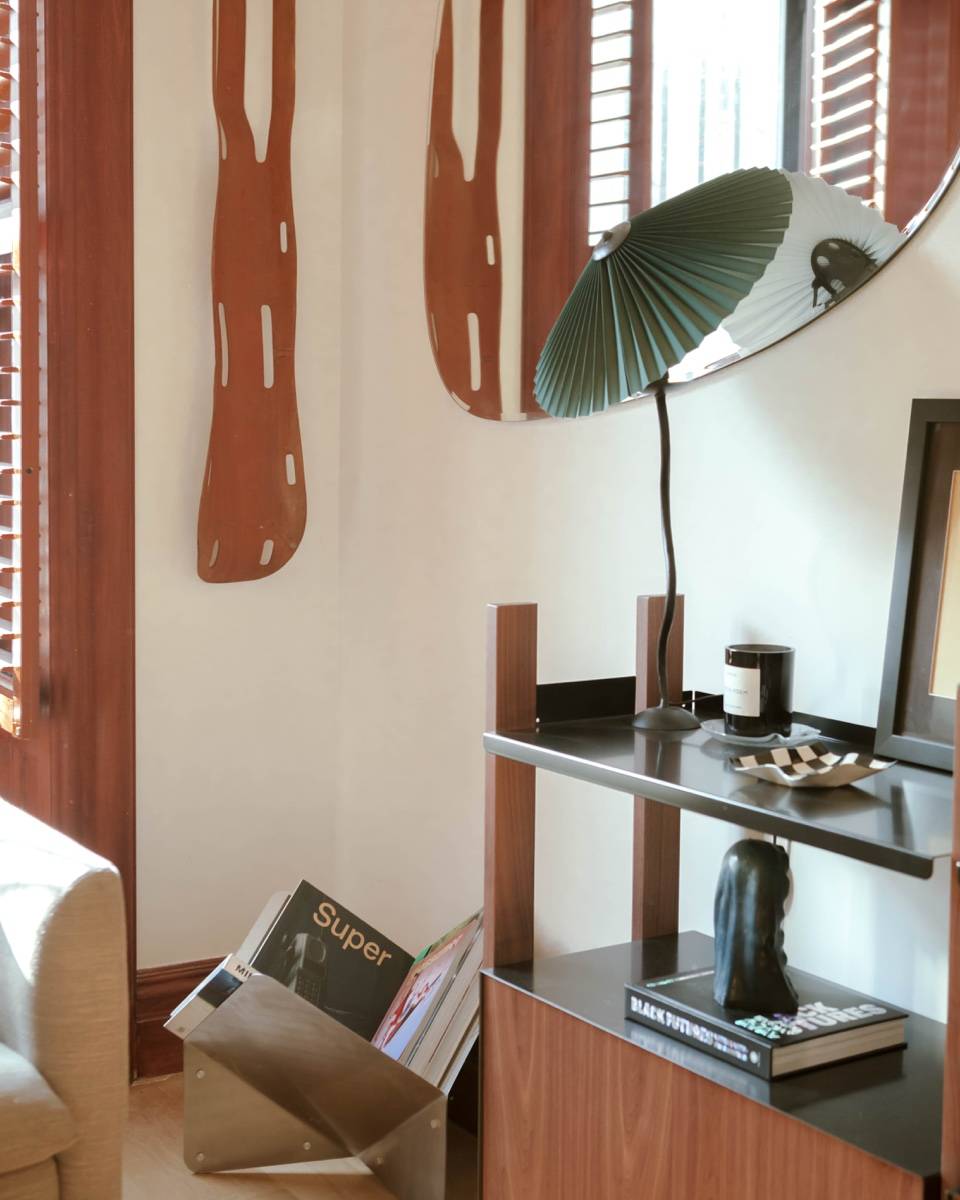 ---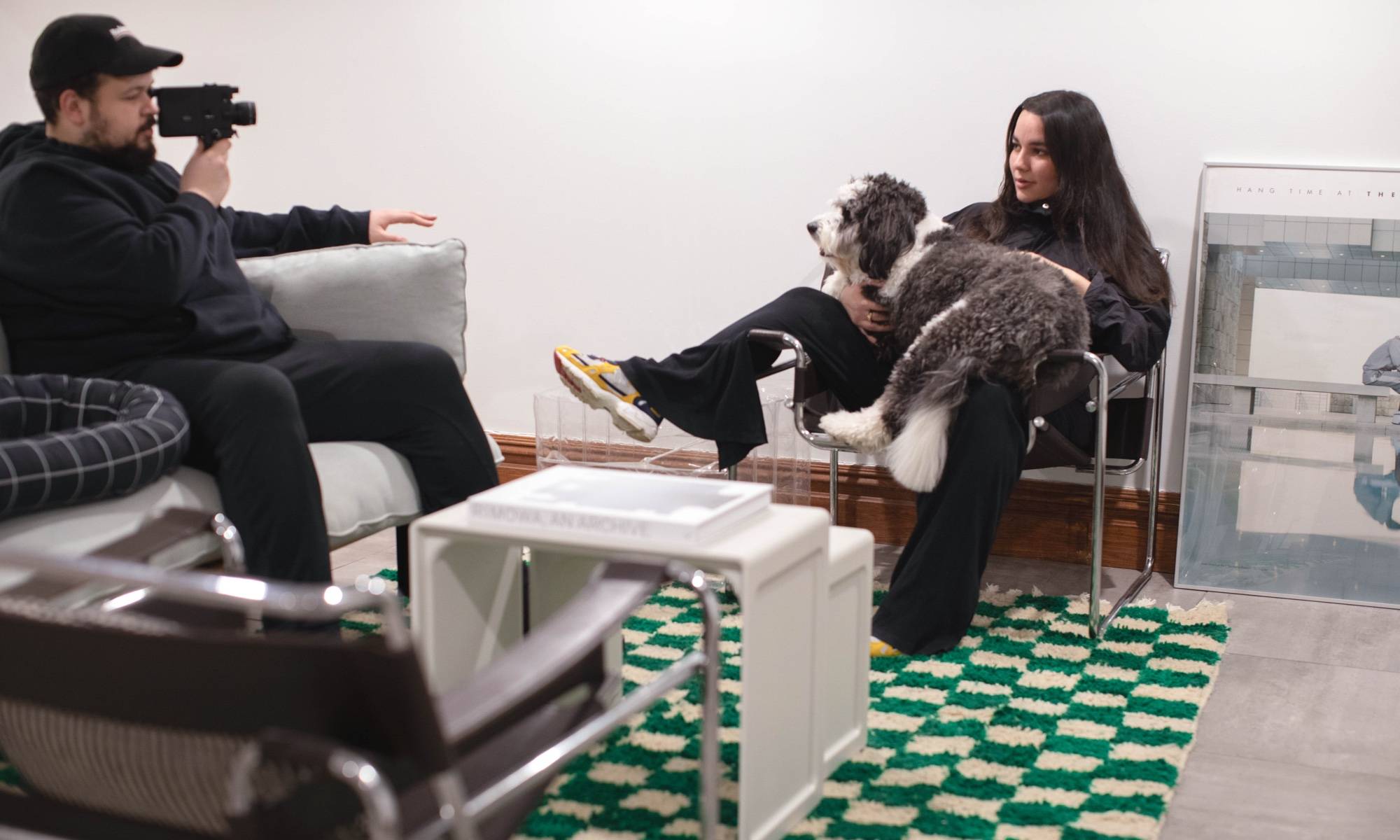 ---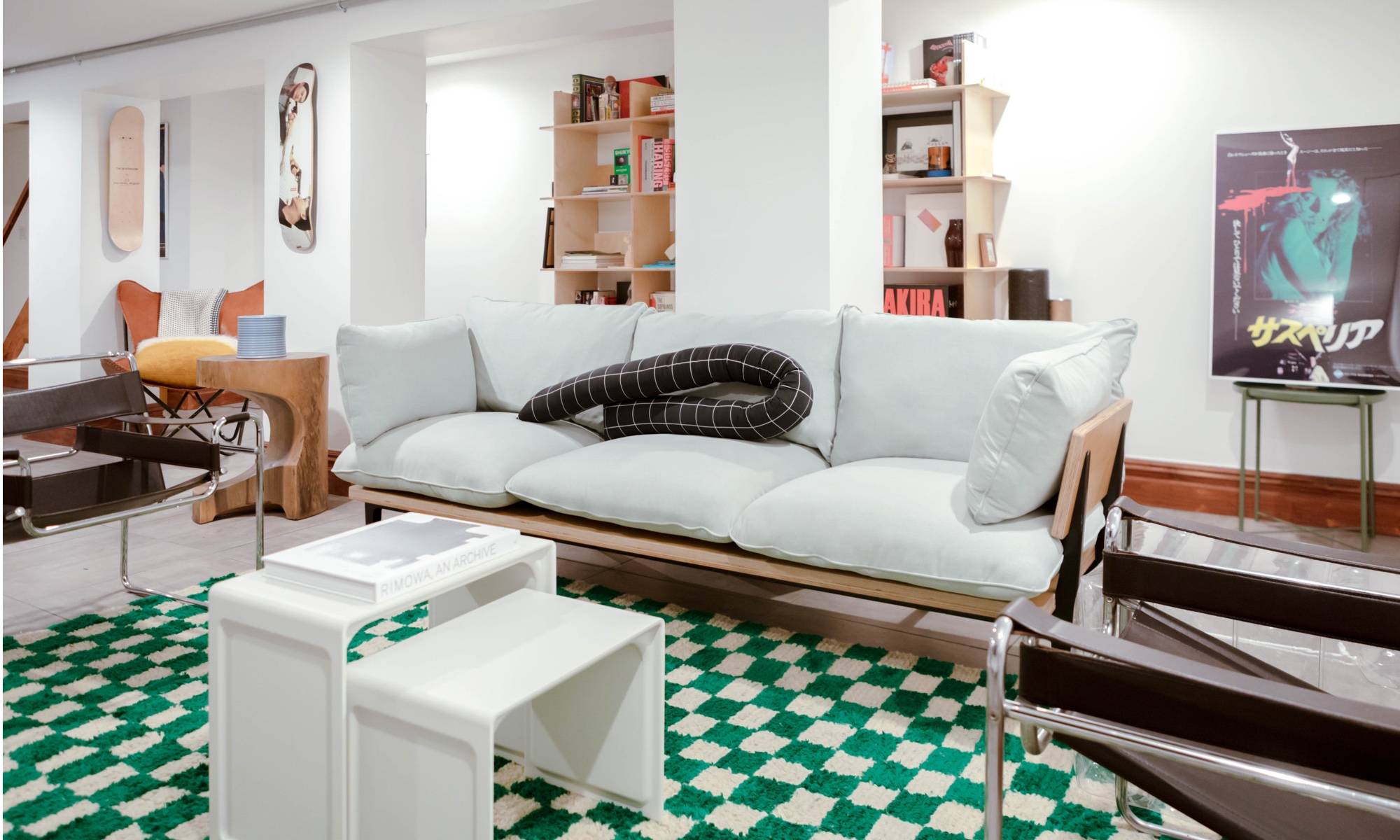 ---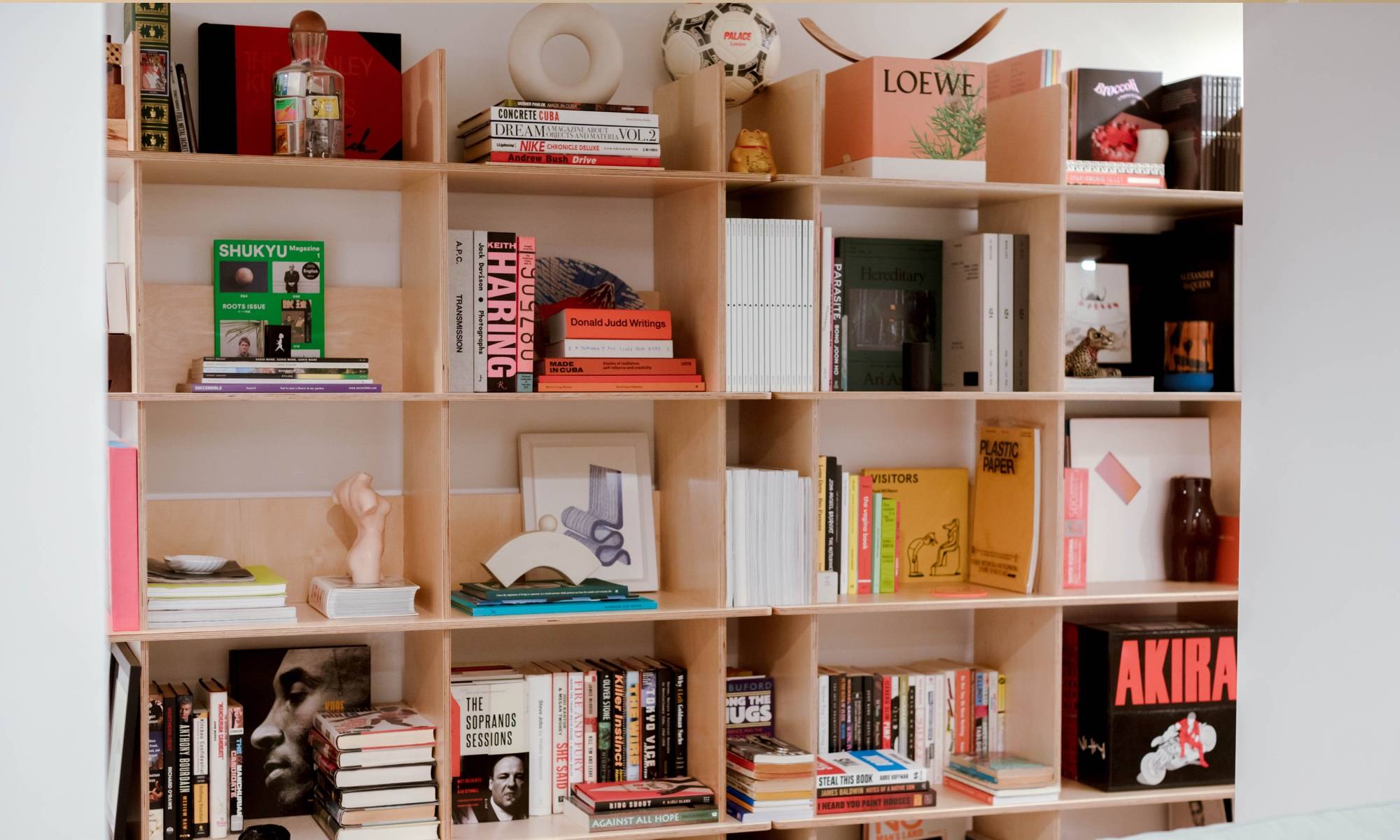 ---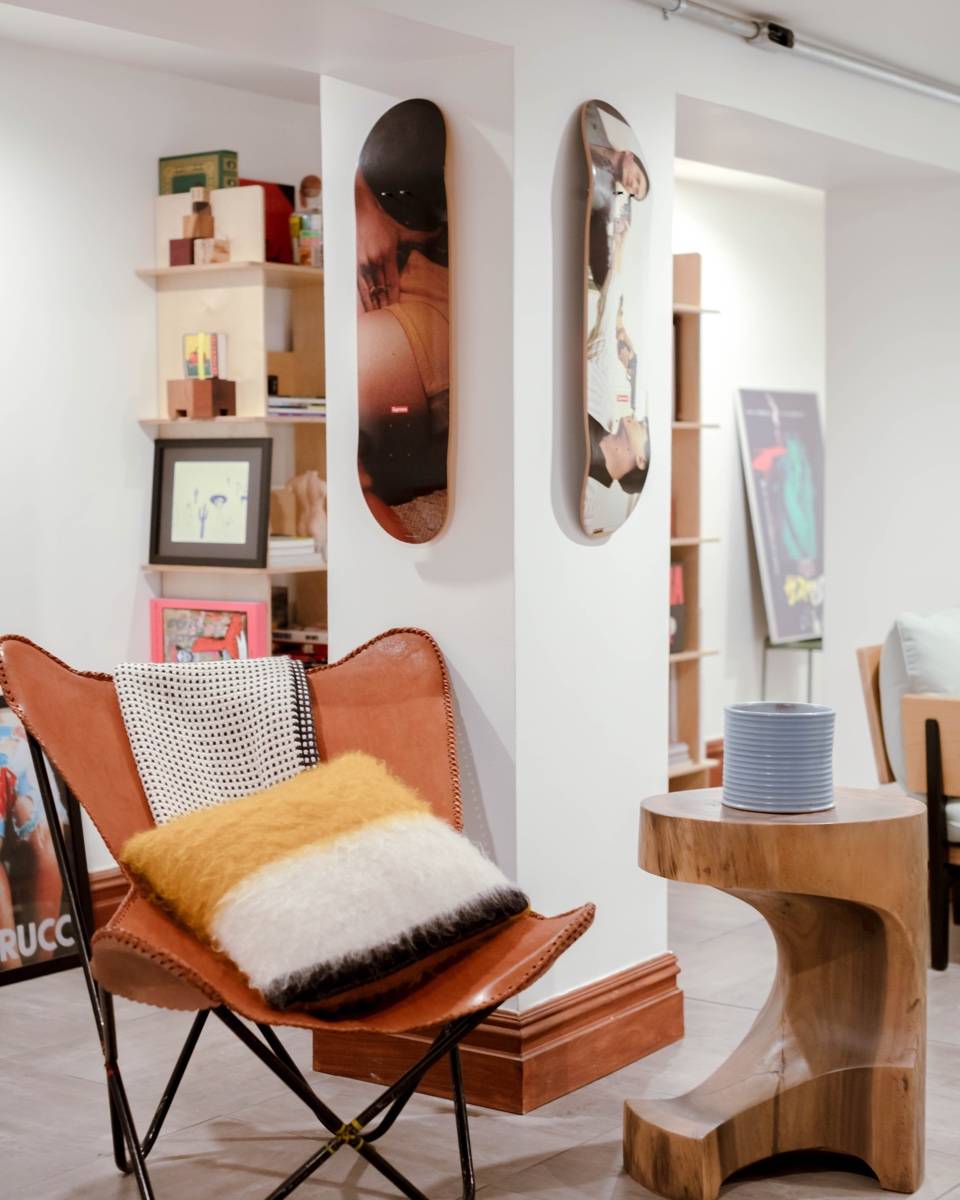 Inside Vanessa Granda's Brooklyn home, you'll find a curated and highly-personal collection of objects and art, all displayed within a rather minimal space. The photographer has a knack for pulling together a cohesive vision from inspiration that ranges widely — from the simplicity of Dieter Rams, to the galleries of art museums, to the European nostalgia of the sets from the 2017 film Call Me By Your Name.
We spoke with Vanessa about the challenge of unifying a space that includes a basement room, the lighting she's rescued from a favorite local cafe, and the art she found on the 40th page of an Ebay search.
Hi Vanessa! Could you give us a bit of an introduction?
I'm Vanessa Granda, I'm a photographer and live with my partner Davy, who's a filmmaker and our dog Matisse. We are originally from Miami but live in Brooklyn, NY.
Tell us about your home. What stands out about it?
Our home is a two-story, one bedroom apartment located in Bed Stuy, Brooklyn. It's renovated but still has that brownstone charm with original crown molding around the entire space and windows.
Did you fall in love with the space the first time you saw it?
At first, we weren't sure about living on the ground floor as our previous apartments were on higher levels and were worried about natural light and street noise, however when we realized the apartment included a basement and a backyard and the light was better than most ground floor apartments, we couldn't pass the opportunity.
How would you describe your interior style? Has it evolved over the years?
It's a good balance between minimal and eclectic. I think we have always been color loving minimalists but now we are more inclined to collect pieces that we love regardless of era, decade or design.
Did you have any design inspiration that really drove the direction of your home?
We are inspired by so many designers and eras and wanted to kinda mix everything we love into one. We love the restraint Dieter Rams has in his approach to his designs and his home as well as the beautiful worldly maximalist outlook that production designer Violante Visconti de Madrone created on the film Call Me By Your Name. The mix of the two; very minimal functional design and lots of fun objects from travels and elsewhere is what we aimed for.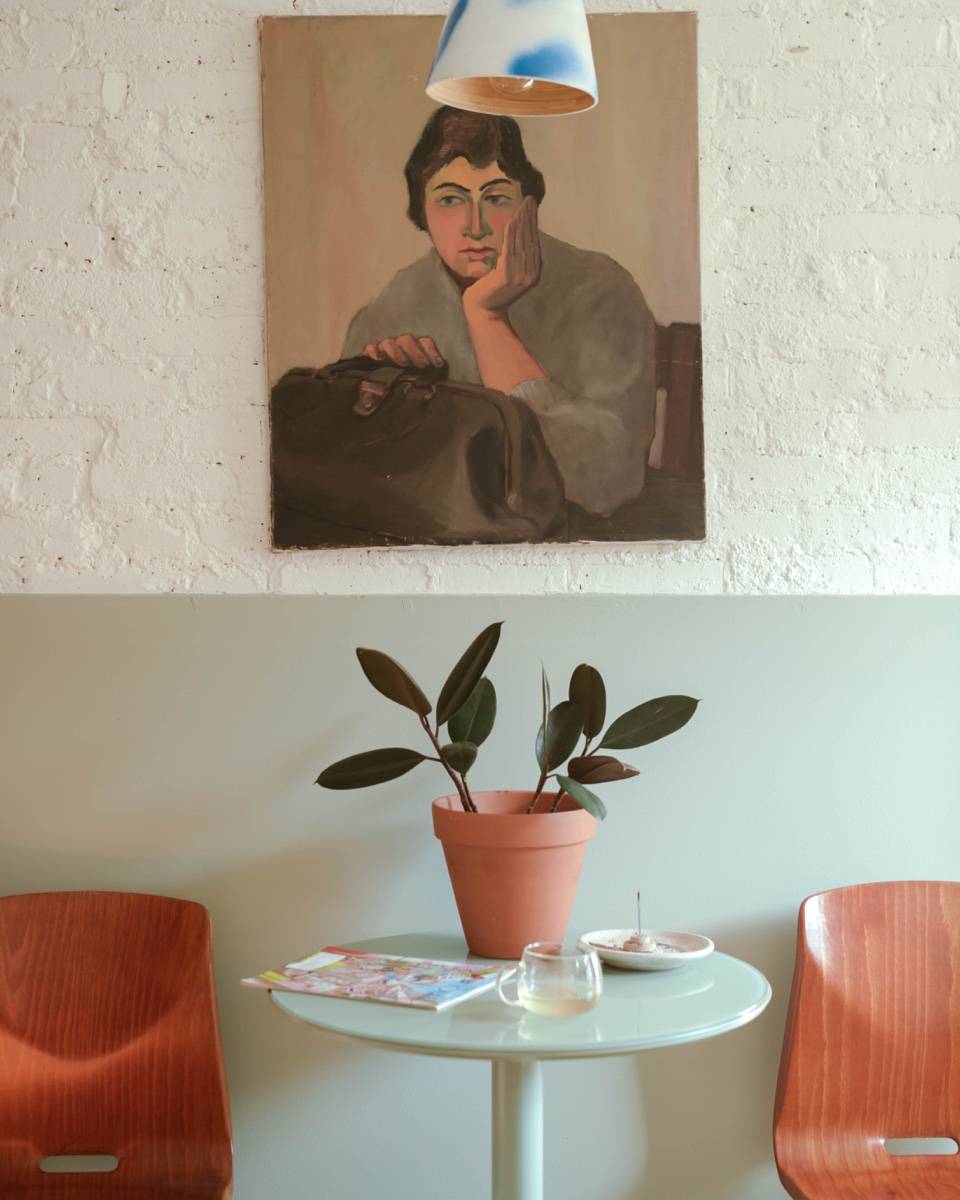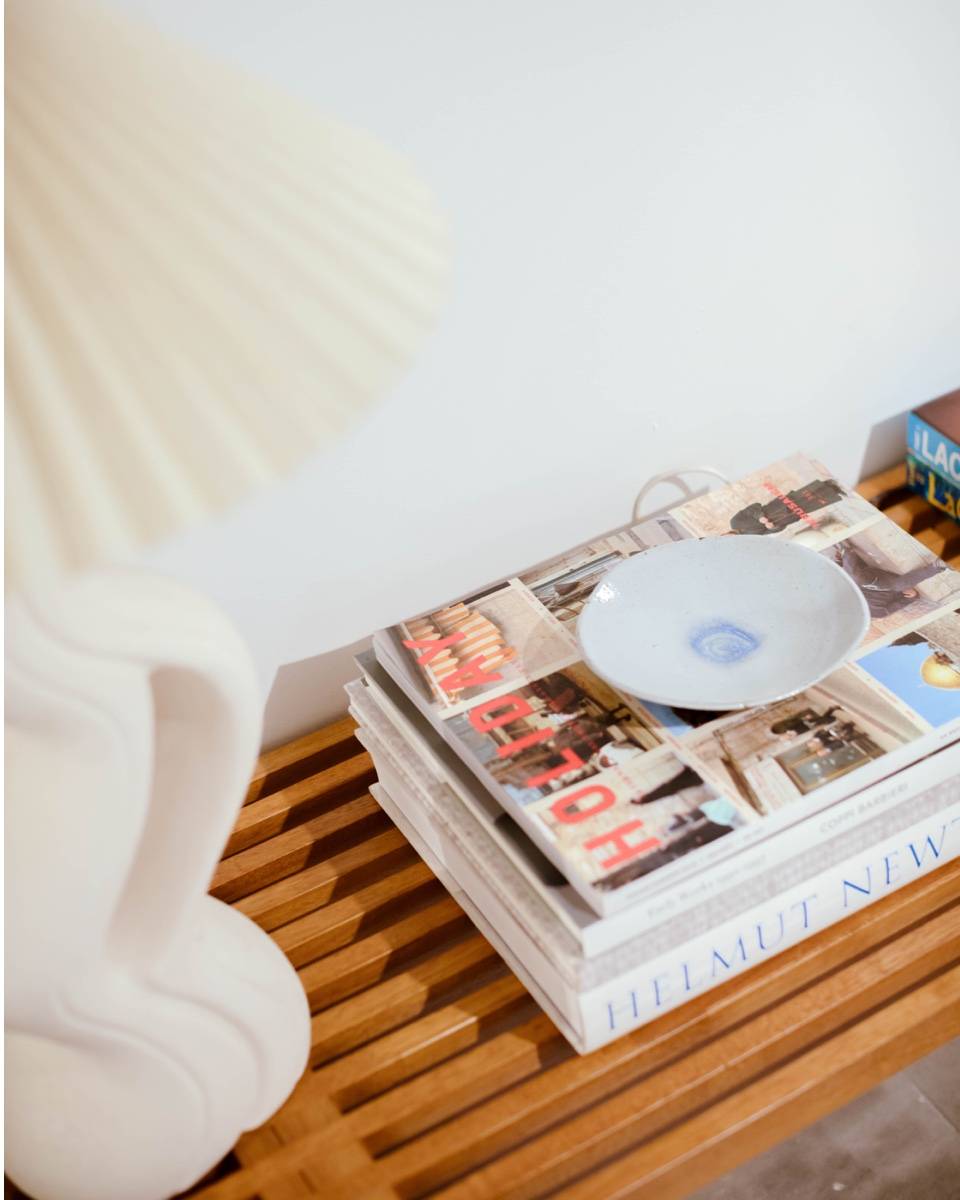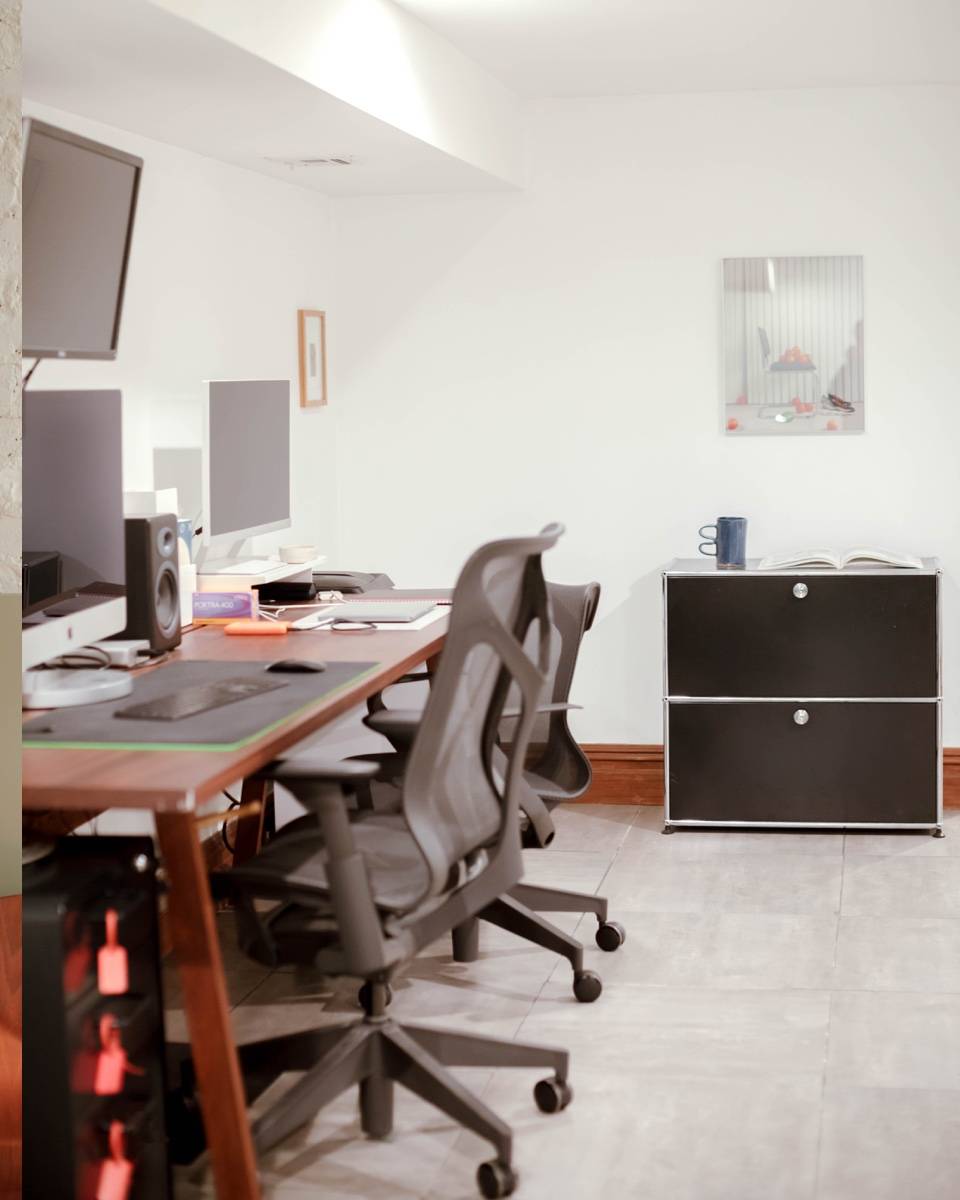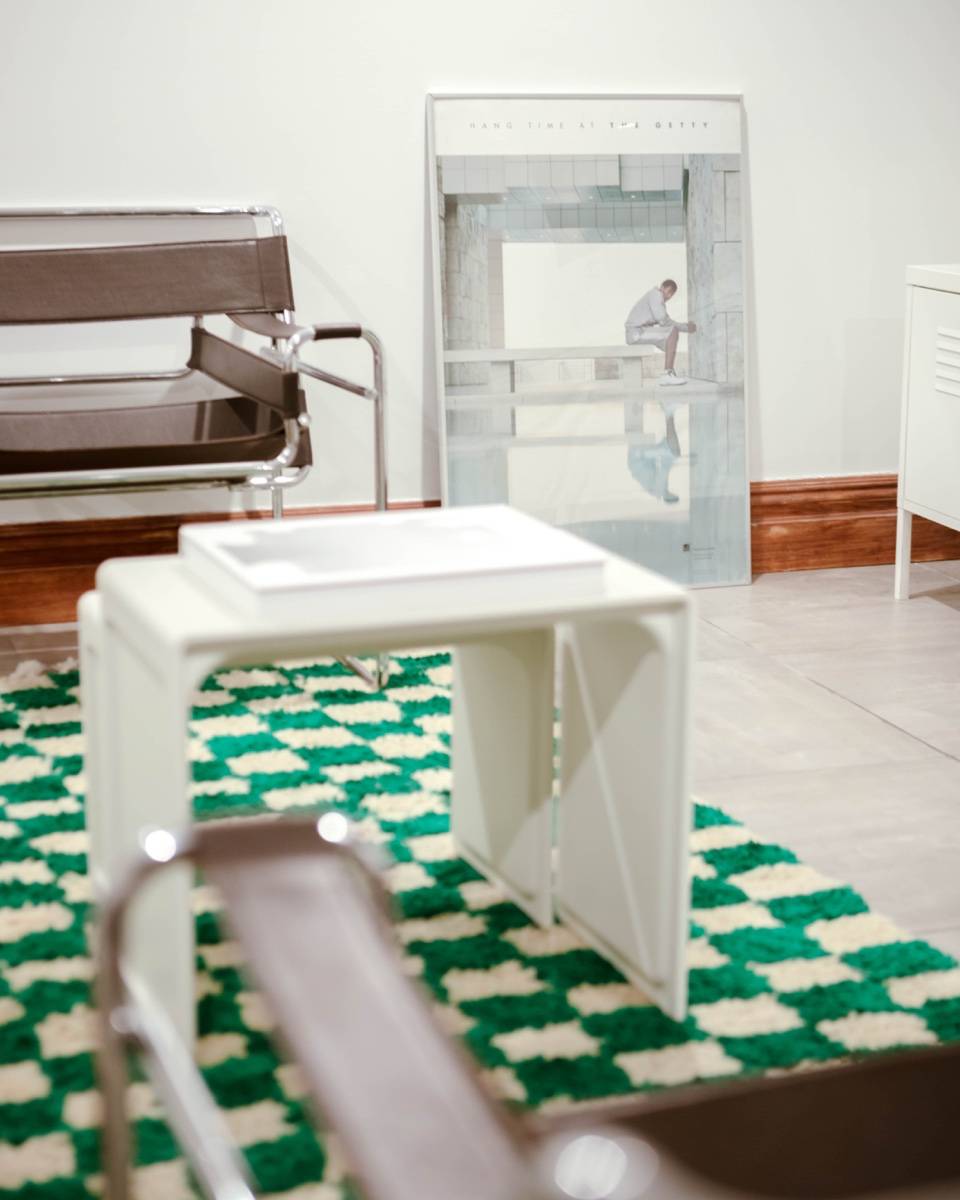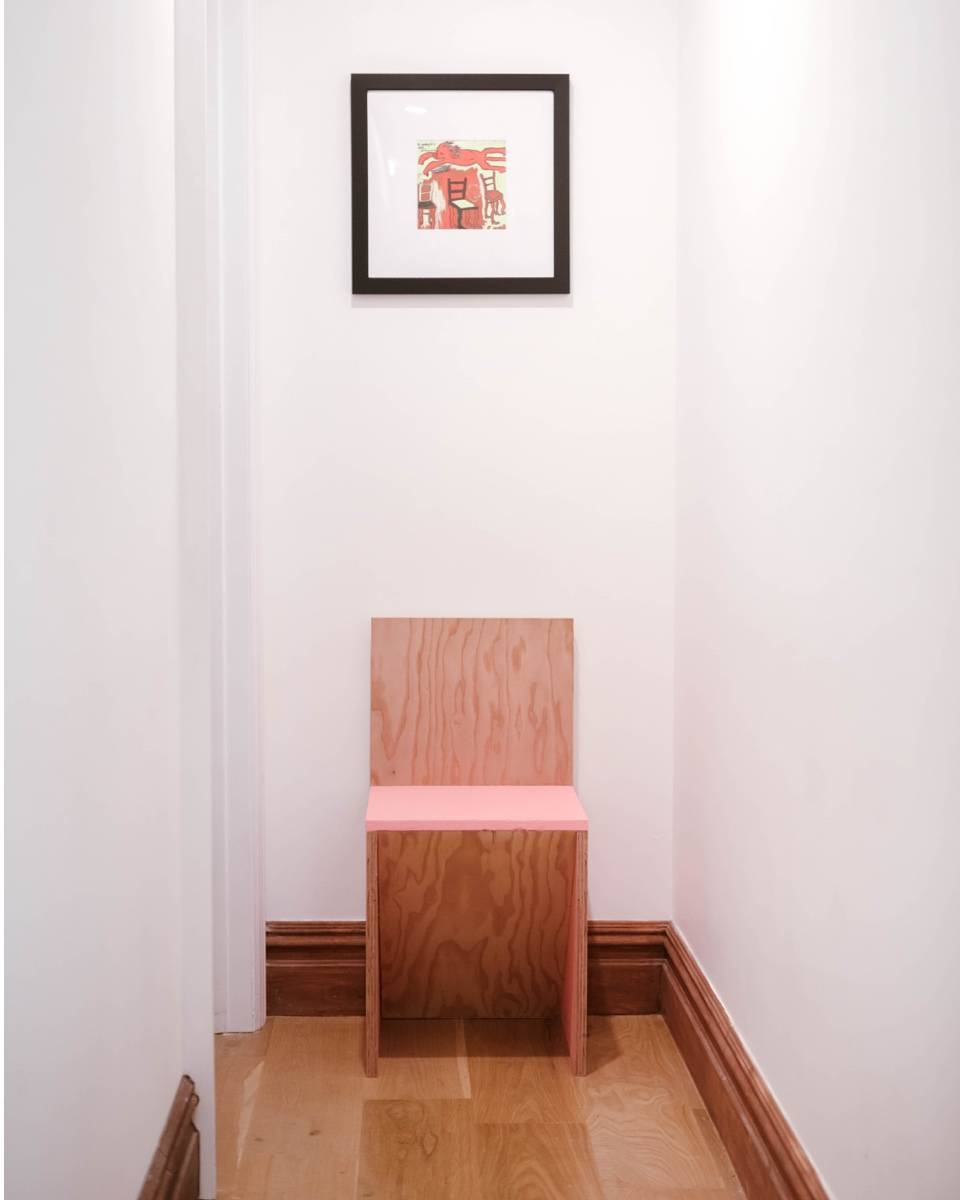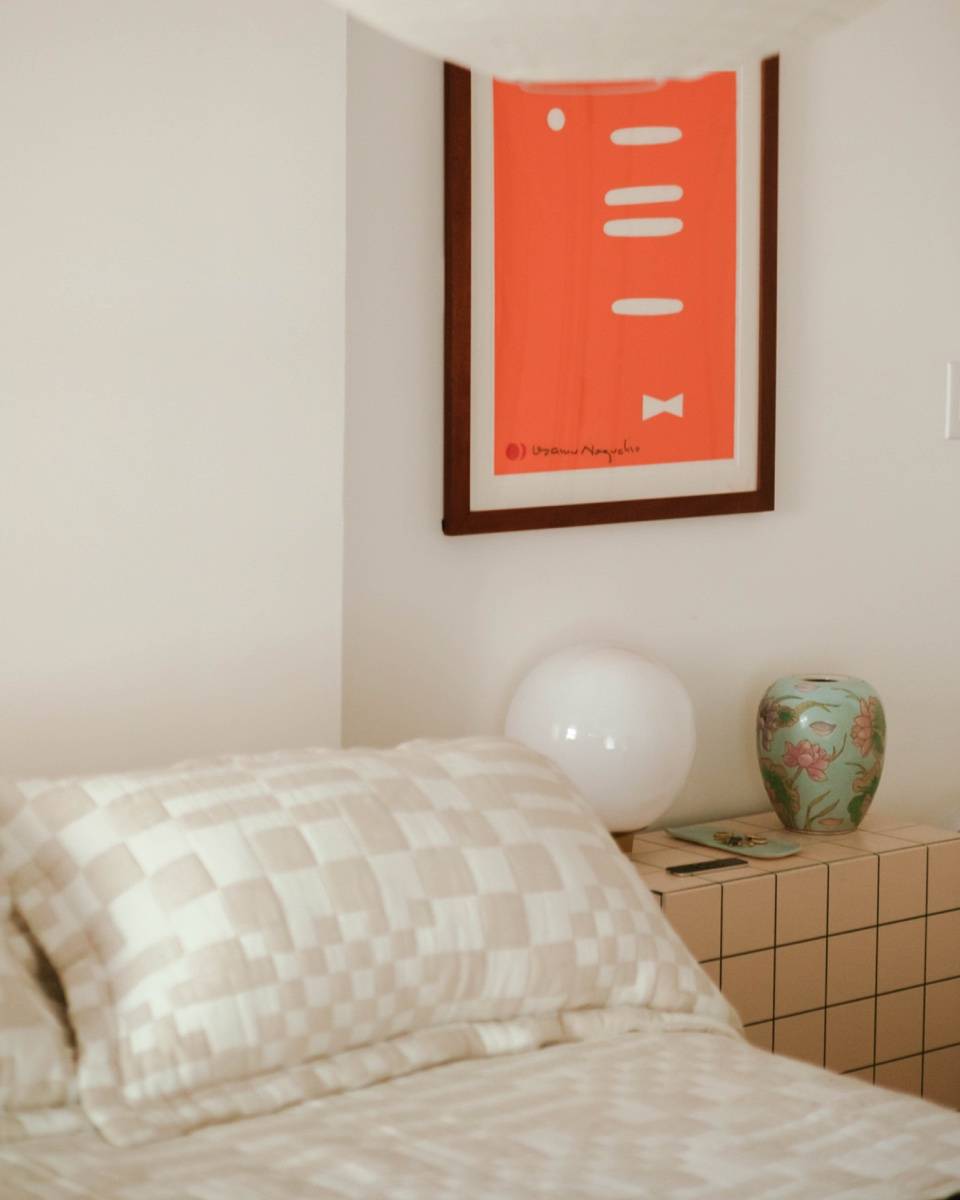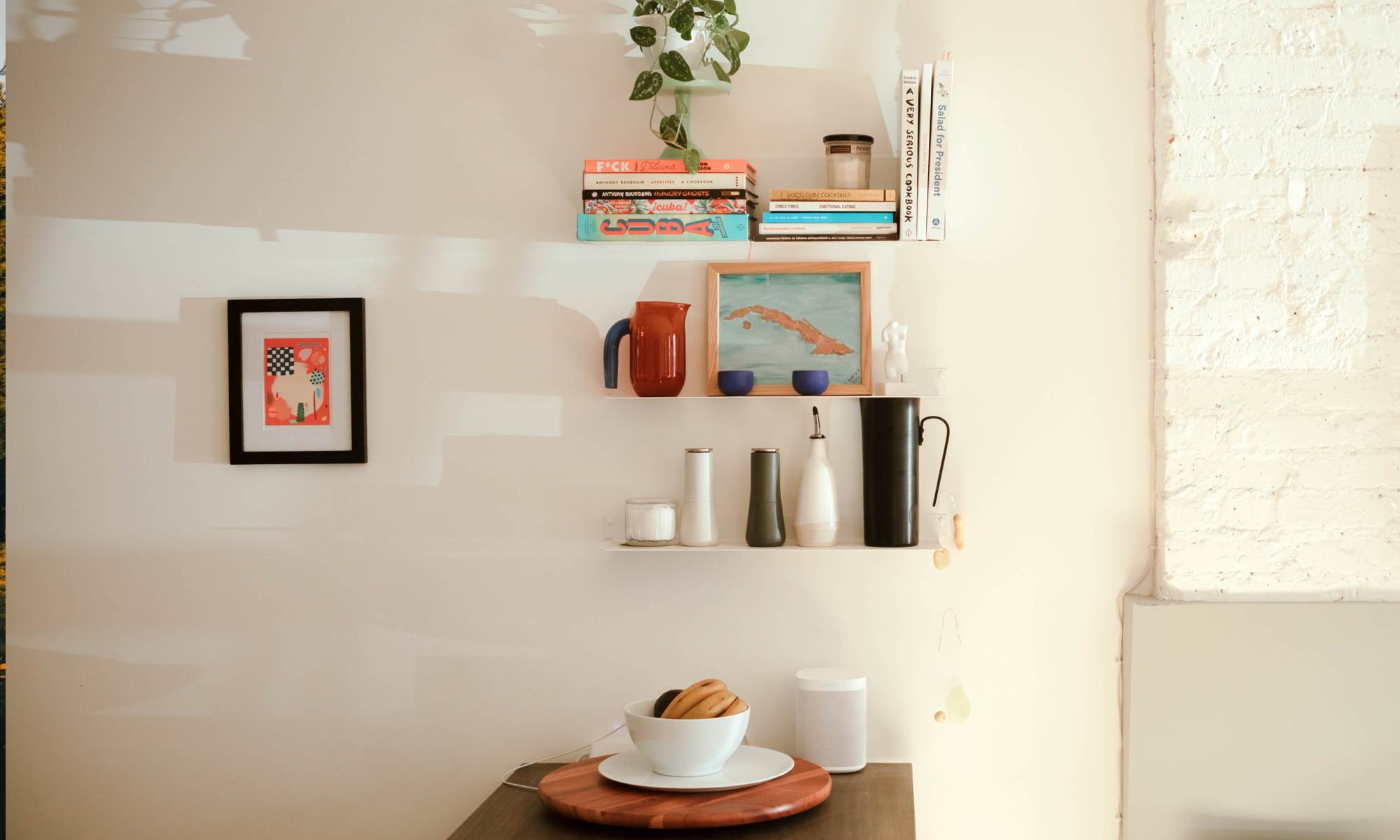 Did you approach the apartment as a cohesive unit?
It was a challenge to keep the entire apartment cohesive. Our top floor has natural light while our basement has no windows so we approached them quite differently.
We wanted the top floor to feel peaceful and warm so we filled the space with plants, soft subtle patterns and warm woods, it's still colorful but a little more subtle than our basement, which is where we play with more color, harsher lines and textures such as chrome and checkerboard. We work and watch films there, so we wanted it to feel more industrial and boutique-esc.
How much change and experimentation do you do?
It's still very much a work in progress, as we live in the space, we are constantly rearranging things to feel what's right. We are such visual people so our layout changes weekly just to keep it interesting!
Did you bring any favorite pieces from previous spaces?
One of our favorite pieces we brought with us is our work desk, it's custom made out of African mahogany by a friend who's a carpenter. It's approximately 8ft long so we can work on it at the same time.
There's also a leather butterfly chair I bought on a trip to Sri Lanka that was hidden under our bed in our old apartment for so long. Luckily, we now have space for both these things.
How does your home reflect your work?
Oh, definitely! Since we are both in the photo and film industry we have lots of vintage film posters and photographs from people we admire. We love going to galleries and wanted our house to feel like a mini (lived in) museum, where everywhere you look there's some type of art.
Could you tell us a bit about your art collection? You have so many interesting pieces.
It's definitely a growing collection! We love being surrounded by art in all forms. It's a mix of things we've found traveling, or friends have made, and scores found from online auctions.
One of my favorite pieces is this Alexander Calder drawing I won at an estate auction. The painting of a woman that hangs in our cafecito (coffee) room was from the 40th page of an Ebay search on portraits. We also have a layered mirror piece that forms the symbol for Thursday in Japanese from our friend Sho Shibuya.
There's a few drawings we acquired from galleries in London and Copenhagen that are hanging around. A large photograph from the photographer Yumna Al-Arashi hangs in our foyer; It was a gift from a friend.
Do any of your favorite pieces have an interesting story?
There was a coffee shop called Relationships in my neighborhood that I loved to visit. I obsessed over the blue speckled pendant lights that hung above the counter. I even took a photo one time in hopes that I could make something similar. Unfortunately, the cafe closed down during quarantine last year and the owners mentioned via Instagram that they were selling everything including the furniture.
I woke up early the next day, made a very long line and once inside saw one of the pendant lights tucked in the corner. I bought it and it now hangs over the Ebay painting. It's a sad story but I love that I have a piece of a once favorite spot in my home and it won't be forgotten.
What's the last thing you added?
The bookshelf in our basement. We had so many books and random objects and had them spread out in previous spaces so we really wanted them to live somewhere collectively.
What are some of your favorite sources of inspiration, generally?
Vintage interior design books, Nowness' in-residence series, and art museums.
What makes you feel most at home when you walk in the door? Is there anything you can't feel at home without?
Candles, lots of candles. We love our home to smell nice throughout.
What's a favorite memory you have in your home?'
Our first snow in our new apartment. The backyard was a mini winter wonderland, Matisse (our dog) thoroughly enjoyed it too.
Images by Vanessa Granda.