Ross & Anna's Bohemian Asheville Home

A couple designed their eco-friendly house from scratch.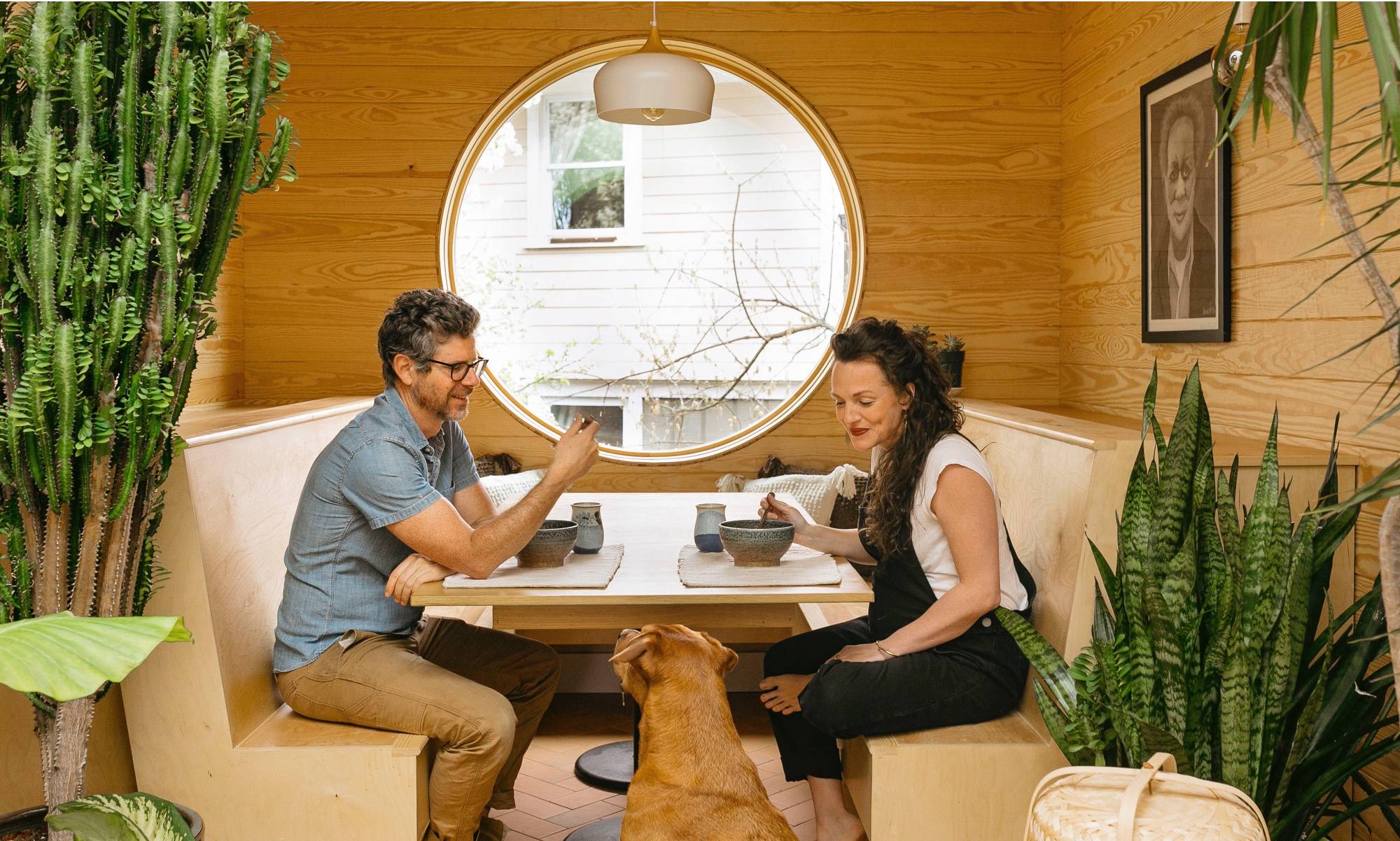 ---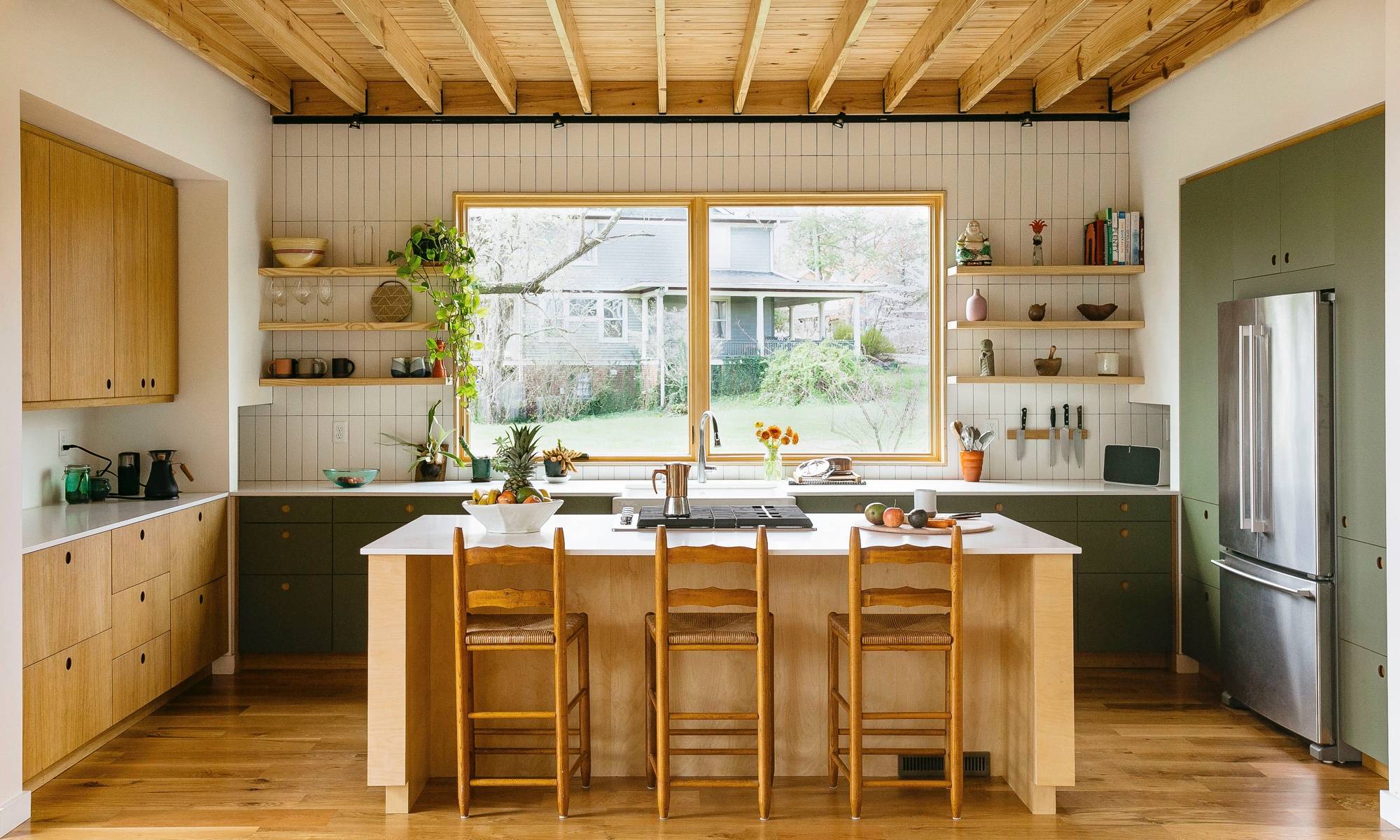 ---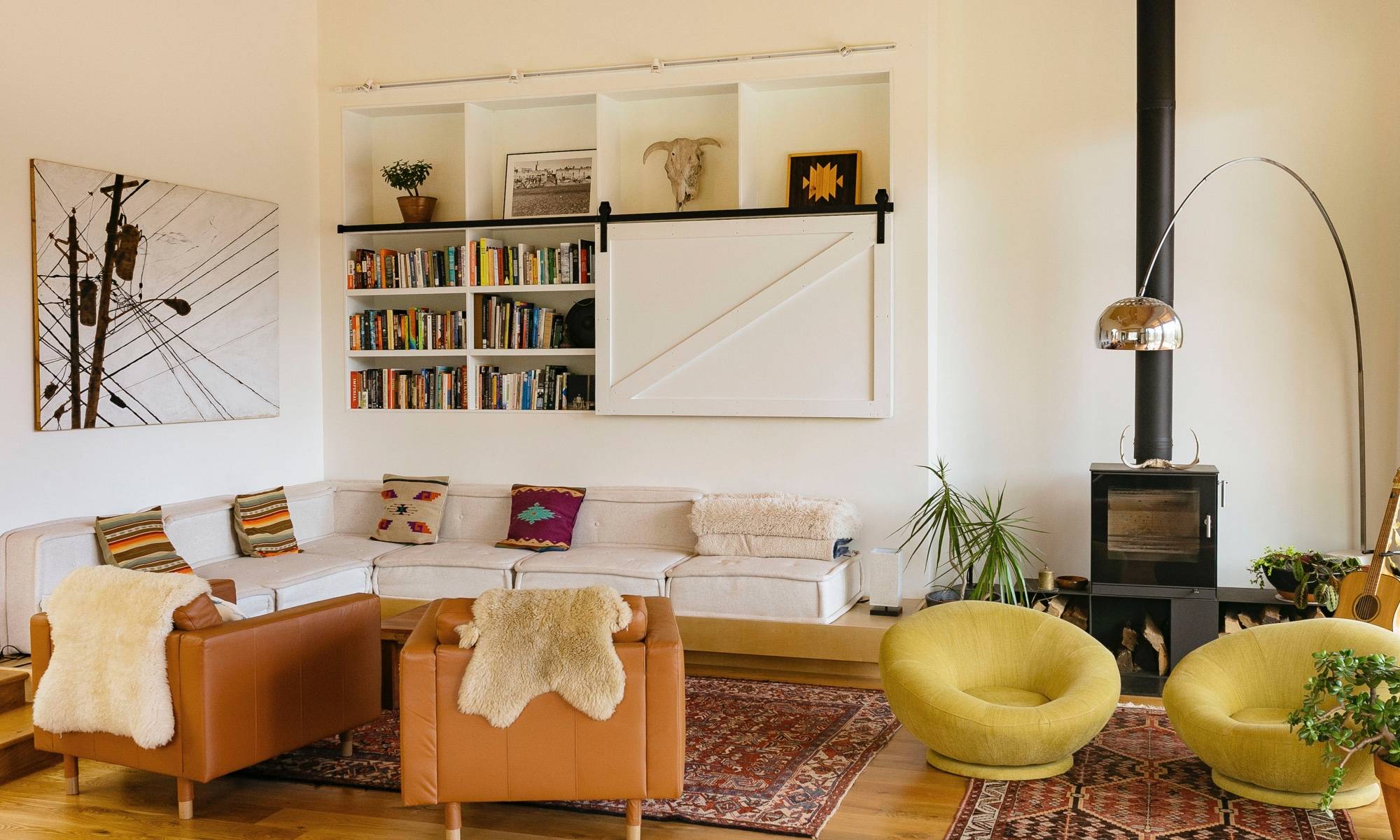 ---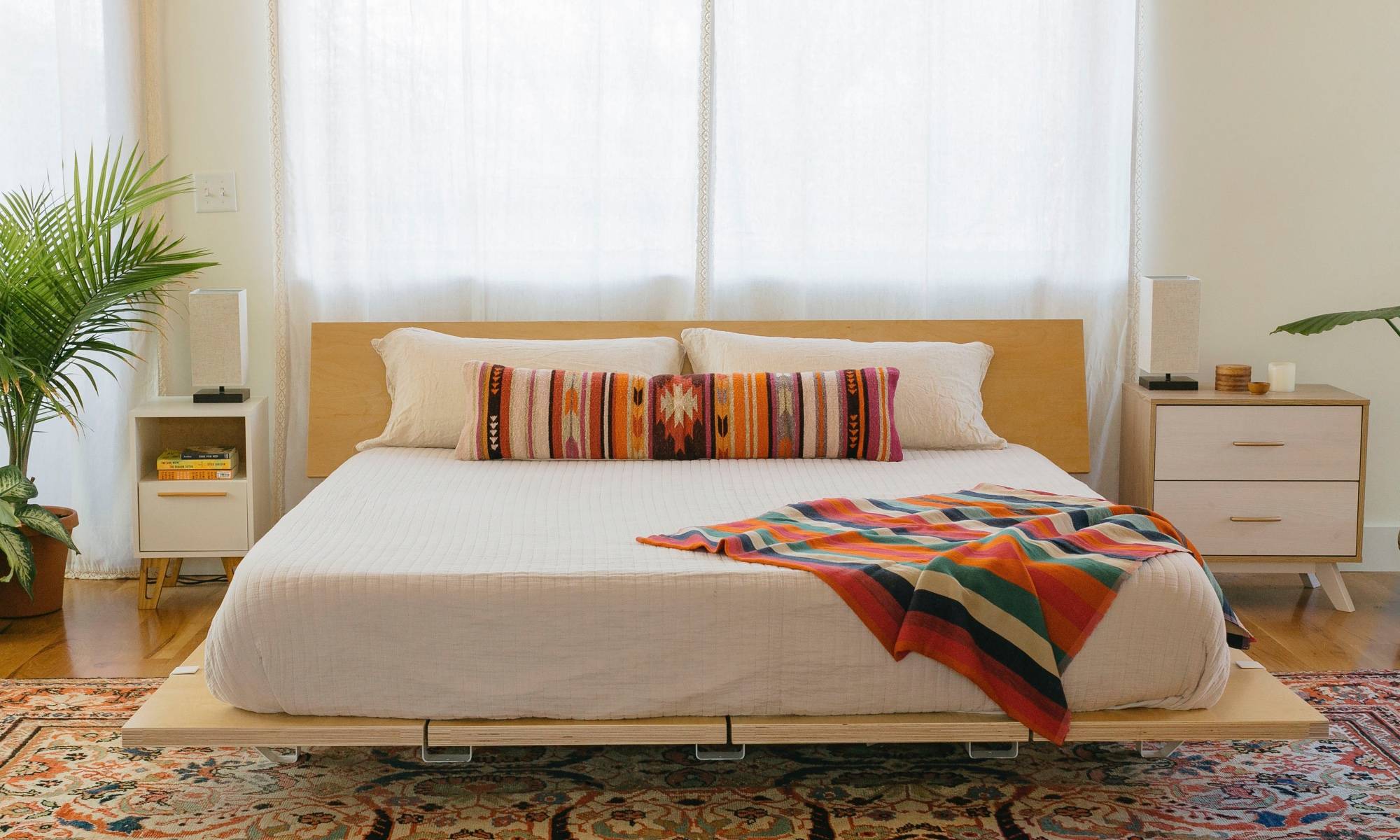 ---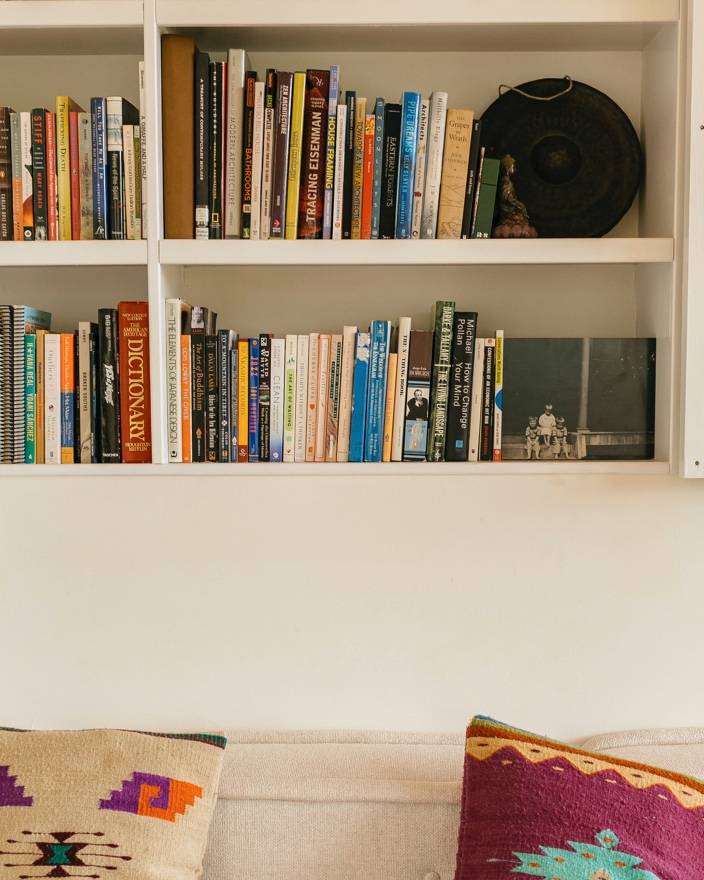 ---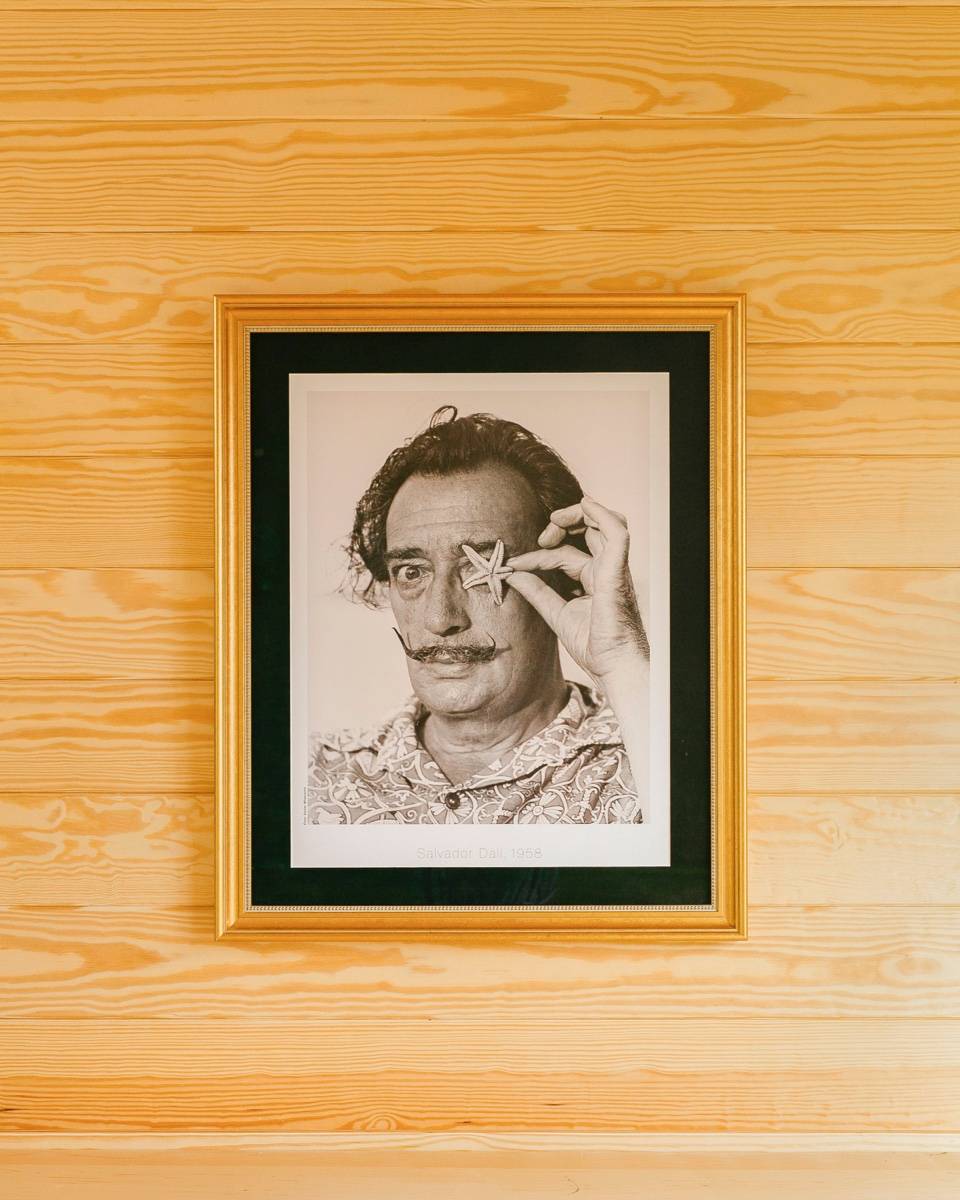 ---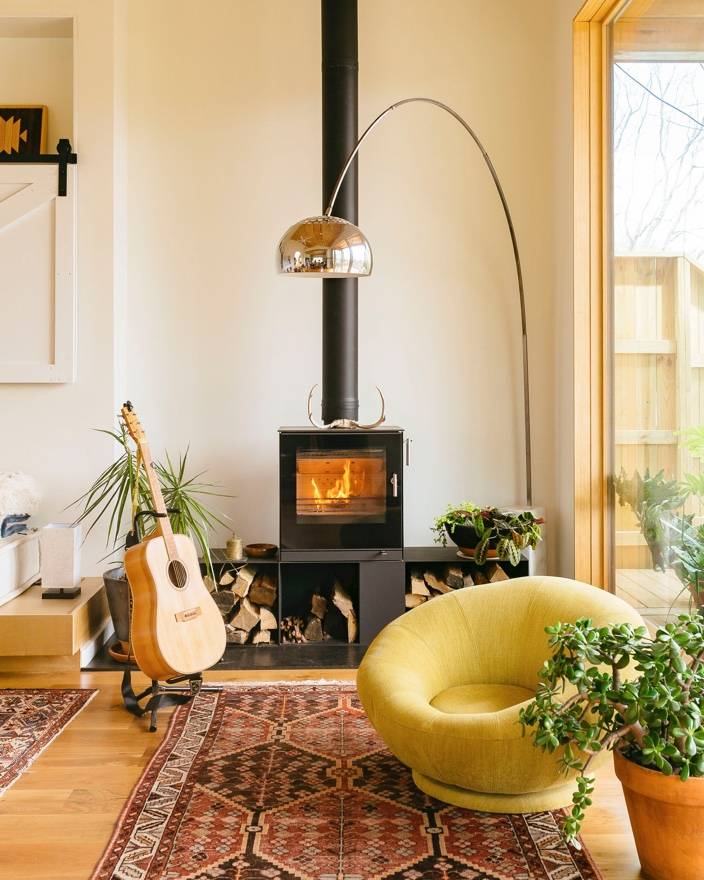 ---
One look at Ross Smith's home reveals his talent as an architect. Inside the Asheville home he built for himself & his wife, Anna, bold forms and volumes add drama to an intimate living space. The home has a bohemian spirit — pulling from an eco-friendly, Californian sensibility, but incorporating elements that speak to Asian and Mediterranean influences — that fits right into Asheville's character.
Before social distancing began, we were welcomed into their beautiful space, and afterwards spoke to Ross about how building his own home became the ultimate exercise in thoughtful design.
From clever built-ins to a natural cooling system, every detail of the home was created with efficiency and beauty in mind. We spoke to Ross about his inspiration for the space, how he made decisions during the build, and how he managed to create a cohesive design from such eclectic influences.
Introduce yourself!
My name is Ross Smith and I'm a licensed architect and contractor. I'm the founder and owner of Assembly Architecture + Build, based in Asheville, NC. My wife (Anna Welton, who is an NC native) and I have lived in Asheville for about five years.
We moved here from the Bay Area, where I worked for an architecture firm for several years. After tiring of the computer-relegated processes of architecture in this day and age, I decided to branch out in the Bay Area and cut my teeth as a builder as well.
By marrying the architectural and build processes, I found a career that truly sustains me. The more complex and artistic nuances of architectural design paired with the daily satisfaction of working with my hands to deliver a built object have proven to be a really good balance for me. It was from that combination that Assembly Architecture + Build was born.
Could you tell us about your home?
I built this home with a couple of friends in 2019, and have lived in it for just under a year with my wife, Anna. Much of the design process was a collaborative process with Anna, who has strong design instincts that balance my modern and efficiency-driven approach to architecture.
Anna works at a college in Asheville as the director of international programs, and she spent several years living in Japan and Latin America where some design influences definitely rubbed off on her. She is drawn to bohemian spaces filled with sunlight and plants, with old reclaimed touches, natural finishes, and more whimsical elements like arches or earthy tile.
My own design aesthetics are more clean and modern, with strong attention to environmental efficiency and also an appreciation for 1970's architecture and an undeniable affinity for the architecture of California, where I lived for over a decade.
Particularly my fondness for Sea Ranch you can see evident in the home's exterior and the wedge shape of the home, with the shed roof. I think our complimentary tastes balanced out really nicely in this home, and it was a fun project to navigate together.
My wife joked that she wanted me to build her a "modern Spanish Japanese cabin with 70's vibes." I joked back that I would have been kicked out of architecture school for muddling all of those influences… but in the end, that's kind of what we co-created. And weirdly, it works.
What did the process of building your home look like? Did you have any particular sources of inspiration?
I took about three months for the design phase, which felt pretty fast considering the fact that I would have to live with every little decision I made so the pressure was on. A couple of close friends in Asheville helped with the build, but I sub-contracted out a lot of the specialized work like electric and plumbing. All in all the build phase was about 10 months. We moved in in August of 2019.
The sources of design inspiration were pretty motley. As I mentioned before, Sea Ranch was definitely a source of inspiration. The wedge shape of the house is reminiscent of Sea Ranch, with the exposed wood siding and shed roof.
I also included a sunken living room/kitchen area, which is a nod to the conversation pit phenomenon that you see in a lot of California homes from the 1970's. We centered the house around a light-filled atrium with soaring arches, terra cotta tile floors, operable skylights, and a ton of plants, which was my wife's request and took influence from the old classic Spanish courtyard.
We also included a keyhole arch that separates the public side of the house from the private, which is a traditional Japanese architectural feature. I really suspended my purist tendencies to be open to a hodge-podge of influences, and I'm glad I did. There is a playfulness to this space that lives well and brings the modern vibe back down to earth.
The other main source of inspiration that drove the design of the house was environmental efficiency and the "chimney effect" that I've seen in some green architecture. We stacked the double-height atrium over the basement opening at the core of the house and included operable skylights so that in the summer, you can create a chimney effect where you pull cool air up from the basement and let hot air rise and release from the skylights.
I'm pretty amazed by how well this scheme works, and how little we need to use our central AC in the warmer months. We also have a farm of solar panels on the roof, so our energy is largely self-provided.
Did any of your initial design choices change during the course of the build?
On the whole, no they really didn't. I'm somebody who likes a detailed plan and then likes to stick to it. Any changes that were made during the build were very minor.
One example of a change we made was including the keyhole arch to separate the private space from the public, rather than just keeping it as a classic arch. That was a gametime decision that we waffled on for about a week, but in the end I'm glad we included it.
Do you find that you planned the interiors after the architecture, or did you envision them when you began designing the building itself?
I would say that the majority of the interior design we conceived of during the architectural design phase. The interior really informed the exterior, and vice versa. For example, we knew we wanted a big built-in 70's style sofa, so we created a sunken living room and kitchen area to accommodate. We also knew that we wanted a warm and light-filled space for all of our plants, so we decided to center the entire house around that atrium rather than tagging on a disjointed sunroom.
What are some of your favorite design choices?
The wood burning stove (made by Rais) has proven to be one of the best things about living here. We struggled between including an open fireplace or a wood-burning stove, but ultimately went with the stove and we are glad we did.
The efficiency of the stove and modern profile have worked really well in this space. We spend a lot of evenings sitting in front of that stove reading in our bucket seats. We also have been really happy with the built-in bookshelf in the living room with the sliding barn door; that was my wife's idea to conceal the television, and it works really well.
The big bright central atrium full of plants has also been such a highlight. The terracotta tile floors work really well and make watering the plants easy, and the whole space gives off a warm and vibrant feeling even in the darkest days of winter.
The wood clad dining nook is also really sweet, and provides a warm and intimate space for dinner parties and long wine-fueled conversations with friends. And then there is the outdoor clawfoot bathtub… it really elevates our daily life in such a nice way. Bathing outside with a wall of trees around you when you live in the middle of town is such a rare privilege, and we use it a ton.
Last but not least, I would say the master bedroom has proven to be one of our favorite spaces in the house. We worried that the palatial 18 foot ceilings would take away the feeling of intimacy that you typically want in a place of rest, but they have actually turned out to be perfect. There is a lofty, open, bright feeling in the bedroom that helps lift us out of bed each morning.
Did you furnish the home from scratch, or did you bring in pieces you loved from previous spaces?
We were on a pretty tight budget so a lot of the furniture was brought from our previous house, but in some cases we were forced to start anew because we had only ever lived in 100+ year-old houses previously and our furniture was all hand-me-down antiques from my wife's family.
This house definitely asks for more modern, stream-lined furniture. We were able to still use some of our old, well-loved pieces (especially all of the oriental rugs) but we made a few key purchases that helped us modernize the feel of our furnishings, like the sofa cushions for the built-in couch, the bucket seats for in front of the woodstove, and the Floyd bed.
How does your space reflect your daily life — are your hobbies & interests part of your living environment?
Our space feels incredibly well-aligned with our daily life and our interests. We both cook a lot, so having such a spacious kitchen that flows into the living space seamlessly allows us to hang out while we cook or hang out with friends.
We also both have green thumbs, so having so much bright space for plants has been really nice. We also were very intentional about connecting the house to the outdoors in a way that flows naturally; the generous front staircase spills onto the driveway and the big adjacent field, allowing us to stumble out the door and right into nature with our dog, Boone.
We have a lot of picnics in the field (especially in the age of coronavirus) and we also spend a lot of time on the back deck, whether it's lounging in the sun or taking a bubble bath at dusk.
What's the story of some of your favorite pieces?
One of our favorite elements of the house are the old refurbished front doors, recycled from an old storefront in the late 1800's. We found them in an architectural salvage yard outside of Asheville, and my wife became hellbent on using them.
I was nearing the end of the architectural design process and had designed the entire first floor with 9 foot ceilings (where there weren't double height spaces), so in order to incorporate the doors I had to redo the design to lift the ceilings everywhere. It was a pain at the time but so worth it in the end. The massive doors are the first thing you experience when you enter the house and give a lot of character to an otherwise modern space.
We also love the kitchen cabinet faces. They are made by a company out of Copenhagen called Reform, and are designed to fit on Ikea interior cabinets. We love the sunken round handles on the drawers and cabinets. Every time a baby boomer sees them they ask why we haven't yet attached the kitchen hardware…they can't seem to wrap their head around this design choice. But we love the clean aesthetic.
What's the one thing you'd rescue in a fire? (Other than family & pets, of course).
We are pretty wildly attached to the Peruvian apple cactus that stands by the front door. It has been with us for many years and is basically a family member by now. Either that or the beautiful handmade guitar that my best friend Will Bright, who is a luthier, made for us as a wedding gift. That guitar is probably the most beautiful object in the house, both in appearance and sound.
Is there anything you think the space needs that you haven't yet added?
A nursery! We have our first baby on the way, due in early July. We've been dragging our feet with turning the guest room into a nursery but are starting to work on that now.
What are some of your favorite sources of creative inspiration?
I pour over old architecture books on a daily basis. A few of my favorites are Yes is More (Bjarke Ingles), Delirious New York (Rem Koolhaas), and A Treasure of Contemporary Houses (published by the Architectural Record).
Another source of inspiration for me is traveling and witnessing vernacular architecture, wherever I go. Particularly Southeast Asia, Copenhagen, and New York are places that have really grabbed my imagination and provide endless food for thought.
What makes you feel most at home when you walk in the door?
Being greeted by our dog, Boone, has definitely become one of the happiest parts of our daily life. More so than I ever could have predicted. I would also say plants and books are essential elements to make our house feel like home.
What's a favorite memory you have in your home?
Weirdly enough, the time we've spent at home during the quarantine because of COVID-19 has been a really special time that I think we will always remember fondly. Slowing down and taking the time to appreciate our space, our marriage, and our last few weeks as we prepare to become new parents has been such a sweet silver lining during what is otherwise a really difficult time. We've taken time to do the things we love, and we've gotten to admire the home we've created in it's full spectrum of 24-hour intervals.
I think a physical space really can impact the human spirit, psyche, and daily habits. We feel incredibly lucky to be hunkered down here, trying to put our best selves forward and to learn from the slower cadence we've all been forced to adopt.