We started Floyd almost 7 years ago out of our own frustration with disposable furniture. That frustration became the inspiration for our mission: to change the way people consume, keep, and enjoy furniture. Because the average household isn't keeping their furniture for the long haul.
The graph below illustrates how furniture waste in landfills has grown 2.5x the rate of US household growth since 1960.
---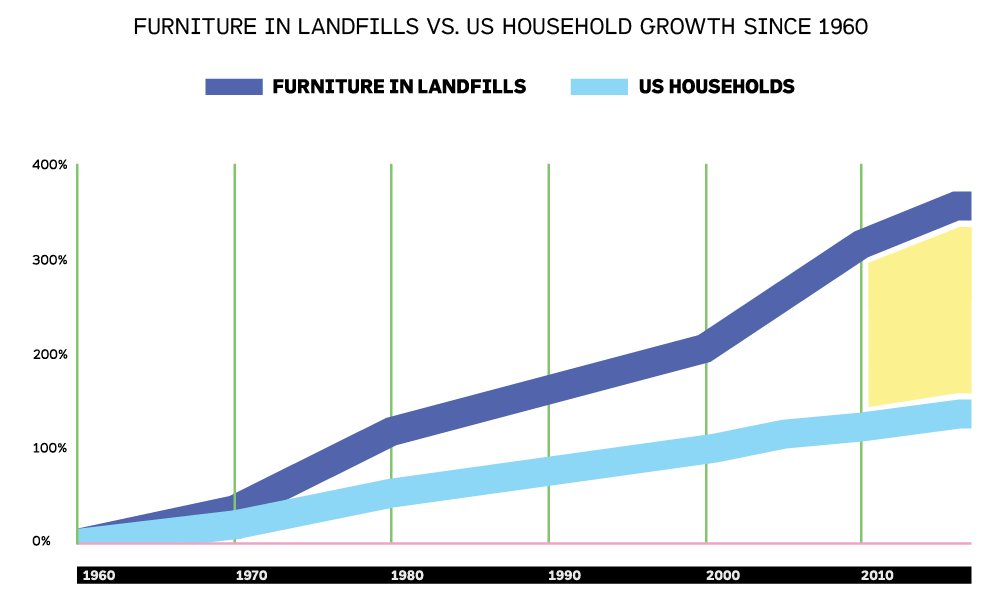 Furniture waste since 1960 has grown 2.5x faster than households in the US.
---
From the start, we felt that the most sustainable thing we could do was design products that people will keep. Furniture that won't deteriorate when moved, or follow trends that go out of style in a few years. Pieces designed to be serviceable, making it easy for customers to replace parts over time if necessary. And manufacturing sofas, tables, office furniture, shelves, beds and other homegoods in the US, closer to our customers, to reduce emissions caused by excess transportation.
With the environmental crisis more pressing than ever, we took a hard look at our commitments and how we can set the bar higher for Floyd. Below you'll find the five big sustainability goals we've set out to accomplish by 2025.
Our 2025 Sustainability Plan
1. Launch The Floyd Resale and Refurbishment program to extend the useful life of our sustainable furniture.
2. Ensure 70% of material comes from either recycled or renewable sources.
3. Minimize packing materials and eliminate single use plastics.
4. Use 100% FSC certified wood across all products.
5. Measure, disclose, and reduce greenhouse gas emissions across our supply chain.
As always, we'd love to hear your thoughts and ideas about creating eco-friendly furniture and other sustainable business practices as we build a better future for our home planet. Email us at hello@floydhome.com.
This widget makes post narrow
This will be hidden in site