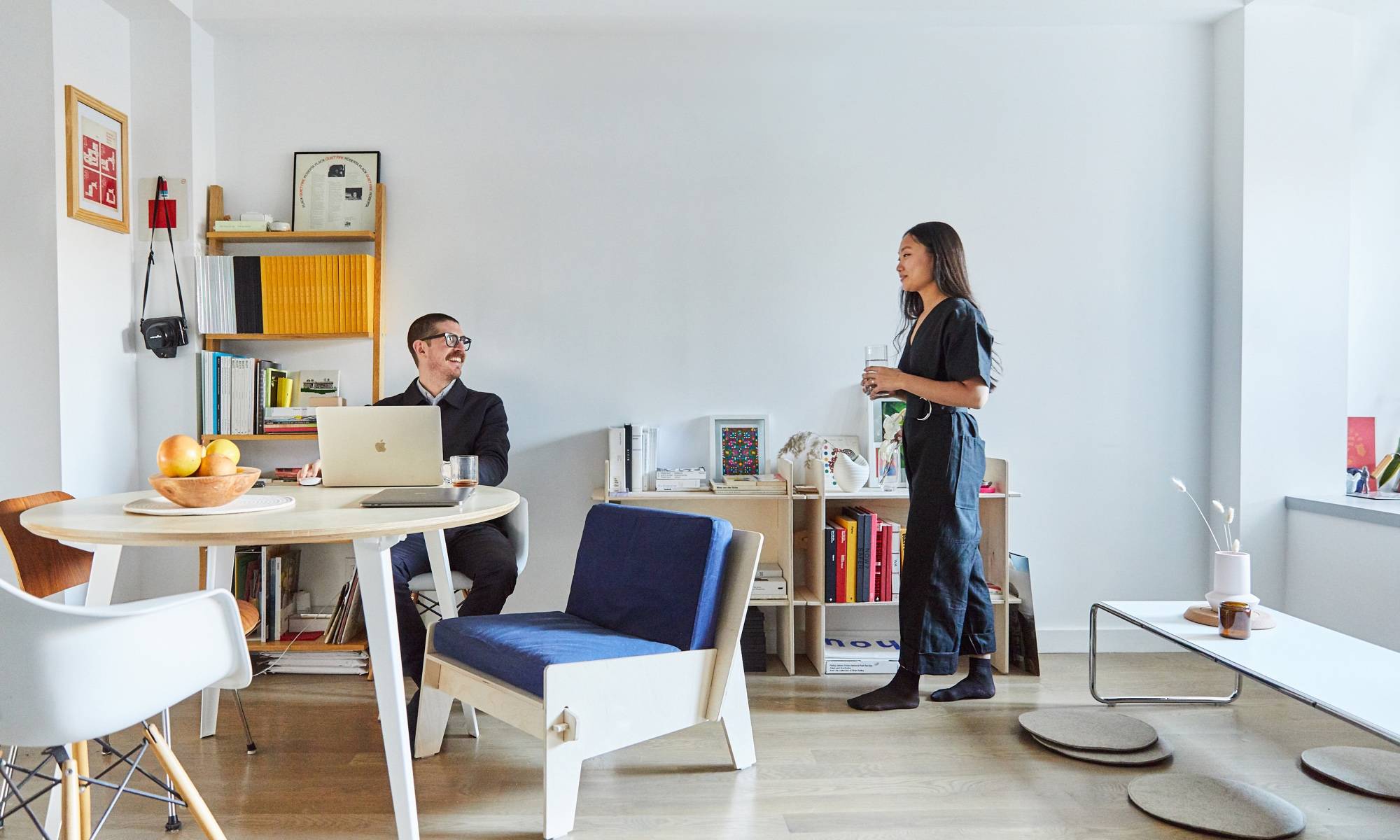 Estee & Jesse's Gallery Inspired NYC Apartment

Two creatives thrive with visual simplicity.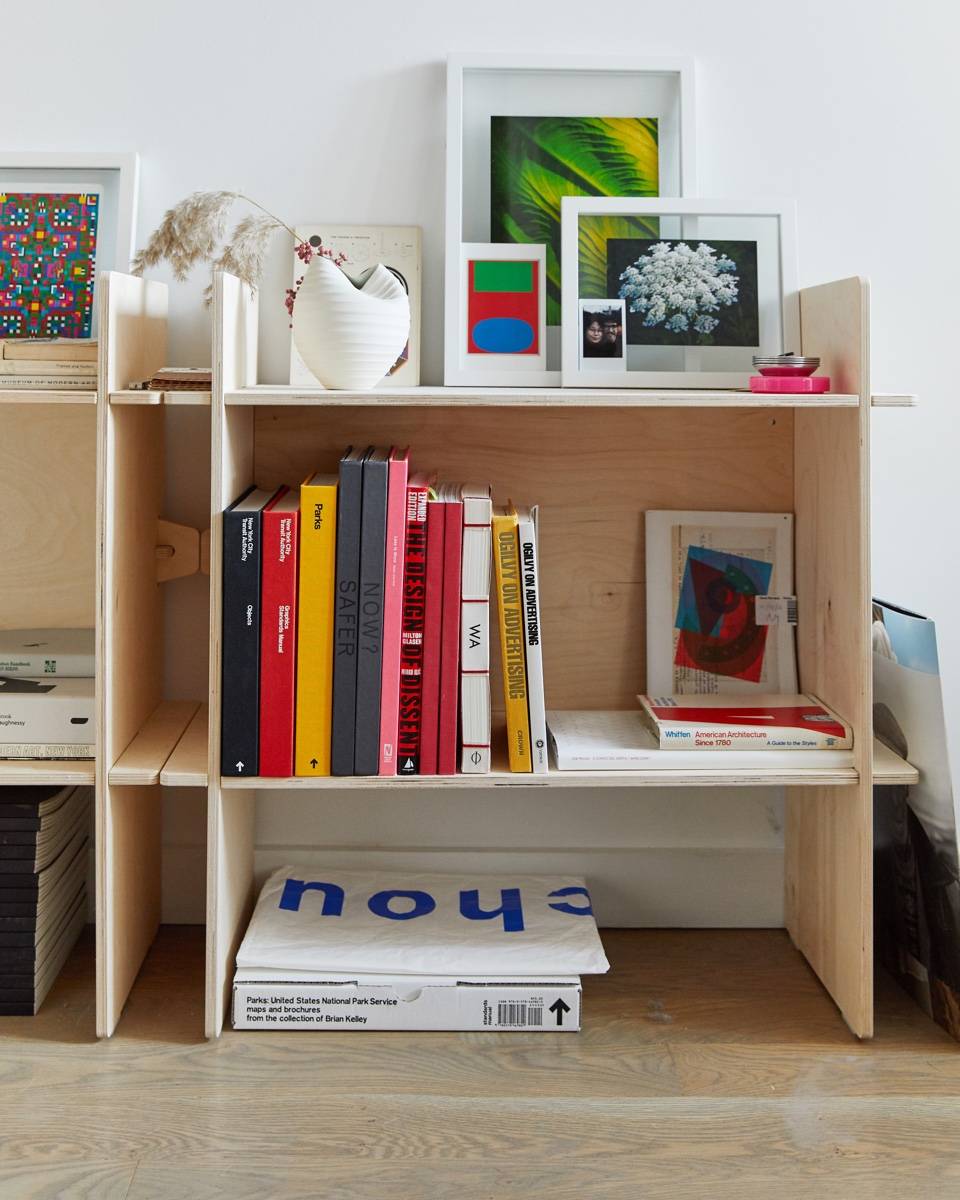 ---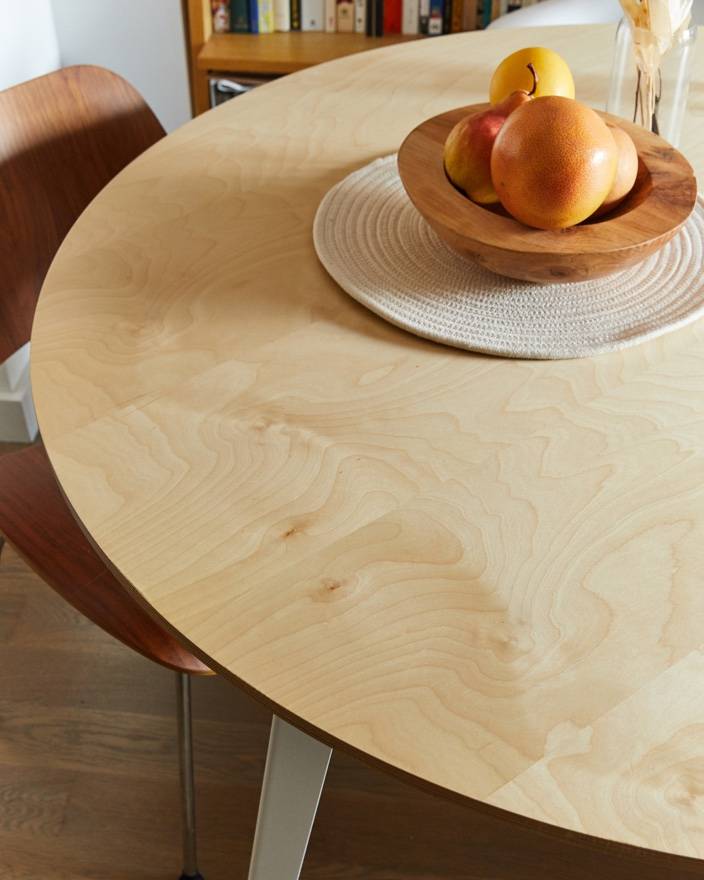 ---
1. Jesse's Standards Manual books & favorite pieces. / 2. Wood tones provide texture in the minimal space. / 3. Jesse worked on Floyd's brand standards.
Design power couple Estee Kim and Jesse Reed have a finger on the style pulse. They each spend their days on graphic design projects (Jesse worked to design the Floyd brand standards, in fact), so it makes sense that their home serves as a "museum" of their work and the work of others they find inspiring.
Like a gallery, white walls allow the couple's favorite collections of books, art, and ephemera to pull focus. A curated modern furniture collection and a set of cement-block steps anchor their art and create a soothing, minimal vibe. We spoke with Estee about the space and the way both her and Jesse's art has influenced their taste for creative decor.
Introduce yourselves!
Hi, our names are Jesse Reed and Estee Kim (Jestee for short!). We're both graphic designers. Jesse is a partner at his branding agency, Order, and independent publishing imprint, Standards Manual. I'm an associate creative director at a digital agency, Wondersauce, and co-run a nonprofit organization called Tabula Rasa Magazine. We live in Brooklyn.
Tell us a little bit about your home.
The apartment borders Bed-Stuy and Clinton Hill and is located in a contemporary, industrial-style building.
Did you fall in love with the space the first time you saw it?
We've been in New York for a little over ten years. I've lived in Bed-Stuy for six years and love it here already. It's a special place with diversity and a deeply-rooted heritage.
When I first looked at this apartment, I fell for the size and design. It's nearly a perfect square graced with generous white walls. I grew up in a small modest family and have always preferred spaces that weren't abundantly large.
Were you worried about anything in the space, before living there?
Upon first blush, I was curious about what we could do with the alcove. Jesse diagrammed the cement block steps and we placed those in immediately even before there was any furniture. It changes every day in my head, but right now I'm nurturing plant friends and collecting small design ephemera such as matchbooks and pens in it. I occasionally walk up the steps hehe.
How would you describe your interior style?
Growing up, I was exposed to a wide range of musical genres from the close people around me. Artists like Kayōkyoku from my dad, Roberta Flack, and Marilyn Manson to name a few.
My general life decisions and design sensibilities mimic this, in that a lot of contrasting ideas somehow end up complementary. Jesse is an Ohioan at heart, so although he's into 'modern' design, his space is rather eclectic and filled with sporadic groupings of objects or printed ephemera—organized, but not sterile.
Do you find it challenging to design a space that works for both of you?
Not so much! We share the same taste in design, but a touch different in style. Jesse has an appetite for things more outspoken, decisive, and bright in the home, while I choose gentler, maybe quieter pieces. It works for us. We often call our areas our little 'museums' to muse over.
---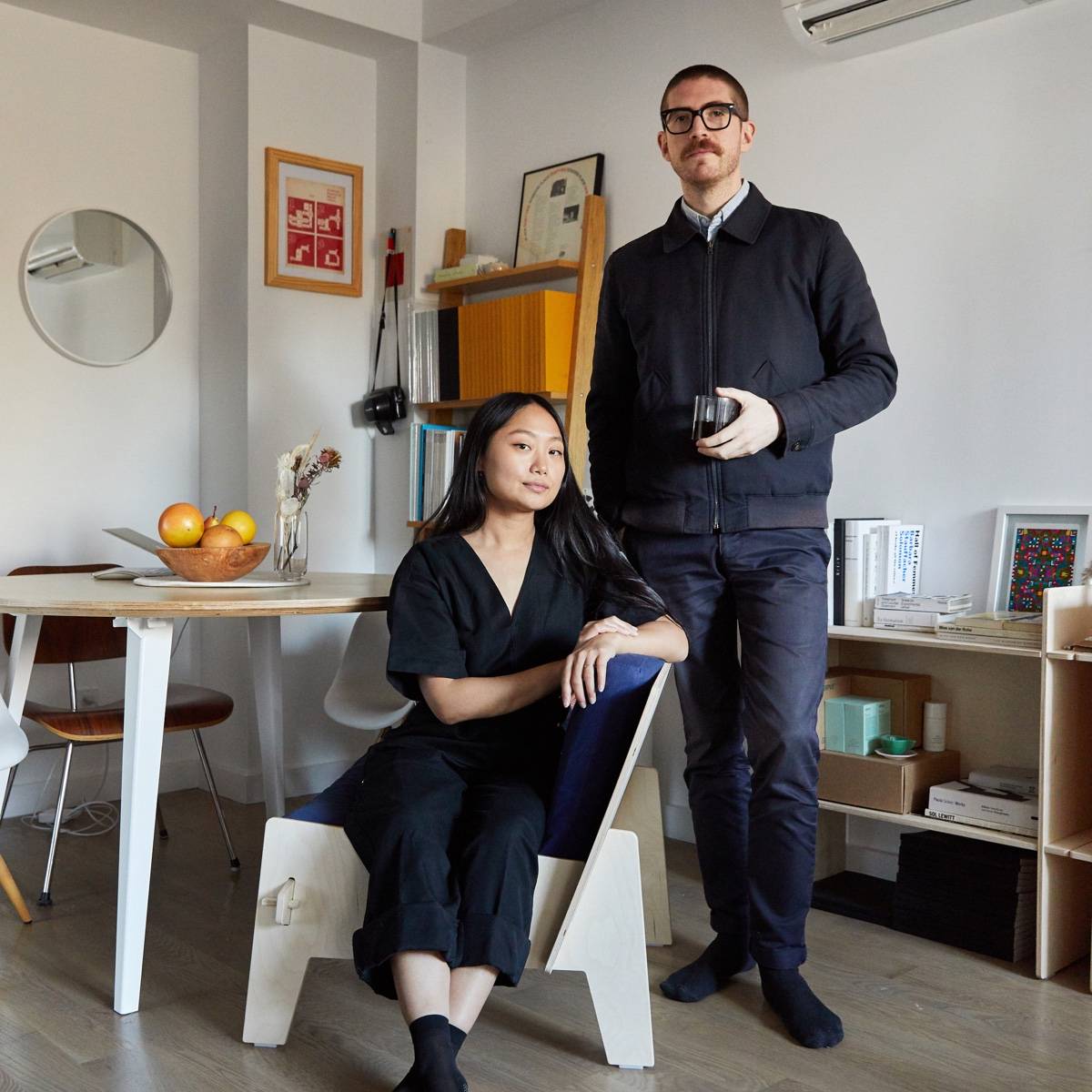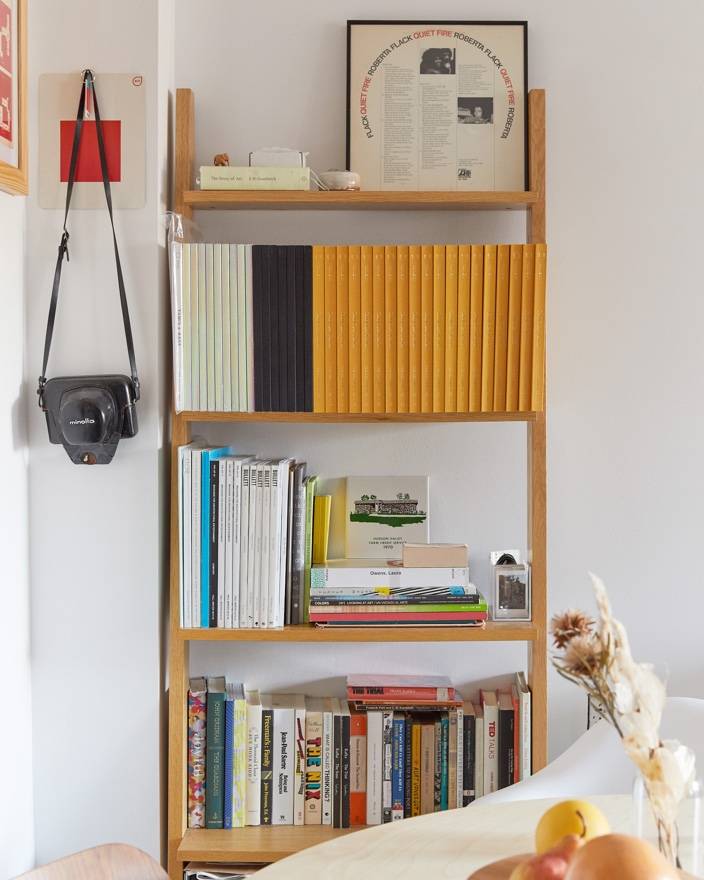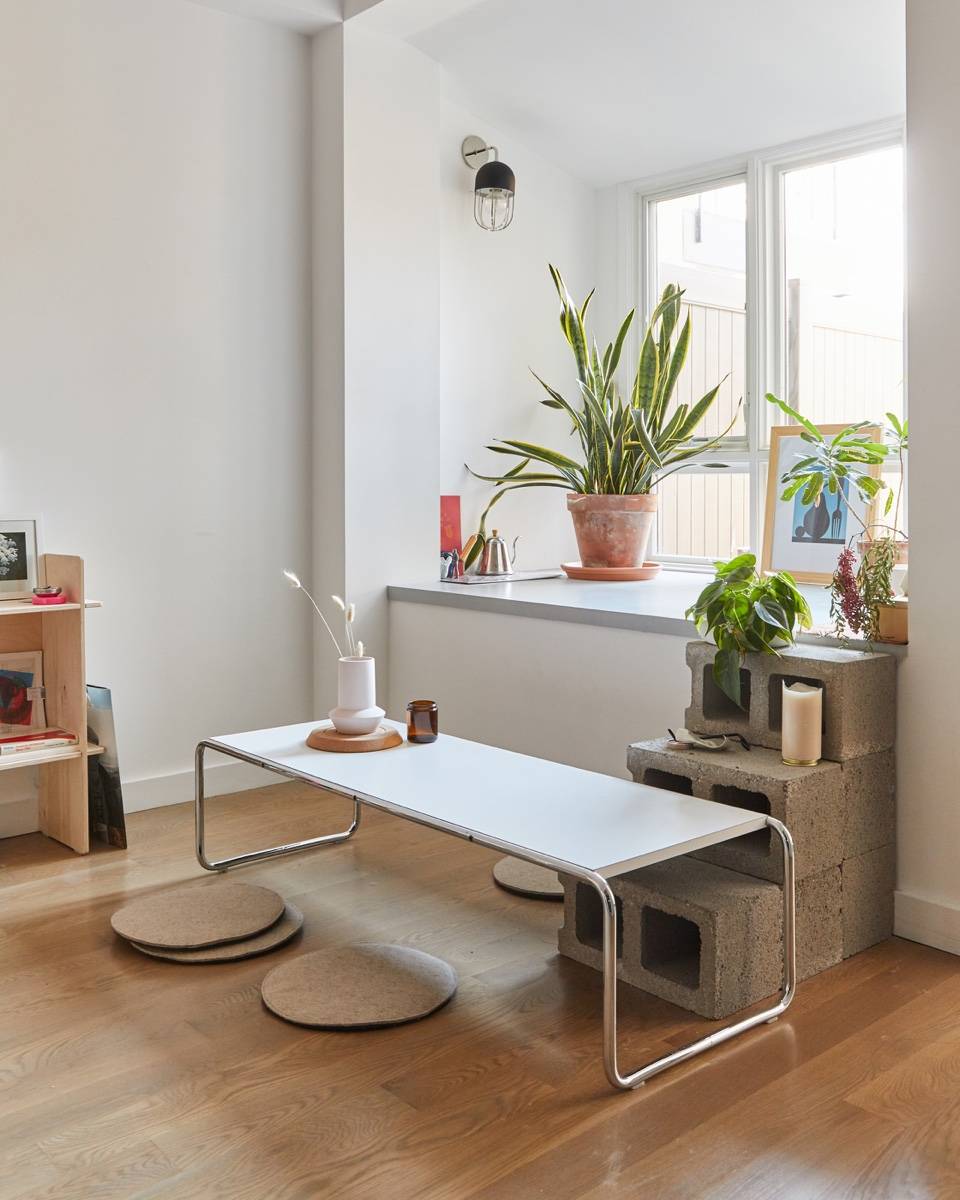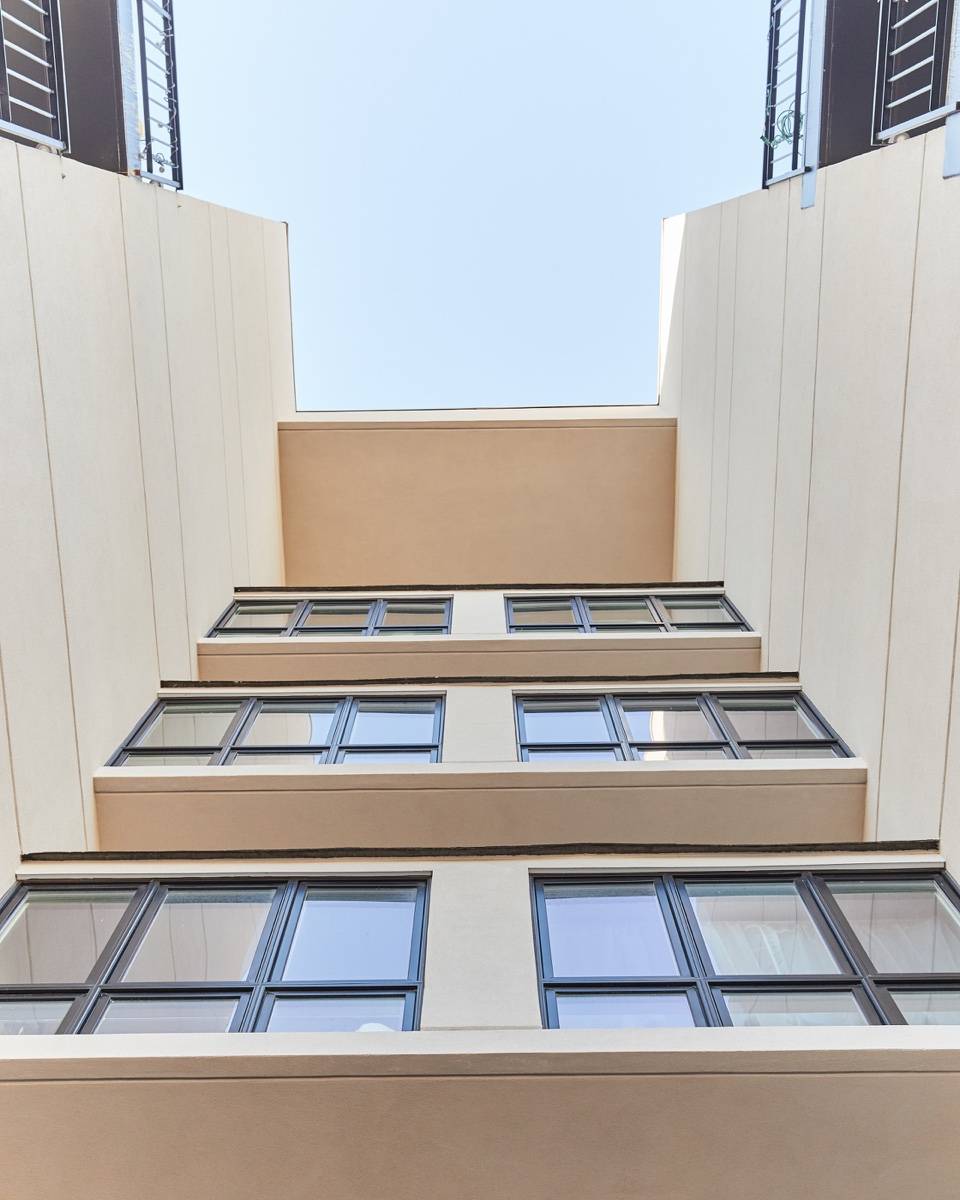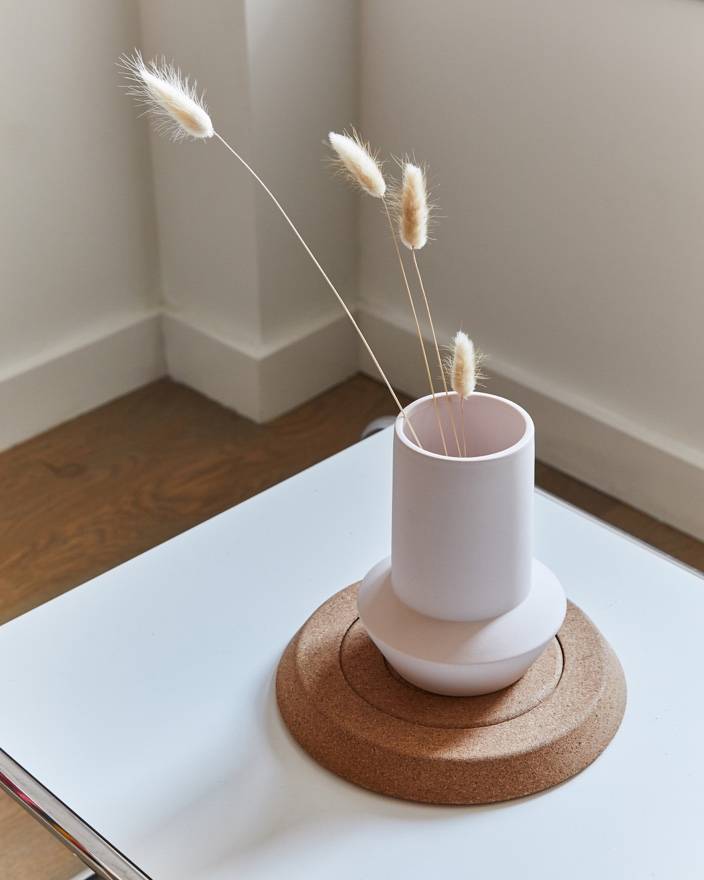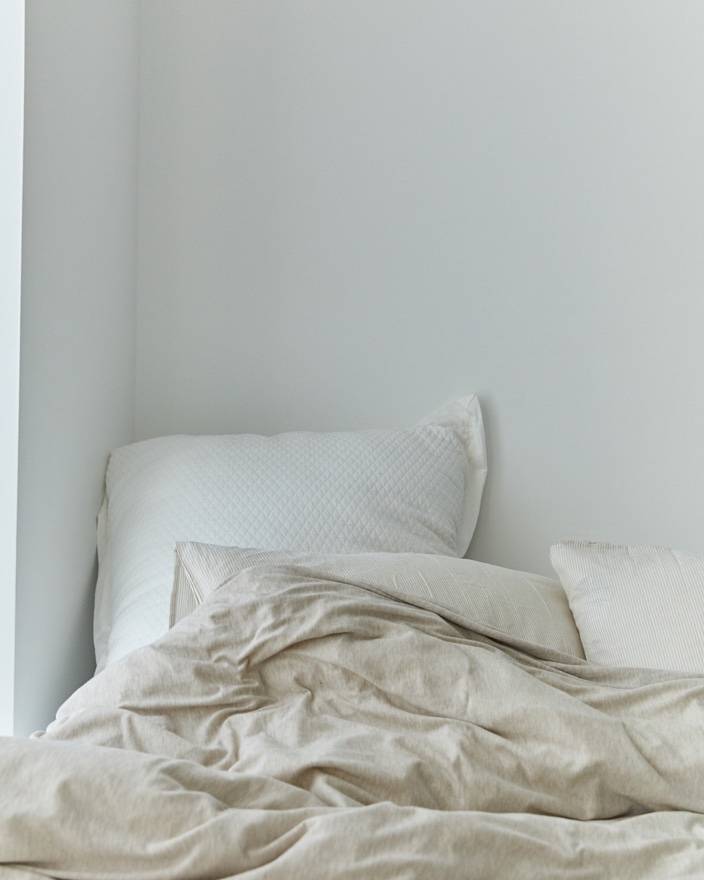 1. Estee & Jesse's space reflects their creative projects. / 2. Estee's Tabula Rasa Magazine books./ 3. Estee loves lounging and working on the floor. Their cinder block "staircase" provides additional space for plants and treasured objects. / 5. Detail of the Knoll Laccio table by Marcel Brauer. / 6. The couple keeps their space light & airy.
---
Where do you find your design inspiration?
We admire book covers to a dangerous degree, and can often be found foraging through bookstores that carry rare and used books to add to our 'museums'. Lately, Jesse's been collecting a ton from duo Mary and John Condon (props to anyone who can send us info on this couple!) from the late 1960s to 1970s.
His other sick obsession is amassing large dimensional letters (from old signs)—his latest find is an Arby's sign from downtown Brooklyn, where the new (but original location of) Gage & Tollner is opening up. Order did the branding for the restaurant, so he was able to score the sign during construction.
Did you furnish the home from scratch, or did you bring in pieces you loved from previous spaces? I furnished the home from scratch except for the leaning bookshelf, bedding, and greenery. I felt like starting anew when moving in. I'm being more intentional about adding to the home with pieces that will last and subtracting pieces that won't.
What's the story behind some of your favorite pieces?
On the smaller shelves are a few pieces created by close friends. The colorful maze-like graph is a special piece hand-drawn by our friend, Josh Lambert, and the two images of the leaves were gifted from Jesse's mom, Ellen, who photographed them. They represent the vitality in long-lasting friendships and are super important to me.
What's the one thing you'd rescue in a fire? (Other than family & pets, of course.)
Probably my one pair of vintage Maison Margiela tortoise-shell boots I wear almost every day, rain or shine. For Jesse, his grandfather's army jacket, bayonet, and honorary Australian ranger's hat.
Is there anything you think the apartment needs that you haven't yet added?
Yes. I would love to add some more floor cushions or small surface rugs. I sit down on the floor most of the time when I'm working, reading, or dilly-dallying at home.
Do you have a few favorite places to score interesting pieces??
As mentioned, Jesse and I reserve a good chunk of time discovering and rediscovering old books. A few of our favorite places in NYC include Aeon Bookstore, Book Thug Nation, Mast Books, and Unnameable.
When traveling, we also never fail to go antiquing. There's a tingling warmth to finding goods that are perfect for us and having been coveted by another owner at one point in time.
What is it about your space that makes you feel most at home when you walk in the door? Is there anything you can't feel at home without?
I own an original offset poster by one of my favorite graphic designers, Tomoko Miho, that greets the entryway with a mosaic of vibrantly hued hands. She designed this for the Container Corporation of America in 1968. It's pitch black in my apartment when the sun goes down, so when I come back and turn the lights on, I can't help but smile. It's the same feeling when I leave the apartment and the sun is gleaming in through the windows.
What's a favorite memory you have in your home?
We spend a lot of time indoors together. It's always nice opening the space up to our close friends. A memory I loved was when one of Jesse's bands, Sharkswimmer, came over. We talked about music, the definition of 'dreams', and simply indulged in a glorious heaven of dumplings.