Emmanuel Olunkwa
Is Writing an Essay With His Stuyvesant Heights Apartment
If you catch Emmanuel Olunkwa on a Thursday, holed up underneath the wood shelves that he built in his home office in Stuyvesant Heights, you might think he's just a student at Columbia's Graduate School of Architecture. Other days of the week, it's more apparent that he's an arts writer and editor—he co-founded the magazine November and he's an editor at PioneerWorks, where he has a column called The Object Talk. At other times, he's a creative consultant, a photographer, a filmmaker, and a furniture designer. Next week, he might be a painter. He thinks about everything in his apartment, from the flower-shaped table he designed himself to the custom pistachio-colored Sam Stewart sectional, as part of his broader approach to storytelling that snakes through each of these disciplines. Below, Olunkwa shares more about his intuitive approach to design and the catharsis that comes with bringing an object into the world that had previously only existed in the deep corners of your mind.
---
Can you tell me more about some recent projects you've been working on?
In August of last year, I designed this flower table that's come to life. I'm reactive at some points, so after my roommate moved out in June, I wanted to have a big table. We had a circular dining table that was against the wall, but I never had a table that you could sit at and really embrace—something that would provoke conversation. But I didn't want a circle again, and the room is a perfect square, so I didn't want a square table. So, what if a table was a flower shape? It's a circle in its formation, but it's much more sculptural. I wanted it to have a carpenter's table feel, with seesaw legs, and then I made chairs.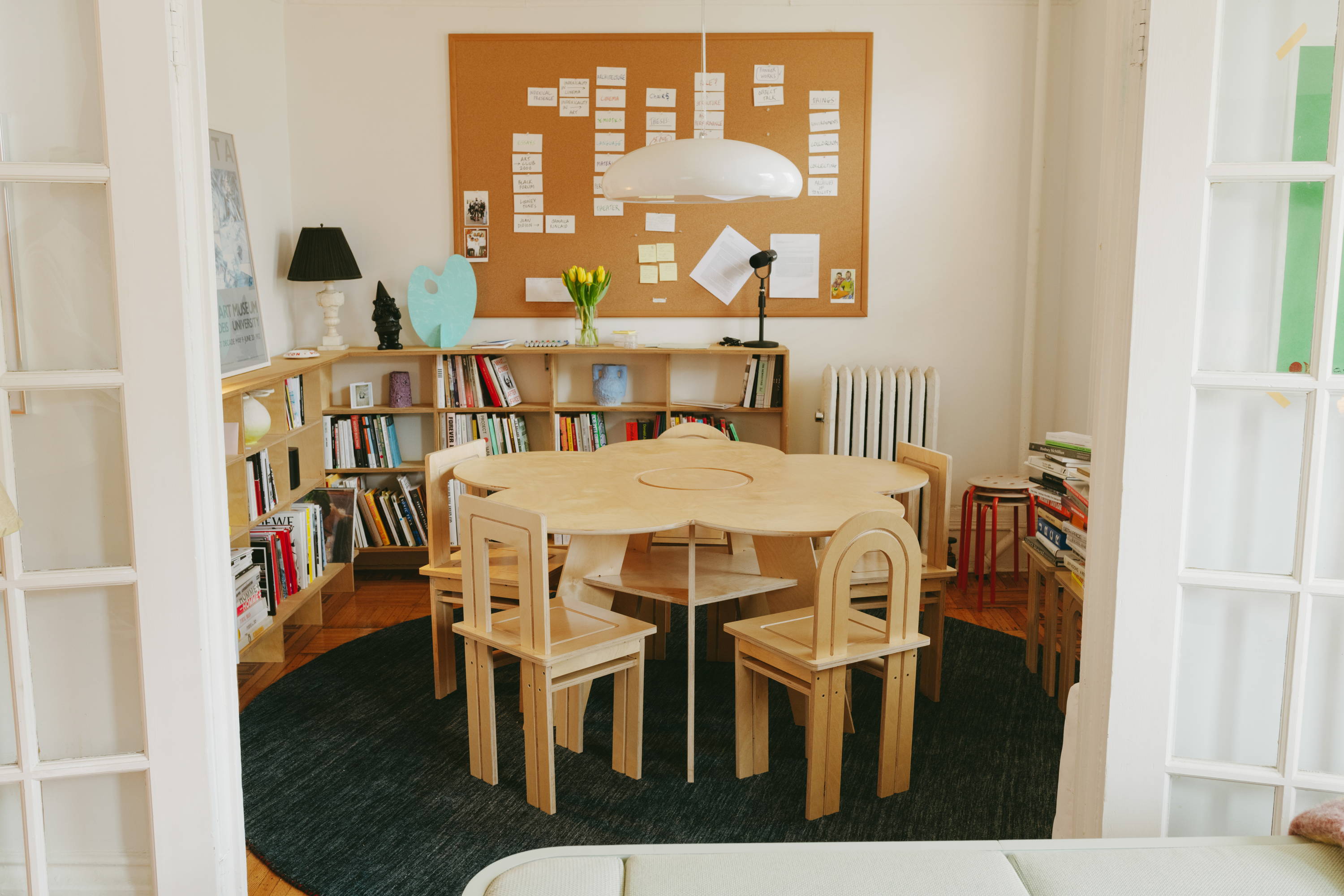 Were you and your old roommate equally invested in what the apartment looked like?
He was so much more practical. For him, it was a place to eat, sleep, and shower. For me, it was always this vibrating thing in the back of my head. I thought that there were so many things that this place could be. At the start of 2019 I designed shelves with a carpenter for my office, this tiny room at the front of our apartment. That was the first time I ever worked with someone like that, and I really liked it, but I wasn't thinking in terms of, 'I'm going to design this,' or 'I'm a designer.' It was just: this is what this room needs, and I can give it to it. I thought about how to maximize the space's potential. That's always been the question, even with the table: what does this space need? What does it want? My roommate used to say that I liked beautiful things, but I don't really think about beauty. I think about necessity. It's about honoring the architecture.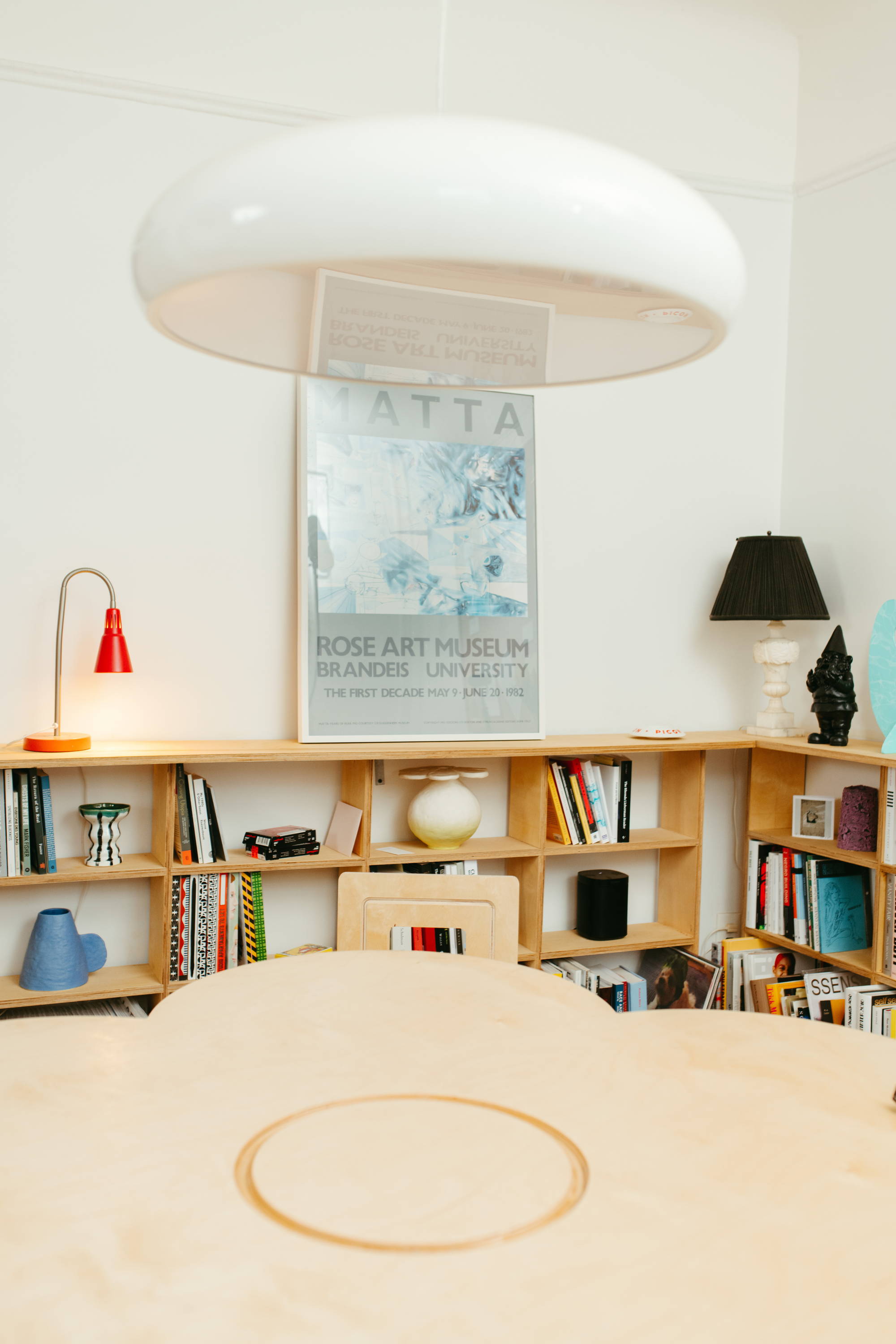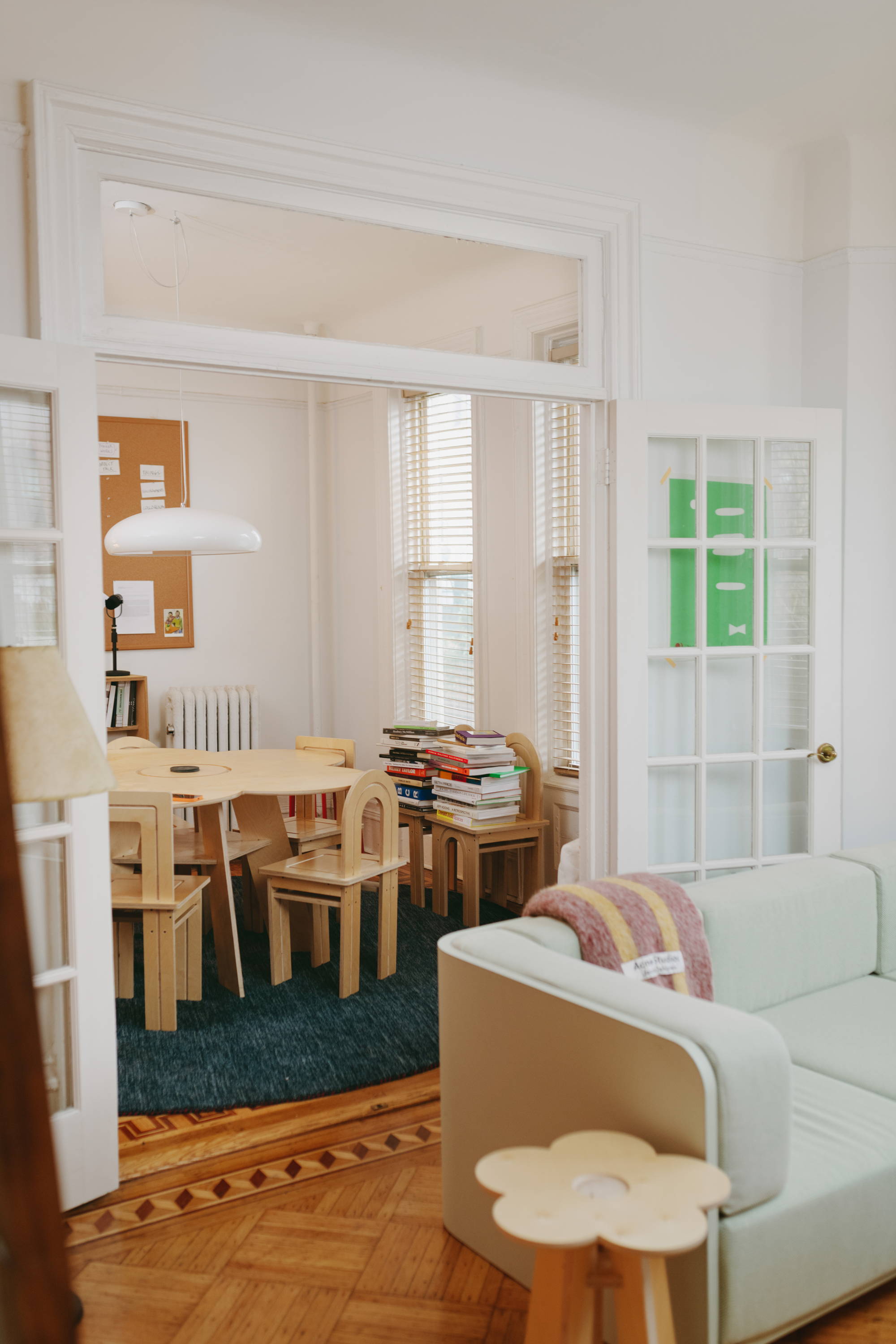 Do you think you would have made the flower table last year if we weren't in a pandemic? Did having extended time in your apartment shift the way that you think about it?
For me, the only architecture that I had control over and that I could explore both as a form and a shape is my body. Silhouette is something that I think a lot about. I was always looking for pants that laid perfectly over my shoes, or a shirt that could dance on my body. During the pandemic, I wasn't getting dressed for anything, so I had all of this pent up creative energy. I don't think I would have made furniture if I didn't have the time and space to reflect inside.
It was really an intimidating process. I collaborated with friends on it for a few months, and everyone kept telling me the flower table wouldn't be structurally sound, that it couldn't be this or that, that it needed a metal base instead of the seesaw. But I wasn't trying to make something that already existed. It needed to exist in the exact way that I saw it in my mind, which was very specific: no lines. I want to be able to see through the object. That's always the most important thing. I never want to look at anything in my entire life, as long as I'm alive, where I can see a discrete table and a base. I want to see one object, made of the same material, with basically no seams.
Can you tell me more about the chairs? Were you referencing Donald Judd's chairs?
I went back to Largent Studios [the fabricator in Red Hook that Olunkwa worked with] and first we made the arch chairs. They're both arched backs, but one has an arched front and the other has a square front. The process was so intuitive. Kevin Largent would ask me how thick the back of the chair is, and I'd hold out my hands to show him, and he'd measure the distance between my hands. And then we made one with a rounded back.
I was thinking about Judd, as someone who works in the same material as me and as a reference point, but his furniture took itself too seriously. It announced itself in a way that was so not fun. He's really into squares and boxes but I'm into circles. Hard, round edges and rounded lines. That's what birthed the rounded back, because I wanted something that wasn't retro. And the chairs have this engraving in them, and that gives them a visual weight. And with Judd and those hard lines, there's no mystery to how the object comes together and what makes the object work. It didn't feel like magic. It just didn't really feel like something special. It didn't feel like a collector's item. I want an object that feels so special. That's true of all the things I collect—ceramics, furniture. I want it to feel singular.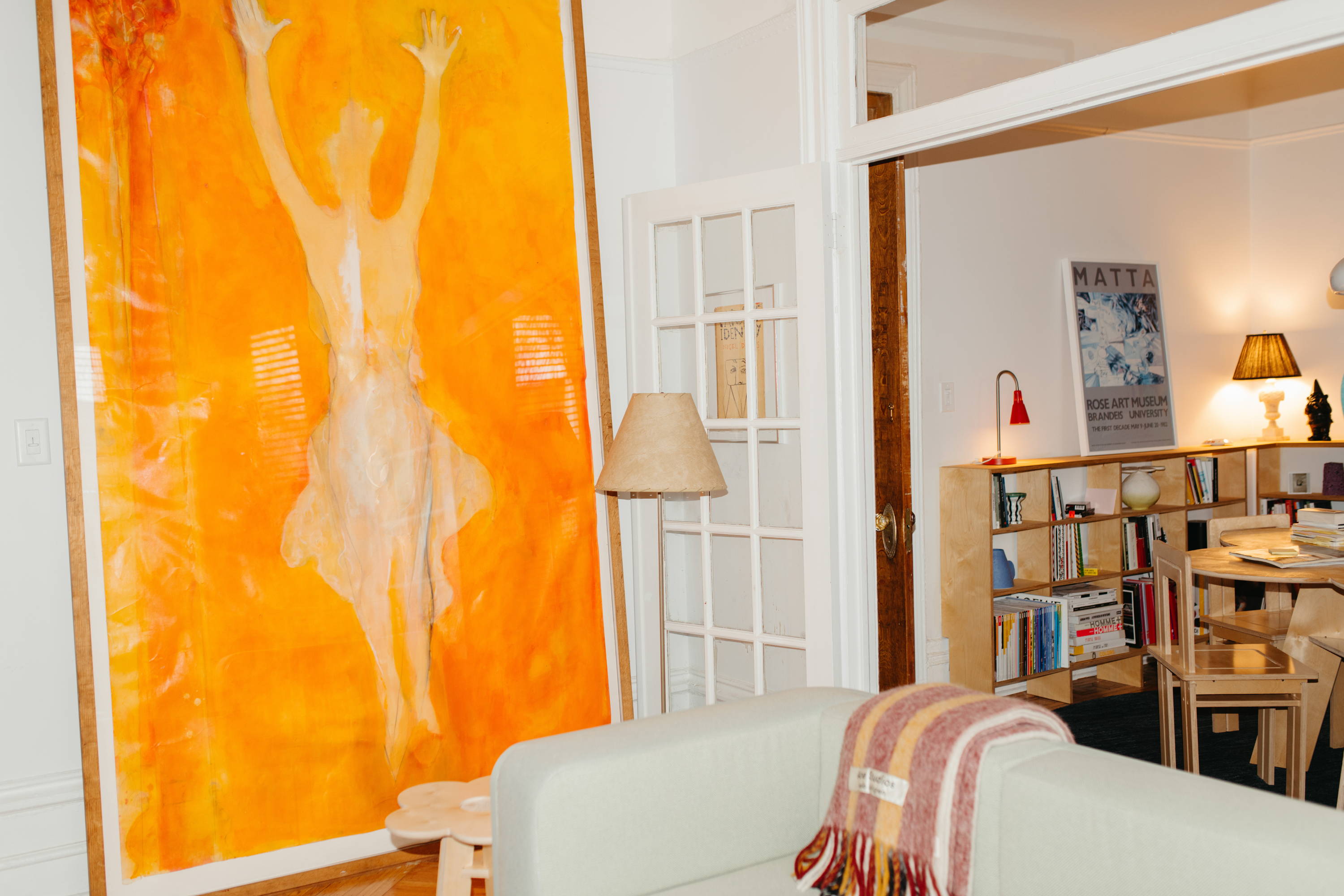 How would you describe the rest of your apartment? What are the things that you find yourself being drawn to in your space?
I really like owning things that are one-of-one. I wouldn't really say I'm a collector, but I like sculptural and weird knick knacks. I think about it in terms of fashion and in the way that I get dressed—I have rules for myself. I give myself really specific parameters of how to exist, and I think of things in terms of color and shape.
I always have an anchor for each room. It's like I'm writing an essay. Every room has a story, which is really driven by the architecture of the room. The anchor for the dining room is the table. Everyone has their own relationship to the flower table. People always talk about how everyone has their own space to sit within each pedal, but I never even thought about that. The table provokes a very specific kind of vulnerability. We call the conversations that we have around it flower talk.
The anchor for the living room is this orange painting by my friend's aunt. It's the color of my aura. The couch by Sam Stewart is new. I interviewed him for The Object Talk, and I was really enamored with the stuff that he was doing. The couch is a sectional with a rounded back that looks like one object. It curves in with the bay window. That's in conversation with the painting. I don't even notice the painting, the table, or the sofa anymore. I've pushed them out of my head. It's like learning how to let go of things after they've materialized. It's cathartic, even to have the sofa here—that lived in my head for a long time.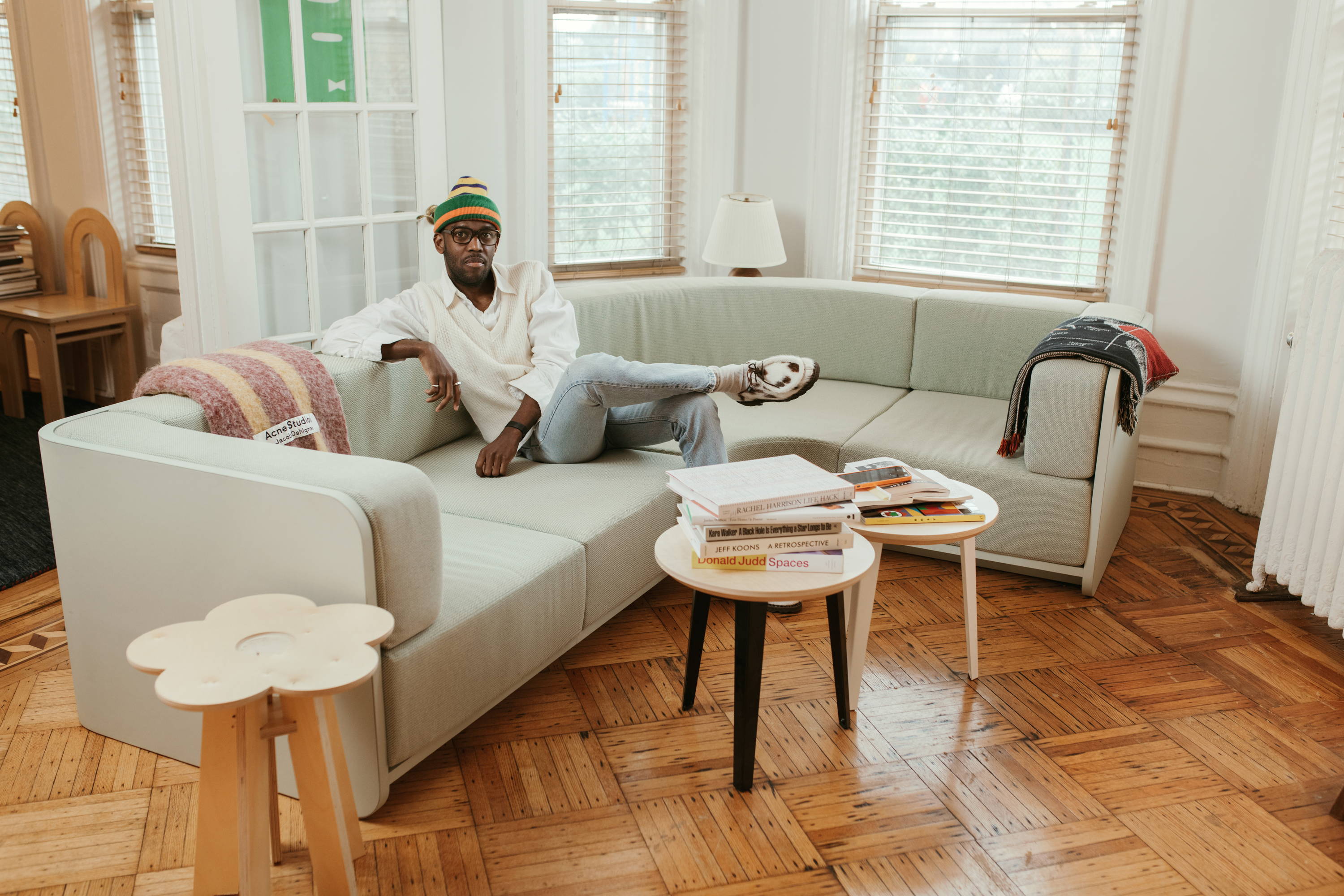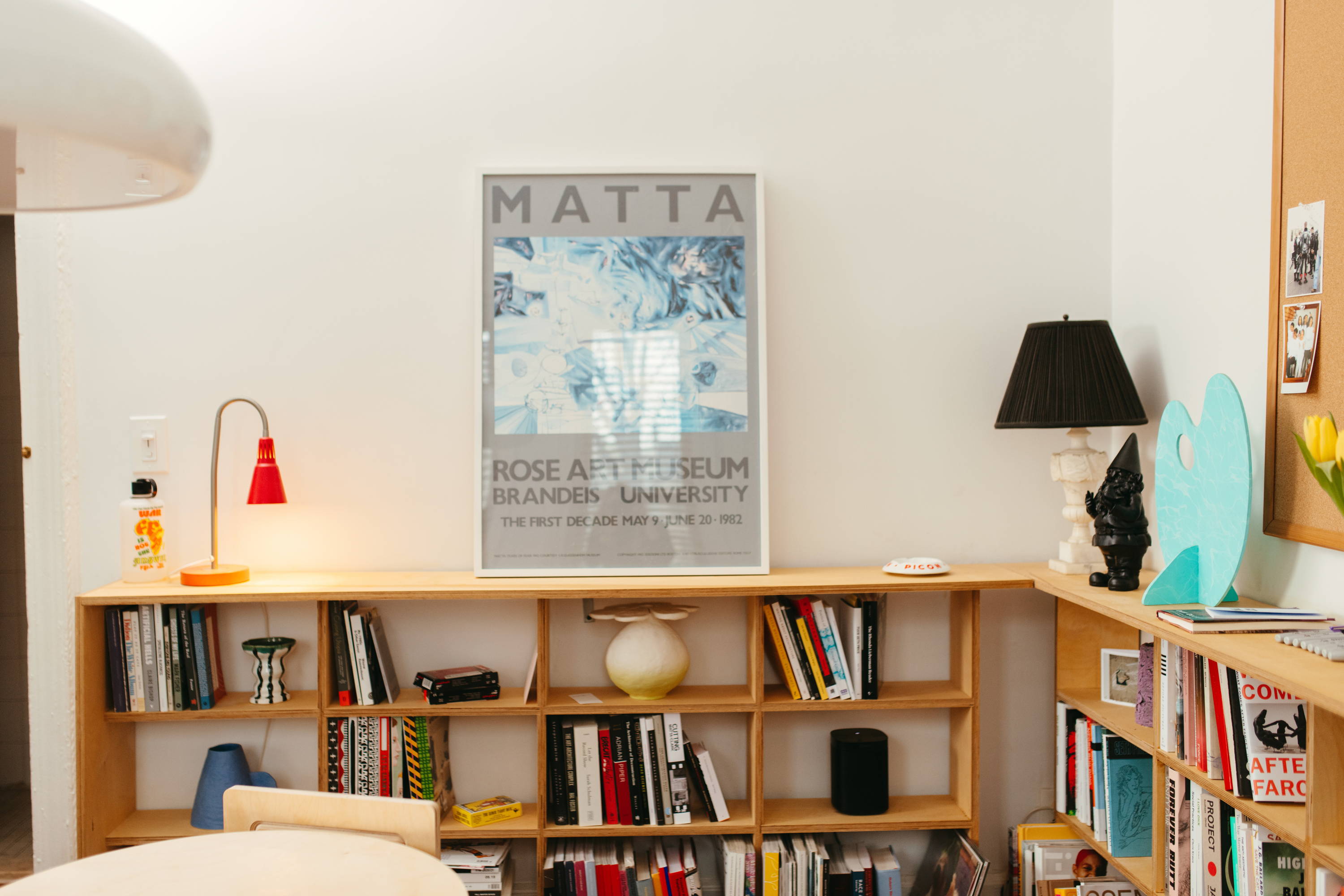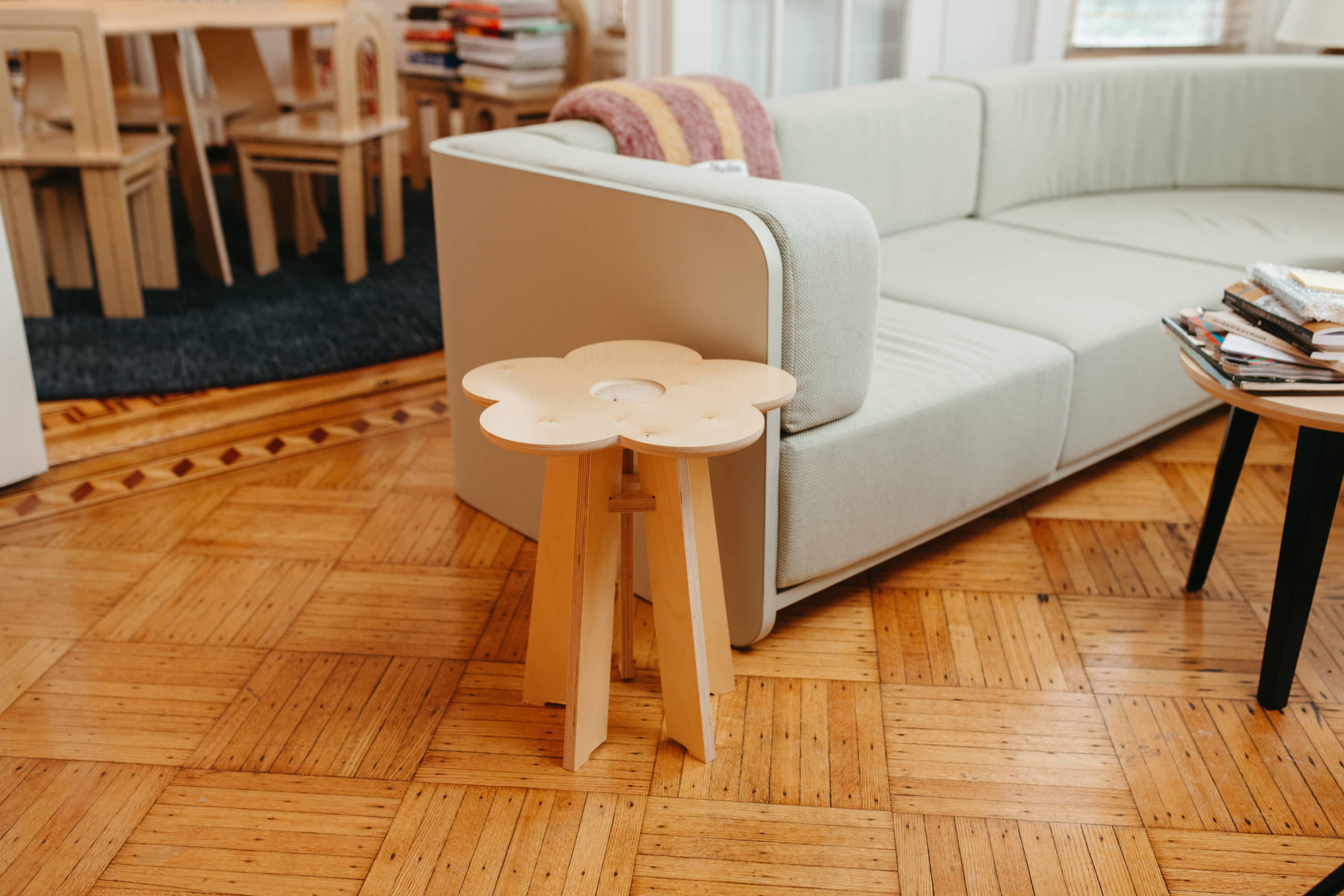 Where do you spend the most time in your apartment?
I used to spend all of my time in my bed. Now I feel like I'm meeting myself. I used to go over all of my friends' houses and think about why they bought that chair or why all the kitchens in Pacific Palisades looked the same. It was just a class thing to have certain things, and it was so boring to me. There were so few people who were experimental, whose houses were really representative of who they were as people. I want to live in someone's interiority. I'm learning how to spend time outside of myself in these different places because I'm just used to living within, in my interiority and in my imagination, and I'm not used to engaging with it outside myself. I had all of these ideas for such a long time and I never knew that I was capable of making things in this way. It's sort of an overwhelming feeling.
I know that you've talked about the political implications of your photography. In stepping into the role of a designer, do you think about the political implications of the objects that you make?
It is a very political project, but it's different from photography. For so long, I moved through the world as a witness. I was just collecting information and seeking out new experiences. I was asking myself a lot of questions, and that's how it materialized in a lot of the photography. It was very curious. I was looking for love, and I was able to find love in those portraits that I took. And with designing and writing, I have a lot of things that I've been thinking about that I'm ready to finally share. I want to make lights, wall fixtures, and rugs. I have ideas for plates, paintings, and sculptures. I wish someone would let me design a house. I want to design a restaurant. For years, I was learning about myself. I was really afraid to share who I was because I never really felt like there was space to live outside of myself. And now, I'm not afraid to inhabit the world outside of me. I have this saying that good art is like a skate trick. I finally feel like I landed the ollie, and now it's time to learn a new trick.
For more about Emmanuel please check out:
This widget makes post narrow
This will be hidden in site