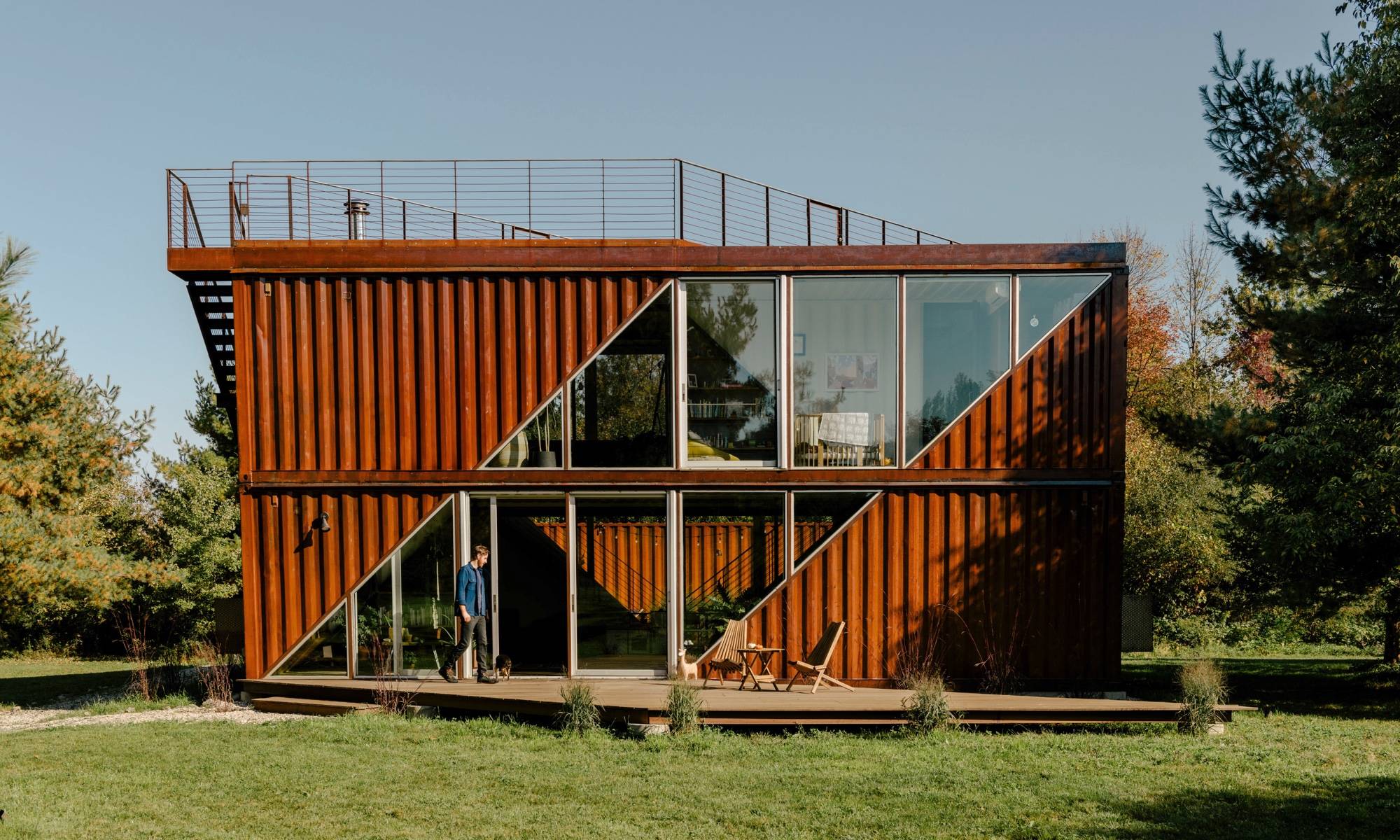 Dave & Victoria Built a Dream Home from Shipping Containers

The creative couple designed a home that's one-of-a-kind.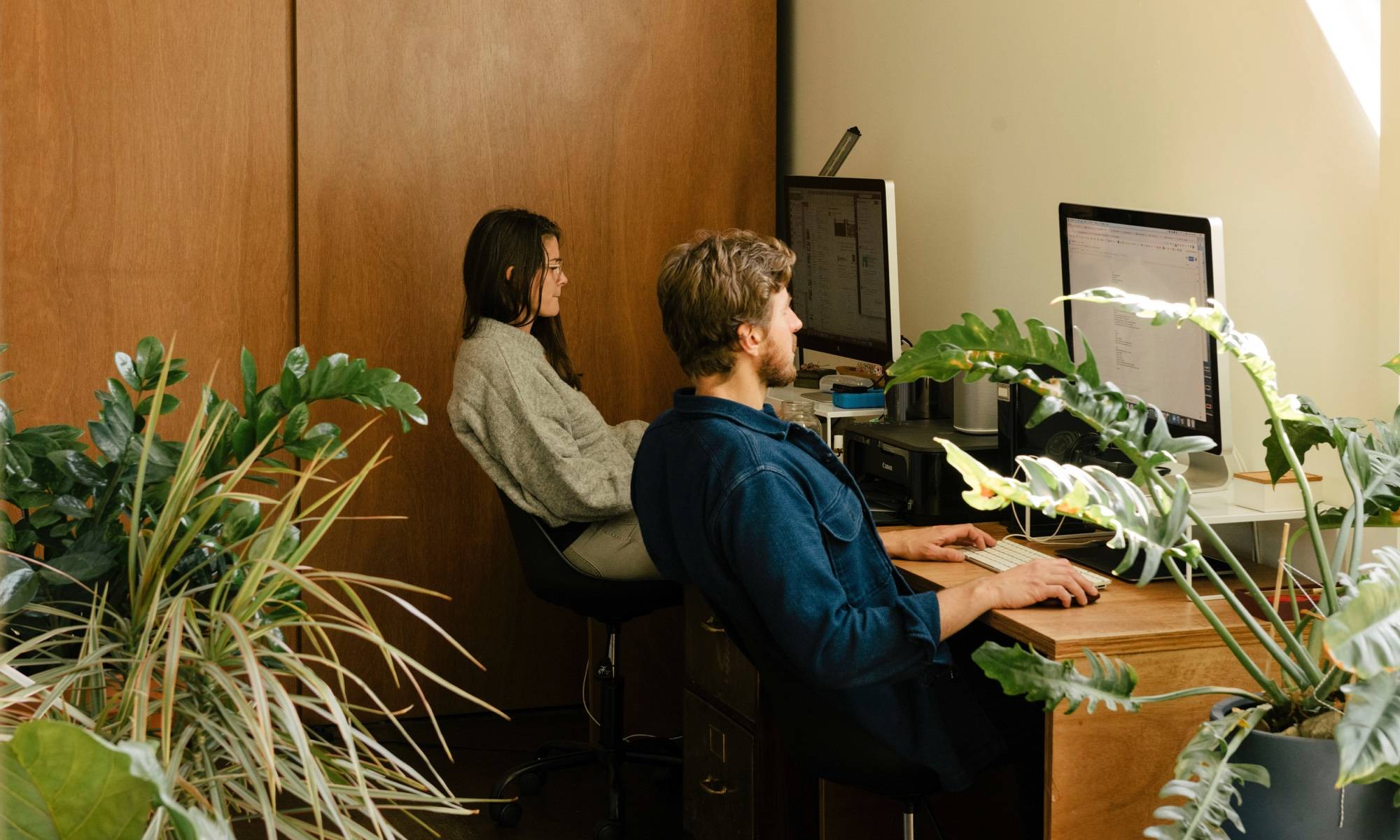 ---
---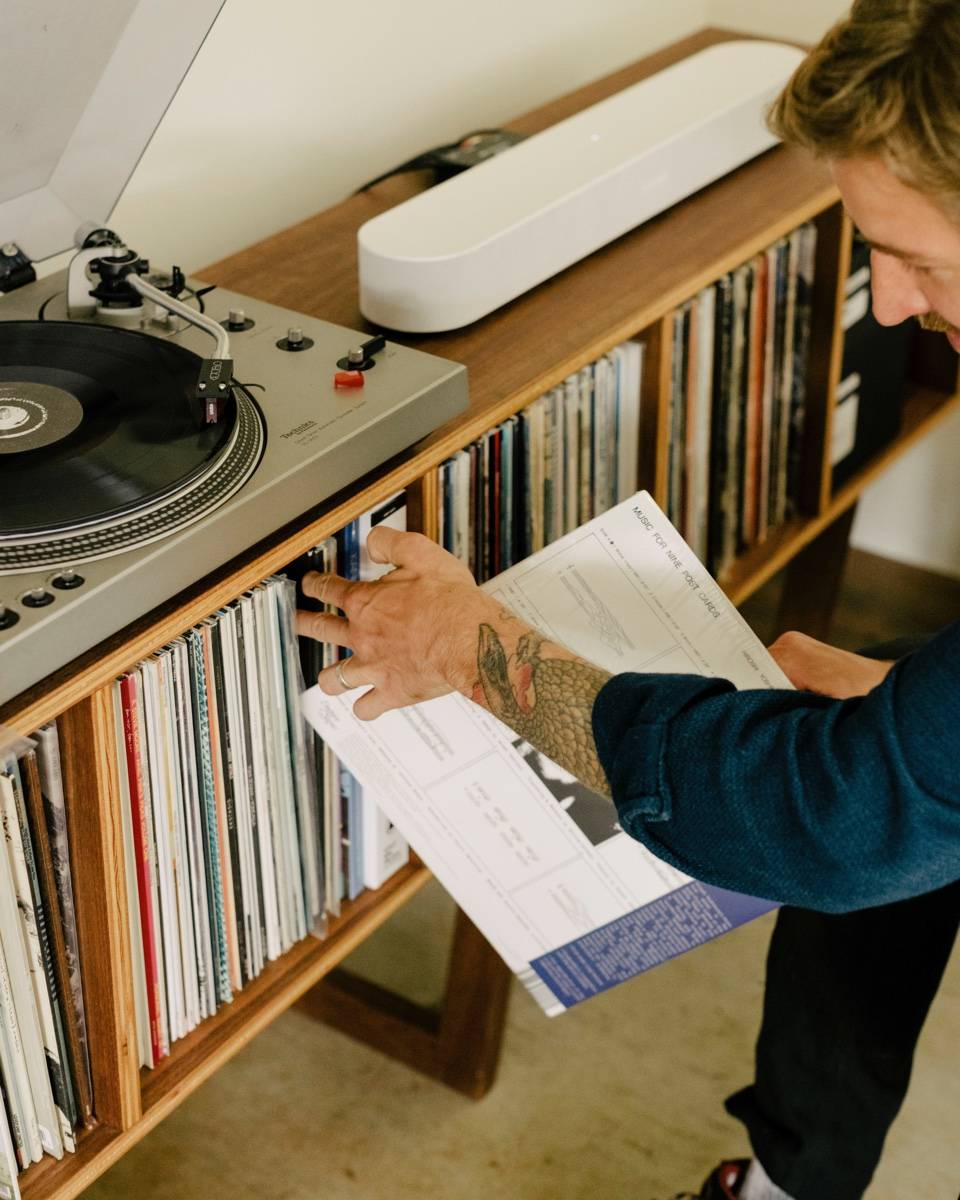 ---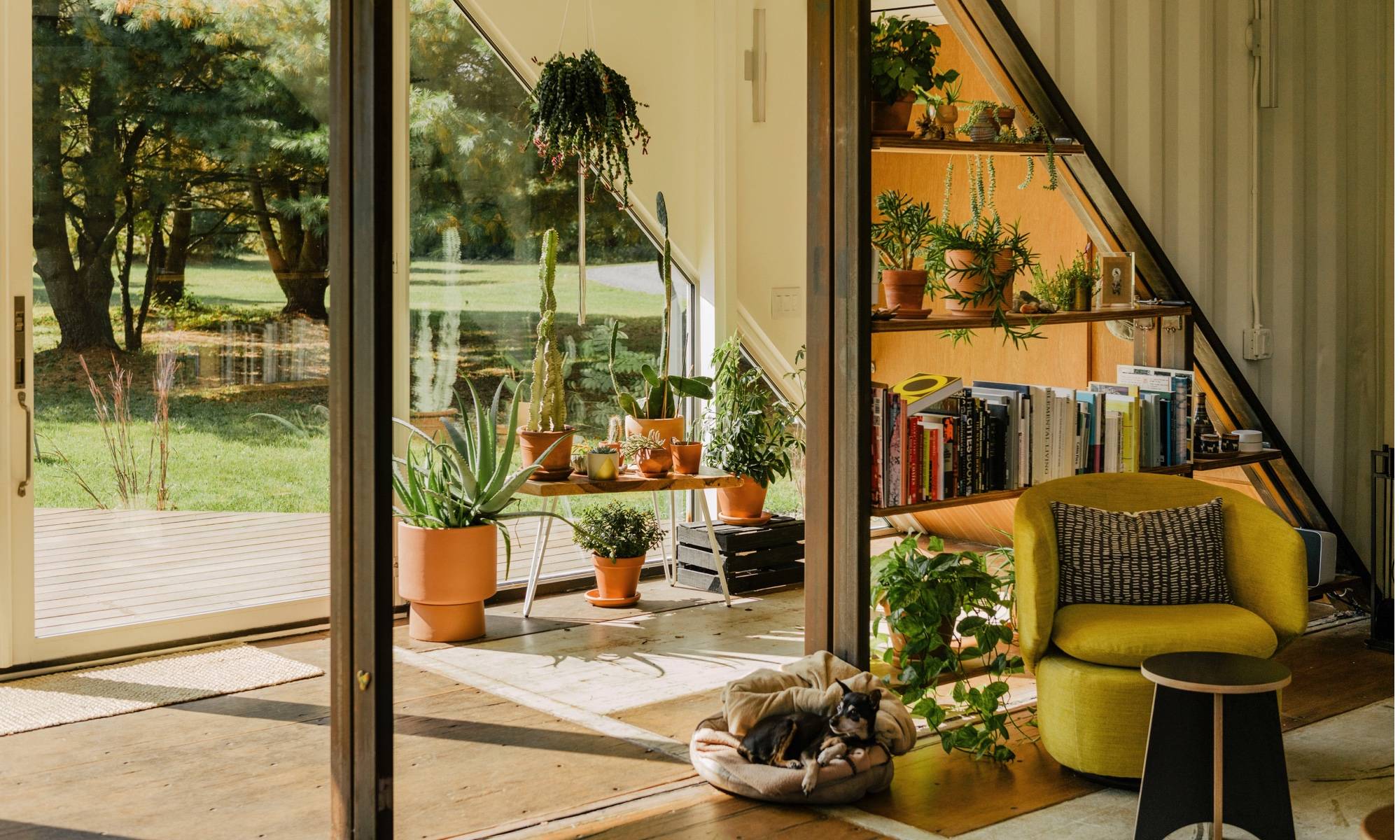 ---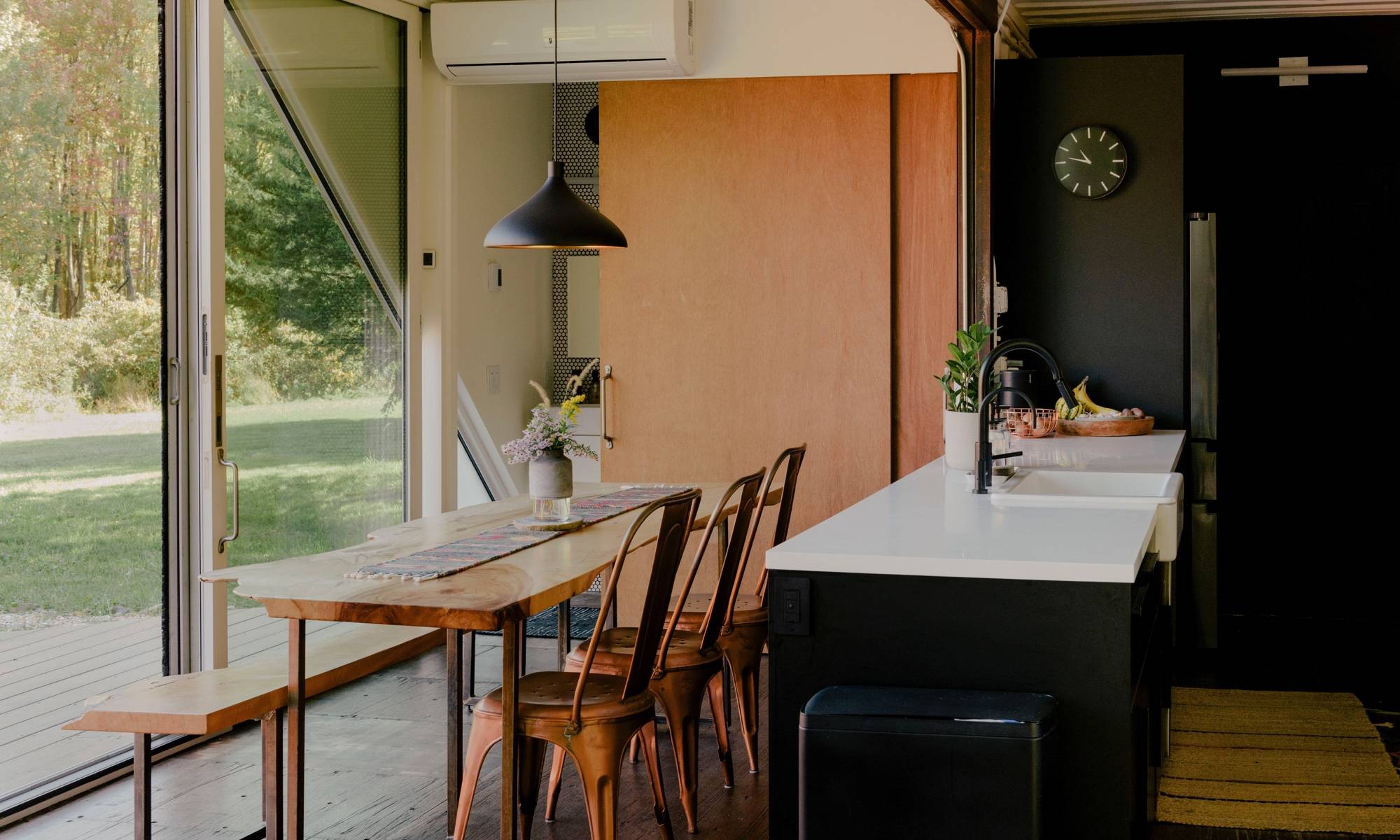 ---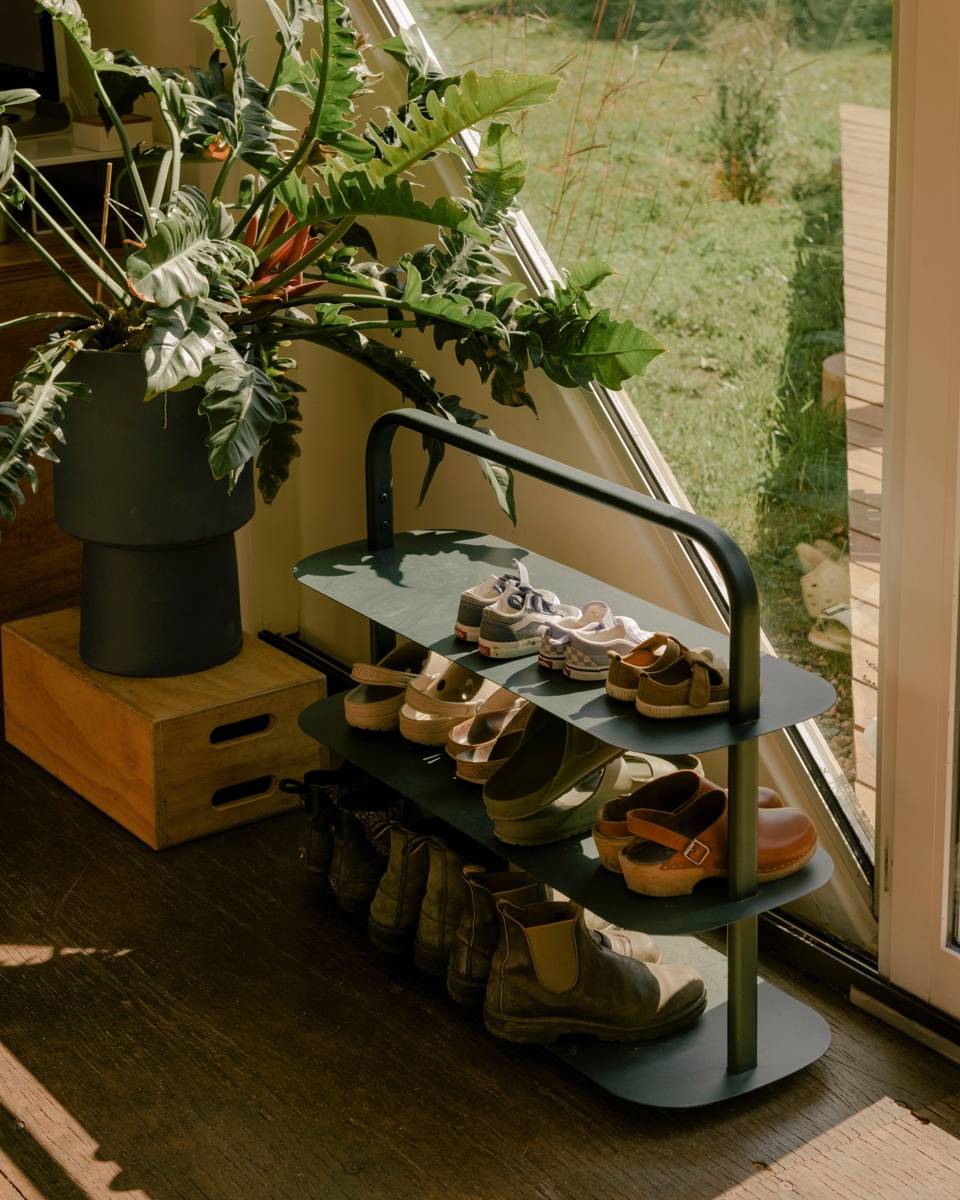 ---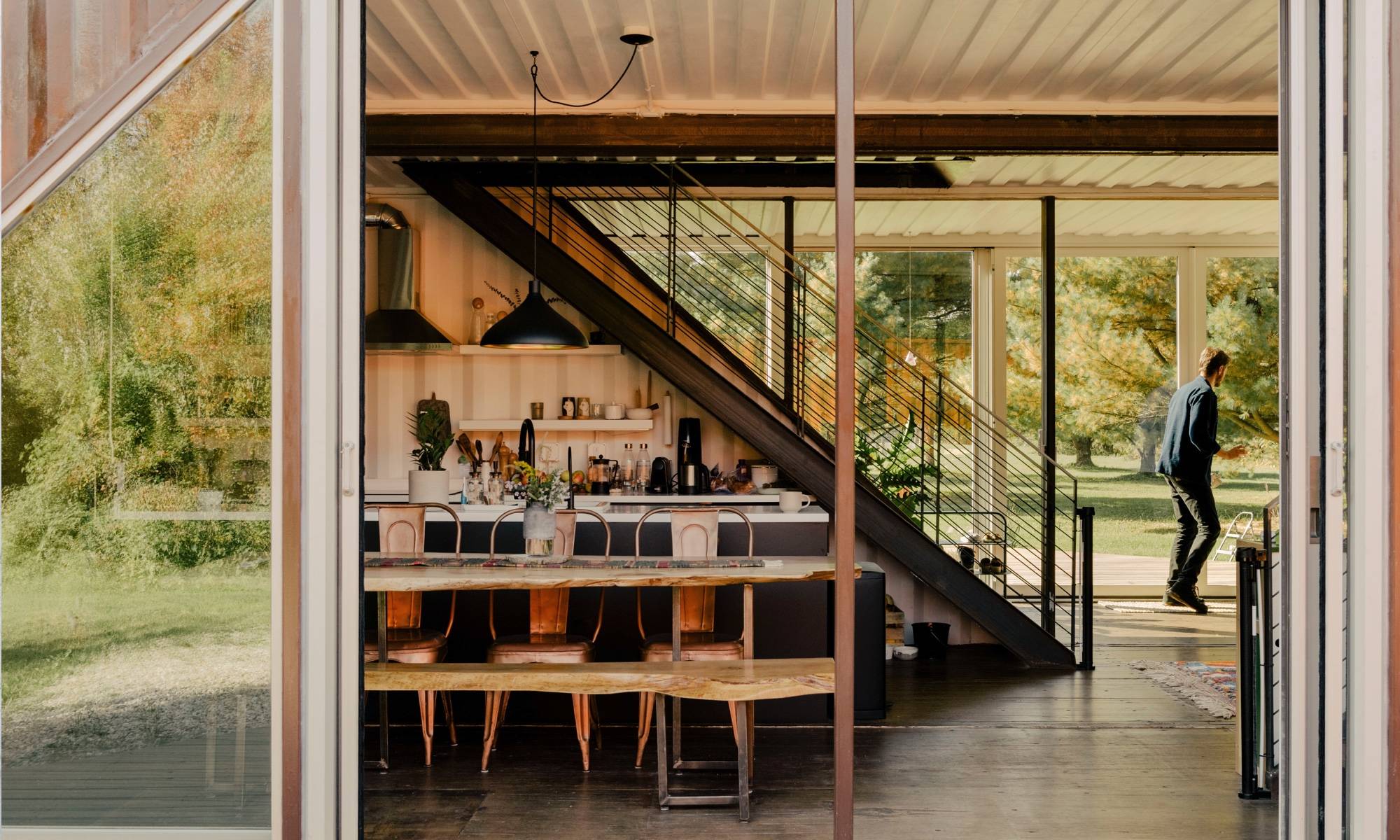 ---
Located just outside of Hudson, NY, Dave Sutton & Victoria Masters' home cleverly repurposes shipping containers to create a space worthy of an imaginative, creative young family.
A raw metal exterior is intersected by a bold slash of windows, while decks extend like wings from the central structure. On the inside, the couple has designed a space that nods to their love of art & music, all while maintaining an eye for craftsmanship and practicality.
We spoke to Dave about the process of designing the home from the ground up, the tetris-like experience of planning within a constrained space, and the clever ways he was able to re-use materials throughout the home.
Could you give us a bit of an intro?
My name is Dave Sutton, I live with my partner Victoria Masters, our daughter Bowie, and dog Bean. Victoria is a creative director as well as a holistic health coach focused on growing your own food — she just launched Kitchen Garden Health. I'm a writer and work in music as part of the team at Ghostly International.
Tell us about your home!
We're in upstate New York, right outside of Hudson. Our home is made out of six shipping containers stacked two-by-three, totaling just under 2000 square feet. Another unfinished container sits next to the house, which we use for storage and Vic's makeshift photo studio. This past spring we started on a fenced garden and greenhouse.
What did the building process look like? Did you have any particular sources of inspiration?
We purchased vacant land in 2016. Our lives were still rooted in Brooklyn so we'd come up on weekends to camp and dream about living here one day, building a home and farming the land, expanding to cabins.
In 2018, we met one of the architects at LOT-EK through a friend and spotted the c-Home concept in their book. We had never really considered steel as a building material, or the benefits of prefab construction. We were drawn to the upcycled elements, the large glass windows and sliding doors, and the way the decks angled out on both sides as if they'd been peeled from the exterior. It was easy to picture the open layout surrounded by trees, letting lots of sunlight and air in.
Since the c-Home had only existed as a rendering, the build-out process became a collaborative experiment. After the planning phase, we selected the used containers at a shipping depot in New Jersey, where they were then sand-blasted to remove old paint — we liked the raw look of Cor-Ten steel and decided to let the exterior rust into an orange patina before sealing it with clear finish.
The builder did all modular fabrication in that same factory yard and oversaw the transport of the house one container per truck to the site in August of 2019, where a crane lowered each into place.
Our local contractor's team started the infrastructure prior to delivery, and then finished it up once the containers were stacked, finished the utility hook-ups, and welded everything in place.
Did anything change from your original vision?
Yes, the original design was four containers. Early into the planning, when Victoria was pregnant we started to re-think the size of the house. The change required some re-engineering and a series of adjustments as the project went on.
Figuring out our kitchen layout was like moving a Tetris block around. We ended up tucking it partially under the staircase which cleared a path and set the sink view facing outward to the back deck.
How would you describe your interior style? Has it evolved over the years?
Modern but warm, with an industrial edge and utilitarian sense. We both like earth tones and natural materials and lately, we've let some vibrant color into the mix.
The house builds on a style that started in our old apartment. More plants, now with some matte blacks and metal, which is also a forgiving palette for a dirt-tracking bunch like us.
Did you approach the home as a cohesive unit or do you work on each room separately?
Room by room with some guiding aesthetics throughout.
Do you tend to change and experiment with your interior or do you stop once you consider a space "done"?
Always a work in progress but we're feeling pretty done, for now. This was a new experience being able to map out our space intentionally. Now on the other side of all the interior work, we're excited to just pause and live in it. Things are bound to change as Bowie grows.
Did you bring in pieces you loved from previous spaces?
A little of both. Our kitchen table, metal chairs, and side tables came with us, and our old bed is now in the guest room. We built the outdoor table with scraps from the deck and built our desks from the wood used for the closest doors. The welded shelves in each room come from that wood too.
How does the home reflect your family's favorite hobbies/loves/vocations?
Our space reflects a love for nature, art, and the communities we've been lucky to be a part of. A few walls have paintings, photographs, and collages from friends, old flyers, and other artifacts from our time putting on shows in the city.
Could you tell us about one of your favorite pieces?
The firewood rack was made by a local blacksmith, David DeSantis, based on an image we kept coming across on the internet with no traceable origin or way to order. When he dropped it off we wheeled it into the house on a blanket. I see it as a centerpiece, an anchor for the room, worth its weight, and the extra energy for sure.
Is there anything you think the space needs that you haven't yet added?
Our focus is now outside. Every day we're out there pulling vines off trees and planting and cutting new paths. It's gratifying to see this overgrown land come back to life. We'd also like to finish the roof with decking next year.
What's a favorite memory you have in your home?
Our first Christmas, just having officially moved in a month earlier. After various transitions, including two years living with Vic's parents, it felt good to settle into our own space and for the first time as our new little family.