---
---
---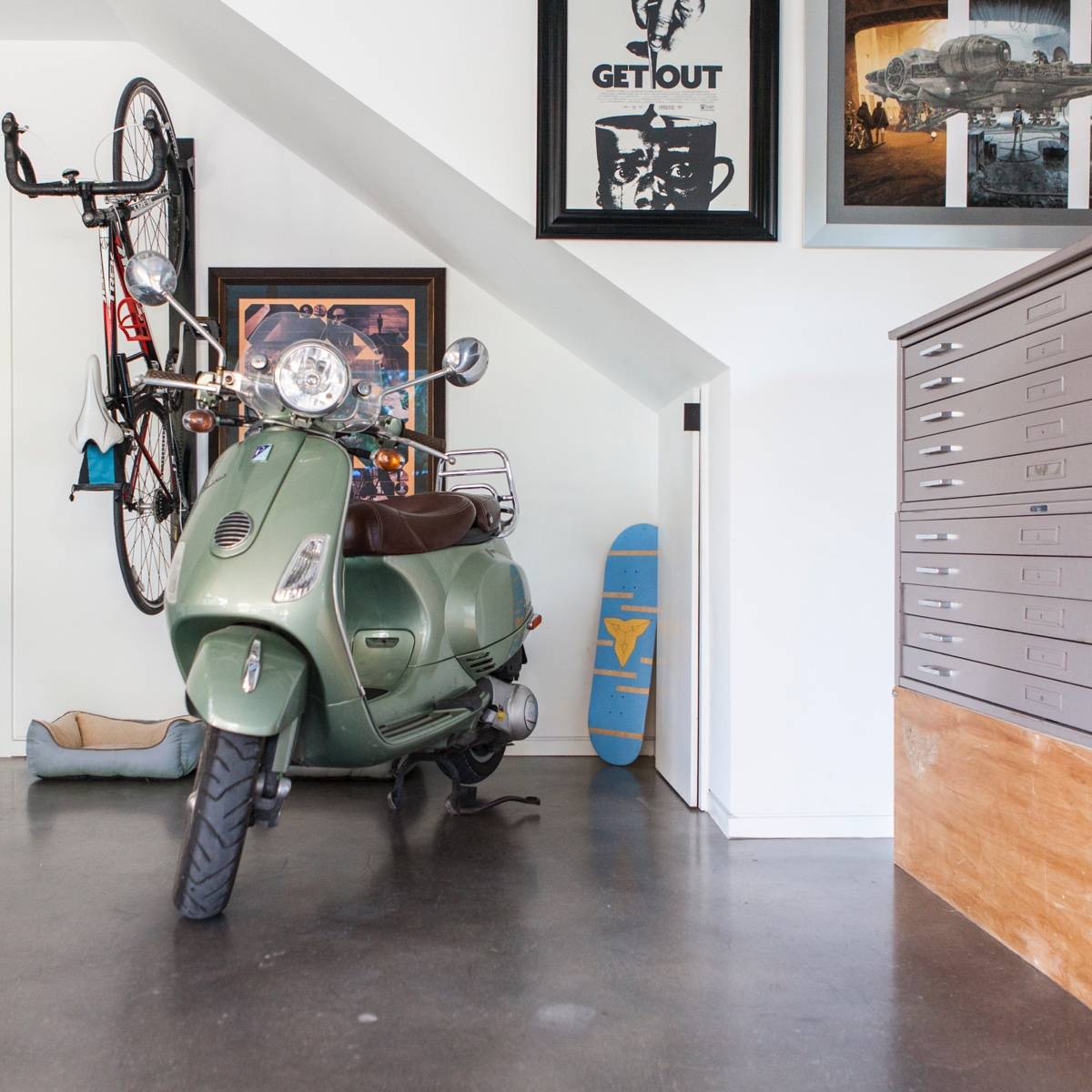 1. Header image: A slatted facade helps to mitigate the hot Texas sun. / 2. Puyana often writes from home. / 3. Looking into the living space from the kitchen. Custom built-ins house Puyana's extensive book collection. / 4. A sleek kitchen is built for entertaining. / 5. Map drawers house more of Puyana's screen print collection (that didn't make it onto the walls).


One glance at Alejandro Puyana's home reveals its owner's creative nature. The writer, originally from Venezuela, built the bold East Austin house from the ground up.
The exterior is certainly distinctive, with elegant vertical slats and an angular facade. But the interior is where Alejandro's personality really shines — his sharp eye for color and form evident at every turn. The small space houses large collections of books and art, but feels impressively airy.
We asked Alejandro about his space and learned how the author showcases his pop culture obsession without sacrificing style.
Give us an intro!
My name is Alejandro Puyana, I'm a 38 year old house builder and writer in Austin, currently getting an MFA at the Michener Center for Writers. I live here with my cat, Logan.
Where do you live? What should we know about your home?
My home is in the East Side, in Austin, Texas. It's a brand new home! I designed it with architect Murray Legge and then finished building it about a year ago. I built it on a corner lot with a sister home, a 900 SF accessory dwelling unit that I sold to my very nice neighbors. It's a modern house, designed to be in scale with homes on the street and to fit with the East Side's funky neighborhood character.
Did you fall in love with your home the first time you saw it?
Yes! I guess it's more apt to say that I fell in love with it as it came to life. I've spent hours and hours thinking about this house, been in its bones while it was coming up and I'd like to think we are both learning to live with each other now.
Were you worried about anything in the space, before living there?
Yes! It's a small living room/dining room/kitchen. I didn't quite know if I'd be able to figure out a way to make it feel right and look right and still have definition of spaces. I feel it worked out really well and it suits me perfectly.
What room do you use the most? Did it surprise you?
The kitchen, office, living room and dining room (and when the sliding doors are open, the deck!) are all one big room full of light. I always thought it would be the place I'd spent the most time, and I'm glad it turned out to be true.
---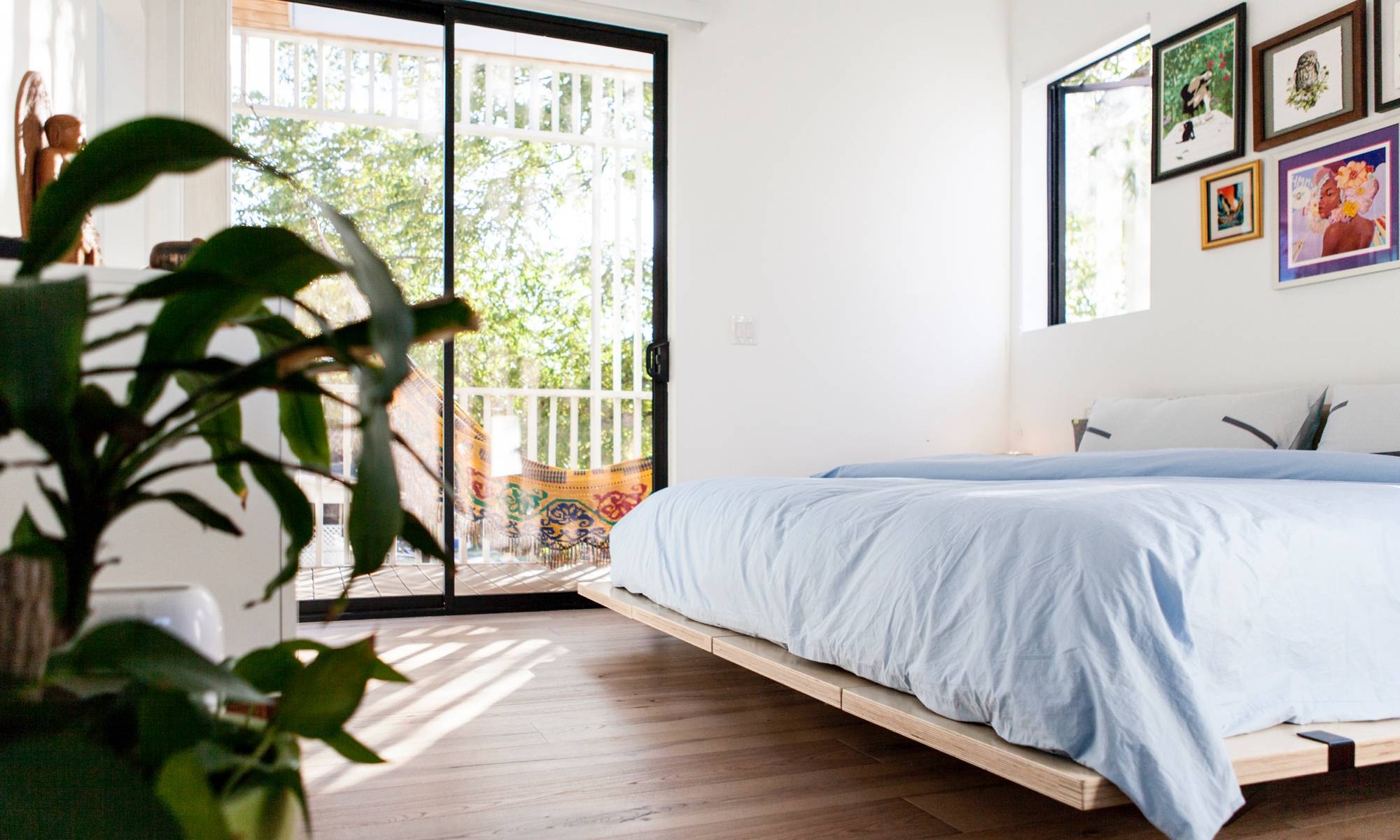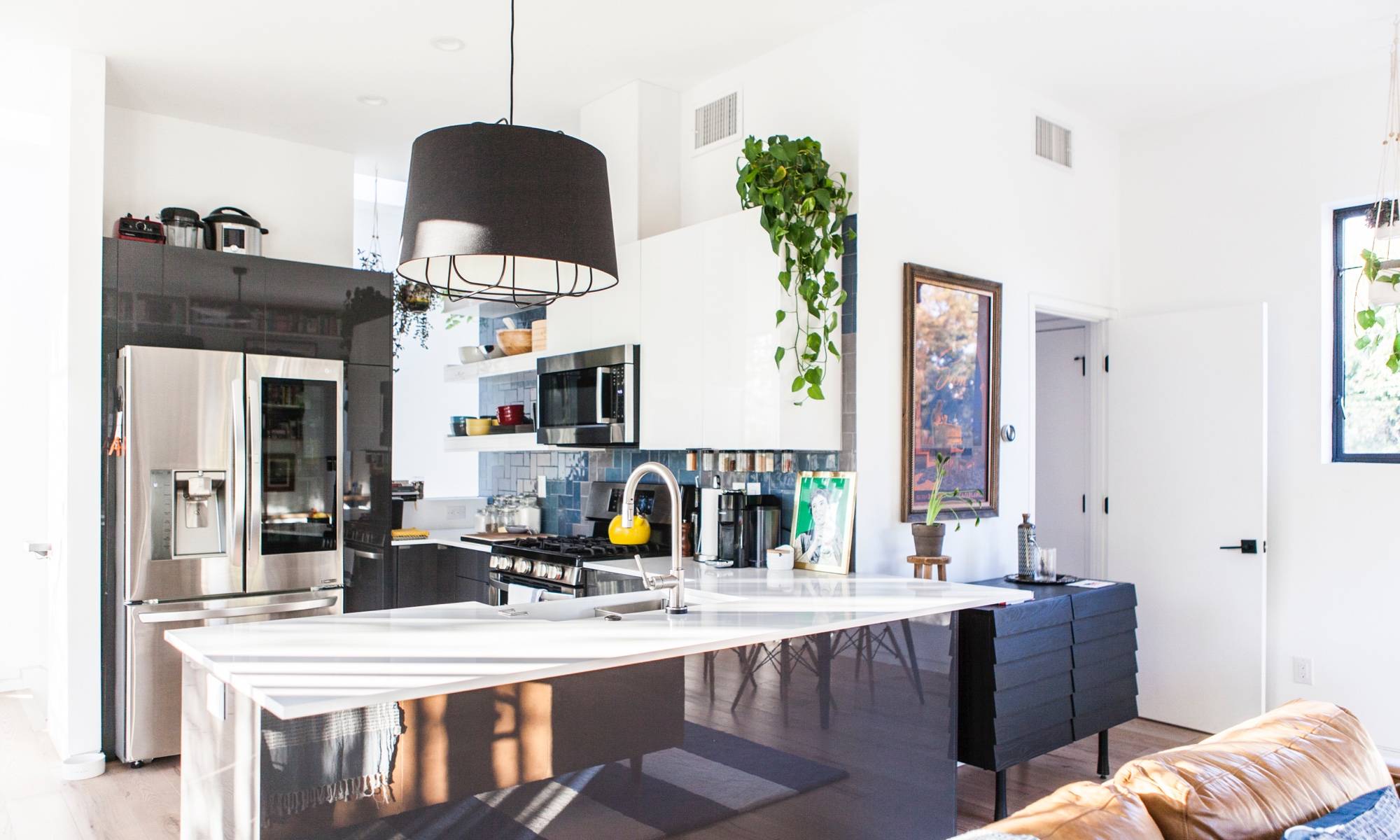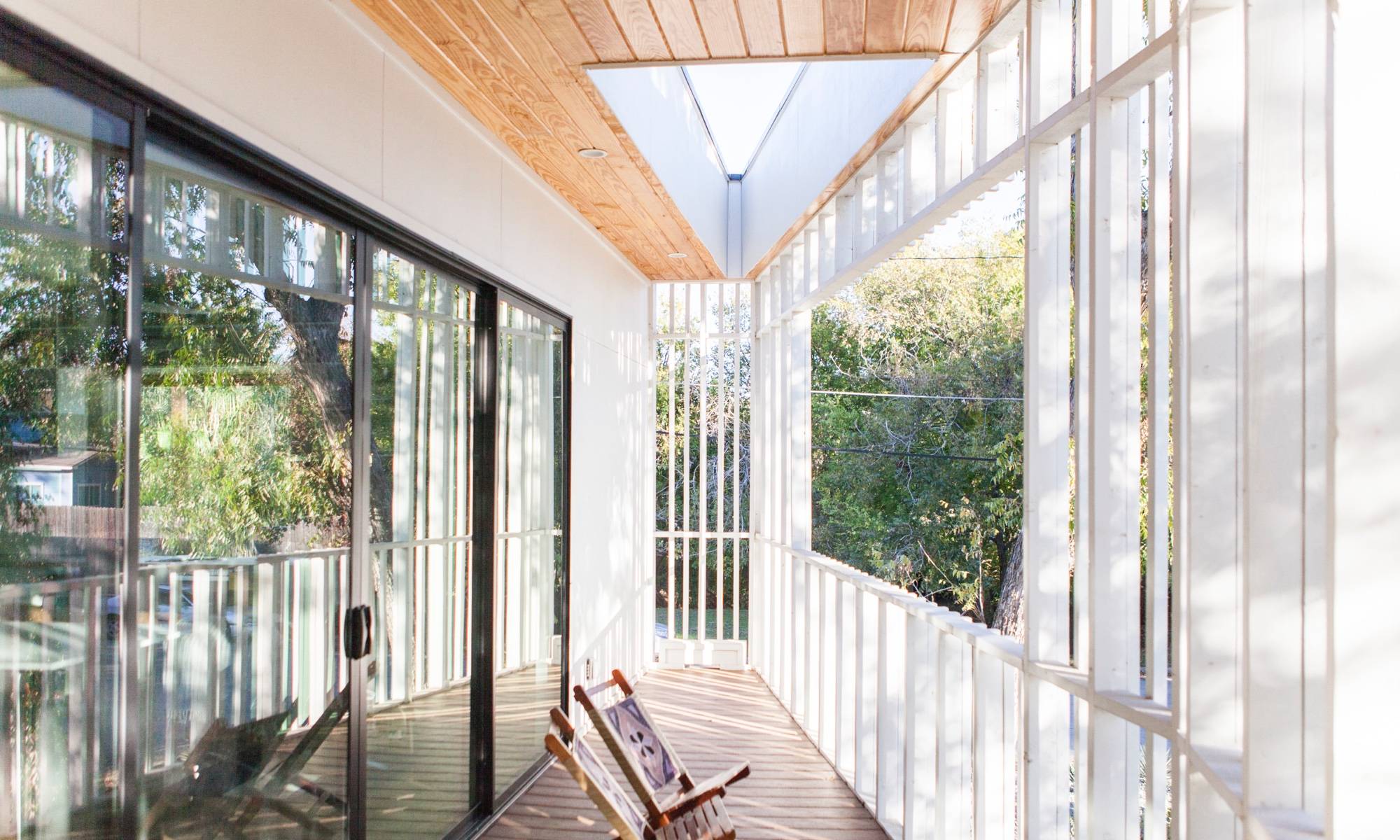 1. The bedroom opens onto the patio, where Alejandro's favorite hammock hangs. / 2. The credenza is a recent find. / 3. A balcony runs the length of the home. / 4. The shady outdoor space overlooks Alejandro's favorite pecan trees. / 5. The home's unified color scheme extends to the master bath.
---
What are some of your favorite sources of inspiration for your space?
Color, plants, books, movies. I wanted a place where people would feel happy to engage in conversation and feel surrounded by things that they want to spend time with.
How would you describe your interior style? Has it evolved over the years?
I would say eclectic but clean. I like color and texture and angles. I've been a pop culture enthusiast since I was a kid: comic books, science fiction movies, and so many books—and that aesthetic really centers my style. I don't think there's anything that brings a house to life more than books and plants, so I've got them scattered around the house.
The most beautiful wall in my house is the library (designed by Trey Farmer and Adrienne Lee Farmer of Studio Ferme), I usually just sit and look at book spines, remembering what a particular book made me feel, or just look at the colors and shapes, it relaxes me. I also collect screen prints, both alternative movie posters (from galleries like Mondo, Spoke Art, and Bottleneck) and art prints, and my house is full of them (some on the walls and some waiting to be framed in the flat file cabinet!).
How did you go about furnishing the space? Was it a start-from-scratch process, or did you bring old favorites along with you?
I pretty much started from scratch. I really wanted to have pieces that could stand the test of time, that were practical and beautiful without being too frilly or ornate.
I gravitated to modern American design, companies like Floyd and Bludot, and really took advantage of floor sales that allowed me to afford some pieces otherwise out of my price range. The two old favorites I brought were Venezuelan hammocks that at some point hung in my home in Caracas.
Do you have any favorite pieces? What's their story?
My yellow hammock, for sure is a favorite. You have not truly read a book until you've done so swaying in threaded fabric! I'm currently in love with my Lap Credenza, which I use as a bar, one of those floor sale finds that cost me a fraction of what the piece is actually worth. And finally, every time I see the handsome

angles of my Floyd table

I swoon a little.
What's the one thing you'd rescue in a fire? (Other than family & pets, of course).
A pen drive with my novel manuscript. I get anxious just even thinking about the possibility of losing that.
What makes you feel most at home when you walk in the door?
My cat, Logan, and walking up the stairs and feeling like I'm in a canopy of pecan trees.
What's a favorite memory you have in your home?
Every time I'm able to sit at my desk and look out the huge window and write. Like I'm doing right now! But also the prospect of all the other memories that are yet to be made, can't wait for those.