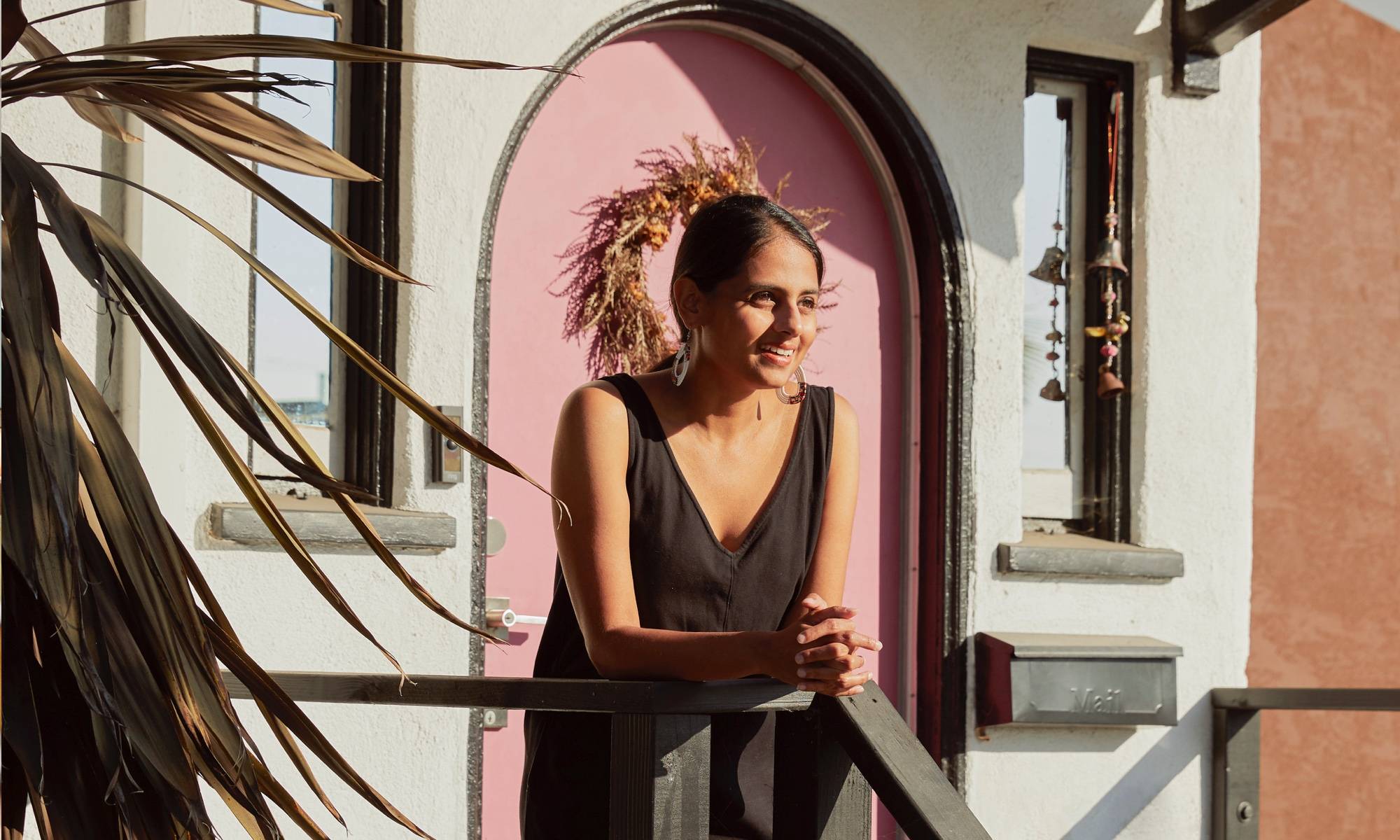 Aishwarya Iyer's Serene Los Angeles Bungalow

The Brightland founder created a space that's a soothing escape from the hustle.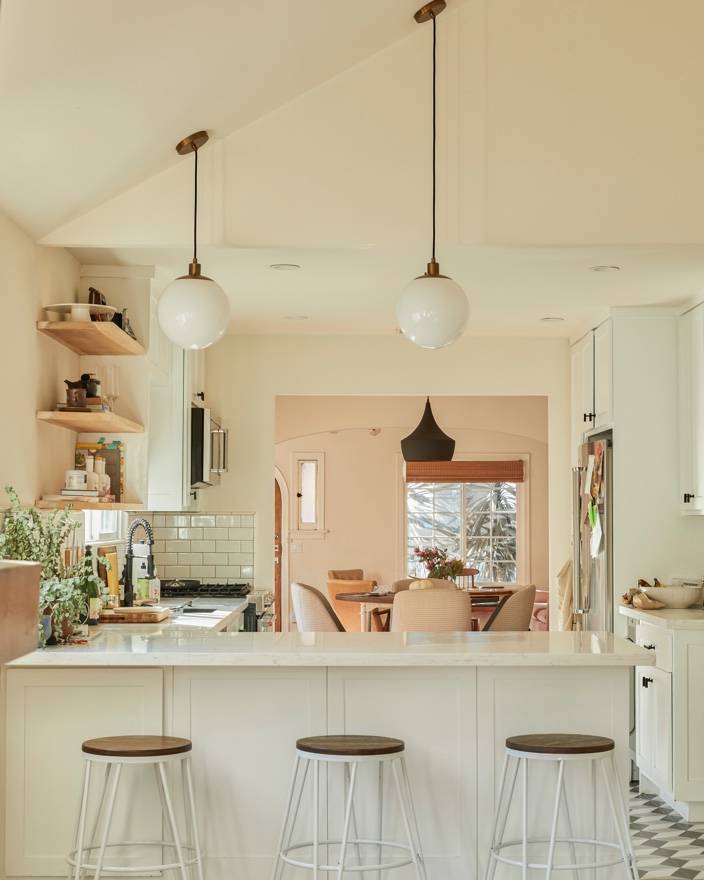 ---
---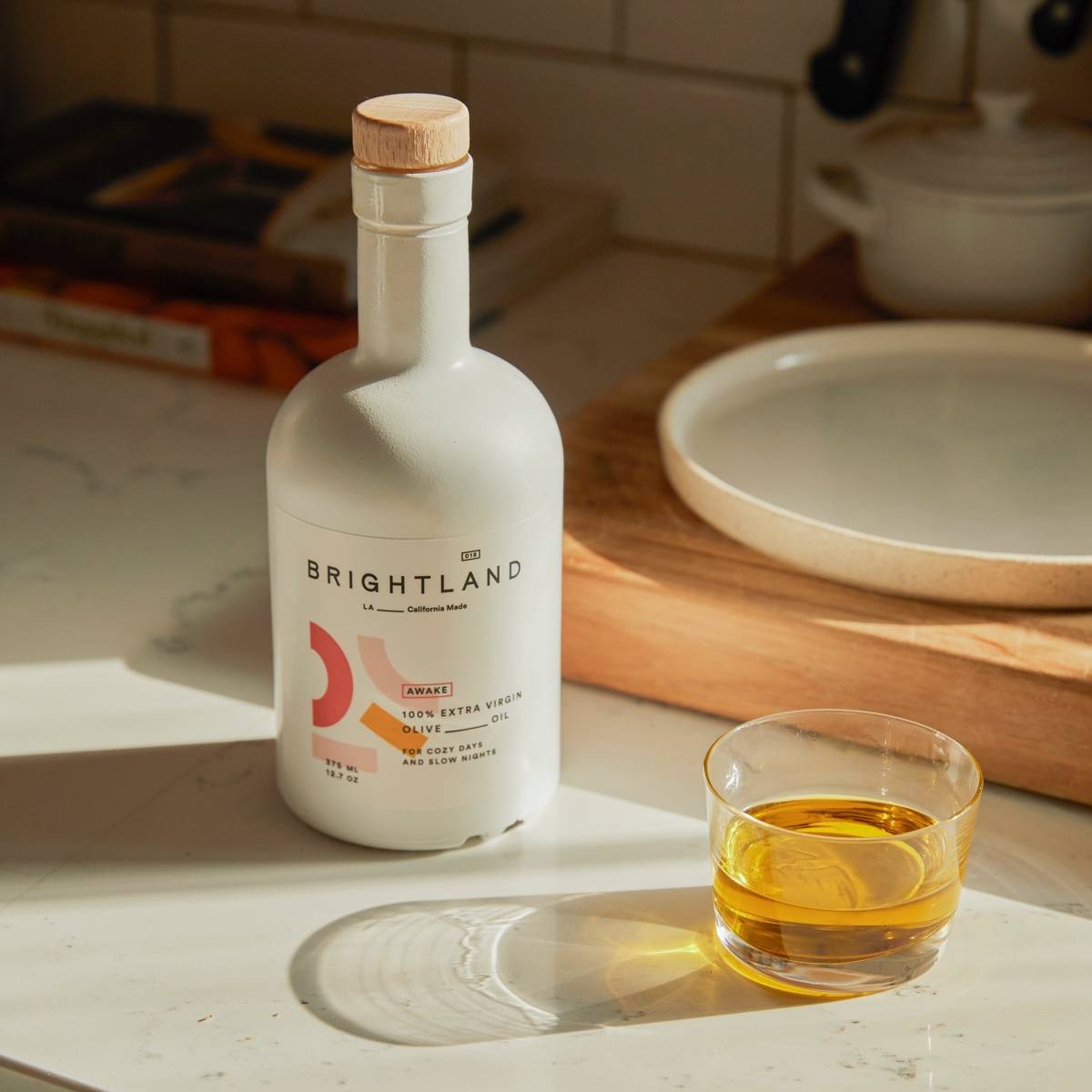 ---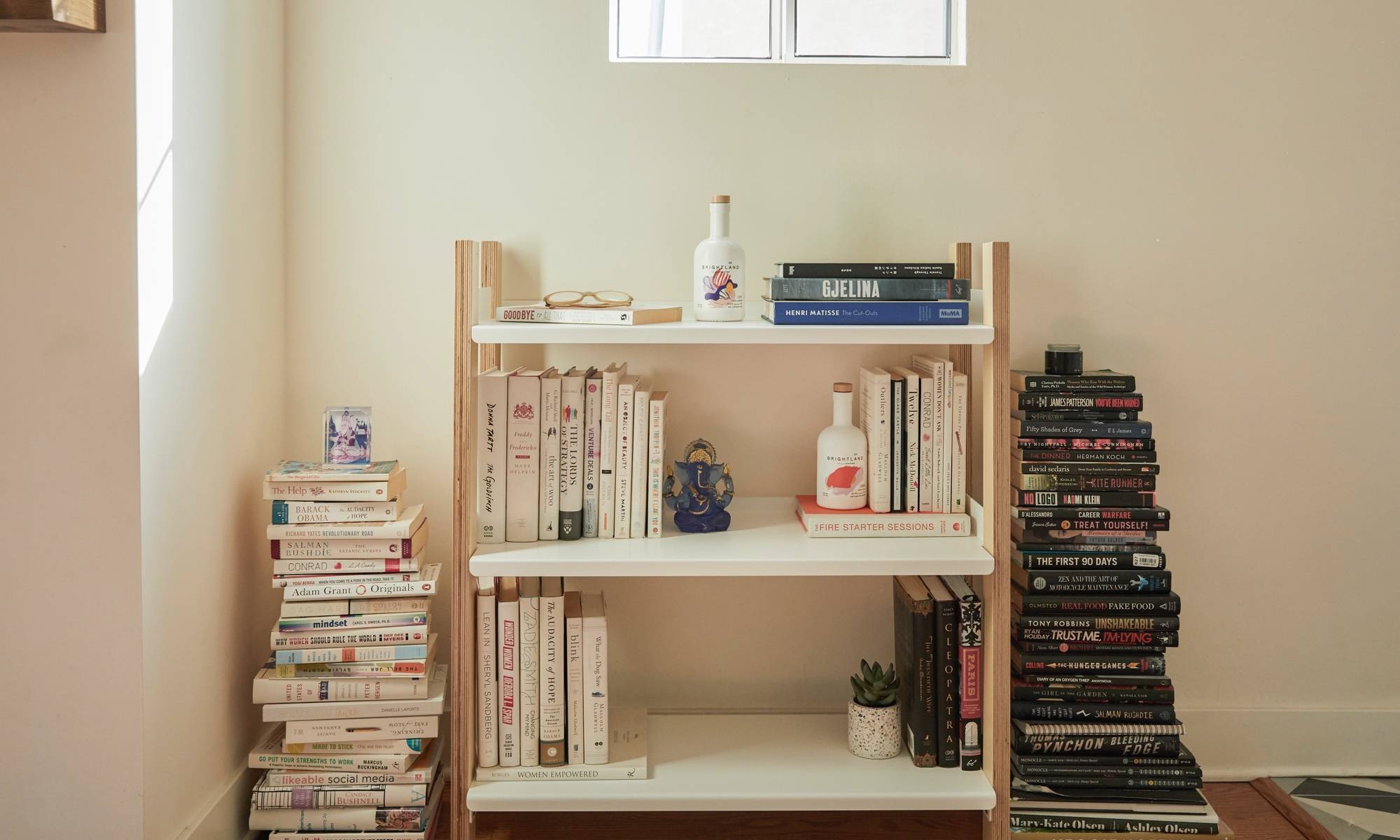 ---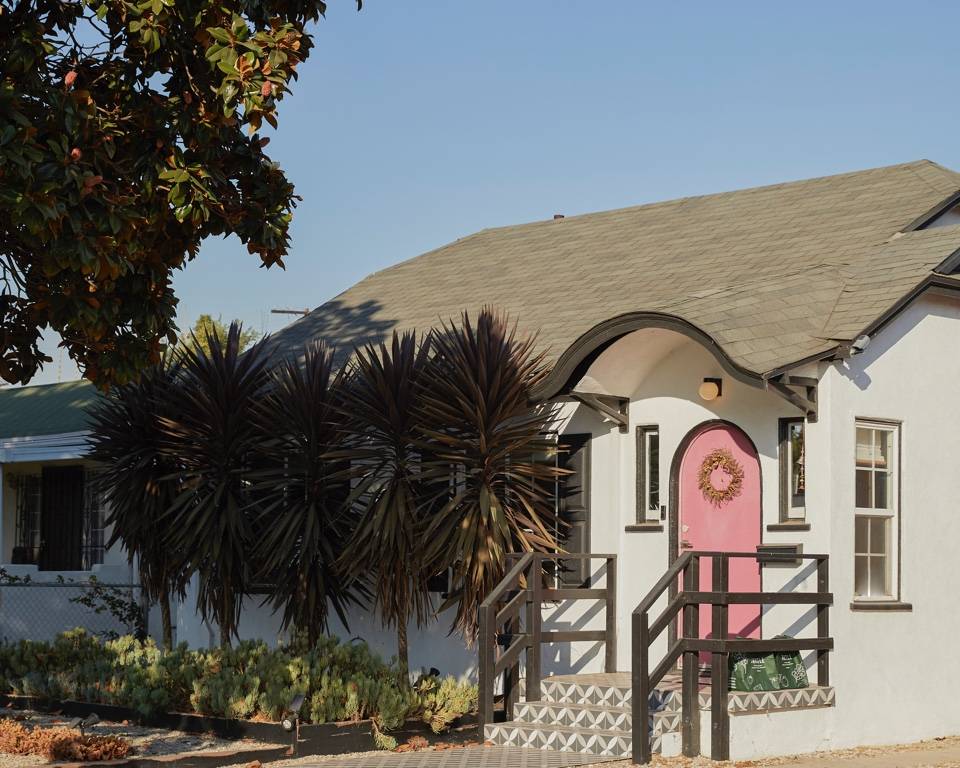 1. Header image: Brightland founder Aishwarya Iyer outside her LA bungalow. / 2. The kitchen is light and airy. / 3. Cooking is a big part of Aishwarya's routine. / 4. Brightland's bottles feel like a perfect match for Aishwarya's space. / 5. A Floyd shelf houses Aishwarya's books. / 6. The bungalow's pink door is a playful touch.
Simple elegance is everything for California entrepreneur Aishwarya Iyer. As the founder of Brightland, the Instagram-famous artisanal olive oil brand, Iyer knows the value of quality basics. After all, her company aims to transform and elevate the everyday experience of home cooking.
It's no surprise her Los Angeles bungalow is a serene place for relaxation and connection, and the space is full of lively accents reminiscent of the Brightland bottles that line the kitchen shelves! We talked to Aishwarya about how she's created a home that feels like a refuge.
Give us an intro! Who do you live with?
I'm Aishwarya Iyer. I'm the founder and CEO of Brightland — and I live with my husband and dog, Crosby!
What should we know about your home?
It's a single family craftsman home from the 1920s in the West Adams area of Los Angeles. Our home is nearly 100 years old.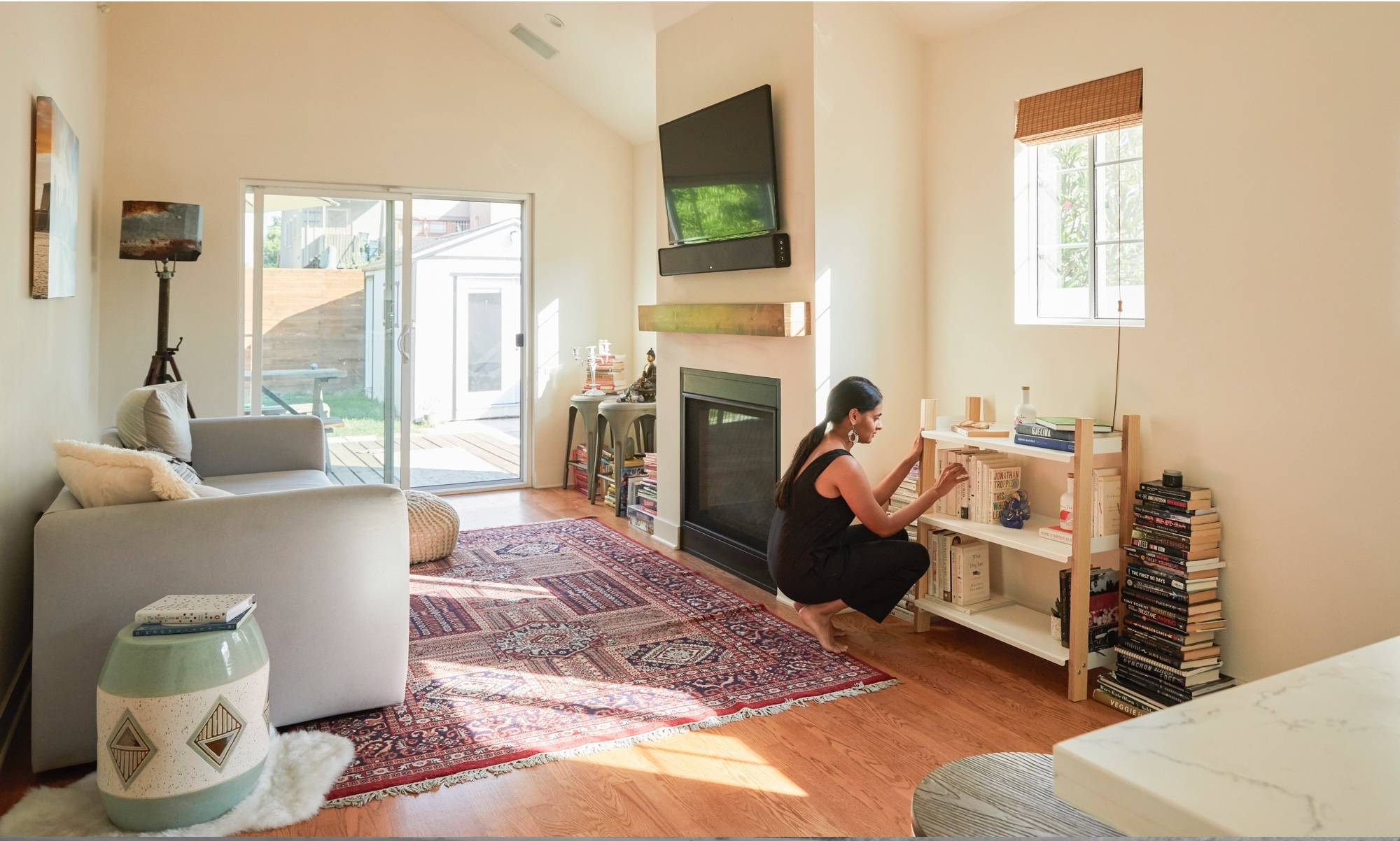 ---
Did you fall in love with your place the first time you saw it?
We absolutely fell in love with it! It was charming, and modern, yet retained so many of its original characteristics, and we thought it would be a wonderful place to cook a ton, relax and spend time reading and being cozy.
What room do you use the most? Did it surprise you?
We are definitely in the kitchen the MOST. We always knew that the kitchen would be the center of our home, but we are constantly surprised by the sheer amount of time we are milling around in that general area, snacking, chatting, working, etc.
How would you describe your interior style? Has it evolved over the years?
Everyday elegance - it has definitely evolved over the years. My early and mid 20s were very boho, shabby chic. Now that I'm in my early/mid 30s, it's shifted and up-leveled a bit.
Is it challenging to design a space that works for both you and your husband?
We actually have evolved to having very similar style now!
Did you furnish the home from scratch, or did you bring in pieces you loved from previous spaces? What's the story of some of your favorite pieces?
A bit of both! We brought a few pieces from our apartment in Venice, and then layered with new items.
I love the Brightland bottles in our open kitchen: we have open shelving in our kitchen and my company, Brightland, makes beautiful pantry staples, starting with olive oil, so I love seeing the Brightland bottles lined up in the shelves. They are chic, bright and add tons of character. Also, cozy blankets galore. My favorite are from my friend's company, Morrow Soft Goods, and they are so luxurious and perfect for LA "winter" nights.
What's the one thing you'd rescue in a fire? (Other than family & pets, of course).
My late-grandmother's eyeglasses. It's one of the only items of hers that I have, and I will keep them with me for as long as I live.
Is there anything you think the space needs that you haven't yet added?
A couple of rugs here and there, and some art...it's all a work in progress!
What are some of your favorite sources for design inspiration?
Travel — particularly the Nomad and Hoxton Hotels. Generally Soho in New York, and Paris.
What makes you feel most at home when you walk in the door? Is there anything you don't feel at home without?
My dog running over to say hello and my husband following behind, both wearing bathrobes. There is no better feeling! I really love lighting some candles and curling up with my iPad.
Tell us a favorite memory you have in your home!
Thanksgiving 2018! My husband and I decided to cook a feast for 2 — we made mac and cheese, baked ziti, salads, roasted potatoes, a pizza, and pie. Just for the two of us (and my doggie joined in for tiny bites).